Up up and away.
Finding the energy to get a workout started can be a daunting task. With so much going on in our lives, sometimes we find ourselves drained heading into a big workout. But a solid pre-workout supplement can take care of that. Supplying quick energy and helping to sustain that energy throughout our workouts is just one of the many benefits a good pre-workout can offer.
The difficulty comes with finding a solid pre-workout supplement in a market so saturated with enough bodybuilding supplements to last a lifetime. Thankfully there are some that really stand out among the rest and provide great benefits from high-quality ingredients made by reputable companies who keep their consumers in mind. Make sure your pre-workout is working wonders for you and don't get suckered into thinking otherwise.
Key Benefits Of Pre-Workout
Increase physical performance: Provide for longer, more sustained, and higher intensity work (1).
Prevent fatigue: Keep energy levels high to not feel a mid-workout crash.
Promote muscle growth: Increase blood flow, provide for muscle pump, and increase overall strength.
Aid in recovery: Provides for more effective repair and rejuvenation of worn down muscles.
These 5 pre-workouts are designed to give you top-tier pre-workout supplements so you see the benefits and your gains really come to life.
---
Best Overall: National Bodybuilding Co. Stage Ready Pre-Workout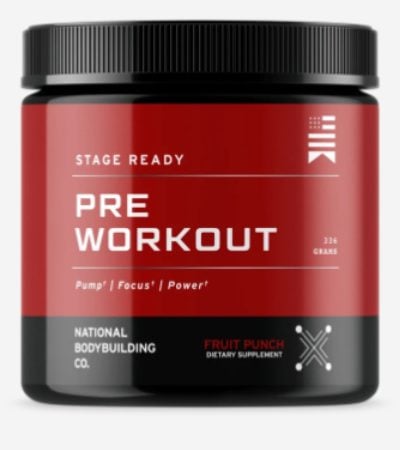 National Bodybuilding Co. Stage Ready Pre-Workout is a solid pre-workout supplement designed to enhance levels of strength through a combination of 13 highly researched ingredients. This will boost your training by increasing training capacity and provide for muscle pumps and support muscle-building by delivering nutrients and oxygen into tissues. It will also optimize cellular ATP production to boost overall performance and enhance neurotransmitter synthesis to provide for clean and sustained mental focus.
With 13 well-researched and clinically dosed ingredients, this pre-workout supplement is certainly a great product. Vitamin B12 works to promote the synthesis of the myelin sheath in the brain which leads to faster signaling between brain cells. It can also increase oxygen delivery into your muscles leading to improved overall performance. L-citrulline eventually turns into L-arginine in your kidneys which increases nitric oxide plasma levels and acts as a vasodilator to boost blood flow. For this reason, citrulline is a great ingredient to promote muscle pumps (2). Green tea extract can reduce inflammation, protect muscle tissue from catabolism, provide for great natural energy, and help you recover faster from injuries.
Pros: This offers you a full 30-day supply. The ingredients are naturally sourced, clinically researched and optimized for results. It will keep your energy levels high without a mid-workout crash and promote muscle growth and recovery and is easily modified depending on your desired level of strength.
Cons: It is a premium priced option and is only available on their website directly. It also only ships to customers in the United States.
Price: $48.00 for 336 grams (30 servings)
---
Best For Growth: Transparent Labs PreSeries BULK
Backed by science with clinically effective dosages, this pre-workout is most effective for those looking to increase in size and muscle mass. BULK contains 6,000 mg of citrulline malate, 4,000 mg of beta-alanine, 4,000 mg of BCAAs, and 2,500 mg of betaine to boost your workouts and your muscle growth. BULK will reduce fatigue and increase your energy to give you a more impactful and longer lasting workout.
Pros: This product is well-dosed and third party tested to ensure quality ingredients and accuracy. With no artificial ingredients, BULK is a great all-natural choice.
Cons:  BULK is on the expensive side for the amount you get per container and some ingredients, like beta-alanine, may be a touch too high while others are on the low side in terms of amount.
Price: $49.00 / tub (1.46 lbs. powder)
---
Best Formula: Performance Lab SPORT Pre
Performance Lab Sport Pre is another high quality pre-workout supplement available to the public at a great price point. Performance Lab Sport is one of the most rigorously scientifically vetted brands and all of their pre-workout products are free of synthetic additives (which might dehydrate the muscles), non-GMO, and vegan friendly. Sport Pre increases nitric oxide in the blood to support the oxygenation of muscles during workouts (3), improves endurance by hydrating the muscles, and enhances both anaerobic and aerobic exercise by increasing ATP reductase.
Pros: Pre has no jitters or energy crashes and is easy to take. Being vegan-friendly and infused with prebiotics, it makes for easy digestion.
Cons:  You can only buy this from Performance Lab's website directly and it doesn't have any caffeine. While it is still effective, for those looking for at least some caffeine in their pre-workout, this will not provide that.
Price: $39.00 / box (120 capsules)
---
Best For Intensity: Kaged Muscle Pre-Kaged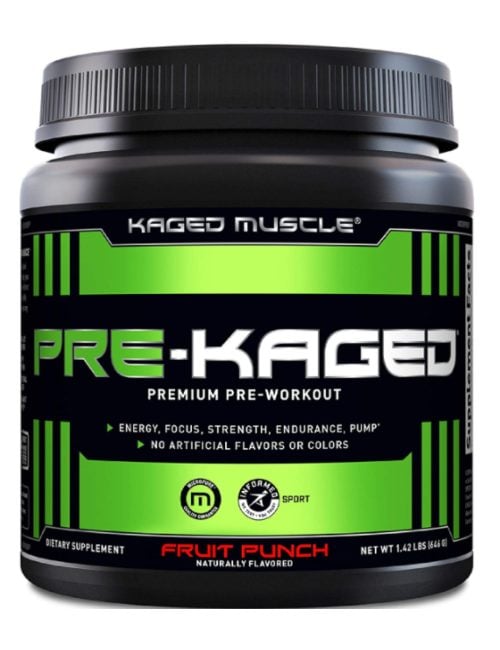 Kaged Muscle Pre-Kaged can increase the performance and intensity of your workout with a high quality pre-workout powder. Pre-Kaged is unmatched in terms of ingredient quality and synthesis of the blend of proteins. Kaged Muscle lab tests every batch to make sure each is fully loaded as advertised — 274 mg pure caffeine, 2 g taurine, 6.5 g fermented BCAAs, 6.5 g pure l-citrulline, and 2 g of their patented betapower blend. It's an unbeatable combination that is guaranteed to supercharge any workout.
Pros: Kaged contains BCAAs and has well-dosed ingredients. With no artificial colors or flavors, it does compete with other pre-workouts in that regard.
Cons: It is pretty pricy and does contains sucralose, which is an artificial sweetener. The caffeine content may be high for those sensitive.
Price: $39.99 / box (21 oz powder)
---
Best For Cutting: Transparent Labs PreSeries LEAN
The perfect supplement for cutting, Transparent Labs PreSeries LEAN is great for those looking to target stubborn fat while keeping on that lean muscle. LEAN contains 6,000 mg of citrulline malate, 2,500 mg of betaine, 2,000 mg of BCAA, 1,500 mg of beta-alanine, and 600 mg of L-tyrosine to improve strength and muscle endurance (4), reduce fatigue, and improve memory. LEAN is great for those looking to slim down without losing that hard work done in the gym.
Pros: Like BULK, this product is well-dosed and third party tested. With all-natural ingredients, it is a solid pre-workout for cutting.
Cons: LEAN is on the expensive side and does not have the best ingredients for fat loss. It may be effective for cutting, but depending on your goals, other pre-workouts may work better.
Price: $49.00 / tub (1.09 lbs. powder)
---
Wrap Up
Don't let low energy keep you from an opportunity for a great workout. The benefits of a solid pre-workout can work to enhance overall performance, provide muscle pump, aid in recovery, and give you that incredible boost to optimize all aspects of your workouts. These five pre-workouts are great products from very reputable companies who seek nothing but the best for their consumers. Try one of these today and watch your workouts soar to new heights.
Generation Iron may receive commissions on purchases made through our links. See our disclosure page for more information.
Let us know what you think in the comments below. Also, be sure to follow Generation Iron on Facebook, Twitter, and Instagram. 
References