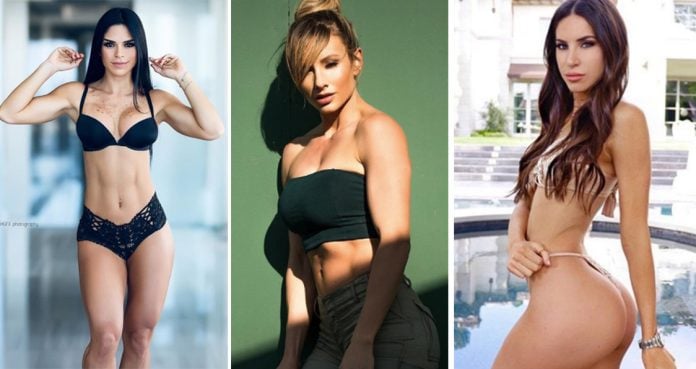 Follow These Female Fitness Athletes on Instagram
Beautiful women are one of the biggest reasons for Instagram's loyal user base. Many people check Instagram every once in a while just to see if their favorite chick has posted a new picture.
Female fitness athletes are much more than pretty faces. Fit chicks give out training, nutrition and lifestyle tips which can help women and men alike. These girls have also built a brand out of their Instagram accounts.
RELATED: Our List Of The 10 Best Butts On The Internet
Paige Hathaway
https://www.instagram.com/p/BcEMaFOB8fB/?hl=en&taken-by=paigehathaway
Paige Hathaway is one of the prettiest girls on this list and arguably in the entire fitness industry. Hathaway is dedicated to helping people improves their physiques and runs a monthly transformation challenge to motivate them.
Ana Cheri
View this post on Instagram
Ana Cheri is a Playboy Playmate turned fit chick. Cheri owns a gym with her husband and a swimwear brand. If you love women with an hourglass physique, following Ana on Instagram will be the best thing you'll do today.
Michelle Lewin
https://www.instagram.com/p/BbkWVTkDpit/?hl=en&taken-by=michelle_lewin
Michelle Lewin has been on the fitness scene for a long time and is one of the most recognized personalities. Lewin doesn't limit her workouts to the gym, and you can see her working out in the wild.
Alice Matos
https://www.instagram.com/p/BZ2jPyHj7X3/?hl=en&taken-by=alice
Alice Matos is much more than a pretty face and a shredded physique. This Brazillian beauty has an entrepreneurial side and has turned her clothing brand into a global fashion label.
Courtney King
https://www.instagram.com/p/Bb-bqFgllwl/?hl=en&taken-by=courtneykiing
Courtney King is a 2X Ms. Bikini Olympia and knows her training well. King is complete wife material with some serious cooking skills. Courtney shares much more than belfies and will make you fall in love with her adorable self.
Ashley Horner
https://www.instagram.com/p/BdOkhFHlNZq/?hl=en&taken-by=ashley.horner
Ashley Horner is badass and her workouts are a proof of it. Horner is also the only mommy on this list. Ashley is a transformation expert and is a must follow for anyone looking to shake things up.

Nikki Blackketter
https://www.instagram.com/p/BcVLOgWhYfK/?hl=en&taken-by=nikkiblackketter
Nikki Blackketter is a YouTuber with devoted followers. Blackketter is a Gymshark sponsored athlete and has 1.7 million followers on Instagram. Nikki is very honest with her followers and doesn't hide anything.
Jen Selter
https://www.instagram.com/p/BZ13RKuBQSV/?hl=en&taken-by=jenselter
Jen Selter shook up the world with her belfies. Selter arguably has one of the best butts ? on Instagram and you're missing out if you're not already following her. Jen has made several television appearances promoting fitness.
Brooke Ence
https://www.instagram.com/p/Babth-2hqZV/?hl=en&taken-by=brookeence
Ence is the most shredded fitness athlete on this list. Brooke's physique can put many serious lifters to shame. Ence is a CrossFitter and makes appearances as an Amazon warrior in the hit Wonder Women franchise.
Anllela Sagra
https://www.instagram.com/p/Bc0U0mtnD2T/?hl=en&taken-by=anllela_sagra
Anllela is a Colombian beauty with washboard abs. Sagra's captivating face and physique can keep you hooked on her Instagram feed. Anllela frequently shares videos, pictures, and tips from her workouts.
Who is your favorite female fitness athlete? Let us know in the comments below. Also, be sure to follow Generation Iron on Facebook, Instagram and Twitter.
---
*Images courtesy of Instagram