These plant-based protein powders are top-notch!
The vegan lifestyle is more popular than ever and that means there are a lot more plant-based supplements on the market.
Protein is a must for any serious exercise regime because you simply won't build muscle without plenty of this macronutrient. It's also beneficial for fat loss and is necessary for many bodily functions including hormone production.
Now, many people may be skeptical about the completeness of plant-based protein sources. But you can rest assured; the products we've chosen contain complete protein sources.
If you follow the vegan lifestyle then your reasons for avoiding dairy-based whey protein are obvious. But you don't even have to be vegan to opt for a plant protein. For many people, it's better on the stomach and ideal for those with dairy sensitivities in general.
So, we'll compare the two and show you our list of some of the best vegan protein powders on the market right now…
Vegan Protein Sources
The many different plant-based sources of protein all have something unique to offer regarding their nutrient profile. We've listed the more common protein sources you'll find in most supplements. But, of course, there are even more that we will discuss under each product listed.
Pea
Made from yellow peas, this source of protein is one of the more common ones. One study found no statistical difference between pea and whey protein regarding the muscle and strength-building benefits. Therefore, pea is a very viable source of protein, although it contains 8 out of 9 essential amino acids. (1)
And another study showed a decrease in blood pressure for both rats and humans when taking pea protein supplements. (2)
Brown rice
One study compared rice protein and whey protein by giving 24 young, resistance-trained males 48g of either source for 8 weeks along with a training plan. (3)
Well, there were no differences whatsoever, and both forms of protein elicited the same results. So, brown rice is a powerful protein source, although, it's still one amino acid (lysine) short of being complete.
Soy
Soy is the most commonly used source of plant-based protein which comes from the soybean. Now, not all plant-based proteins are complete sources. But soy actually contains all nine essential amino acids which are the building blocks of human tissue. (4)
So, that's why many prefer to have a soy source, plus there is also heart health, obesity, and even menopause benefits from consuming soy. Popular soy food items for vegetarians and vegans include tofu and Tempeh but soy is also a viable plant-based meat alternative. (5)
It's said that soy also has some effect on estrogen as well, but studies are yet conclusive on the full effects soy may have on hormones.  (4)
Sprouts (amaranth, buckwheat, quinoa)
Sprouts are highly nutritious, containing protein, vitamins, and minerals, plus many essential amino acids. These are popular protein sources used in plant-based protein supplements.
Chia seed
Chia seeds are the richest plant source of Omega 3 fatty acids which are necessary for heart health cell membrane health. However, chia seeds contain the plant-based fatty acids linoleic and alpha-linolenic (ALA) which are not sufficient alone. We need also need plenty of the fatty acids eicosapentaenoic acid (EPA) and docosahexaenoic acid (DHA). (6)
But you'd need to consume a whole lot of ALA due to the low conversion into EPA and DHA fatty acids. So, it's highly recommended to supplement them.
Chia also has plenty of protein and fiber too, while containing all nine essential amino acids. But research also suggests chia seeds can stave off illness which is enough reason alone to include them in your diet. (7)
Pumpkin Seed
Pumpkin seeds are high in antioxidants while containing a good amount of protein and fats, plus many essential vitamins and minerals like folate (Important for cell growth and metabolism) and magnesium (Heart, nerve, and cell health). (8, 9)
Hemp
Hemp contains less protein on average contains very little of the amino acid lysine and leucine; which means it's not exactly a complete source of protein. However, hemp protein is good quality and makes a great addition to a complete protein blend. (10)
5 Vegan Protein Products
---
Best Vegan Protein Overall: National Bodybuilding Co. Full Prep Vegan Protein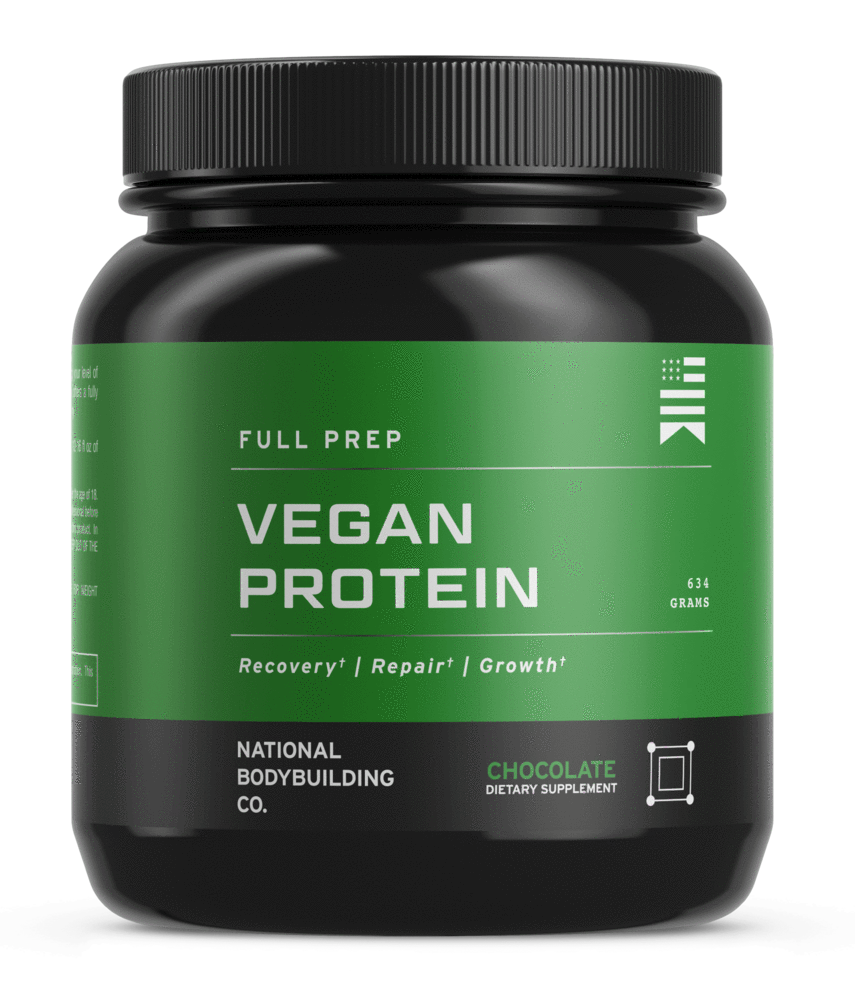 National Bodybuilding Co. is a relatively new company already making a huge name for themselves in the supplement market. Full Prep Vegan Protein is a premiere product from them for bodybuilders to experience the true power of plant based nutrition while also boosting all of their physique goals. Designed to maximize gains while also reducing body fat, this protein has a high quality formula to reduce bloating and help digestion. A lean and clean protein, this will really work to enhance protein synthesis for optimal muscle building. With 20.5 grams of protein in each serving, this top tier vegan protein is sure to keep you full and seeing great gains.
Pros: A 100% organic and naturally flavored protein, it is designed for cleaner and faster absorption. Produced by a rising and reputable company and manufactured to FDA standards.
Cons: 20 servings per container is low and you can only get it from the website directly. Chocolate is also the only flavor.
Price: $40.00/ 20 servings
---
Best Vegan Protein Ingredients: Performance Lab SPORT Protein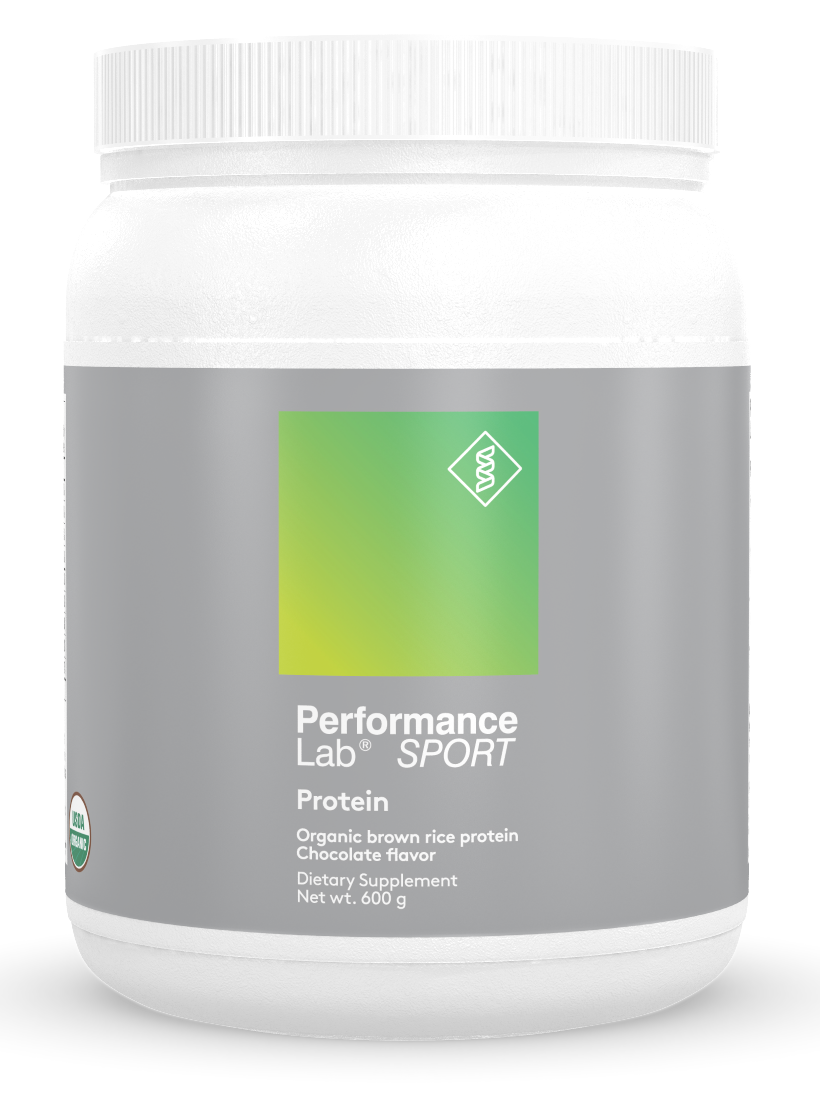 This protein from Performance Lab comes in as one of the world's cleanest and most effective protein powders around. Made with organic brown rice protein, it enhances strength, growth, and performance by performing as effective as whey while also being vegan friendly. The ultramodern design allows for quality, cleanliness, and taste with no added synthetic processing or flavors. Clinically shown to be as effective as whey, this protein will work to enhance all aspects of your performance while also supporting natural appetite control and weight management. Naturally flavored and sweetened, you can be sure this great tasting protein is only working for your benefit.
Pros: Good, clean formula that is organic and vegan friendly. Great choice for weight loss and also contains a beneficial probiotic in Bacillus Coagulans. The chocolate flavor tastes amazing.
Cons: It only uses a single source of protein and chocolate is the only flavor. You can only buy directly from their website as well.
Price: $53.10/ 20 servings
---
Highest Protein Vegan Protein: Transparent Labs ProteinSeries Organic Vegan
Transparent Labs ProteinSeries Organic Vegan is a 100% vegan and protein free of artificial flavors and sweeteners that is USDA Organic Certified. With a protein base ratio of 2:1 rice to pea protein, this packs a punch with 24 grams of protein that is easy on your digestive system. With 4 grams of fiber per serving, this protein will help you feel full longer for optimal weight control and management. Free of all artificial coloring, additives, and preservatives, this is one vegan protein you can trust from a company who prides themselves on transparent and honest labels. This is great for vegans but also anyone looking to really optimize their overall health.
Pros: No artificial ingredients and transparent labels really make this a clean protein. Very low in carb and high in protein makes it easier on your digestive system.
Cons: There are no vitamins and minerals and the price is slightly high. You can also buy this directly from their website.
Price: $49.00/ 30 servings
---
Best Tasting Vegan Protein: Optimum Nutrition Gold Standard 100% Plant-Based Protein
Optimum Nutrition has been at the top of the sports supplement industry for many years now and they have a large variety of offerings. Gold Standard Plant Based Protein is a solid protein for immune support and muscle recovery while also aiding in muscle growth. Each serving has 24 grams of protein, 140 calories, 2.5g of fat, 6g of carbs, 2g fiber, and 1g sugar. The protein sources are pea, brown rice, and sacha inchi protein which is a rainforest seed loaded with good protein and amino acids. And there's a healthy amount of B12 (Cell health DNA health), iron (Hemoglobin health), and Vitamin C (Immune system health and antioxidant). There are no artificial flavors or sweeteners which make this a really great and clean vegan protein.
Pros: Solid ingredients and 24 grams per scoop is a huge plus for this protein. Pulling from three protein sources is huge and the health benefits and transparency really make this a reputable protein.
Cons: It is expensive for the amount of servings and slightly high in carbs.
Price: $29.59/ 19 servings
---
Top Pure Plant Based Protein Powder: Staunch Vegan Protein
This protein powder developed by Calum von Moger's supplement company Staunch offers some great tasting, quality vegan protein. Offering 24g of protein per scoop, as well as 3g net carbs and 2g of fat, Staunch Vegan Protein is a vegan protein that you'll want to add to your supplement stack. A mix of rice and pea protein along with natural organic flavors and organic stevia for sweetness. With two great flavors in chocolate and vanilla, this protein has a great profile everyone will love.
Pros: A great tasting protein packed with clean protein. The blend of rice and pea protein is nice and flavored with organic sweeteners is a plus.
Cons: More flavors would be nice and the price is okay.
Price: $39.00/ 30 servings
---
Vegan Protein vs Whey Protein
Research has been pretty clear on evidence which suggests certain plant-based protein sources are equivalent to animal protein. But like mentioned previously, pea and brown rice protein studies showed similar results to whey regarding body composition and strength benefits. And even more protein sources would be equivalent.
Another study mentioned that plant-based protein may not offer any advantages over animal-based protein. However, research suggests there are no disadvantages either (Good news for vegans). (11)
And plant-based proteins also seem to be more beneficial for reducing the risk of developing chronic disease. So, it's advantageous in this regard.
But one nutrient to be mindful of is B12 which is an essential vitamin for cell and DNA health. Plant-based diets often lack sufficient amounts so B12 fortified products are always recommended. Otherwise, supplementation is important if you cannot get enough through plant sources.
Plant-based protein Taste
Now, plant-based proteins may take a little getting used for many people who are used to milk-based protein powders. But there are many vegan options which tastes pretty good; however, everyone will have a different opinion.
But the products listed should at least be palatable for most and remember that you can mix other ingredients in your shakes to make them even tastier.
Try These Quality Vegan Options!
It doesn't get much better than these quality vegan protein powders made by reputable companies. Our list includes products with complete protein blends and other nutritious, effective ingredients.
And according to many studies, plant-based proteins are as effective as animal protein products regarding performance and changes in body composition.  Now, some plant sources may not be complete but an effective protein blend will take care of this issue, especially with added amino acids.
So, choose a protein that you think would best match with your goals… you have nothing to lose and possibly a lot to gain!
References:
1-Babault, Nicolas; Païzis, Christos; Deley, Gaëlle; Guérin-Deremaux, Laetitia; Saniez, Marie-Hélène; Lefranc-Millot, Catherine; Allaert, François A. (2015). "Pea proteins oral supplementation promotes muscle thickness gains during resistance training: a double-blind, randomized, Placebo-controlled clinical trial vs. Whey protein". Journal of the International Society of Sports Nutrition. 12 (1): 3. doi:10.1186/s12970-014-0064-5. ISSN 1550-2783. PMC 4307635. PMID 25628520.
2-Li, Huan; Prairie, Natalie; Udenigwe, Chibuike C.; Adebiyi, Abayomi P.; Tappia, Paramjit S.; Aukema, Harold M.; Jones, Peter J. H.; Aluko, Rotimi E. (September 28, 2011). "Blood pressure lowering effect of a pea protein hydrolysate in hypertensive rats and humans". Journal of Agricultural and Food Chemistry. 59 (18): 9854–9860. doi:10.1021/jf201911p. ISSN 1520-5118. PMID 21854068.
3-Joy, Jordan M; Lowery, Ryan P; Wilson, Jacob M; Purpura, Martin; De Souza, Eduardo O; Wilson, Stephanie MC; Kalman, Douglas S; Dudeck, Joshua E; Jäger, Ralf (June 20, 2013). "The effects of 8 weeks of whey or rice protein supplementation on body composition and exercise performance". Nutrition Journal. 12: 86. doi:10.1186/1475-2891-12-86. ISSN 1475-2891. PMC 3698202. PMID 23782948.
4-Boston, 677 Huntington Avenue; Ma 02115 +1495‑1000 (August 6, 2018). "Straight Talk About Soy". The Nutrition Source. Retrieved August 18, 2019.
5-Montgomery, Kristen S. (2003). "Soy Protein". The Journal of Perinatal Education. 12 (3): 42–45. doi:10.1624/105812403X106946. ISSN 1058-1243. PMC 1595159. PMID 17273351.
6-"Essential Fatty Acids". Linus Pauling Institute. April 28, 2014.
7-Boston, 677 Huntington Avenue; Ma 02115 +1495‑1000 (March 19, 2018). "Chia Seeds". The Nutrition Source.
8-"Folic Acid for Good Health". WebMD.
9-"Office of Dietary Supplements – Magnesium". ods.od.nih.gov.
10-"Health Topics A-Z". PeaceHealth.
11- Lynch, Heidi; Johnston, Carol; Wharton, Christopher (December 1, 2018). "Plant-Based Diets: Considerations for Environmental Impact, Protein Quality, and Exercise Performance". Nutrients. 10 (12). doi:10.3390/nu10121841. ISSN 2072-6643. PMC 6316289. PMID 30513704.