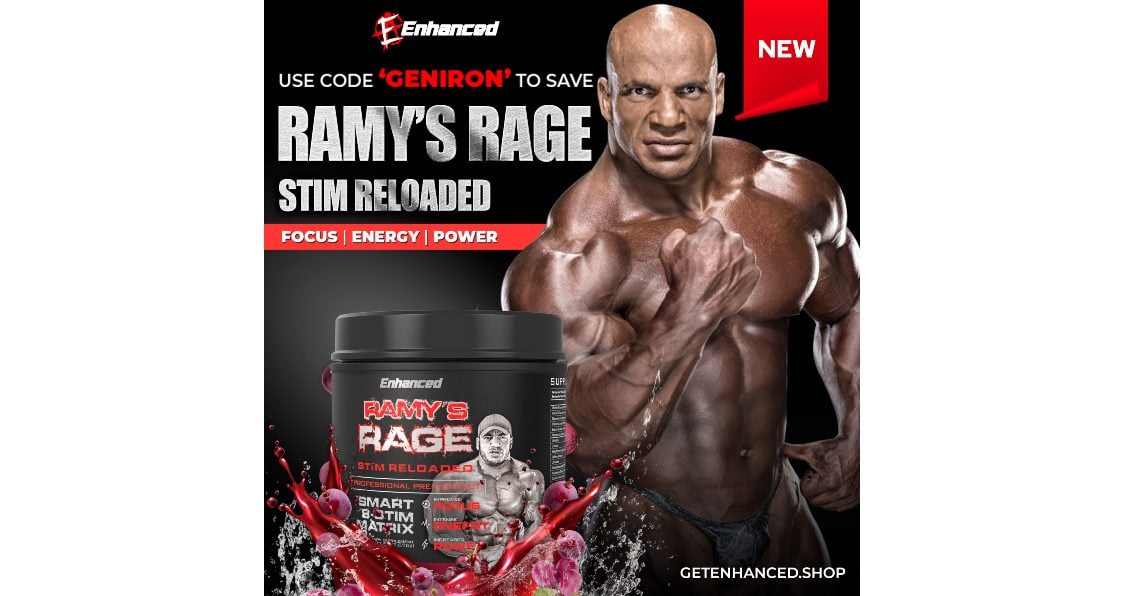 This Big Ramy inspired pre-workout is a smart 8-stim matrix to boost all areas of your training and performance.
Product Overview
Most pre-workouts on the market are flat out bad. Take a look at the average pre-workout and it's primarily a flavored caffeine drink with some B-vitamins and amino acids sprinkled in. For the average person this may be adequate, but not for someone who's training for results.
Mr. Olympia champion Big Ramy teamed up with Enhanced Labs team to formulate the perfect pre-workout supplement – Ramy's Rage Stim.  Instead of relying on caffeine, Rage uses novel stimulants like Dynamine, Theacrine, and Cocoabuterol to deliver explosive energy, laser focus and unstoppable endurance. Ramy's Rage is getting a lot of attention. In this review we are going to evaluate whether this pre-workout is worth the hype.
Use code GENIRON to get 15% off your order.
Enhanced Labs are a team of bodybuilders, chemists, and innovators who joined together to disrupt a chaotic industry by doing absolutely whatever it takes to come out with the most effective hardcore supplements line on the market. By always staying on the cutting-edge advancements in technology and chemistry, Enhanced Labs gives their customers the continuous edge they desire most.
Enhanced Labs Ramy's Rage Stim Reloaded Highlights
Ramy's Rage Stim is different. It has a fully disclosed supplement facts panel, so you know exactly what you're getting in each serving. Ramy's Rage Stim contains full dosages of ingredients scientifically proven to boost energy levels, improve physical performance and enhance focus. Best of all, Ramy's Rage Stim doesn't contain mega dosages of caffeine so there is no crash. With a smart 8-stim matrix, all of your energy and focus enhancing needs are met with a great pre-workout.
Ingredients
Ramy's Rage Stim features 17 clinically dosed ingredients grouped into 4 synergistic matrixes.
Cellular ATP Energy Matrix
Vitamin B6 is water soluble vitamin that is involved in over 100 reactions in the human body. Vitamin B6 regulates the production of neurotransmitters; chemicals that allow brain and nerve cells to communicate with one another to ensure that metabolic processes such as fat metabolism and energy production run smoothly.
Vitamin B12 is a water-soluble B-vitamin that is needed for proper metabolism and red blood cell formation. Clinical studies show vitamin B12 supplementation boosts energy levels, reduces fatigue, and improves cognitive function.
Magnesium (magnesium citrate)
Magnesium is an essential electrolyte that regulates energy production, oxygen uptake, central nervous system function, electrolyte balance, glucose metabolism, insulin function and muscle activity.
Chloride (sodium chloride)
The chloride ion plays a vital role in maintaining the level of fluids inside muscle cells and assists in maintaining the proper pH of bodily fluids. Supplementing with chloride before workouts will help prevent cramps and delay fatigue.
Sodium is an essential electrolyte that promotes cell volumization. When you consume a small amount of sodium before exercise, it'll increase blood flow to working muscle cells.
Potassium (potassium citrate)
Potassium is an essential electrolyte needed for muscle contractions, blood pressure regulation, fluid balance, bone growth and nutrient digestion. Athletes are at high risk for being deficient in potassium since they lose potassium in sweat during exercise.
Nitric Oxide Synthase Matrix
L-Citrulline is an amino acid that improves blood flow by creating nitric oxide (NO), a gas that dilates blood vessels. L-Citrulline supplementation expedites the removal of metabolic waste products from working muscle cells.
Taurine is a conditionally essential amino acid that has various effects throughout the body, most notably on neurological and muscular development. Research shows that taurine supplementation before workouts reduces muscle damage, improves focus, and prevents delayed onset muscle soreness [1].
Smart 6-Stimulant Matrix
Methylliberine (as Dynamine™ 40%)
Dynamine is a trademarked purine alkaloid extracted from the kucha plant. Dynamine stimulates the release of neuro-transmitters epinephrine (aka. adrenaline) and nor-epinephrine (aka. nor-adrenaline), which are responsible for increasing focus, mental alertness, energy and oxidizing body fat for energy.
Caffeine supplementation increases the release of dopamine, a chemical in the brain responsible for feelings of alertness and pleasure. Caffeine also boosts epinephrine, dopamine and serotonin, which increase fat loss and enhance power output.
L-Theanine supplementation causes the release of the brain neurotransmitter gamma-aminobutyric acid (GABA). GABA boosts mood and mental focus. When combined with caffeine, theanine provides a nootropic effect.
Dimethylethanolamine DL-Bitartrate (DMAE)
DMAE Is a mind health compound that reduces the buildup of 'age pigment' in the brain. This improves cognitive function and prevents cognitive decline with age.
Theacrine is a small alkaloid molecule with a structurally modified version of caffeine. The mechanisms of theacrine parallel that of caffeine for the most part, however the key difference that sets it apart is that Theacrine doesn't cause an increase in blood pressure.
Dicaffeine Malate is a precise combination of caffeine and malic acid fused together by an ionic bond. The malic acid in Infinergy works to buffer the salts in caffeine, allowing for easier digestion and slower absorption, which helps to prevent the dreaded post-caffeine energy 'crash'.
Cocoa Alkaloids Extract (standardized to 50% cocoa alkaloids)
Cocoa alkaloids extract increases endurance by preserving glycogen stores and makes the body more efficient at burning body fat during workouts.
Nutrient Absorption Matrix
Black Pepper Extract (Piper nigrum)(fruit)(Bioperine®)
BioPerine is used in sports supplements to enhance the bioavailability of nutrients. In other words, bioperine works by enhancing the absorption rates of whatever it's taken with.
Boron (as Boron Glycinate Complex (Bororganic Glycine))
Boron enhances mental cognition, brain function, hand-eye coordination, short term memory, concentration and attention span. There is also evidence to suggest that boron naturally increases free testosterone levels.
Other Ingredients
Citric acid, malic acid, natural flavors, silicon dioxide, sucralose, stevia leaf extract
| | |
| --- | --- |
| Stim Or Non-Stim | Stim |
| Number Of Servings | 30 |
| Flavors | Grape |
| Best Way To Take | Take one scoop 30 minutes prior to your workout in 8 oz. of ice cold water. |
Price, Flavors & Effectiveness
Enhanced Labs Ramy's Rage Stim Reloaded is a great pre-workout to improve focus, intense energy, increased power for all your performance goals. With 30 servings container, one scoop of this powerful formula will take your workouts to new heights. With a great flavor in Grape, the taste never grows old.
Pros
No crash
17 clinically dosed ingredients
Fully disclosed supplement facts panel
Novel stimulants like Dynamine, Theacrine, and Cocoabuterol
Cons
Price: $25.99
Enhanced Labs offers Free shipping ANYWHERE in the world. If you live in the United States, your order ships FREE no matter what you buy. If you live outside the US, your order ships for free when it's over $169.
Use code GENIRON to get 15% off your order.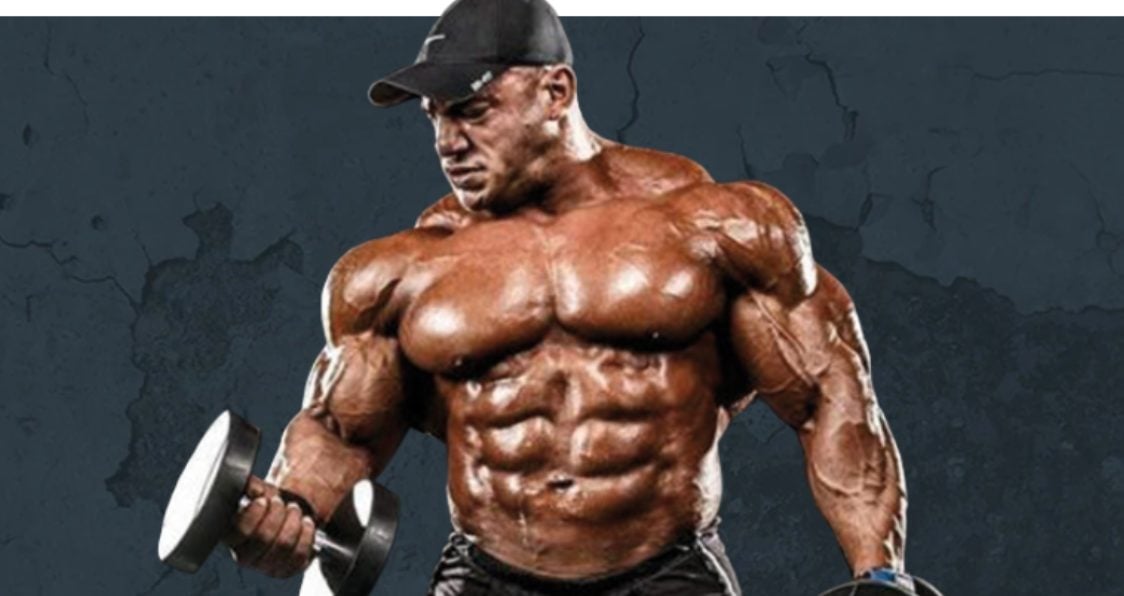 How Much Should I Take?
Enhanced Labs formulates supplements for serious bodybuilders so even large individuals only need to take one serving. It is recommended to start with one scoop (7.25g) and work your way up to the maximum dosage of two scoops (14.5g).
Best Time to Take Ramy's Rage
Ramy's Rage should be taken approximately 30-60 minutes before a workout. For enhanced results, it's recommended to stack Ramy's Rage Stim with Ramy's Rage Pump.
---
Check out our list of the Best Pre-Workout Supplements for more great products!
---
Wrap Up
Mr. Olympia 2020, Big Ramy, worked with the team of engineers at Enhanced Labs to formulate the perfect pre-workout supplement. Ramy's Rage Stim contains full dosages of ingredients scientifically proven to boost energy levels, improve physical performance and enhance focus. Best of all, Rage doesn't contain mega dosages of caffeine so there is no crash. What you are really getting is a great pre-workout with effective ingredients to boost all your pre-workout needs. Check out Enhanced Labs Ramy's Rage Stim Reloaded Pre-Workout today and see what this can do for all your gains.
Try Enhanced Labs Ramy's Rage Stim Reloaded Pre-Workout Today
Generation Iron may receive commissions on purchases made through our links. See our disclosure page for more information.
Let us know what you think in the comments below. Also, be sure to follow Generation Iron on Facebook, Twitter, and Instagram. 
*Images courtesy of Enhanced Labs
References
[1] https://www.ncbi.nlm.nih.gov/pmc/articles/PMC5611412/