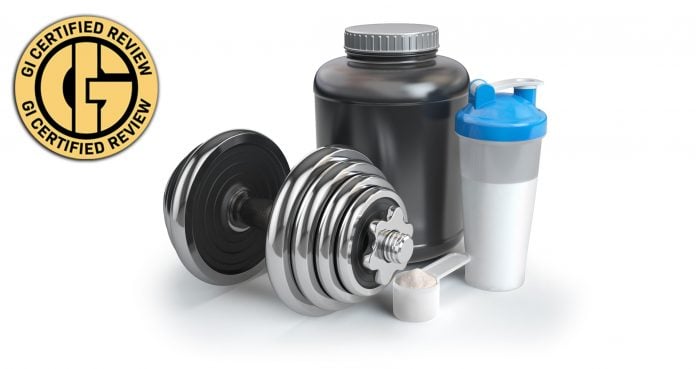 Save money and add convenience to your workouts with these great shaker bottle packs.
Shaker bottles are popular and amazing ways to pump your body full of those much-needed nutrients right after a workout to totally maximize your benefit. For those who feel they need that protein supplement, or post-workout recovery supplement right away, shaker bottles can ensure everything you need to grab-and-go. With great designs and an easy to use mixing ball, shaker bottles offer the flexibility to bring your drink wherever you go with easy blending capabilities to provide for no mess and no clean up.
For those looking to save even more money and time, shaker bottle packs are the way to go. Basically buying in bulk, once you find a shaker bottle you like, or even one you think you like, try the shaker bottle pack and never have to worry about just one bottle again. Too often do we use the shaker bottle, forget to clean it, and realize the next morning on our way out the door that we have to wash it. With these shaker bottle packs, you'll never have to worry about that again.
For those of us who like to have a shaker bottle wherever we go, shaker packs are a must. Keep one or two at home, one in the office, one in your car, and you'll even have an extra to carry with you and use a water bottle. For those buying for multiple people, shaker bottle packs are truly great ways to save money and make everyone happy. Just make sure to label them!
These 5 shaker bottle packs are sure to give you everything you need for your nutrition and fitness goals.
---
Best For Size: Hydra Cup High Performance Dual Shaker Bottle
Hydra Cup offers a great two-in-one shaker bottle for all of your pre- and post-workout needs. Holding 36 ounces total, two shaker cups hold 14 ounces on one side and 22 ounces on the other for a great dual use bottle. The plastic grid that comes with every shaker bottle is great for mixing and will eliminate clumping and the spill proof lid makes sure all of those vital nutrients don't spill all over the floor. With three shaker bottles per pack, you can be sure all of your gym needs are met from start to finish.
Pros: Two storage compartments is a huge plus for your pre-workout and post-workout supplements. The price is good for a quality shaker pack.
Cons: The seal is not as tight as it could be, and with two lids, that could be a problem. The openings are a bit small for powder to fit through effectively.
Price: $29.99/ 3 Pack
Click here for the best price on Amazon
---
Best For The Gym: Utopia Shaker
Utopia provides a solid shaker for your gym needs. With a twist and lock protein box, this bottle will hold your protein, post-workout, or other supplement powder separate from the liquid with an easy to pour-in function for after you're done. With the ability to hold 24-ounces with a leak-proof seal flip cap and secure screw on lid, this is perfect for carrying around in the gym or outside of it. Included with each is an inbuilt filter that filters out large chunks to avoid clumping and a whisk mixer ball to keep your shake smooth. With one black bottle and one clear bottle, this shaker pack of two is great for all of your gym needs.
Pros: The twist and lock protein box is a great feature and the built-in filter makes for easy mixing with no clumping. Two of these for the price is also a good deal.
Cons: It does have a lot of parts to clean and it doesn't mix as well as one would think for all the moving parts.
Price: $11.99/ 2 Pack
Click here for the best price on Amazon
---
Best For Easy Use: Hoople Protein Shaker Bottle
Hoople offers an easy-to-use, 24-ounce bottle for all of your gym and nutritional needs. With an auto flip lid, you can operate this with one hand for easy use and carrying capabilities. With a lightweight shaker ball included, it offers powerful mixing to avoid sticking and clumping for a perfect blend each time. Its leak proof design makes this great for on-the-go use without the hassle of clean up to ensure you get all your nutrient needs. This random color pack of 4 will make your life easy and your goals attainable.
Pros: Lightweight and able to hold a solid amount of liquid, the auto-flip lid is great for easy use. Four in a pack for this price is a good deal.
Cons: It does tend to leak more than advertised so be aware of when you use this so as to not ruin your work clothes if you take it on the go.
Price: $24.88/ 4 Pack
Click here for the best price on Amazon
---
Best Designed Pack: KITCHENIE Protein Shaker
KITCHENIE brings consumers a premium quality shaker great for protein shakes with any desired liquid from coffee, water, milk, or smoothies. Made from high-quality plastic and BPA free, this bottle has a leak-proof lid and flip cap with a stainless steel shaker ball for quality mixing. The design is awesome for holding not just one, but two twist-on cups for easy storage of powders or capsules. It even has a capsule organizer. This ensures you bring all of your supplements to the gym or wherever you go with one convenient place for storage. This pack of 6 comes in six colors (red, black, blue, purple, white, and green) and holds up to 20-ounces.
Pros: Two compartments is awesome for holding whatever your desired supplements are and the stainless steel ball is great for mixing. For the amount in this pack and the price, it is hard to beat.
Cons: It can be tough to clean with so many parts, especially in the lid where powder can get stuck.
Price: $26.99/ 6 Pack
Click here for the best price on Amazon
---
Best Portable: BluePeak Protein Shaker Bottle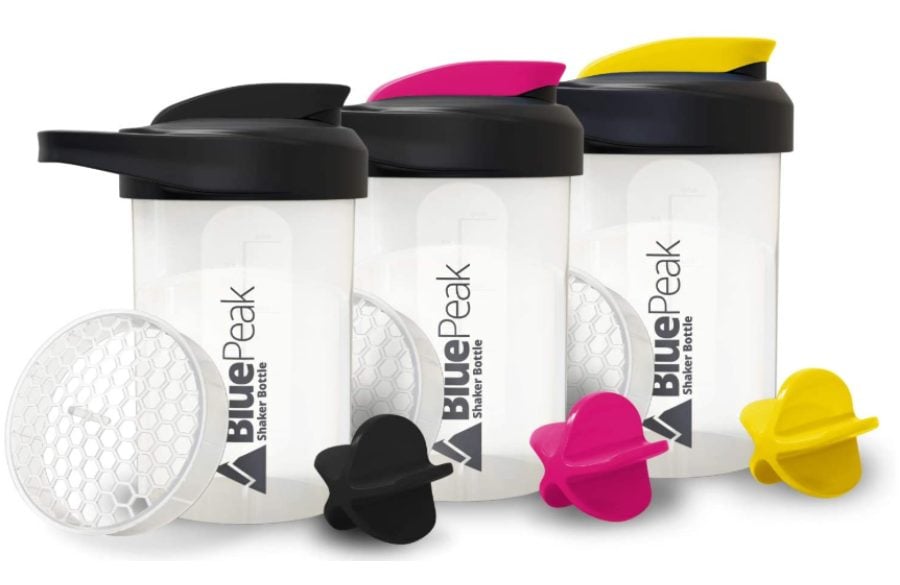 BluePeak offers a great portable shaker with this 3-pack. With the ability to hold up to 20-ounces, it is small in size and perfect for holding all of your nutrition needs without taking up all your space. BPA-free and dishwasher safe, it is durable and safe with a leak and spill proof guarantee. Included are a shaker ball and mixing grid so you have the option to choose which mixing technology you want to use. With three colors (black, yellow, and pink) and 20 fluid ounces of capacity, this shaker bottle is a great portable option.
Pros: Very portable, this bottle holds a nice amount of liquid given its shorter size. Having the grid and shaker ball offers nice diversity in blending capability and a pack for this price is pretty good.
Cons: The grid is not the best at breaking powder up and the lid doesn't have the best range of motion in terms of sipping ability.
Price: $16.99/ 3 Pack
Click here for the best price on Amazon
---
Wrap Up
Shaker bottles have risen in popularity as more and more people realize the benefit to not only working out, but also proper nutrition and supplementation. Easy-to-use and very convenient options for athletes and gym-goers alike, shaker bottles can provide for immediate access to vital nutrients as well as continued hydration throughout the day. These shaker bottle packs will make your life easier, more affordable, and add convenience so you can have access to a shaker bottle wherever you go. Our top 5 shaker bottle packs are great options for all of your nutrition needs and will provide you the chance to seriously elevate your fitness goals.
Let us know what you think in the comments below. Also, be sure to follow Generation Iron on Facebook, Twitter, and Instagram.