A complete breakdown of the Arnold Pro Strongwoman 2022 results
In what was an exciting two-day event, the Arnold Pro Strongwoman 2022 has wrapped with Victoria Long winning the entire event. Taking place at the Columbus Convention Center in Columbus, Ohio, ten strongwomen converged on the arena in hopes of being crowned the ultimate champion. With grueling events, plenty of drama, and a fantastic showing by all the athletes, we now have a winner and are already looking ahead to next year.
Looking back to our love of Strongman, and now with Strongwomen events as well, what we find so fascinating is the ability the human body has to lift almost immovable objects. A test of the body and mind, these competitors are keen on proving just how good they are by lifting massive amounts of weight.
The Arnold Pro Strongwoman 2022 was just another event highlighting why the sport is so fun and entertaining to watch and to the credit of all these competitors, they put on quite a show for fans far and wide. The event sponsors of Strongman Corporation and Rogue worked hard to give this event the attention it deserved and continue to promote this wonderful sport.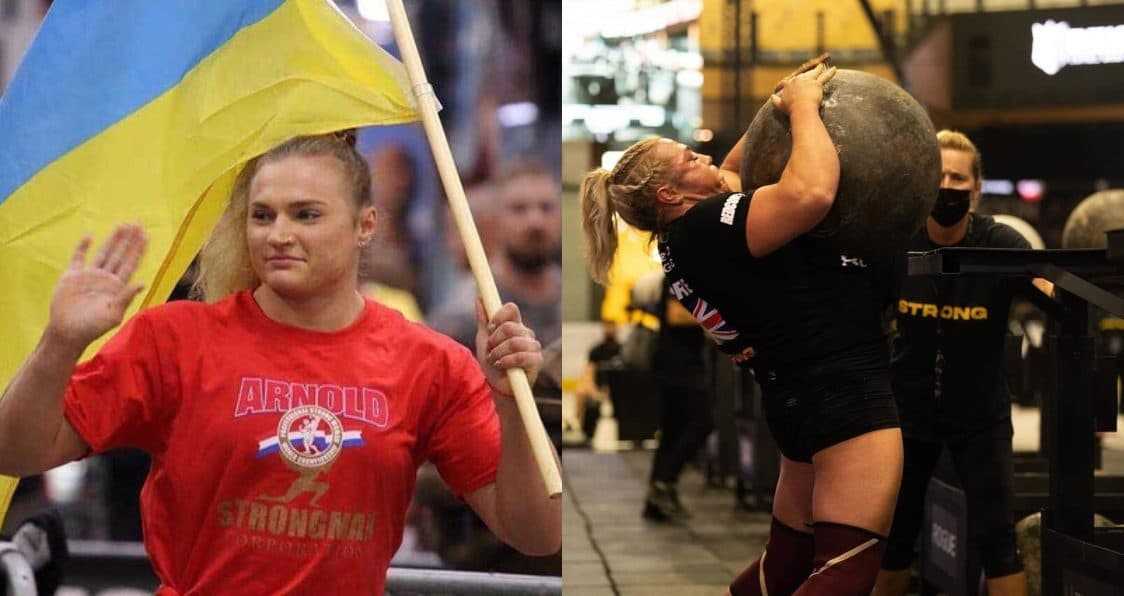 Arnold Strongwoman Classic 2022 Results
Here is the final leaderboard scores of the 10 competitors in this event:
Victoria Long — 54.5 points
Andrea Thompson — 45.5 points
Hannah Linzay — 40 points
Olga Liashchuk — 40 points
Melissa Peacock — 34.5 points
Donna Moore — 30 points
Anna Harjapaa —  28 points
Gabriele Burgholzer — 27.5 points
Cori Butler — 21.5 points
Rebecca Lorch — 7.5 points
Wheelbarrow Carry
The first event, the Wheelbarrow Carry, required athletes to carry three wheelbarrows of rising weight. First one being 277 kilograms, second being 249 kilograms, and the final being 272 kilograms. Each wheelbarrow had to be carried 12 meters. The faster the time the more points the athlete would score.
Victoria Long ended up victorious in this event with the fastest time of 41.44 seconds. Nearly four seconds faster than the follow up competitor, Hannah Linzay, in second place.
Victoria Long — 41.44 seconds
Hannah Linzay — 45.56 seconds
Andrea Thompson —  42.98 meters
Cori Butler — 35.97 meters
Gabriele Burgholzer — 32.97 meters
Donna Moore — 30.48 meters
Melissa Peacock — 22.98 meters
Olga Liashchuk — 18.59 meters (T-eighth)
Anna Harjapaa — 18.59 meters (T-eighth)
Rebecca Lorch — 9.58 meters
Viking Press
The Viking Press required each competitor to lift as many reps within the time limit. The Viking Press was 100 kilograms. The athlete with the most reps earned the top placing. Andrea Thompson completely dominated at this event earning 6 reps higher than the follow up athlete, Victoria Long, in second place.
Wrap Up
With the Arnold Pro Strongwoman 2022 coming to a close, this event proved to be a great one with a dedicated and determined champion crowned. While this event may be over now, we are already looking ahead to next year to see who may come out on top and continue the legacy of this amazing event.
Generation Iron Fitness Network continues to cover all major events at the Arnold Classic. You can check out our main 2022 Arnold Classic coverage hub right here for all updates and results!
---
Let us know what you think in the comments below. Also, be sure to follow Generation Iron on Facebook, Twitter, and Instagram.