These barbells are perfect for aiding in any big lift you seek to crush or those exercise variations to really challenge yourself.
Barbells are a seriously effective exercise tool and must have piece of equipment in your home gym, whether you have a rack or not. Of course, a rack is more than helpful especially when it comes to your big three powerlifts being the squat, bench press, and deadlift, but other exercises can be seriously enhanced when you add a barbell to them. When looking to maximize your gains and add diversity to those workouts, a barbell is a sure fire way to get this done.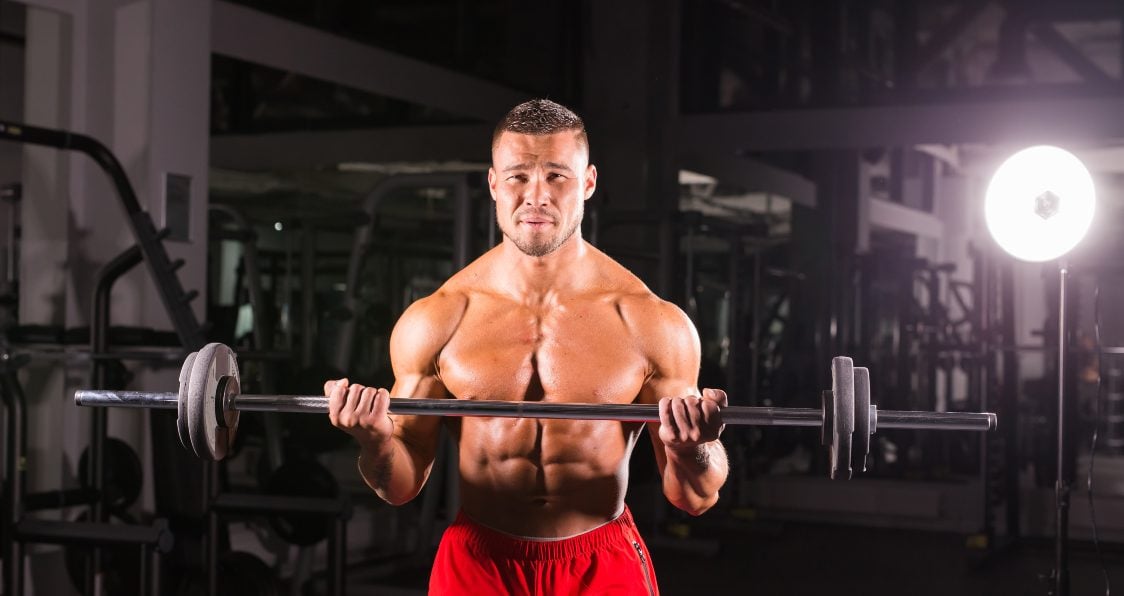 Benefits Of Barbells & Barbell Training
Offering a great full body workout and aiding in many functional movements, barbells are great for enhancing all areas of your athletic performance. The benefits of barbells and barbell training include:
Improved athletic performance: Great full body workout to enhance size and strength, while also providing support for functional movements (1).
Versatility: Working to enhance both cardio and strength, barbells can be used in a number of ways.
Better cognitive function: Works well with drop sets and increased time under tension, while also boosting your confidence as your strength and physique improve.
Convenience: One piece of equipment doesn't take up that much space and is easy to use.
We've put together a list of the Best Barbells for 2021 so your choices are easier when it comes to finding the right one. Here are the top 5 best barbells for this year.
Best Barbells of 2021
---
Best Barbell: 20KG American Barbell Training Bar
American Barbell 20KG Training Bar is a versatile bar tested and approved for training and competition. The precision ground alloy steel bar shaft is tested through a rigorous process to ensure longevity and excellent whip for optimal performance. A finished hard chrome adds extra durability and corrosion resistance for nice added features. The bar sleeves work to rotate smoothly and this bar is 20kg, 28mm in diameter, and 2,200mm in length. American Barbell Training Bar is built to last while providing comfort and longevity for all of your goals.
Pros: High quality, great grip, and quiet sleeves make sure your hands don't tear and your lifts are effective. Comfortable to use and a great bar for athletes of all levels. From a reputable company who cares about their customers and products.
Cons: Slight grooves in the collar may make for an unpleasant sound, and the grip may give off a false sense of feeling weak, although that may be dependent on preference.
Price: $325.00
---
Best For Heavy Weight: CAP Barbell "The Beast" Bar
This bar from CAP Barbell is built from solid cold rolled steel with a black phosphate finish. The sleeves are designed with snap clips and solid knurling allows for great grip, especially when lifting heavy. Made from steel, this bar is durable and high quality to ensure longevity and has a tensile strength of 110,000 PSI. Perfect for those who lift big, "The Beast" is a great bar to add to your home gym for serious growth.
Pros: Great for heavy lifting and a solid grip ensures an effective lift. Great for all experience levels and the bar itself is fairly great quality.
Cons: Metal does tend to splinter and while the bar is well made, the threaded sleeves are not of equal quality.
Price: $175.24
---
Best For Durability: Rogue Ohio Bar
The Ohio Bar by Rogue is a bar you can trust coming from a reputable and well-known company. The bushing sleeves offer reliable spin and the snap ring design allows for optimal stability for any type of weightlifting. This bar weighs 20kg, is 28.5mm in diameter, has a loadable sleeve length of 16.4'', and a tensile strength of 190,000 PSI. Great for multi-purpose use and built for maximum durability, the Ohio Bar from Rogue is a great barbell option.
Pros: Solid knurl for grip and great for multi-purpose use. At a good value, this bar is durable and comes from a great company in Rogue.
Cons: The knurl may be too much for certain exercises, like squatting, and the coating tends to chip after some uses.
Price: $285.00
---
Best Specialty Bar: American Barbell Hex Bar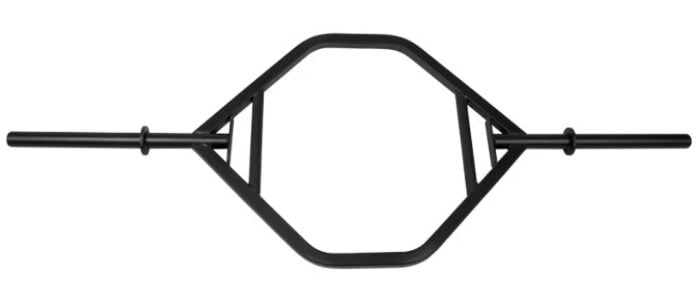 American Barbell Hex Bar is a great bar when looking to switch up your traditional deadlift while also allowing versatility with a number of exercises. This bar works to reduce stress on your low back given that you stand in the middle as opposed to slightly behind. Keeping the bar closer allows you to engage different muscles and have a more effective workout. While you don't need a rack, this bar is fully rackable and fits all Olympic plates. The bar is 85'' long with 16'' loadable sleeves and weighs 40 lbs. Knurled handles ensure great grip and this hex bar is a great variation when looking for something different than a barbell while getting the same benefits.
Pros: Great durability and can withstand heavy weight. Bar and handle size work well for all levels and all athletes. From a reputable company in American Barbell.
Cons: Doesn't accept a standard Olympic collar and there is an option for a collar to buy from them directly. The ends are hollow and are not protective against cutting you.
Price: $295.00
---
Best For Women: Synergee Games Colored Cerakote Barbell
Synergee Games has built a great bar for tough workouts made from high-grade steel with a tensile strength of 190,000 PSI. With a loadable sleeve of 16.4'', this bar can carry heavy loads and ensure you see growth with whatever exercise you embark on. Weighing 15kg and being 79.13'' long, this bar is perfect for any style workouts for maximum training and performance. A cerakote finish comes in different colors and this bar is great for whatever your workouts bring.
Pros: A great looking bar great for functional exercise. Good value and can hold a lot of weight for those big lifts.
Cons: The bearings are poor quality and wear down after only a few uses. For the price, this could be better.
Price: $299.95
---
Wrap Up
Barbells are great tools to seriously affect your lifts and enhance all areas of your gains. Adding a barbell to your home gym is something that will prove to be effective and worthwhile in the long run, especially for those still weary about going to a gym. Check out our list above and see which one of these barbells seems appealing to you because the benefits will be well worth the purchase.
Generation Iron may receive commissions on purchases made through our links. See our disclosure page for more information.
Let us know what you think in the comments below. Also, be sure to follow Generation Iron on Facebook, Twitter, and Instagram. 
References
Thompson, Brennan J.; Stock, Matt S.; Shields, JoCarol E.; Luera, Micheal J.; et al. (2015). "Barbell Deadlift Training Increases the Rate of Torque Development and Vertical Jump Performance in Novices". (source)