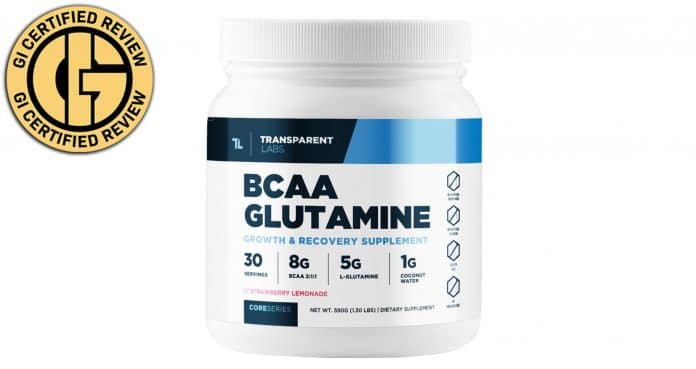 This may be the best BCAA for your repair and recovery needs.
How often do you get bored of just drinking water during your workouts? Often, right? You want something to drink mid-workout that you know will taste great while also benefiting you and helping you progress. This is where you would use something like BCAA intra-workout supplements. A great way to fuel your body to grow and repair itself, these bodybuilding supplements are exactly what you need for that mid-workout boost. There are so many options on the market, but Transparent Labs CoreSeries BCAA Glutamine is a fantastic BCAA product designed to give you loads of benefits with a highly transparent and honest label.
What any good BCAA supplement will do is increase muscle growth, reduce fatigue, decrease soreness, and prevent muscle wasting in efforts to keep all your gains intact. By working with a great ratio of BCAAs, along with these other added ingredients, Transparent Labs BCAA Glutamine can do this and much more while optimizing your health and performance.
Code GENIRON10 For 10% Off
Transparent Labs BCAA Glutamine is designed for repair and recovery and is a 100% clean formula. With 5 great ingredients, the added glutamine works for better growth and reduced fatigue.
Transparent Labs is a solid company who prides themselves on transparency and honesty when it comes to their labels and ingredients. With no added artificial sweeteners, coloring, or preservatives, Transparent Labs works to bring you the top-of-the-line ingredients at clinically effective doses with no hidden formulas. Transparent Labs products are manufactured in a state-of-the-art facility in Utah that is certified current good manufacturing processes (CGMP) and registered with the Food and Drug Administration (FDA). Each product is third party tested to keep the quality as high as possible and the buying experience as easy as possible.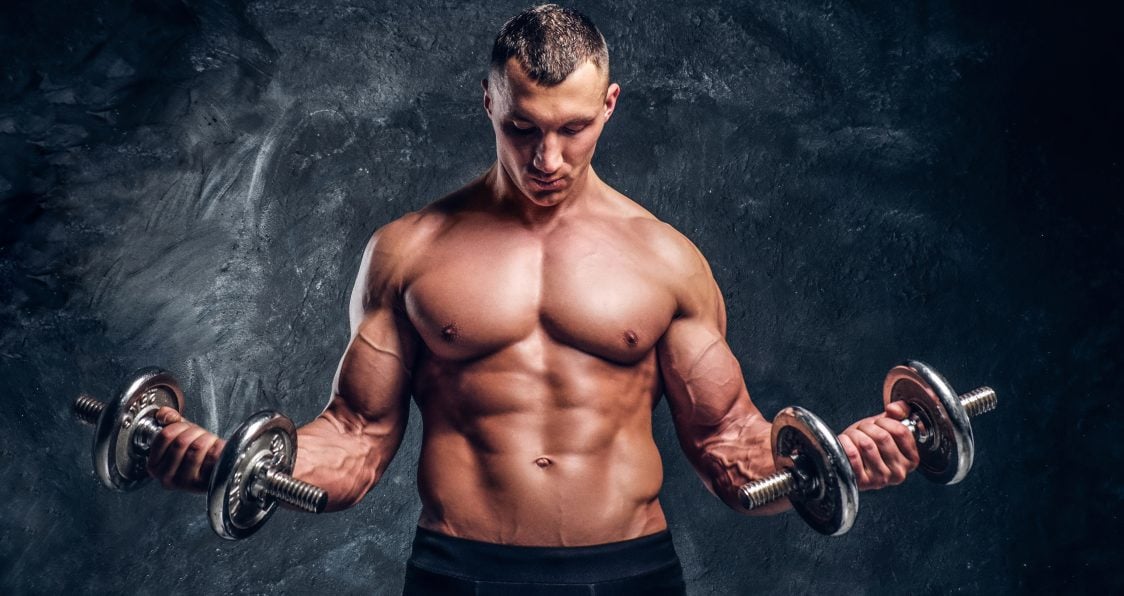 Transparent Labs CoreSeries BCAA Glutamine Highlights
Transparent Labs CoreSeries BCAA Glutamine offers all the benefits of a BCAA supplement with the added benefit of L-glutamine in the formula. Designed for the best BCAA for repair and recovery, Transparent Labs has crafted a 100% clean formula with a transparent label so you know exactly what you are getting. Each serving of 14 grams is designed to stimulate protein synthesis, reduce muscle fatigue, and enhance your overall performance, all while aiding in recovery and repair.
With 5 active ingredients, CoreSeries BCAA Glutamine works with a 2:1:1 ratio of BCAAs for all of the intended effects and benefits. The added bonus of this supplement is 5,000mg of glutamine. Glutamine is a naturally occurring nonessential amino acid and is the most abundant free amino acid in human muscle. It plays a major role in protein synthesis, inhibiting protein breakdown and muscle degradation, and reducing fatigue while providing immune health. Placed into this great formula is coconut water powder which is a rich source of electrolytes with a host of other overall health benefits.
Ingredients
BCAAs: Being Leucine, Isoleucine, and Valine, these can increase muscle growth, reduce fatigue, decrease soreness, and prevent muscle wasting for overall great gains (1,2).
L-Glutamine: A nonessential amino acid, this plays a role in protein synthesis while also reducing protein breakdown and fatigue (3).
Coconut Water Powder: Will work to promote better hydration while also serving as a rich source of electrolytes (4).
Other Ingredients
Citric Acid, Natural Flavor, Stevia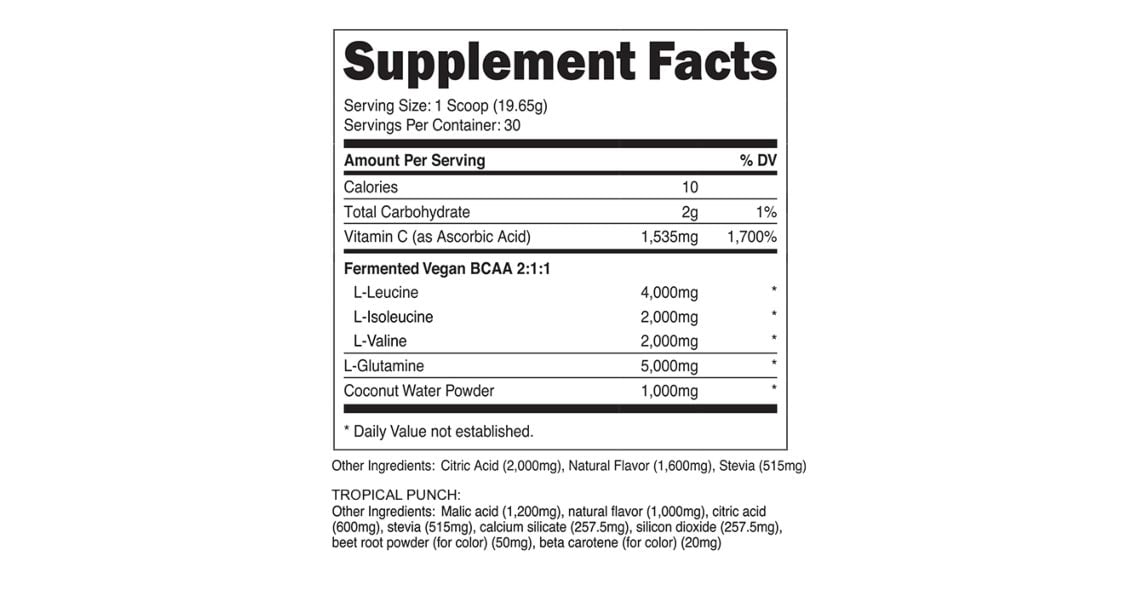 | | |
| --- | --- |
| Total BCAAs | 8,000mg |
| Calories | 10 |
| Carbs | 2g |
| Number Of Servings | 30 |
| Serving Size | 1 scoop |
| Best Way To Take | Take 1 scoop with 10-12 oz. of water before or during your workout. |
Price, Flavors & Effectiveness
Transparent Labs CoreSeries BCAA Glutamine is a great supplement for growth and repair to ensure nothing you work for goes to waste. With 30 servings per container, 1 scoop of this amazing BCAA powder will pump you with all those vital nutrients. This supplement also comes in 5 great flavors including: Green Apple, Orange, Strawberry Lemonade, Blue Raspberry, and Tropical Punch.
Pros
Fully transparent label and honest ingredients
From a reputable company in Transparent Labs
Clinically dosed ingredients with no harmful additives
High amount of glutamine and additional coconut water powder are great
Cons
Premium priced option
Only available through their website
Must mix it well to avoid grittiness
Price: $39.00
Frequently Asked Questions (FAQs)
With all of that being said, you still may have a few questions that you want answered, so let's take a look.
What are the Side Effects?
As far as side effects, there are a few when taken in high doses. With glutamine the side effects are generally mild and might include bloating, nausea, dizziness, heartburn, and stomach pain. With BCAAs, the similar side effects of stomach discomfort can occur when taken in too high of amounts.
Are BCAAs and Glutamine Safe?
When it comes to if something is harmful or not, BCAAs and glutamine supplements are regarded as safe. However, it is always good to consult with a physician before taking supplements of any kind.
Are they even worth it?
This question is very subjective, as it all depends on your goals and what you want to put in your body. You cannot just take BCAAs and Glutamine once, and expect to have amazing increases in muscle mass. These supplements are designed to help you train harder, so you still need to do that and eat properly to notice results.
How long do BCAAs take to kick in?
They are an intra workout supplement, so they get to work almost immediately in terms of lowering levels of fatigue during your workout. However, they also help you even after your workouts with recovery.
---
Check out our list of the Best BCAA Supplements for more great muscle building and recovery products!
---
Overall Value
Transparent Labs CoreSeries BCAA Glutamine is that supplement you need most to really boost your overall health and wellness while taking it to new heights. The right ingredients at effective dosages, along with a transparent label, ensures you get only the best product for your intra-workout needs. What you are really getting is a premium BCAA supplement with top tier ingredients from a company who knows the needs of athletes. Try Transparent Labs BCAA Glutamine today and see what this can do for all your growth and recovery goals.
---
Generation Iron may receive commissions on purchases made through our links. See our disclosure page for more information.
Let us know what you think in the comments below. Also, be sure to follow Generation Iron on Facebook, Twitter, and Instagram. 
*Images courtesy of Transparent Labs and Envato
References