Give yourself the best chance at growing muscle with these great pre-workout supplements to see great growth.
When it comes to building muscle and getting a great pump, pre-workout supplements are exactly what you need. As great training aids, pre-workouts have the ability to provide enhanced focus, increased heart rate, and insane muscle pumps to assist with those big lifts and really force our muscles to grow. While our busy schedules do tend to drain us, it is important we find that all important energy from somewhere and pre-workout supplements have just what you need to really make that happen. Great for shedding fat, increasing muscle, and hitting you with amazing energy boosts, a pre-workout can enhance recovery and allow to bounce back faster for your next big lift.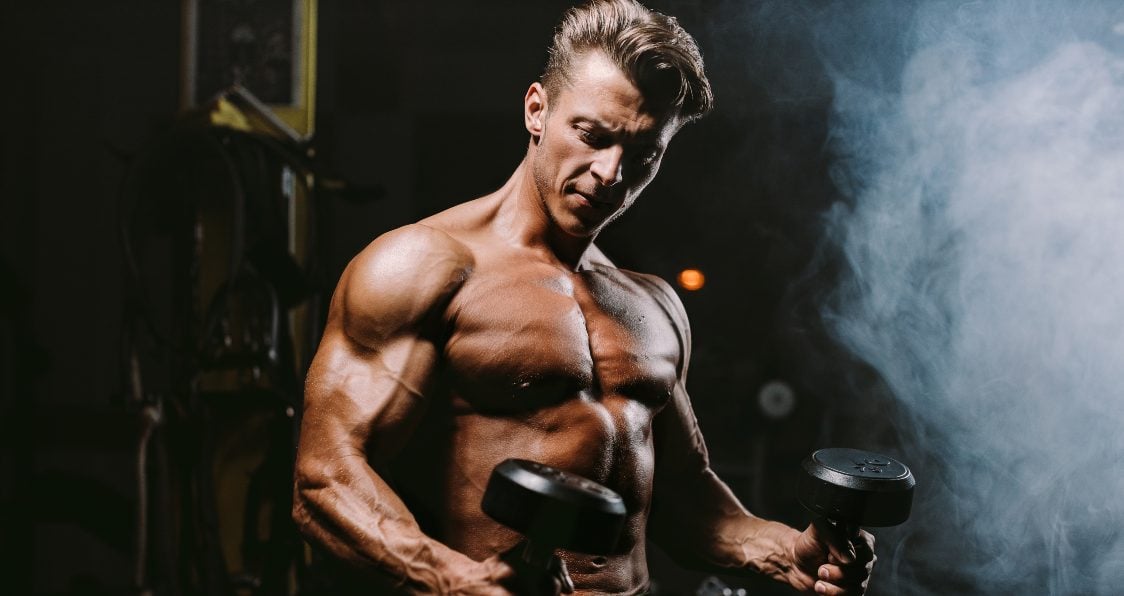 The benefits of pre-workout should not be ignored for what they can do for your training and performance is incredible. Great tasting and safe to use, a good pre-workout supplement can:
Increase focus and energy: Provide for more intense workouts while being locked into every exercise so nothing interferes with a good workout (1).
Reduce fatigue: Allow for longer training sessions and calorie burn giving your body the fuel it needs from endurance and strength exercises while reducing muscle soreness and unwanted pain.
Muscle pumps: Watch your strength and muscle gains flourish  and allow blood to flow through your muscles.(2).
Enhanced recovery: Bounce back faster and promote more efficient growth while recovering more effectively for faster turn arounds.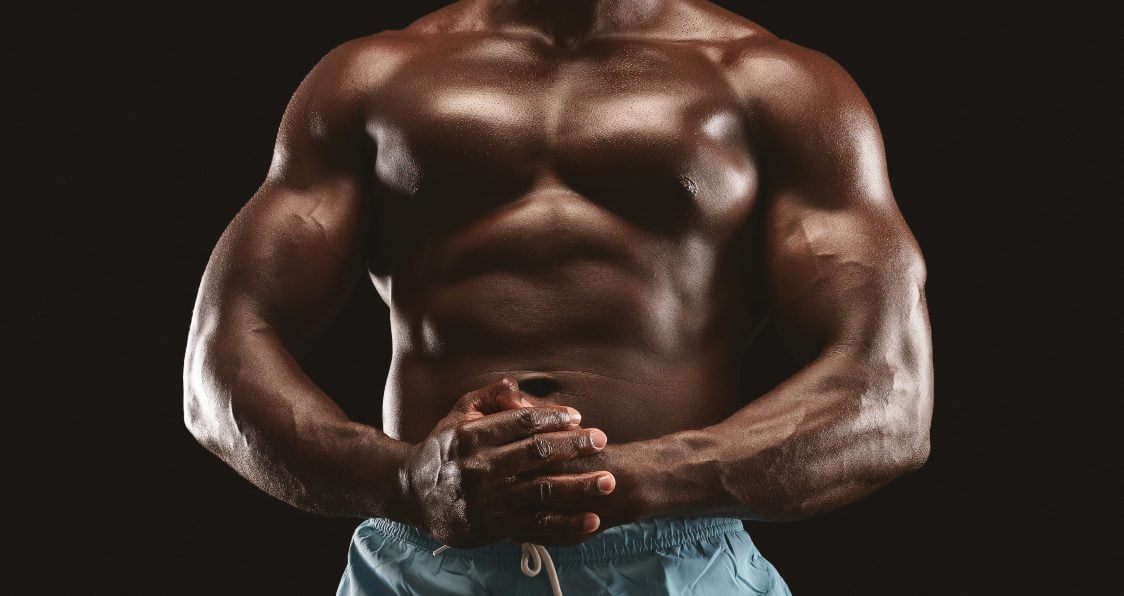 We've put together a list of the Best Pre-Workout Supplements for 2021 so you can start to see the desired growth you want. You won't be disappointed with the results from a good quality, highly effective pre-workout on your endurance, strength, and exercise performance for optimal training.
---
Best Pre-Workout Overall: National Bodybuilding Co. Stage Ready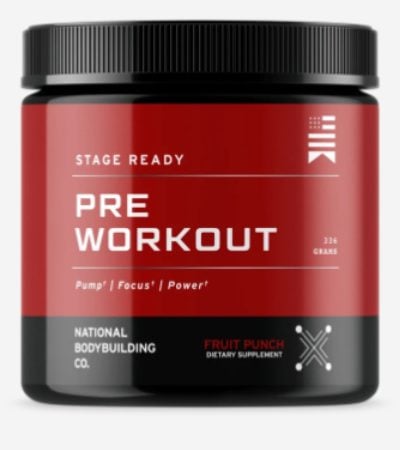 National Bodybuilding Co. has a great pre-workout supplement called Stage Ready Pre-Workout which delivers quality muscle pumps, enhanced stamina, and a solid boost of energy to really elevate your performance. With an advanced and effective blend, this pre-workout can hydrate and buffer muscle tissue, raise nitric oxide levels and blood flow, optimize ATP production, and boost neurotransmitter synthesis. With great ingredients and a clean formula, it is no wonder why National Bodybuilding Co. Stage Ready Pre-Workout won for Best Pre-Workout in GI Supplement Awards.
Pros: An effective blend with solid benefits for muscle pumps, energy, and stamina. Patented ingredients and great tastes. From a reputable company.
Cons: Premium priced option only available directly from their site. Could use more beta alanine as a key ingredient.
Price: $48.00
Check out our individual review for National Bodybuilding Co. Stage Ready here!
---
Best For Strength: Transparent Labs PreSeries BULK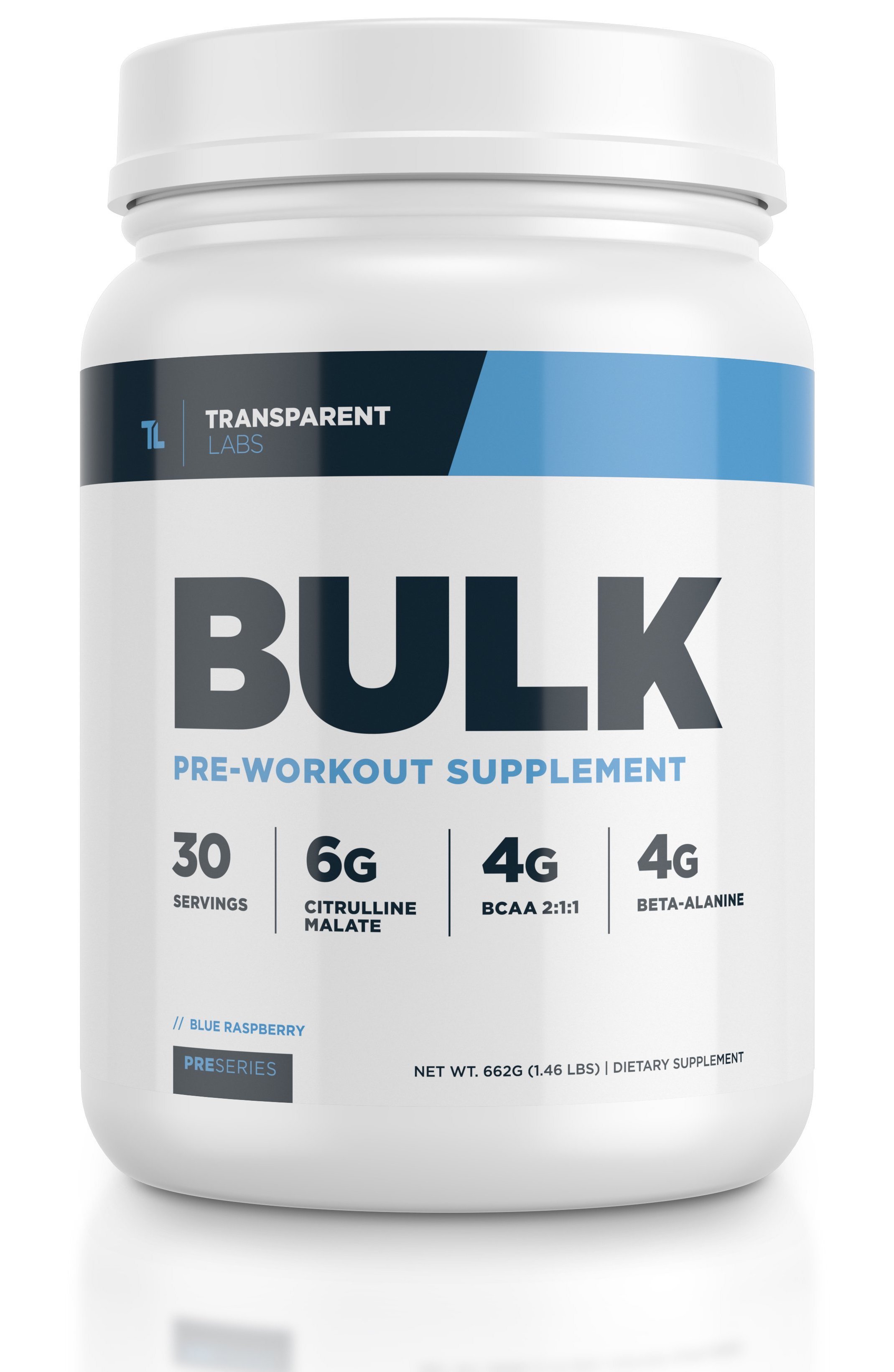 Backed by science with clinically effective dosages, this pre-workout is most effective for those looking to increase in size and muscle mass. BULK contains 6,000 mg of citrulline malate, 4,000 mg of beta-alanine, 4,000 mg of BCAAs, and 2,500 mg of betaine to boost your workouts, blood flow, and muscle growth. BULK will reduce fatigue and increase your energy to give you a more impactful and longer lasting workout. Transparent Labs prides themselves on a 100% label and there are artificial additives, colorings, or preservatives to ruin this clean product.
Pros: High amount of citrulline malate for awesome pumps and very clean ingredients for an honest product. From a reputable company in Transparent Labs.
Cons: High in beta alanine. Premium priced option only available directly from their site.
Price: $49.00
Check out our individual review for Transparent Labs PreSeries BULK here!
Best Ingredients: Performance Lab Sport Pre
Performance Lab Sport Pre is another high quality pre-workout supplement available to the public at a great price point. Performance Lab Sport is one of the most rigorously scientifically vetted brands and all of their pre-workout products are free of synthetic additives (which might dehydrate the muscles), non-GMO, and vegan friendly. Sport "Pre" increases nitric oxide in the blood to support the oxygenation of muscles during workouts, improves endurance by hydrating the muscles, and enhances both anaerobic and aerobic exercise by increasing ATP reductase.
Pros: Advanced formula that is vegan friendly and the capsules are easy to take. Will help with strength and endurance. It is caffeine free for those looking for no caffeine. Great ingredients and from a reputable company.
Cons: Premium priced option only available through their site. Capsules may put some people off and it is missing some stimulant focused ingredients.
Price: $39.00
---
Best For Cutting: Transparent Labs PreSeries LEAN
The perfect supplement for cutting, LEAN is great for those looking to target stubborn fat while keeping on that lean muscle. LEAN contains 6,000 mg of citrulline malate, 2,500 mg of betaine, 2,000 mg of BCAA, 1,500 mg of beta-alanine, and 600 mg of L-tyrosine to improve strength and muscle endurance, increase blood flow and nitric oxide levels, reduce fatigue, and improve memory. LEAN is great for those looking to slim down without losing that hard work done in the gym through your exercise performance from a great pre-workout powder with ingredients like citrulline malate and betaine.
Pros: Like BULK, this product is well-dosed and third party tested. With all-natural ingredients, it is a solid pre-workout for cutting and increasing strength and power.
Cons: LEAN is on the expensive side and does not have the greatest ingredients for fat loss. It may be good for cutting, but depending on your goals, other pre-workout products may work better.
Price: $49.00
Check out our individual review for Transparent Labs PreSeries LEAN here!
---
Best For Intensity: Kaged Muscle Pre-Kaged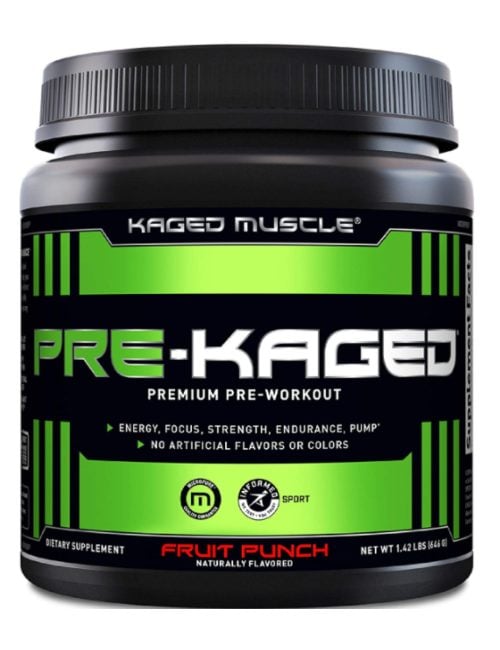 Increase the performance and intensity of your workout with this high quality pre-workout powder available from Kaged Muscle. Kaged Muscle Pre-Kaged is unmatched in terms of ingredient quality and synthesis of the blend of proteins. Kaged Muscle lab tests every batch to make sure each is fully loaded as advertised — 274 mg pure caffeine, 2 g taurine, 6.5 g fermented BCAAs, 6.5 g pure l-citrulline, and 2 g of their patented betapower blend. It's an unbeatable combination that is guaranteed to supercharge any workout with great pre-workout ingredients from supplements.
Pros: Kaged contains BCAAs and has well-dosed ingredients for increasing muscle strength and pure caffeine for energy. With no artificial colors or flavors, it does compete with other pre-workouts in that regard.
Cons: It is pretty pricy and does contains sucralose, which is an artificial sweetener. The caffeine content may be high for those sensitive from other products.
Price: $39.99
Check out our individual review for Kaged Muscle Pre-Kaged here!
Best Stim-Free: Transparent Labs PreSeries Stim Free
Transparent Labs Stim-Free is an amazing option for those looking for stimulant free supplements. Containing key ingredients like citrulline malate and betaine, all of these ingredients are clinically dosed and effective for providing great gains. With a 100% transparent formula, this product is great for those who are intolerant to caffeine or other stimulants, or for those looking to cycle off of them. With 13 active ingredients all designed for enhanced focus and increasing lean muscle, you cannot go wrong with this great stim-free, non-caffeine option that will still enhance energy like other products.
Pros: Great advantages while being stim-free. Perfect for those insensitive or looking to get off caffeine. Clean ingredients, advanced formula, and a 100% honest label providing for energy and focus and decreasing muscle fatigue without sacrificing power.
Cons: Premium priced option only available directly through their site. Does not have caffeine or other stimulants for those who want it like other supplements.
Price: $49.00
---
Best For Pumps: Staunch Koala Freak 2.0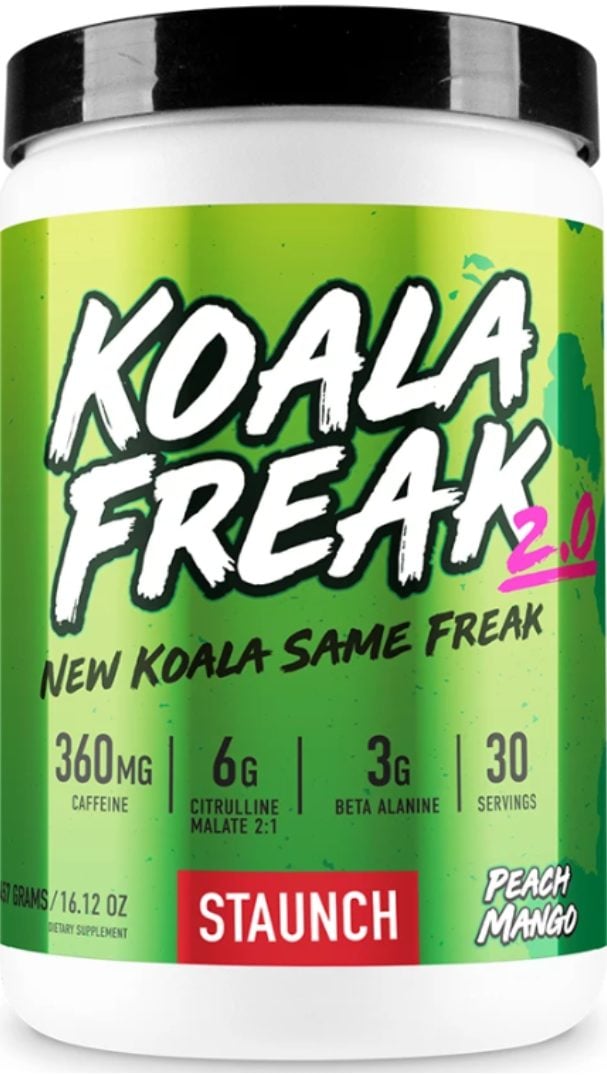 Koala Freak is an excellent atypical pre-workout formulation for those who find regular pre-workout to be a little rough on their system. Koala Freak boasts an impressive "jitter-free" clean energy blend that will help you get pumped for your workout without making you feel like you've just smoked meth. Koala Freak has 6 g citrulline malate, 3 g beta-alanine, 1 g betaine anhydrous, and 360 mg of L-theanine in every serving.
Pros: Koala Freak has well-dosed ingredients to enhance muscular endurance and the caffeine combo of caffeine and L-theanine is great for a no-jitter pre-workout that will increase strength and power, as well as health and wellness.
Cons: It is missing creatine and is a little pricey for missing some key ingredients that other pre-workout supplements do have.
Price: $49.00
Check out our individual review for Staunch Koala Freak 2.0 here!
---
Best For Women: Optimum Nutrition Amino Energy
Optimum Nutrition Amino Energy supplies essential amino acids — leucine, valine, and isoleucine — which are important for muscle growth and effective for rehab. There's 100 mg of caffeine from green tea and/or green coffee for energy during your training sessions. But, there's only 5 calories per servings so it's fine for those trying to lose weight. There's no sugar with only 1g of carbs and more than 10 flavors to choose from. You can't go wrong with ON products as they're all made with high-quality ingredients for a good pump and overall health.
Pros: This pre-workout is inexpensive, keto-friendly, and comes in a variety of flavors. Great for rehab, it will also improve focus and energy levels, as well as muscle strength and power.
Cons: Details of this pre-workout in terms of quantity of each ingredient is unknown and it does contain artificial flavors and soy.
Price: $21.99
Check out our individual review for Optimum Nutrition Amino Energy here!
---
Best For Energy: Cellucor C4
A scientifically-backed pre-workout formulation that supports high energy levels that will last the full duration of your workout. C4 has 1.6 g Carnosyn-patented beta-alanine, 1 g creatine, 1 g arginine, and 150 mg of caffeine to get you absolutely pumped for your workout. C4 will not only improve the oxidization of your muscles while you work out, but it will help you focus and improve your stamina so that you can work out for longer.
Pros: Cellucor C4 is effective for giving you energy, focus, and supporting rehab. It is great for giving you long-lasting stamina to keep your workouts going longer.
Cons: It does tend to clump together and some may experience jitters. It is a little pricey and uses sucralose to give it flavor, but is not the greatest tasting pre-workout.
Price: $49.99

FAQ Section
What is the best pre-workout?
National Bodybuilding Co. Stage Ready. This pre-workout is a really high quality product designed to deliver pumps, enhanced stamina, and solid energy for elevated performance. An advanced and effective formula is highly safe to use and is produced with clean ingredients from a reputable and top tier company in National Bodybuilding Co.
What does pre-workout do?
Pre-workout is designed to give you the edge for your training and performance. It will enhance energy and focus for more efficient workouts, increase your heart rate and get your blood pumping for better blood flow and calorie burn, and increase muscle so you turn that unwanted fat into a shredded physique to have confidence in the effects.
Are there stimulant-free pre-workouts?
Yes! Since many people are sensitive to caffeine or just don't want it in their daily routine, companies have created stim-free options to give you the same results without the caffeine.
Check out some amazing stim-free pre-workout supplements here!
Is pre-workout safe?
Pre-workouts are not monitored by the FDA but are safe for public use. Many contain caffeine, so for those sensitive it is something to be cautious of. Some potential side effects are dizziness, nausea, dehydration, and high blood pressure, but many of these come from the overload in caffeine for some. Also, many companies will have their products be third party tested to ensure quality pre-workout products for exercise performance.
When is the best time to take pre-workout?
It is ideal to take pre-workout 30 minutes before your workout. This will ensure all of the ingredients will kick in so they work as effectively as possible for optimal effects and results. It is important to stay hydrated in the time in between your workout and during your workout for pre-workout can dehydrate you.
Wrap Up
Pre-workout supplements are great to use for those looking to build their muscle and really start to see that shredded physique unfold. With the power to increase energy, provide for great focus, promote pumps, and enhance recovery, a good quality and highly effective pre-workout will boost your gains to the next level. Check out our list above and see which one is right for you, for you won't be disappointed with the results. A solid pre-workout can only add to your gains and those gains are what you want most. Give these products a try and really see what they can do for your gains. You won't be disappointed with the results when you buckle down and get a good supplement to accompany you on your muscle building journey.
Generation Iron may receive commissions on purchases made through our links. See our disclosure page for more information.
Let us know what you think in the comments below. Also, be sure to follow Generation Iron on Facebook, Twitter, and Instagram. 
References
Ellerbroek, Anya C.; Antonio, Jose (2019). "Effects of Pre-Workout Supplements on Strength, Endurance, and Mood". (source)
Kedia, A.; Hofheins, J.; Habowski, S.; Ferrando, Arny; et al. (2014). "Effects of a Pre workout Supplement on Lean Mass, Muscular Performance, Subjective Workout Experience and Biomarkers of Safety". (source)