These home gyms are everything you need for bodybuilding and to build your gains from the comfort of your own home.
Going to the gym can be fun but bodybuilding from home can help build gains conveniently. We see people we've known for a while, talk shop, and get a good pump while doing so. And while going to a gym is essential for our gains, home gyms have become increasingly popular and it's no wonder why. Able to give us privacy and convenience by working out in the comfort of our own homes is something we all would love to have. While this luxury may seem far away for you, this list below may hold the key to unlocking those at-home gains you want most.
We've put together a list of the Best Home Gyms so you have the best chance at seeing serious at-home gains. With the luxury and convenience of a gym in your home, there's no excuse not to see that desired physique come to life.
Best Home Gyms Of 2021
---
Best Overall Home Gym: Force USA G9 All-In-One Trainer
Force USA G9 is the ultimate plate loaded all-in-one trainer to capitalize on your home gym goals. Engineered to be tough, sturdy, and versatile, the options are endless to see gains. What makes this home gym so complete is that it combines a power rack, smith machine, cable pulley, chin-up station, dip station, vertical leg press, low row, and core trainer to have all the strength training machines you need in one unit. With built in storage for barbells and other weights, as well as attachments, this can help keep you organized and is a great overall home gym.
Pros: Packed with a number of training machines in one for convenience. Built well to be durable and the space for weights and attachments alleviates any clutter.
Cons: Expensive option, but for everything included, that is something to consider.
Price: $2,999.99
Best Entry Level Home Gym: Force USA G3
Another great home gym, Force USA G3 is that perfect all-in-one trainer for entry level lifters. While this is a slight downgrade from the G9 home gym, the price is lower and it does include less amenities. With that said, what it does have is pretty great. G3 combines a power rack, smith machine, and cable pulley system into this one unit. Perfect for those just starting out, this home gym gives you three strength training machines to nail down the essential exercises before upgrading to a more elaborate home gym. Those looking for entry level success, Force USA G3 is a great choice.
Pros: Three great strength training machines to boost gains. Great for entry level athletes to use before potentially upgrading.
Cons: Still a bit on the expensive side. Does not include as much as some of the other slightly more expensive gyms.
Price: $2,099.99
---
Best For Essential Exercises: Titan Fitness Plate Loaded Functional Trainer
Titan Fitness Plated Loaded Functional Trainer is a great home gym to add depth to your at-home workouts by providing the opportunity to bulk up and get fit with a pull-down and row training exercises to build muscle. This functional trainer will add resistance to essential exercises and is built to last. Included in this home gym are comprehensive pulley options including lats, rows, and pulldowns, two Olympic plate sleeves, and a pull-up bar at the top. Durable and a sleek design, this is a great home gym for those essential exercises.
Pros: Plenty included for pulling motions, like pulldowns and rows. Built to last and offers a sleek design. Perfect for those tackling those essential exercises.
Cons: Doesn't include as much as some of the others, like a power rack.
Price: $749.99
---
Best For Functionality: Bowflex Xceed
Bowflex Xceed is a solid home gym coming out of Bowflex that allows for 65+ workouts to take place, working your chest, shoulders, back, arms, abs, and legs. The heavy-duty steel frame ensures long-lasting protection and shape retention and offers 210 lbs. of power rod resistance standard. With multiple cable and pulley positions for customizable workouts, this also comes with an ab training strap, squat bar, and lat bar. An adjustable, quick release seat with polyurethane high-density foam cushion is great for comfort and overall, this home gym is perfect for functionality.
Pros: Great durability and comfort for optimal functionality. With 65+ workouts, you get a full gym with Xceed.
Cons: A power rack would be nice and the resistance rods could be better.
Price: $699.99
Best For Convenience: Marcy Multifunctional Home Gym Station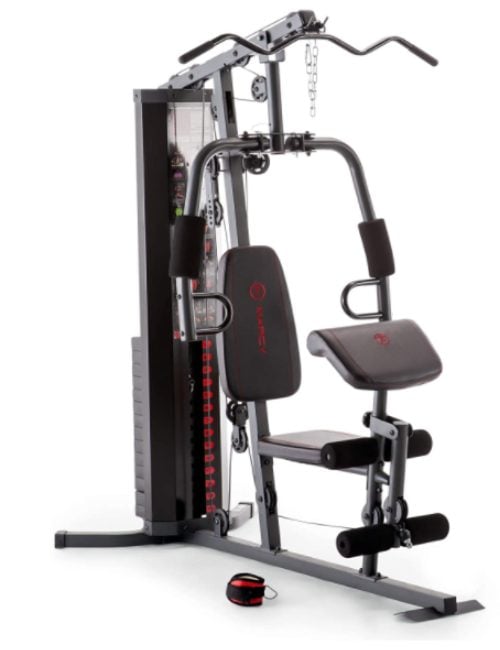 Marcy Multifunctional Home Gym Station is a premium steel home gym to maximize total body training. With 150 lbs. of weight stack that can be customized to any skill level, this will work to avoid the stress of loading and unloading weight plates. The dual action press arms are designed for you to perform upper body exercises easily and with convenience, along with the removeable curl pad. A convenient home gym, Marcy Multifunctional Home Gym Station is one to enjoy efficient training with an innovative structure for comprehensive and effective full body workouts.
Pros: Well built and a great design to maximize both upper and lower body workouts. Great for convenience with an innovative structure.
Cons: Not as much included as some of the others and assembly can be quite the challenge.
Price: $800.98
Benefits Of A Home Gym
While many of these benefits may seem self-explanatory, it's important to make sure we make note of them because this can be a big decision financially. Knowing just what these machines can do may just tip the scales for the decisions to buy.
Benefits of a home gym include:
Build strength and size: Of course, with a home gym, and one that offers many options for workouts, you can build strength and size in no time.
Ultimate convenience: Having this in your home saves you time and energy of getting to the gym and dealing with the hassle that goes along with it.
Increased privacy: While you may not be self-conscious about going to the gym, having a home gym is nice to have that added level of privacy so you can grind away.
Good long term investment: At the end of the day, a gym membership can be costly. Also, if you buy individual equipment that can add up to so why not catapult those gains with one machine.
Hygiene and no sharing: While we aren't all germaphobes, having your own home gym limits the need to worry about hygiene as much as you would if you go to the gym.
What To Look For
Knowing what to look for can really help make that decision easier when looking at a good home gym.
Key pieces included: Look at what the gym has to offer. With attachments and capabilities to do a number of exercises, make sure the one for you has everything you need to have a fun, engaging, and muscle building workout.
Quality and durability: As a long term investment, make sure your home gym is built to last with high-quality pieces and overall durability.
Space: These home gyms will come in different sizes and depending on the space you have allocated for this gym, make sure it fits comfortably so it doesn't obstruct your home.
Price: We go back to price. Make sure this fits in your budget but remember the benefits that come along with potentially upgrading to a slightly more expensive option.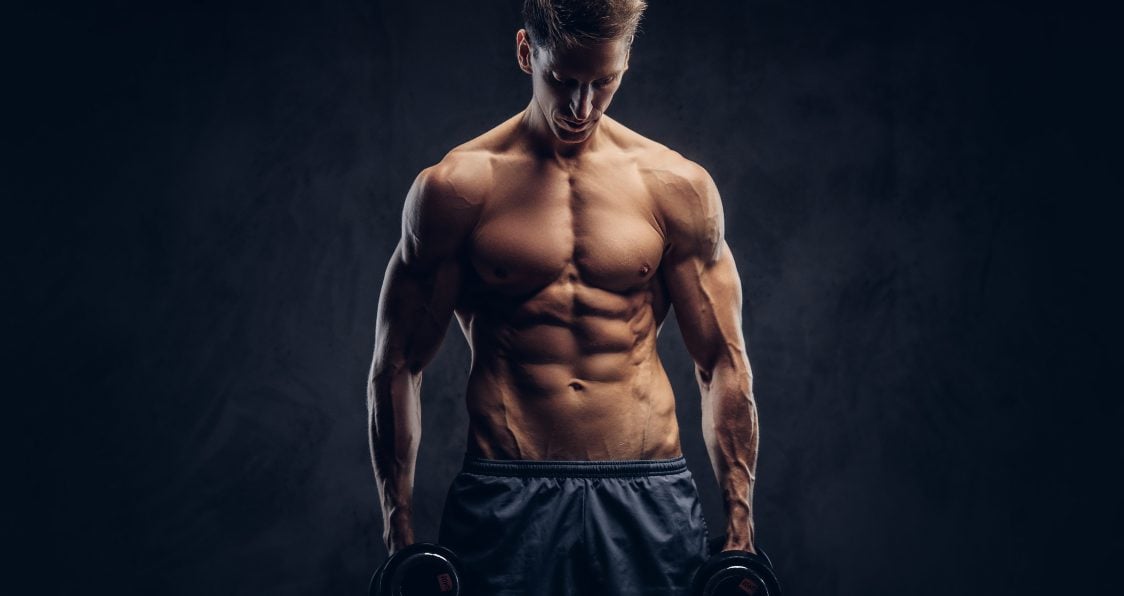 How We Choose
When looking at the best home gyms, our team knows this can be a big investment, but one worth making. While these tend to be expensive, the long term investment is something to keep in mind. Price is a major factor for us when choosing the best home gyms, but we also look at other factors that will contribute to a gym being at the top of its game. Functionality and amenities included are a huge draw, for the more a home gym can offer, the better you'll be as you seek to build muscle and lean down. Space and convenience of the home gym is something to consider as well, for we know finding the space to have such a large machine can be challenging. If you do have the luxury of a space for this, it really is something that can truly help your fitness journey. Of course, reputability of the brand is very important to us because you deserve honesty and transparency with all your products.
FAQ Section
What is the best home gym?
Force USA G9. This is the ultimate plate loaded all-in-one trainer to capitalize on your home gym goals. Engineered to be tough, sturdy, and versatile, the options are endless to see gains. What makes this home gym so complete is that it combines a power rack, smith machine, cable pulley, chin-up station, dip station, vertical leg press, low row, and core trainer to have all the strength training machines you need in one unit.
Can I get a full body workout done on these home gyms?
Absolutely. They are designed so you can elevate your training and performance with multiple exercises while working multiple muscle groups. You can really work to get a total body pump right in the comfort of your own home.
They all look like great options! How can I choose?
They are all great options and we took the time to get the best for this list. If you are struggling with a decision, look at some easy objective factors being price and space. Then think about your goals and which gym will allow you to get the fastest results. While it will still require hard work and determination, the right gym will offer a fun way for you to get shredded.
Wrap Up
Home gyms are a great way to boost your strength and gains while being in the comfort of your own home. Home gyms can enhance all areas of your training by offering privacy and better hygiene, but more importantly, a space for you to work hard with ease and convenience. Check out this list above for some great home gyms and work to boost those at-home gains today.
Generation Iron may receive commissions on purchases made through our links. See our disclosure page for more information.
Let us know what you think in the comments below. Also, be sure to follow Generation Iron on Facebook, Twitter, and Instagram.