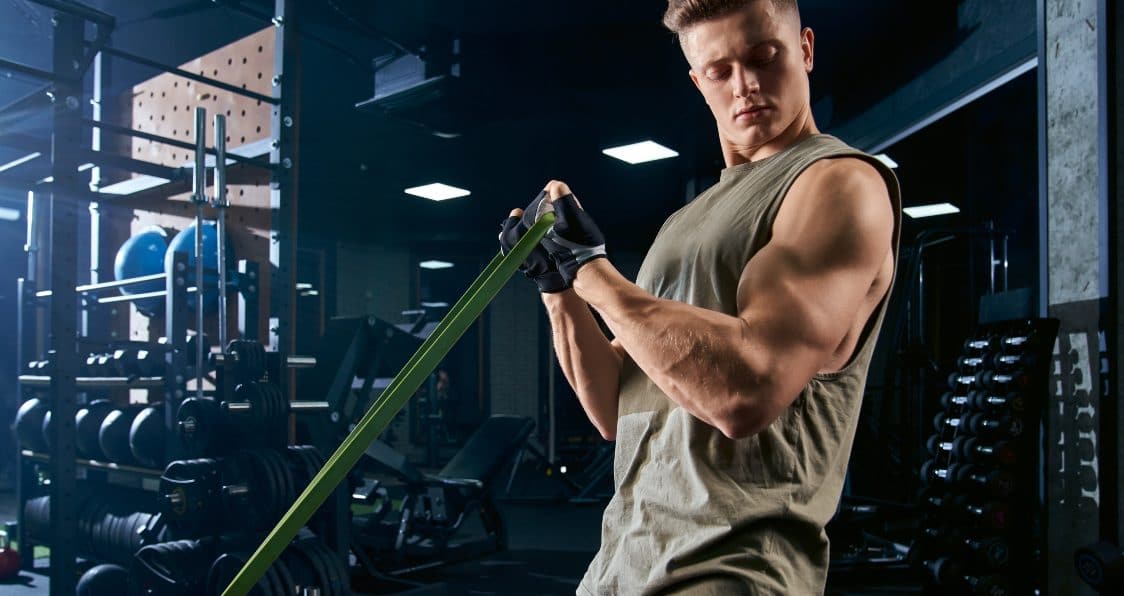 Don't spend a fortune for your top home gym equipment and work on building an at home gym under $100.
While it's easy to rack up an expensive tab of cardio machines, weight sets, a bench or squat rack, and all the accessories you want, you really don't have to spend a total fortune to build a good home gym and the best home gym equipment under $100 can seriously benefit you. Whatever money you do spend, however, will pay off in the long run.
As a cheaper option than an expensive gym membership, you not only save money, but have the time and convenience of working out right in your home. This will commit you to working out more and for longer since travel time and convenience are all at your doorstep. You'll never have to wait for equipment and you are free to do whatever you want, so consider the home gym benefits and make your fitness goals even more of a reality.
We've put together a list of the Best Home Gym Equipment Under $100 to give you the best chance at building an at home gym under $100. With the right equipment, you are well on your way to seeing those gains you want from the comfort of your own home.
Best Gym Equipment Under $100 For 2021
---
Best Resistance Bands For Mobility
Resistance bands are great training tools but can really enhance mobility by giving you better range of motion and slightly better resistance for stretching and certain exercises.
Serious Steel Fitness 32'' Resistance Training Bands
Serious Steel Fitness 32'' Resistance Training Bands offer next level resistance training to improve your overall strength and mobility goals. These bands range from 2 lbs. to 200 lbs. and are made from 15 layers of continuous latex. Portable and functional, you can take these anywhere be it at home or in the gym. Offering 32'' and a high quality resistance band, Serious Steel has done a great job with this product so you can maintain tension and have a full range of motion throughout your entire workout.
Serious Steel Fitness 32'' Resistance Training Bands are perfect for strength training and mobility goals. Ranging from 2-200lbs., these bands are portable, functional, and high quality.
Pros
Great for resistance training to improve strength and mobility work
Maintain tension and improve range of motion for the entire workout
Offer a great range from 2 lbs. to 200 lbs.
Cons
If using around certain objects that are sharp, you need a band guard to protect these bands
Price: $21.90
---
Best Dumbbell
A dumbbell is a vital piece of equipment for you can work on isolation exercises to fix any muscle imbalances while also adding resistance to those vital compound exercises.
Topeakmart Adjustable Dumbbell Weight Set
Topeakmart Adjustable Dumbbell Weight Set offers a great set of adjustable dumbbells that will save space and money when it comes to your dumbbell needs. Perfect for upper and lower body building exercises, the cement plates and iron bar allow for durability and the utmost quality. Anti-slip grips allow for comfort and safety and the ability to get the best workout possible. Included with this adjustable dumbbell set are four 4.4 lbs. plates, four 3.3 lbs. plates, four 2.8 lbs. plates, 2 bars with grips, and four spinlock collars.
Topeakmart Adjustable Dumbbell Weight Set is perfect for saving space and time. A complete set of adjustable plates, bars, and spinlock collars, you limit your dumbbells to one while still offering a range of weight.
Pros
Adjusting makes this easy to workout
Can add and take off weight for your desired amount
Save money and time with one set of dumbbells
Cons
May be a hassle to have to adjust constantly
May not be enough weight for some
Price: $61.99
Check out our individual review for Topeakmart Adjustable Dumbbell here!
---
Best Kettlebell
Kettlebells are seriously effective workout tools to work on strength as well as higher intensity workouts to really get the heart rate going and work on shedding fat and building muscle.
ONNIT Kettlebells
Onnit kettlebells can, and will, be the most versatile tool in your gym bag. This new line of kettlebells underwent a major upgrade to be even better than before in efforts to remain on the cutting edge of innovative sports equipment. These kettlebells have a gravity cast for added consistency and durability, an enhanced powder finish grip for no slippage and better workouts, and they are all color-coded for easy accessibility, safety, and efficiency. As a great tool to increase explosive power, strength, and endurance, Onnit kettlebells are a great move for you to make.
ONNIT Kettlebells are made for consistency and durability and work great for any strength and endurance work for all athletes.
Pros
Great quality and grip for overall training and performance needs
Gravity cast works great for durability and color-coded is nice for easy accessibility
Onnit is a reputable and trusted company
Cons
Buying one single kettlebell at a time can get expensive, especially as you increase in strength
Price: Under $100 range from $22.95 (13 lbs.) to $99.95 (62 lbs.)
---
Best Ab Roller
We all want those six-pack abs and working with an ab roller can give us great core engagement and development as we work to stretch out.
EnterSports Ab Wheel Roller
EnterSports offers a high quality ab wheel to allow for superior stability without causing unrestricted movement. The wheel is 3.2 inches wide and can hold up to 600 lbs. and this superior, stainless steel quality ensures durability, safety, and comfort. As a great tool to strengthen your abs, hips, shoulders, and back, it will decrease low back pain and help improve overall stability.
EnterSports Ab Roller Wheel is a high-quality ab roller wheel that ensures durability, comfort, and stability for a serious core workout.
Pros
The design is top tier and allows for your wrists to remain straight while also really working your abs
Great for all levels and the added bonus of pushup grips
A resistance band make this a great deal
Cons
Some have reported durability concerns with the wheel, in particular the handles
The tension straps may not be strong enough
Price: $22.93
---
Best Medicine Ball
A medicine ball works great for a host of exercises from upper body, lower body, and core workouts to give you a great burn while also providing for great grip.
SPRI Xerball Medicine Ball
Medicine balls are great tools for all sort of workouts from circuit style to core work and SPRI offers a great selection of medicine balls of varying weights. The dual-handle easy-grip makes rotational exercises easier to do while other circuit style workouts can be performed with a better grip. This is the perfect choice for ab routines, cross upper body patterns, and dynamic lower body drills and includes an exercise guide.
SPRI Dual Grip Medicine Ball works great for a variety of workouts with a great grip and good durability.
Pros
The dual handle design is great for any workout
The variety of weight to choose from allows for your own designed workouts
With the exercise guide as well, this is set at a good price
Cons
The ball itself does tend to get slippery at times so working on a solid grip can be challenging
A strong rubber odor was observed in early uses
Price: $64.11
---
Best Pull-Up Bar
A pull-up bar is an awesome tool to have for it can attach into any doorway and really work to build lat and core strength while aiding in that great physique.
MUSCOACH Pull-Up Bar
MUSCOACH brings a multi-purpose and ergonomic angle grip to this pull-up bar for maximum muscle engagement and wrist support. The soft and thickened sponge handle allows for solid grip and no slippage and this bar allows for 4 grip positions: normal grip, close grip, wide grip, and hammer grip. The large hook design makes this an easy to assemble bar with no screws to fit in almost any doorway.
MUSCOACH Pull-Up Bar is a solid pull-up bar for muscle engagement and wrist support great for building muscle.
Pros
Convenient and allows for variety in your pull-up/chin-up style workouts
Easy assembly and no screws make this a worthwhile purchase
Cons
It doesn't fit all doorways and the bar may be too wide for some
Versatility comes into question with chin-ups and the lower stabilization bar
Price: $6.69
---
Best Jump Rope Set
The best jump rope set will allow you to get a great HIIT or cardio-based workout to build endurance and work to shed unwanted fat.
QuickFit Jump Rope Set
QuickFit brings this two cord jump rope set to the mix which is great for diversifying your workouts. With one weighted cord and one non-weighted cord, they allow you to develop strength, stamina and are built to last. The weighted cord is made from PVC and alloy aluminum handles ensure durability for those rigorous jumping workouts. Work to spice up your fitness routine with this great jump rope product from QuickFit.
QuickFit Jump Rope Set offers a weighted and non-weighted rope for a host of workouts with the utmost durability.
Pros
Two cords offer great diversity for either speed and stamina training or something more strength-based
Built to last, this is a durable and very convenient product
Cons
The weight of each rope is unknown, although that shouldn't be a big problem
Price: $19.99
---
Best Resistance Band For Strength
Resistance bands also offer great resistance and are perfect for building strength either for a warm-up or during your workouts to build mind-muscle connection.
Angles90 Resistance Band
These highly resistible and perfectly transportable resistance bands from Angles90 are perfect for all of your workout needs. With the ability to work out your whole upper body with less joint stress, you will enhance muscle development and work to see that desired physique. Angles90 comes with two bands, 20 lbs. and 40 lbs., and four carabiners. The length is adjusted through the handles for convenience to ensure an effective workout with no hassle. Whether at home or on the go, you can see great growth and development with the help of Angles90 resistance bands.
Angles90 Resistance Bands are portable bands great for muscle development and rehab work with effective weight options.
Pros
A quality grip ensures an effective and versatile workout
Easy adjusting through the handle makes workouts convenient and allows you to get the right length
From a company who cares about their consumers at a great price
Cons
Other resistance band sets may include more bands with the amount of weight or resistance closer together which would allow more diversity in your workouts
Price: $24.90
---
Best Exercise Ball
An exercise ball works great for a host of exercises while also being a stretching tool, making this a multi-functional piece of equipment great for a home gym.
SGQBB Workout Balls Set
This yoga ball set from SGQBB includes a 22-inch anti-burst exercise ball as well as a 10-inch mini Pilates ball. Also included are a yoga strap, stretch bands, and various resistance loops. Designed to support strength building and mobility work, this exercise ball set is ideal for toning, calorie burn, reduced pain, and improved posture. They can hold up to 2,200 lbs. and an exclusive PVC material prevents sudden slipping.
SGQBB Yoga Ball Set is designed for strength building and mobility work with an anti-burst exercise ball and mini Pilates ball.
Pros
A great variety in equipment really allows for diversity in your mobility needs
The larger ball is very useful and has a great grip
Cons
Most of the equipment included is great to have, but the smaller ball is difficult to pump up and may not be as useful for many as originally thought
The pump was also difficult to use
Price: $19.99
---
Best For Spontaneous Workouts
Sometimes we want to spice up our workouts and having a fun way to come up with spontaneous workouts can keep our training engaging and free from any boredom.
Alexanta Exercise Dice
Alexanta Exercise Dice is great for any workout to add some spontaneity to your routine. A bundle of three exercise dice, 2 orange dice are packed with 24 HIIT workouts and one green dice has 12 unique stretches. A great gift for anyone of all ages, these foam exercise dice won't damage the floor and will keep you motivated to do more when it comes to your workout routine.
Alexanta Exercise Dice is great for spontaneous workouts with 24 HIIT workouts and 12 unique stretches to keep your workouts interesting.
Pros
Fun way to include both HIIT workouts and stretches into a spontaneous workout to keep things interesting
High quality foam ensures relatively decent durability for this product
Cons
Not for those who cannot perform many HIIT workouts
Price: $26.95
Benefits Of The Best Home Gym Equipment Under $100
Having gym equipment for under $100 can lead to many benefits that you want to see. With the right approach to training, and the best equipment at your disposal, you can see those gains you want most in no time as you seek the best for your gains. Benefits of equipment under $100 include:
Build muscle and aid in your desired physique: With the right strength training equipment, you can work to build muscle and see that shredded aesthetic unfold.
Perfect for warm-ups: Get that body primed and ready to go for whatever workout comes your way.
Enhance recovery: This vital time leads to growth and the right equipment can stretch out and relieve any soreness with the best equipment.
Inexpensive and convenient: The right equipment can be affordable while still high-quality so you never worry about anything breaking or being not worth the money.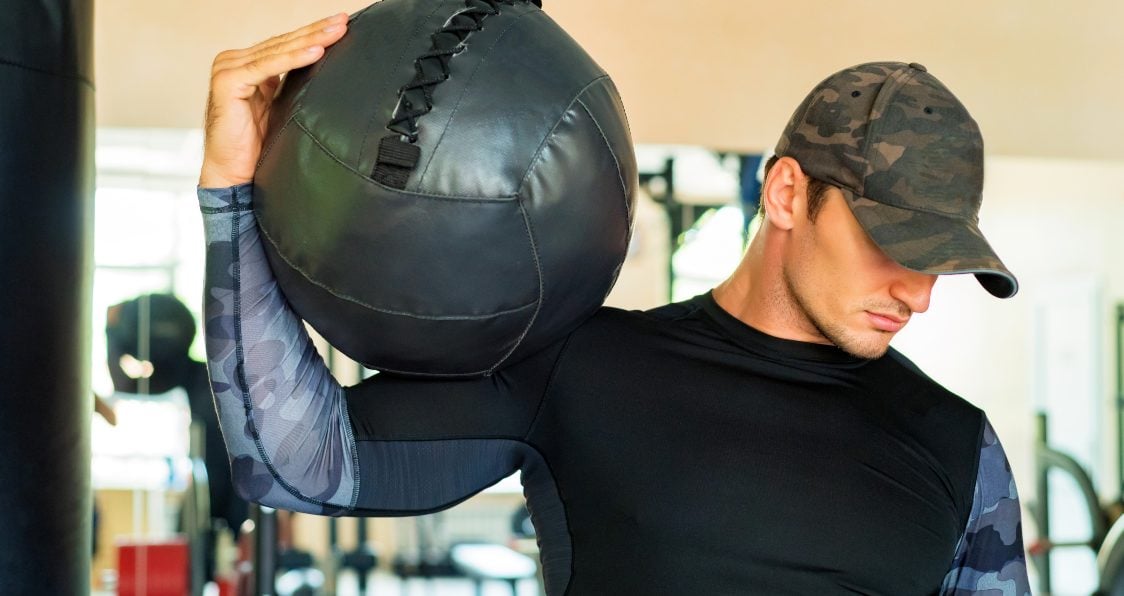 Why Having Home Gym Equipment Variety Matters
When it comes to our home gym, variety matters because you want to target your training to fit your specific needs. With equipment perfect for warm-ups, this will get our muscles primed and ready to go for whatever workout comes next. During our workout, we want the best for building strength and while some equipment like treadmills can get expensive, having those tools at affordable prices can still build the muscle and physique we want most. Since recovery is also incredibly important, the right equipment can greatly enhance our gains and lead us to the growth we want most.
How We Choose The Best Home Gym Equipment Under $100
When choosing the best home gym equipment for under $100, we wanted to focus on a number of things to really give you the best products. We first look at what is essential for a good home gym. While having a full set is ideal, there are aspects of a home gym that we want to focus on with certain equipment that can really maximize your gains. We then look at the quality and durability of each product that we choose for you deserve to have a great product working on your behalf. While all these items are under $100, we look at price and how low we can get because the lower the price, the more equipment you can buy to really round out a great home gym.
FAQ Section For The Best Home Gym Equipment Under $100
How do I know which equipment to choose?
Look at your training plan and see which equipment fits well into it. By knowing exactly what you want out of your workouts, you can start to hit those specific needs to see the growth you want most.
With this equipment being inexpensive, is it good quality?
We made it a point to look for equipment that is affordable but that will still help you see those gains you want most.
Can these be used for warm-ups, workouts, and recovery?
This equipment ranges from all the above. Some are great for warming up, some are great for your workouts, and some are great for recovery. The best part is, some are multifunctional for all phases of your training.
Wrap Up
Building your home gym should be fun and inexpensive with the best home gym equipment under $100. You can surround yourself with what you want and what you need for your fitness goals to come to life without having to break the bank. Enjoying a workout in the comfort of your own home can be a great experience and really work to give you the best benefits when it comes to working out and building an at home gym under $100.
---
Generation Iron may receive commissions on purchases made through our links. See our disclosure page for more information.
Let us know what you think in the comments below. Also, be sure to follow Generation Iron on Facebook, Twitter, and Instagram.