These resistance bands are sure to offer you some really great benefits to your workouts to diversify and push you to see great growth and overall definition while aiding in performance.
If you've ever trained for strength sports, you're probably familiar with the resistance band. Resistance bands are an essential for anyone serious about maximizing gains, since they really increase the amount of resistance you have to overcome to finish a certain exercise. If you've recently sustained an injury, or are looking to get back into working out after some time away, resistance bands are also really helpful to re-acclimate your body to the intensity of working out in a safe way. With a million uses and counting, resistance bands are definitely a cheap, easy, and smart way to take your workout to the next level whether upper or lower body.
Resistance bands have long been thought of as tools for a solid warmup or for rehabbing a recovering or sore muscle. But resistance bands offer way more benefits than just warming up. With simple changes in your workout regimen, resistance bands can make great improvements to your gains and offer challenging and fun workouts that you can do alone or with a partner to keep you as engaged as possible during those grueling at home workouts of different levels.
Types Of Bands
With many options for bands on the market, the choices allow for more diversity in your workouts and better options overall. The heavy-duty resistance bands are a great choice, and arguably the best option, because they can be used for all aspects of the workout. From a pre-workout stretch, to a supplemental aid during, and that post-workout recovery, the heavy-duty resistance bands offer versatility and comfort to see big gains. Other types of bands include the tube resistance bands, which are a similar premise but with handles, and the light resistance bands, which are great for therapy.
Benefits Of Resistance Bands
Good resistance bands will:
Provide for a solid warmup: Really prime your muscles, get your blood flowing, and increase your heart rate for maximum performance.
Build muscle: By working on mind-muscle connection and increasing strength and size to not only see growth and definition but also enhanced lifts (1).
Improve range of motion: By working often times overlooked muscles who seek attention and creating a solid and stable platform to perform big lifts as well as increase flexibility and mobility (2).
Build mind-muscle connection: See effective gains and allow you to focus on form over total amount of weight.
Check out our 10 Best Band Exercises here!
Here are our top 5 picks for the best resistance bands available in 2021. We've ranked them according to which we feel are best and what they will work best for while also offering variety in our choices to meet the needs of as many people as we could.
---
Best Overall: INTEY Resistance Bands
This 13 piece resistance set from INTEY is a great tool for building muscle and aiding in physical therapy if need be. Included in this set are color-coded resistance bands, as well as 1 door anchor, 1 waterproof carry bag, 2 cushioned handles, 2 ankle straps, and 1 protective strap. The stackable bands are up to 150 lbs. and move up by intervals of 10 (10 lbs. to 50 lbs.). Made from natural latex, these bands are strong and have good elasticity. The highly durable metal buckles ensure longevity and loads of pressure. Each handle is designed to wick away moisture for better grip and a better workout. Overall, this set has everything you need out of a great resistance bands set.
Pros: Great assortment of equipment included with a perfect array of bands. Sturdy and flexible for long-lasting use. Comfortable ankle straps.
Cons: Quality and durability comes into question and the tension does not last as long as advertised.
Price: $21.99
---
Best For Resistance Training: HPYGN Resistance Bands Set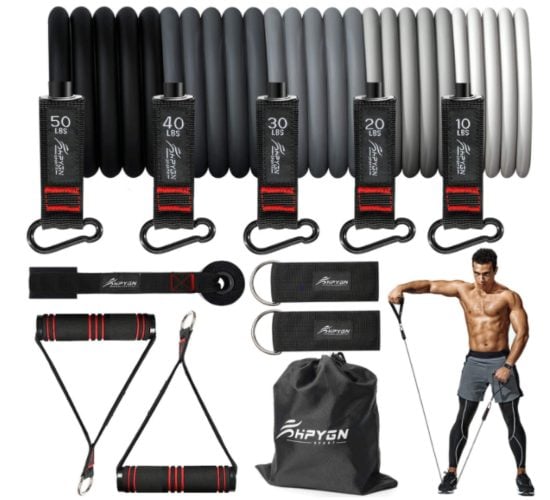 This upgraded resistance bands set from HPYGN is designed to optimize all your fitness needs with better quality bands and more selective accessories. With five different levels of bands, ranging from 10 lbs. to 50 lbs., any combination can be used to enhance your gains. Also included are two hand grips, 2 ankle straps, 1 door anchor, and a carry bag. Perfect for muscle training and fat burning, these bands can help build many muscle groups while working to give you that great aesthetic. Durable, portable, and versatile, this set is perfect your resistance training at home or at the gym.
Pros: Great resistance for strength training and the door anchor is helpful. Quality bands that are versatile and reliable.
Cons: Durability is an issue, especially with the lighter bands. Tubes are thin and don't feel as secure as they could be.
Price: $29.97
Best For Leg Exercises: DaHeng Portable Exercise Band Set
DaHeng brings this exercise set great for resistance training, especially when it comes to leg exercises. Five bands are included ranging from 10 lbs. to 50 lbs. and all can be stacked for any combination. This set can help sculpt and build muscle for an intense workout, but the ankle straps and door attachment are great for giving those legs a good burn. Perfect for athletes of all experience levels, this set is convenient and affordable for muscle growth, fat burn, improve flexibility, and more confidence. With this set from DaHeng, you will start to see great results.
Pros: These bands have two ankle straps so doing upper body or lower body workouts is great with these resistance bands. They are pretty sturdy and the low price point makes them great for at-home workouts to perform better.
Cons: Using all the bands at once may cause too much strain which can lead to them snapping. Together, the weight seems more like 100 lbs. as opposed to the advertised 150 lbs., but they are similar quality to other resistance bands just with a lower price.
Price: $29.99
---
Best For Beginners: RitFit Single Resistance Exercise Band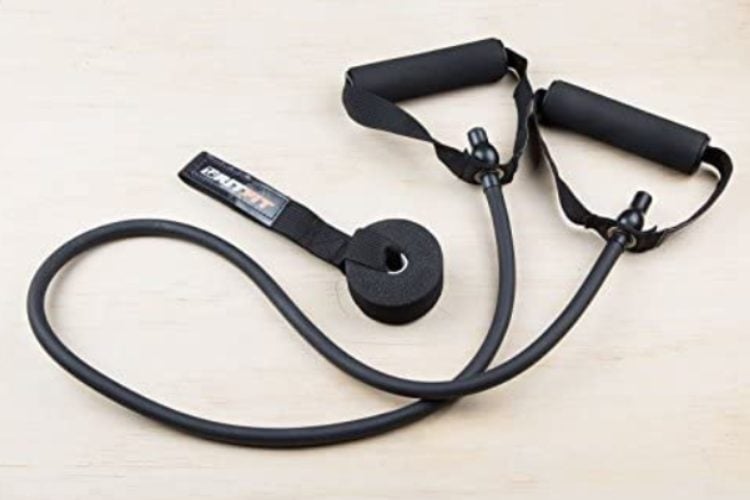 For those just starting out with resistance bands, RitFit has a great band for beginners. Perfect for physical therapy, strength training, and muscle toning this high quality latex band is an excellent choice for your health and fitness. With 11 band options to choose from, each ranging from 5 lbs. to 50 lbs., you have great variety in all of your options. Cushioned foam handles are comfortable and make performing exercises easier for whatever you need them for. A 3'' door anchor also utilizes soft foam and is a great feature to add to this set. From a responsible and reliable company in RitFit, this band is great for beginners to get used to resistance bands before moving to more advanced sets.
Pros: The door mount works great with whichever band size you choose. Cushioned handles are great for grip. Great for beginners at a great price.
Cons: Smaller parts connecting the overall equipment may not be as durable. Wear and tear was noticeable after only a few uses.
Price: $16.95
---
Best For Muscle Building: A90 Resistance Bands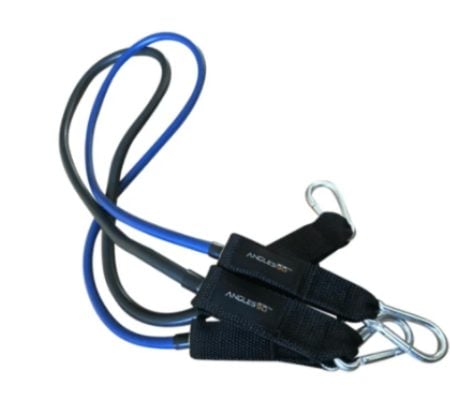 These highly resistible and perfectly transportable resistance bands from Angles90 are perfect for all of your workout needs. With the ability to work out your whole upper body with less joint stress, you will enhance muscle development and work to see that desired physique. Angles90 comes with two bands, 20 lbs. and 40 lbs., and four carabiners. The length is adjusted through the handles for convenience to ensure an effective workout with no hassle. Whether at home or on the go, you can see great growth and development with the help of Angles90 resistance bands.
Pros: A quality grip ensures an effective and versatile workout. Easy adjusting through the handle makes workouts convenient and allows you to get the right length. From a company who cares about their consumers at a great price.
Cons: Other resistance band sets may include more bands with the amount of weight or resistance closer together which would allow more diversity in your workouts.
Price: $24.90
Check out our individual review for Angles90 Resistance Bands here!
---
Wrap Up
Resistance bands are great tools to use for your at home or on the go needs. This list is sure to offer some really nice options for you to see big gains and really develop definition. By working to build overall muscle as well as strength and size, resistance bands prioritize form and technique over sheer quantity and amount of weight. The real benefit to this is that you build mind-muscle connection, build toned definition, and feel a great workout and calorie burn without having to suffer at the gym. All can be done at the comfort of your own home. These resistances bands above are really nice options to either get you started if you are a beginner, take you to the next level if you are in the middle, or really elevate performance if your are more experienced. As great workout tools, resistance bands should never be an overlooked piece of equipment. Check out our list and see what resistance bands can do for you!
Generation Iron may receive commissions on purchases made through our links. See our disclosure page for more information.
Let us know what you think in the comments below. Also, be sure to follow Generation Iron on Facebook, Twitter, and Instagram. 
References
Dayne, Andrea; Nuzzo, James, L.; McBride, Jeffrey M.; Burr, Alan; Triplett, N. (2010). "Power Output In The Jump Squat In Adolescent Male Athletes". (source)
McMahon, Gerard E.; Morse, Christopher I.; Burden, Adrian; Winwood, Keith; Onambele, Gladys L. (2014). "Impact of range of motion during ecologically valid resistance training protocols on muscle size, subcutaneous fat, and strength". (source)