Stabilize your lower back and support those monster lifts with these weightlifting belts to see big gains.
While certainly some take the more "natural" approach when it comes to their big lifts and decide to not where one, weightlifting belts can be incredibly useful tools to keep you both safe and efficient in your workouts, especially when it comes to huge lifts. Many people dawn these leather or nylon belts in the gym in efforts to assist lifts like the squat or the deadlift. Aside from keeping people safe by allowing for solid form, those who rock these belts love them because they can lift more weight.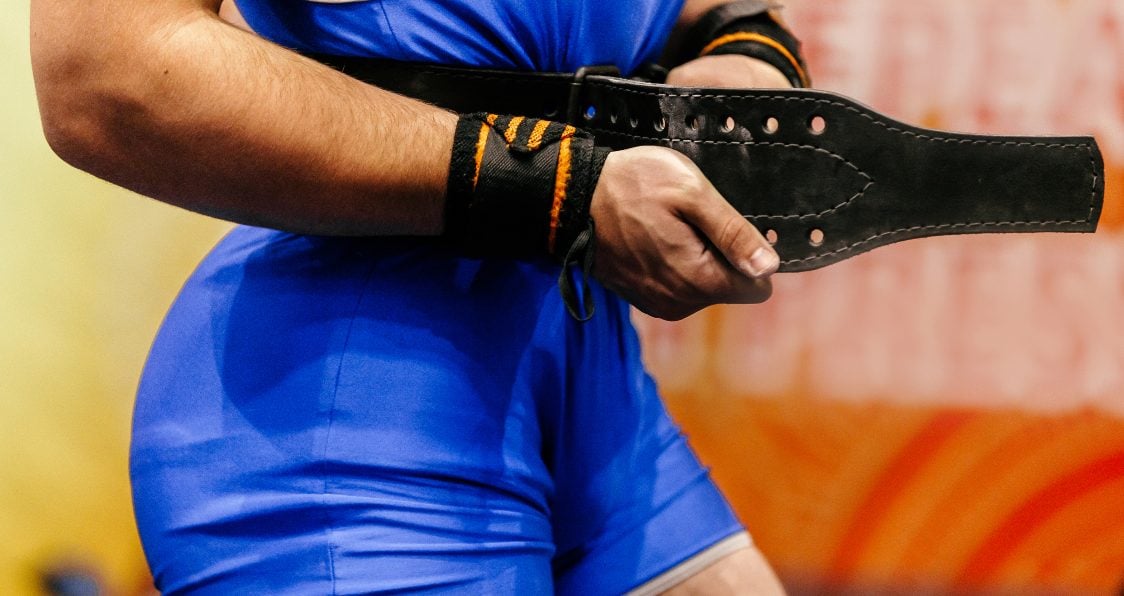 Benefits Of A Weightlifting Belt
Lifting belts provide for a host of solid benefits and primarily, they can support your core which is needed to conduct those heavy lifts. Reducing lower back strain is a huge benefit, and although a lifting belt is not a back brace, since it helps keep your core engaged (1), less strain on your lower back occurs and that increased stabilization allows for better range of movement (2). Now that you have proper form, your risk of injury decreases, and you can now lift more weight efficiently with less worry of unwanted pain.
What To Look For
Finding the right belt is really all a choice of personal preference and comfort, but there are some things to consider to find exactly what you are looking for to get out of the belt. For serious weightlifters, you may want to look into a leather lifting belt. These tend to be durable and last quite a long time.
Leather Vs. Nylon
Leather weightlifting belts are indeed one of the most popular and effective options because they provide maximum support for the heavy lifts. There are different types of leather as well and the decision to choose one type of leather is usually based on personal preference. But top grain is usually the most durable where as suede (split leather) is not as much so. There are also synthetic leather belts which are obviously not the same as real leather although some can be pretty effective. A good leather belt should be able to adequately support you by keeping your core muscles compressed and spine stiff throughout the lift.
Nylon material is much more flexible than leather and it's also much more versatile. So, if you need a belt to do CrossFit type activities and/or if you just need some additional back support for walking around the house or anywhere really, then nylon is a good option. Nylon belts won't entirely have the same support as a leather belt would but it really depends on the resistance loads used for weightlifting/activities. Many top athletes and lifters go with nylon for its versatility. And there are often many different materials blended with nylon for maximum durability and support like neoprene, polyester, and cotton.
We've put together a list of the top weightlifting belts to help you progress in your weightlifting journey. From leather to nylon, each is unique in its approach for functionality, durability, flexibility, and support, but can really work to elevate your big lifts. Check out our list of the top lifting belts for 2021.
Best Lifting Belts Of 2021
---
Best Overall: SBD 13mm Lever Belt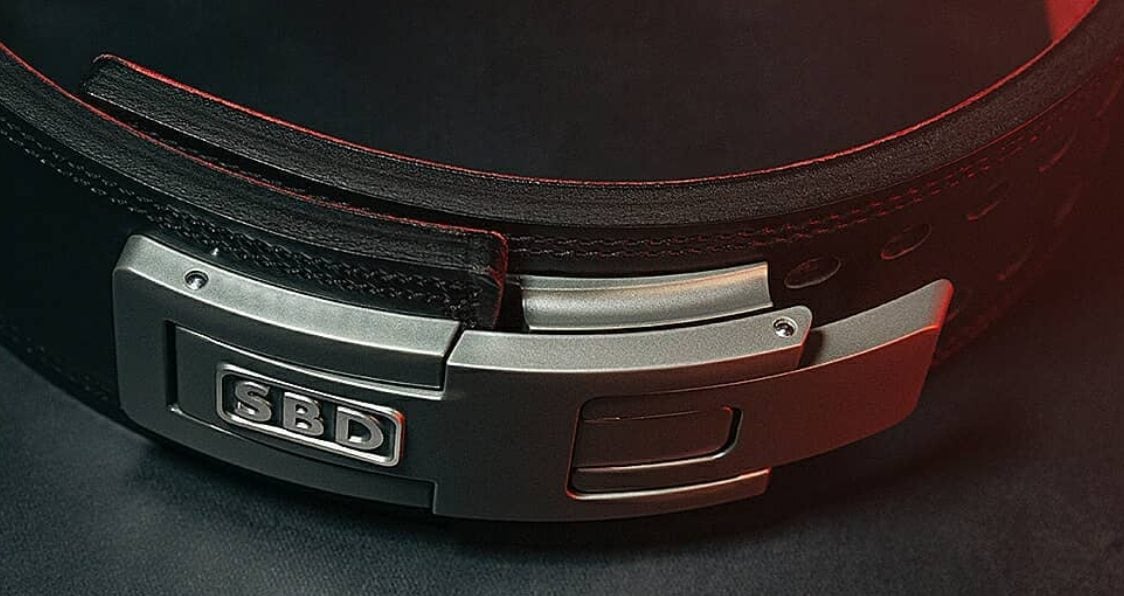 SBD 13mm Lever Belt is an awesome lifting belt designed for powerlifters and strongmen to really enhance overall support and strength. The English hide is prepared over five months in order to ensure strength and longevity so this belt is more comfortable with time and will last you well into your training years. A black oiled finish and red suede interior keeps you looking and feeling great while wearing it. The buckle is easily adjustable with a gliding lever action and prong belt for easy access and with 13mm of thickness, this belt is lightweight and flexible without sacrificing any gains.
Pros: Built to last, this is a quality and comfortable belt. It is easy to adjust and the many sizes offered ensures a snug fit. Looks and feels great in efforts to provide you with great support. Competition approved is a huge plus.
Cons: A premium priced option only available through their website. Only 13mm thickness is available and the red suede tends to bleed when wet, so wearing a darker t-shirt the first few uses will prevent any unwanted staining.
Price: $227.50
---
Best For Strength & Support: Harbinger 4'' Nylon Weightlifting Belt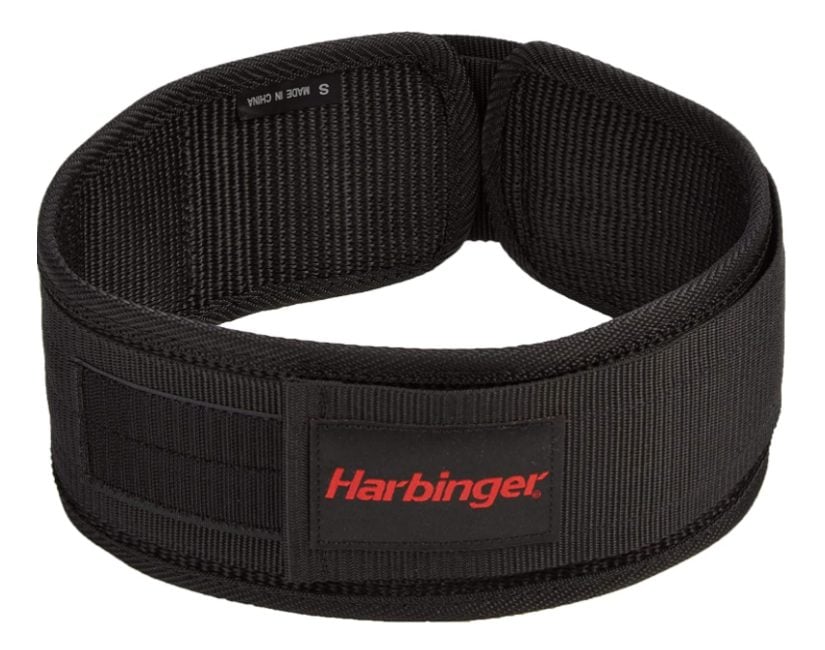 Harbinger offers a great nylon lifting belt made from thick, flexible, heavy duty nylon which works to provide maximum comfort and durability while maintaining muscle warmth. Since the stitching runs in parallel lines across the entire belt, it allows for uniform support and better stabilization. The 4-inch belt with an extra wide 3-inch strap offers the proper lower back and abdominal support for those heavy lifts and big gains. The steel buckle makes tensioning more than easy for convenience and overall, this belt is great for both flexibility and support.
Pros: The thick Velcro offers for great durability and support, but it is a comfortable fit and aids in muscle warmth. The steel buckle makes for easy and simple adjusting.
Cons: Not as rigid as other belts, so there may be others with more support, although if so, they would be leather. With Velcro straps, you always run the risk of durability issues.
Price: $15.75/large belt (prices may vary slightly for other sizes)
---
Best For Low Back Stabilization: Dark Iron Fitness Genuine Leather Pro Weightlifting Belt
Made from genuine leather, Dark Iron Fitness has created a lifting belt built to last. With leather designed to be soft and flexible, it remains supportive without digging into your sides and causing unwanted pain. This belt allows for extra power, strength, and support in your back and abs and can really work to increase the overall amount of weight you lift. With a dedicated team, this IPF and USAPL approved lifting belt is a great choice for low back stabilization.
Pros: It does provide for great support and will help reduce the risk of injury by improving form and offering stabilization. The two-prong buckle closure and rivets are sturdy.
Cons: Some support may fade in the initial weeks of use and a rather flimsy feeling may occur. For really heavy lifts, looking for a thicker belt may be a better option.
Price: $39.99
---
Best For Convenience: Rogue Fitness 5'' Nylon Weightlifting Belt
Rogue Fitness offers this nylon belt with 3-inches of support in the front and 5-inches in the back. The oversized design conforms nicely to your body shape to provide the most amount of coverage for support and stabilization. It offers firm support for your abs and lower back all while being thin, light and highly durable. The easy to adjust capabilities makes going from any workout easy and simple. The hook-and-loop fastening system and ability to easily conform to your body makes this belt a great aid for overall convenience.
Pros: Simple to use and the ability to conform to your body makes this a really solid belt for support and stabilization. From a reputable company, this is definitely a safe, effective, and convenient lifting belt.
Cons: Velcro is always a risk for durability and they do run a little on the smaller side. It is thin which may cause it to feel flimsy.
Price: $35.29-$49.95 (prices vary based on size)
---
Best For Powerlifting: Iron Bull Strength Weightlifting Belt
This lifting belt from Iron Bull Strength provides premium back support with a 6'' nylon belt reinforced with a 4'' wide Velcro strap for a perfect fit. The contoured and tapered design allows for optimal support in your back and stomach section for any big lifts. An auto-locking fastening technology works like a ratchet fastener and is a simple and effective way to secure this belt that will withstand pressure. Comfortable, lightweight, and versatile, this belt is great for those big powerlifts while still keeping mobility at the forefront.
Pros: Velcro is strong and the buckle is easy to adjust to release tension. Tapered lumbar support is nice and it is great for those big lifts.
Cons: Some quality control with the stitching and the belt can be bulky. Not as much support as advertised.
Price: $29.99-$34.99 (prices vary based on size)
---
Best For Women: Harbinger Women's Nylon Weightlifting Belt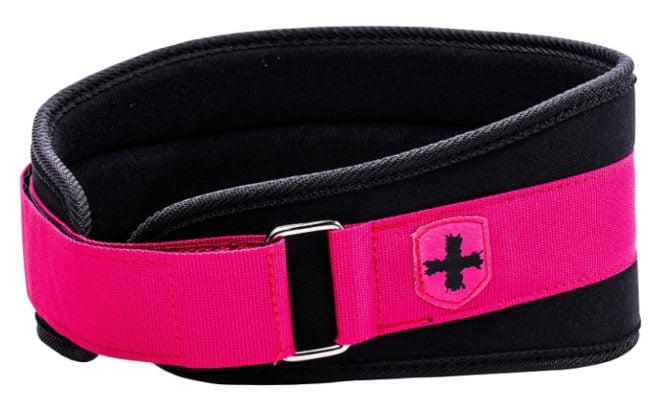 This ultralight and flexible lifting belt from Harbinger has a 5'' wide support panel that is specifically designed for women. A soft and breathable foam core comfortably supports the back and abdominals during heavy lifts and it provides a great degree of support while allowing for full range of motion during heavy lifts and functional training. A heavy gauge steel tensioning buckle allows for quick and easy customized fit. Great for women, this belt can ensure support while also keeping you moving freely for versatile lifts.
Pros: Able to support big lifts and the Velcro is high quality. Great for helping with low back pain and will help increase strength and size.
Cons: Sizing may be off which leads to an uncomfortable feel. Not as functional as advertised.
Price: $24.99
---
Wrap Up
Finding the right lifting belt can be challenging. Your weightlifting goals and big gains are important for your overall growth but doing so safely and effectively should be top priority. When looking for a good belt, it is helpful to consider both flexibility and support, but also durability and affordability. A good quality lifting belt can be your best friend in the gym for years and the investment should only be a benefit to you. Check out our list of these top lifting belts and really work to see those big gains get even bigger.
Generation Iron may receive commissions on purchases made through our links. See our disclosure page for more information.
Let us know what you think in the comments below. Also, be sure to follow Generation Iron on Facebook, Twitter, and Instagram. 
References
Miyamoto, K.; Iinuma, N.; Maeda, M.; Wada, E.; Shimizu, K. (1999). "Effects of abdominal belts on intra-abdominal pressure, intra-muscular pressure in the erector spinae muscles and myoelectrical activities of trunk muscles". (source)
Finnie, S. B.; Wheeldon, T. J.; Hensrud, D. D.; Dahm, D. L.; Smith, J. (2002). "Weight Lifting Belt: Motivations For Use". (source)