This lifting belt can offer all the support you need for strength and longevity with easy adjustability for comfort.
Product Overview
Weightlifting belts have become incredibly popular workout tools to offer comfort and support in our quest for big gains, but finding the right one can be more than difficult. When lifting big, we need to be able to trust that our equipment will hold up and offer the best amount of support it possibly can to avoid any unwanted pain or injury that would put us out of the gym. With many benefits to wearing a weightlifting belt, it is no wonder why people have gravitated towards them as one of their main workout aids. SBD 13mm Lever Belt is a prime example of one weightlifting belt that can seriously change the game for you.
A good weightlifting belt will offer core support with a snug fit to still allow for full movement with the lift but also relieve any unwanted lower back strain that can ruin posture and result in injury (1). Having a good, solid core can increase your level of stabilization and balance to allow for better range of motion and pressure relief off not just your low back, but any muscle taking much of the load as a result of dealing with imbalances. By promoting proper form, a weightlifting belt can help enhance muscle memory through mind-muscle connection, work to decrease injury, and enhance big gains (2).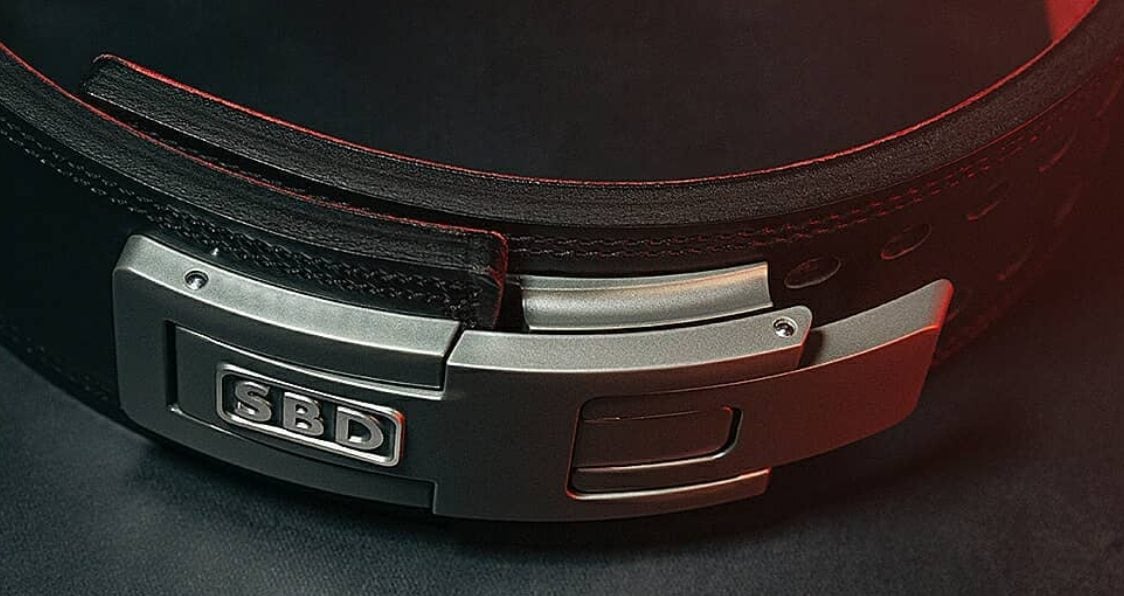 SBD is a really great company and a leader in the sports and exercise equipment world. By working with top coaches, sports medicine experts, athletes, and other fitness leaders, they are able to design and create top tier products for all consumers to promote better training and increase performance. Geared towards constantly evolving sports like Strongman and powerlifting, SBD has worked to matched the trajectory to continue to keep athletes safe. Their mission is to provide innovative products so athletes and gym-goers of all levels can thrive while also staying compliant with respective competitive organizations as well, so no aspect of your training or performance goes unnoticed.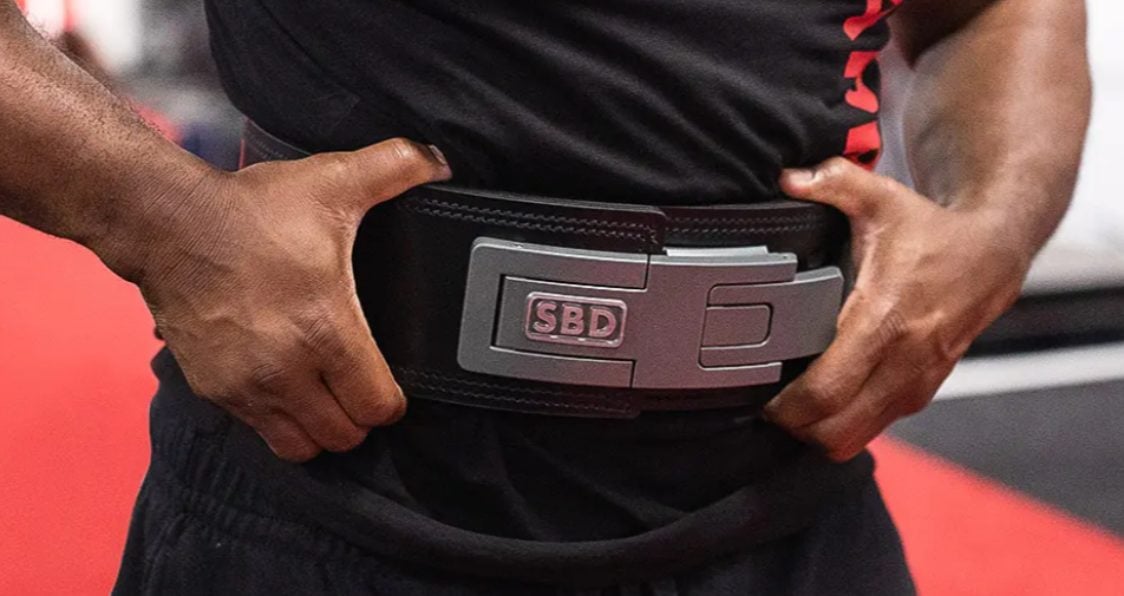 ---
See where SBD 13mm Lever Belt landed on our list of the Best Weightlifting Belts!
---
SBD 13mm Lever Belt Highlights
This weightlifting belt from SBD is a perfectly designed belt for powerlifters and strongmen in mind to really enhance overall support and strength. Manufactured in Great Britain, SBD works to produce the highest quality equipment to ensure big gains are met without any hassle or hesitation. The English hide is prepared over five months in order to ensure strength and longevity so this belt becomes more and more comfortable with time and will last you well into your training years. With a black oiled finish and red suede interior, this belt will keep you looking good while also providing great support.

The patent-pending buckle is easily adjustable with a gliding lever action and prong belt for easy access and convenient changes you may need to make for your workouts. Just 5 lbs. with 13mm of thickness, this belt is lightweight and will provide great flexibility without sacrificing any strength and support. USAPL and IPF approved, as well as being USPA compliant, makes this is a great belt for training and competitive use.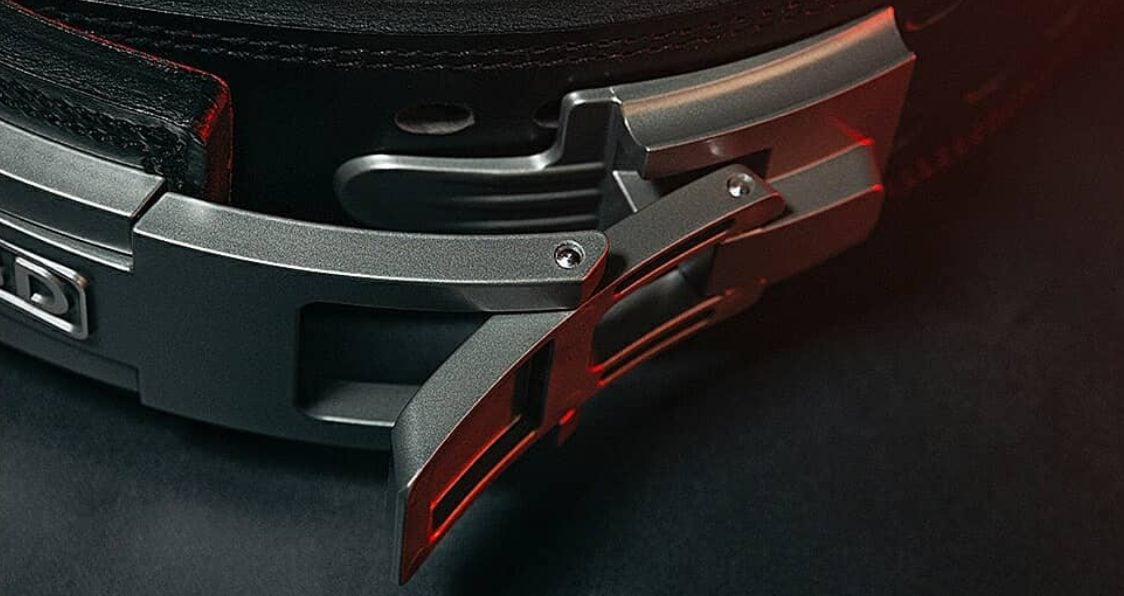 Price & Effectiveness
This 13mm lever belt is great quality and designed to have longevity in mind. At a price of $227.50, you are making a long term investment into this product, but also your health and fitness. Sizes range from extra-small (XS) to five extra-large (5XL) so finding a size to fit you should not be difficult.
Pros: Built to last, this is a quality and comfortable belt. It is easy to adjust and the many sizes offered ensures a snug fit. Looks and feels great in efforts to provide you with great support. Competition approved is a huge plus.
Cons: A premium priced option only available through their website. Only 13mm thickness is available and the red suede tends to bleed when wet, so wearing a darker t-shirt the first few uses will prevent any unwanted staining.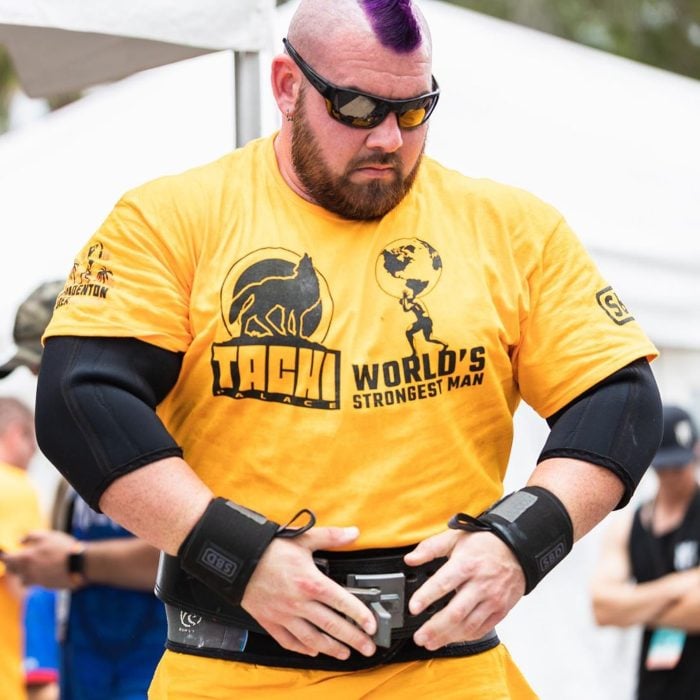 Sponsored Athlete
Professional strongman Rob Kearney works with SBD to bring his training and performance to new heights. As a serious force in the Strongman world, Kearney has competed at events like World's Strongest Man, America's Strongest Man, and the Arnold International World Series and currently holds the American log press record of 476 lbs.
The first openly gay strongman, Kearney uses his voice and his platform to educate and inspire young people in the LGBTQ+ community using fitness and strength sports as his tool. Kearney works with SBD to promote and bring the best possible products to the market for all consumers to enjoy in their efforts to live a more fit, healthier, and safer lifestyle overall.
Overall Value
SBD has designed and created a really great weightlifting belt to tackle all of your comfort and support needs. The ability to lift big without the fear of compromising form or your physical health is huge when it comes to seeing big gains inside and out of the gym. High quality leather and a more than secure buckle ensure easy adjustable access for comfort and serious longevity to keep your long term investment stable with a top tier piece of equipment. SBD is on a mission to bring the best sports equipment to the game without any agendas in order to keep athletes safe both in and out of training and competition. What you are really getting is a high quality lifting belt made from great material that is built to last from a reputable company to handle all of your workout needs. Check out SBD 13mm Lever Belt and see your gains really take off.
Check out SBD 13mm Lever Belt Here
Generation Iron may receive commissions on purchases made through our links. See our disclosure page for more information.
Let us know what you think in the comments below. Also, be sure to follow Generation Iron on Facebook, Twitter, and Instagram. 
*Images courtesy of SBD, SBD Instagram, and Rob Kearney Instagram
References
Miyamoto, K.; Iinuma, N.; Maeda, M.; Wada, E.; Shimizo, K. (1999). "Effects of abdominal belts on intra-abdominal pressure, intra-muscular pressure in the erector spinae muscles and myoelectrical activities of trunk muscles". (sources)
Finnie, S. B.; Wheeldon, T. J.; Hensrud, D. D.; Dahm, D. L.; Smith, J. (2002). "Weight Lifting Belts: Motivations For Use". (source)