These BCAA supplements are sure to enhance training and performance through their ability to grow muscle and increase recovery.
Branch chain amino acids, or BCAAs, have long sat on shelves as popular supplements for athletes of all experience levels to boost their training and improve all aspects of a workout and recovery regimen. Working to enhance muscle growth, reduce muscle soreness and exercise fatigue, and prevent muscle wasting, BCAAs hold a variety of benefits for your health and performance.
When it comes to muscle growth, protein is necessary to see increased hypertrophy and keep the muscle fueled for recovery and that next workout. Amino acids are organic compounds which provide the foundation for protein. There are 20 amino acids that make up protein, but of those 20, nine are considered essential amino acids which are not produced by the body but are essential for muscle growth. Three of these essential amino acids are branch chain amino acids (BCAAs): isoleucine, leucine, and valine. Differing in their chemical structures, BCAAs work to stimulate protein synthesis and increase that much desired muscle growth.
Key Benefits of BCAAs:
Increase muscle growth:Repair, grow and add new muscle tissue and aid in the process of protein synthesis (1).
Reduce fatigue:Decrease levels of tryptophan in the brain and raise levels of serotonin.
Decrease muscle soreness:Lowers levels of key enzymes that play a role in exercise-induced muscle damage to improve recovery (2).
Prevents muscle wasting:Restores lost amino acids in the muscles to keep them primed.
We put together a list of the top BCAA supplements out there to give you the best chance at finding one that works for you and all of your performance goals. From reputable and high-quality brands, these will surely work for your muscle-building and performance enhancing goals.
---
Best Overall: Performance Lab SPORT BCAA
Performance Lab SPORT BCAA is a versatile performance and muscle boosting supplement in the convenience of a capsule. SPORT BCAA can elevate strength and endurance, block muscle breakdown and soreness, and optimize muscle growth and recovery. For healthy daily use, it can support immune defenses and is a safe, natural way to support your overall training regimen. Performance Lab's NutriGenesis technology is innovative and mirrors the natural processes found in nature in their lab to produce high quality and easily absorbed nutrients.
With a solid ratio of 2:1:1 of L-leucine, L-isoleucine, and L-valine, it makes this supplement very easy to absorb and makes it versatile for all athletes. L-leucine works with protein synthesis and muscle growth, L-isoleucine helps transport oxygen to muscles and support healing, while L-valine optimizes muscle tissue growth and repair. As a result of the easy absorption and ability to refuel quickly, Performance Lab SPORT BCAA is a great supplement for that boost in performance.
Pros: Great ratio of BCAAs and 5 ingredients total. Clean and vegan friendly formula is nice. The NutriGenesis process is innovative and ensures all of those nutrients are properly absorbed.
Cons: This is a premium priced option for the number of servings and you can only buy directly from their website.
Price: $35.10
---
Best For Repair & Recovery: Transparent Labs CoreSeries BCAA Glutamine
Transparent Labs CoreSeries BCAA Glutamine offers all the benefits of a BCAA supplement with the added benefit of L-glutamine in the formula. Designed for the best BCAA for repair and recovery, Transparent Labs has crafted a 100% clean formula with a transparent label so you know exactly what you are getting. With active ingredients both clinically researched and dosed, there are zero harmful additives to this BCAA supplement. Each serving of 14 grams is designed to stimulate protein synthesis, reduce muscle fatigue, and enhance your overall performance, all while aiding in recovery and repair.
With 5 active ingredients, CoreSeries BCAA Glutamine works with a 2:1:1 ratio of BCAAs for all of the intended effects and benefits. The added bonus of this supplement is 5,000mg of glutamine. Glutamine is a naturally occurring nonessential amino acid and is the most abundant free amino acid in human muscle. It plays a major role in protein synthesis, inhibiting protein breakdown and muscle degradation, and reducing fatigue while providing immune health (5). Placed into this great formula is coconut water powder which is a rich source of electrolytes with a host of other overall health benefits.  Transparent Labs CoreSeries BCAA Glutamine is a solid option for all of your recovery and repair needs.
Pros: Fully transparent label from a reputable company provides clinically dosed ingredients with no harmful additives. The high amount of glutamine and additional coconut water powder put into this formula are great additions.
Cons: This is a premium priced option only available through their website and you must mix it well to avoid grittiness.
Price: $39.00
Best For Performance: National Bodybuilding Co. Pro Contest BCAA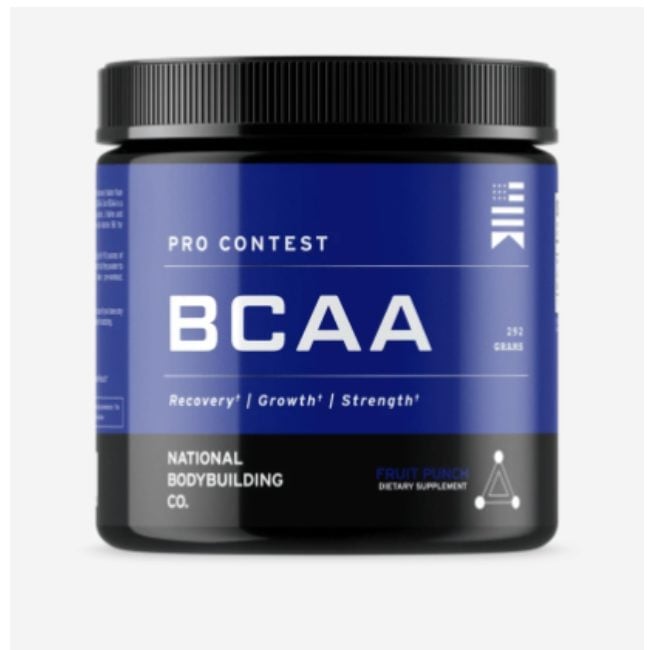 National Bodybuilding Co. Pro Contest BCAA is one of those supplements you need to upgrade strength, endurance, and recovery faster than before. Naturally sourced ingredients and a side effect free guarantee, this formula will work to build muscle and recovery, stop muscle breakdown, boost athletic performance, and is great for all types of training. Tested and formulated from clinical studies, this supplement is safe for all your performance and recovery needs.
A great ratio of the BCAAs L-leucine, L-isoleucine, and L-valine will work for muscle endurance and hypertrophy in the gym. Containing 1,000mg of glutamine, this will prove to be more than beneficial in repair, recovery and fighting off inflammation. The added bonus of this BCAA supplement is vitamin B6, one of the key players in muscle growth. It can promote red blood cell count, boost the amount of oxygen in your muscles, and enhance nitric oxide for performance and endurance (3). By elevating your overall athletic lifestyle and keeping you going, National Bodybuilding Co. Pro Contest BCAA is the best for reducing fatigue and keeping you going strong.
Pros: A clean ratio of BCAAs with 45 servings is appealing as well as the added glutamine and vitamin B6. Non-GMO and gluten free with no harmful additives really makes this a great product.
Cons: It only sells directly from their website and only ships to American and Canadian customers. The only flavor at the moment is fruit punch.
Price: $38.00
Check out our individual review for National Bodybuilding Co. Pro Contest BCAA here!
---
Best For Hydration: NutraBio Alpha EAA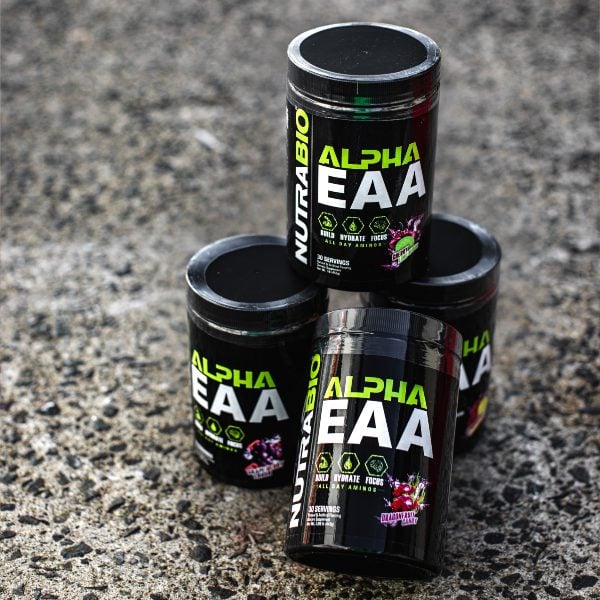 NutraBio Alpha EAA is unlike any other amino acid product out there, for it not only delivers a healthy dose of EAAs and BCAAs, but also includes ingredients to round out a novel formula to promote focus, recovery, and hydration. This supplement can improve brain function, enhance mental acuity and memory, balance cortisol levels, and increase power output and muscle contractions so you maximize your supplement routine as best you can.
A non-stimulant source of energy, this product ensures superior hydration and recovery with increased amino uptake and absorption. At a great price with five amazing flavors, Alpha EAA is a sure bet to bring your training, performance, and recovery to the next level. NutraBio is a high-quality sports supplement company designing and producing top tier products for athletes everywhere. Their mission is to maximize the quality of life for all consumers by providing advanced nutrition products with science-backed research to enhance training and performance.
Pros: Full of clean and effective ingredients at great dosages to promote focus, recovery, and hydration. A reasonably priced product with five great flavors to choose from. From a reputable, transparent, and honest company in NutraBio.
Cons: It does contain artificial sweeteners like sucralose and acesulfame potassium.
Price: $34.99
Check out our individual review for NutraBio Alpha EAA here!
Best For Fatigue Reduction: Enhanced Anabolic IV
Enhanced Labs Anabolic IV is a great BCAA supplement for those serious about muscle gains. Providing everything you need from a muscle-building and recovery supplement, Anabolic IV ensures you get all of those critical BCAAs as well as additional essential amino acids. Other great benefits of Anabolic IV are increasing fat burning, supporting optimal hormone balance, and decreasing fatigue while elevating endurance performance.
Packed with 23 highly effective ingredients, this product can promote protein synthesis and decrease fatigue to keep your workouts as ferocious as they need to be to see great gains. This advanced formula has six blends to really deliver all of the benefits. They include: clinically dosed amino acid blend, nitric oxide blend, non-stimulant nootropic blend, electrolyte blend, B vitamin blend, and a fat oxidation and muscle insulin sensitivity blend.
Pros: Effective ingredients and great blends make this product really useful. Containing EAAs as well really encourages that muscle growth will occur and the price is good.
Cons: There are a lot of ingredients for a BCAA product so diligent research is required.
Price: $54.99
Check out our individual review for Enhanced Labs Anabolic IV here!
---
Best For Muscle Pumps: Kaged Muscle In-Kaged
Kaged Muscle In-Kaged is solid intra-workout supplement to fuel even your toughest workouts. Formulated to maximize endurance, provide unstoppable energy, and provide for muscle pumps, this product will keep you going strong all the way through training. As a health forward brand, Kaged Muscle keeps performance in mind for both men and women who want results with a clean product. Award winning and third party tested, this supplement is accurate and comes from a reputable company.
No artificial additives or fillers is matched with 9 ingredients each placed in one of three powerful matrix mixes. A ratio of 2:1:1 BCAAs powers the Muscle Fuel Matrix to give you all the growth and strength gains you hope to see. The Endura-Pump Matrix contains L-citrulline, beta-alanine and coconut water powder, while the Neuro-Energy Matrix consists of taurine, L-tyrosine, and caffeine.
Pros: Solid ingredients have great effects on your muscles and provide for those big muscle pumps and unstoppable energy. Three matrices are nice to effectively use the ingredients.
Cons: Price is slightly higher compared to others and often times doesn't mix the best. The label doesn't fully disclose any added ingredients.
Price: $27.99
---
Best For Women: IdealFit Ideallean BCAAs For Women
IdealFit Ideallean BCAAs for Women is a solid women's BCAA supplement to provide high quality BCAAs with a great fat loss blend. Zero carbs, fat, or calories is a great benefit to this supplement to keep you dedicated to your fitness journey. Specifically designed for women, this BCAA supplement will maximize weight loss and kickstart lean muscle growth and is perfect for those looking to improve muscle recovery, burn fat, and build that lean muscle.
Full of vitamins and minerals, as well as those desired BCAAs, the Fat Loss Blend consists of 8 ingredients including CLA, L-citrulline, and L-glutamine. CLA works to aid in weight loss as well as improve exercise performance, while L-citrulline can decrease fatigue and muscle soreness while also increasing exercise capacity. L-glutamine has a huge role in protein synthesis for that lean muscle growth and also stops muscle degradation and reduces fatigue. With great ingredients and proven results, IdealFit Ideallean BCAAs For Women is a great supplement designed for her.
Pros: This product has a good ratio of BCAAs and great dose of B vitamins. Designed specifically for women, the benefits of weight loss and improved circulation are an added bonus.
Cons: The price is okay but some of the ingredients are under-dosed leaving some disappointed.
Price: $24.94
---
Best Long-Lasting Results: Jacked Factory Intra Surge
Jacked Factory Intra Surge is a premium intra workout supplement backed by science designed to boost muscle tissue growth and inhibit muscle tissue breakdown. Other benefits include increasing energy, focus, and stamina, as well as workout performance. Great for anyone from every day gym-goers to elite athletes, Intra Surge can be taken before, during, or after training to really peak performance.
With 8 ingredients, this formula is great when mixed with water and has a good tasting flavors included as well. Premium ingredients and quality research are backed by a money back guarantee and the promise of quality care. Manufactured in the United States, their facilities are cGMP certified and able to support their mission to bring good quality supplement to athletes.
Pros: Five grams of BCAAs is amazing for benefits and it tastes great. Effective for muscle soreness and recovery.
Cons: Very powdery and chalky in texture and may be overhyped as a product. Those tolerant to stimulants won't feel much of an increase in energy.
Price: $25.99
---
Best For Focus: Evlution Nutrition BCAA Energy Powder
Evlution Nutrition BCAA Energy is a complete formula for energy, lean muscle, and recovery. Perfect for before, during, or after your workout, this formula is packed with 5 grams of BCAAs, as well as natural energizers, antioxidants, and essential vitamins and minerals. You can use anytime for serious benefits to your training and performance including muscle building, endurance training, and enhanced focus.
With many ingredients packed into this advanced formula, all of your bases are covered from growth, recovery, hydration, and reduced fatigue. With 5 grams of pure BCAAs, as well as natural stimulants and antioxidants, your health and wellness just got a serious boost along with your performance. Zero sugar, carbs and calories makes this conducive to any diet and worth your money to advance your gains.
Pros:  Good taste and no irritable feelings that cause anxiety. No sugar or carbs is great for all diets. Fairly great taste, although some flavors may be a touch sweeter than expected.
Cons: Doesn't provide as much energy as it could and stimulant doses could be slightly higher. Does contain sucralose so for those weary about artificial sweeteners, look elsewhere.
Price: $21.99
---
Best For Lean Muscle Support: Allmax Aminocore BCAA
Allmax Aminocore BCAA offers a zero filler and sugar free BCAA supplement designed to support increased lean muscle mass. Aminocore feeds your muscles during diet and exercise and allows for that hard-earned muscle to stay on. With the addition of B vitamins, this product will enhance metabolic power and improve energy levels. With a healthy dose of BCAAs, your muscle-building and preservation needs are taken care of.
Along with the three BCAAs, the ingredients list includes vitamins B3, B6, B9, and B12. Among the many benefits of vitamin B3, the main ones include the production of energy (6) and the regulation of both good and bad levels of cholesterol. Vitamin B6 can boost brain performance and allow for proper cognitive functioning while vitamin B9 produces more red blood cells to improve circulation and heart health. Vitamin B12 improves performance and endurance to keep you working longer and harder in the gym (7). Alllmax Aminocore BCAA is a great supplement for lean muscle support and one to keep you healthy overall with a great B vitamin complex.
Pros: Large amounts of BCAAs with each scoop and added B vitamins provide for great benefits. For the number of servings, it is also inexpensive.
Cons: There are some added ingredients that don't really need to be in there for exercise performance and there is sucralose but no stimulants.
Price: $54.99
---
FAQ Section
What is the best BCAA supplement to take for safety and effectiveness?
National Bodybuilding Co. Pro Contest BCAA. This supplement comes from an amazing company in National Bodybuilding Co. and is great for enhancing strength, endurance, and recovery faster. Clean ingredients and an effective formula makes this an amazing BCAA product.
What does BCAAs stand for and what are they?
Branched-chain amino acids (BCAAs). The three branched-chain amino acids are leucine, isoleucine, and valine. These three are essential amino acids (EAAs) that are structured differently than the other six EAAs. In all, there are 20 amino acids that make up the foundation of protein. Of those 20, nine are essential amino acids, and of those nine, there are three branched-chain amino acids.
Why do I need a BCAA supplement?
BCAAs have serious value in enhancing your training and performance. Benefits include increasing muscle growth, reducing fatigue, decreasing muscle soreness, and preventing muscle wasting so your gains are not totally destroyed.
When should I take a BCAA supplement?
You can take a BCAA supplement before, during, or after your workout. Typically, athletes enjoy using these as an intra-workout beverage and BCAAs pair nicely with a pre-workout supplement for energy and pumps and a protein supplement for promoting growth and recovery.
Wrap Up
Supplementing with BCAAs will really work to enhance your overall performance as an intra-workout tool. With benefits like muscle growth, maintenance, and preservation, increased recovery, and reducing muscle soreness, BCAAs can work to improve your overall strength and performance to keep you seeing great gains and staying on top of your game. Check out these 10 BCAA supplements from great companies who produce high quality products for your personal growth and development and watch your muscle-building and performance enhancing goals elevate to new levels.
Generation Iron may receive commissions on purchases made through our links. See our disclosure page for more information.
Let us know what you think in the comments below. Also, be sure to follow Generation Iron on Facebook, Twitter, and Instagram. 
References
Negro, M.; Giardina, S.; Marzani, B.; Marzatico, F. (2008). "Branched-chain amino acid supplementation does not enhance athletic performance but affects muscle recovery and the immune system". (source)
Shimomura, Yoshiharu; Yamamoto, Yuko; Bajotto, Gustavo; Sato, Juichi; Murakami, Taro; Shimomura, Noriko; Kobayashi, Hisamine; Mawatari, Kazunori (2006). "Nutraceutical Effects of Branched-Chain Amino Acids on SKeletal Muscle". (source)