Elevate your pre-, mid-, or post-workouts with a top-tier shaker bottle for all of your nutrient needs.
Shaker bottles have grown in popularity and there is no question as to why. The convenience and ease of these health and fitness aids for athletes, bodybuilders, strongmen, or just everyday gym-goers has given shaker bottle purchases a serious boost. With that, companies have sought top-tier designs to attract buyers and the great designs and technologies on the market today truly benefit the consumer with an individual bottle or a shaker bottle pack.
For those looking to pump themselves full of a pre-workout to get that boost of energy and muscle pump, or replenish their body with those much needed nutrients with a protein supplement or post-workout product, shaker bottles are a great grab-and-go option for whatever the reason may be. As people all over are starting to see health and fitness as more of a lifestyle than a hobby, the increased demand for products like shaker bottles grows with conversations around nutrition, hydration, and supplementation.
What To Look For In A Good Shaker Bottle
Finding the right shaker bottle for all of your needs can be challenging, but there are some key reasons to select one over the other. Make sure the size of the bottle fits your needs. If you need one that is more portable, go with a smaller size. You can still get the benefits of your supplements without lugging around a giant shaker bottle. Most shaker bottles will come with a wire wisk or a blender ball, a basic technology, but one that is great for getting rid of clumps and working to smooth your shake. With other blending technologies out there, look for one that will really avoid clumping and ensure a quality consistency of whatever liquid you have.
For durability, you want to check out the overall quality of the bottle, as well as the leak or spill-proof lid. You already pay enough for a quality supplement and that shouldn't go to waste with a poorly made blender bottle. Also, be sure to check out what kind of storage compartments, if any, a shaker bottle can have. Many have extra twist off caps to store powder or capsules and are great, portable ways to bring your supplements on the go. Lastly, be sure you find a good quality shaker bottle that is affordable. Staying healthy can be expensive, but this is one purchase that doesn't have to be.
These 5 shaker bottles are really great options for all of your hydration and supplementation needs. Working to check all of the boxes, our list below is what we think everyone will love, no matter your fitness level.
---
Best Overall: Hydra Cup High Performance Dual Shaker Bottle
Hydra Cup brings this amazing two-in-one shaker bottle to cover your pre- and post-workout needs all in one bottle. Able to hold whatever you need it to, this is the perfect way to eliminate two bottles and the hassle of cleaning after each supplement. Able to hold 36 ounces total, one side can hold up to 22 ounces while the other holds 14 ounces. A high-quality and durable solution to multiple shaker bottles, Hydra Cup offers a leak proof seal with snap on lids, as opposed to twist. For mixing, the dual mixing grids sit on the cap and allows for smooth mixing and easy clean-up. Easy to clean with a well-thought out design, this dual threat shaker bottle is a great overall option.
Pros: The two-in-one design makes all of your nutrition needs easy and convenient and 36 ounces is more than enough volume for your nutrient needs. For the price, this product is durable, reliable, and an overall easy to use shaker bottle.
Cons: The quality of the lids is weak and some buyers have reported breaking or slight leaking. Also, the clean-up can be a bit of a hassle given there are so many undetachable parts included.
Price: $12.99/ 36 ounces
Click here for the best price on Amazon
---
Best Traditional: BlenderBottle Pro Series Shaker Bottle
With a traditional blender bottle size and design, BlenderBottle Pro Series brings you everything you need in a traditional blender bottle. Its wide mouth design allows for easy access to add supplements and the rounded base works for thorough mixing. Their patented mixing system uses a 316 surgical grade stainless steel ball only used with BlenderBottle products. Pro Series offers an innovative leak-proof lid and the flip cap makes a distinct snapping noise to let you know you are good to go. With a sleek design, BlenderBottle will provide for great traditional benefits while fitting anywhere and providing you with your overall nutrient coverage.
Pros: Keeping the traditional design yet still proving effective is a great draw for BlenderBottle. The mixing ball still holds up as a quality way to blend ingredients together and 28 ounces is the perfect size for volume. Good price for the new Pro Series design as well.
Cons: Some leaking has been reported. Also, the round bottom is a great design for mixing, but the vertical grooves make cleaning difficult.
Price: $12.99/ 28 ounces
Click here for the best price on Amazon
---
Best Advanced Design: ShakeSphere Tumbler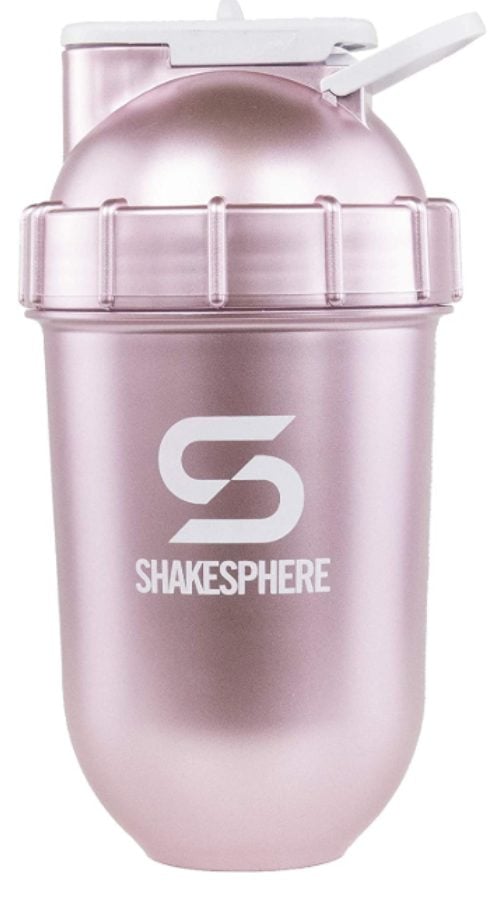 ShakeSphere brings this really great advanced design to the table with a large capsule-shaped shaker bottle. What makes this bottle so interesting is that it doesn't have a mixing ball or mesh grid to blend your ingredients together. The capsule design allows for all contents to continue moving around the inside without getting stuck on the corners. This ensures an effective and smooth consistency for all of your mixing needs. Cleaning is made easy with less parts and its BPA free Tritan plastic make this tumbler very durable and freezer safe. A secure, leak-proof lid is provided for no mess and as a quality product, this advanced design will aid in functionality and convenience.
Pros: This advanced design with no mixing tool is really great for convenience and clean-up. It's size is very portable although slightly more expensive than others, you are getting a very durable and high-quality product.
Cons: If not shaken thoroughly enough, clumping can occur. This is where something like a mixing ball would provide for that extra mixing benefit. The mouthpiece is slightly smaller than you may want, but that just comes with the design.
Price: $19.99/ 24 ounces
Click here for the best price on Amazon
---
Best For Storage: Hydro2Go Protein Shaker Bottle
Hydro2Go is exactly the bottle for you if you are looking for extra storage for all of your capsule and powdered supplement needs. Their newly designed bottle allows for a better drinking and mixing experience and can really work to blend powders and sediment that stick to the bottom. Made from great quality material with a unique leak-proof design, this shaker bottle is certainly one to highly consider. The biggest bonus of this shaker bottle is the two twisted storage jars included: one that is 3.3 ounces and one that is 5 ounces. Perfect for snacks, powders, pills, or even small amounts of liquids, these compartments screw on easily to the base of the bottle or detach for separate storage. With a unique design and two great containers, Hydro2Go is a solid shaker bottle to provide for that much needed extra storage.
Pros: A great price for this easy-to-use shaker bottle. The two storage containers to hold pills, powder, or a host of other ingredients is a really nice feature. Able to attach or detach easily just adds to the overall benefit.
Cons: There are a lot of parts to clean and keep track of, but that is just something you will have to weigh out. Does not mix very well which is disappointing.
Price: $7.99/ 16 ounces
Click here for the best price on Amazon
---
Best Electric: VOLTRX VortexBoost Premium Electric Protein Shaker Bottle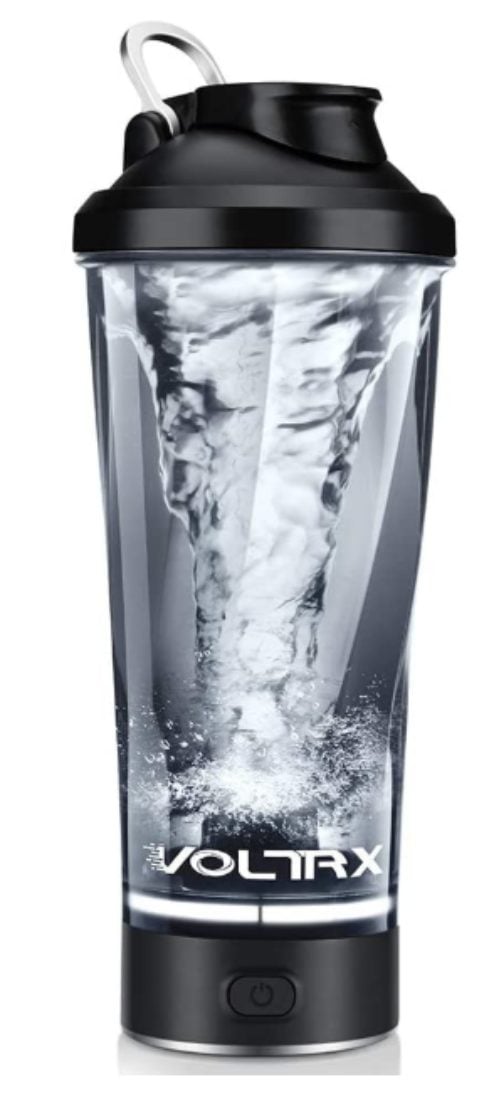 VOLTRX VortexBoost is a premium electric shaker bottle to work for great blending technology with the ease of solid mixing. Its unique and functional eye-catching design make this the perfect fit to help you with all of your hydration and supplementation needs. Easy to clean with warm water and detergent and one month battery life off of a two hour charge makes this a truly premium item. The heavy-duty motor is leading the way for industry standards and spins at 2,000 rpms to ensure solid mixing with no lumps or clumps. The base can be detached for clean-up or charging making this bottle very convenient despite its advanced technology. For its ability to effectively get the job done with a push of a button, VOLTRX VortexBoost is really a great electric shaker bottle.
Pros: A very cool electric design eliminates the need for manual shaking and the ability to detach the base for cleaning and charging is a perfect feature. Easy to clean with a powerful motor gives electric shaker bottles a win.
Cons: Some buyers have reported poor quality, and for the price, that is disappointing. The charging ability is not as powerful and the battery life does not last as long as advertised.
Price: $29.99/ 24 ounces
Click here for the best price on Amazon
---
Wrap Up
A great quality shaker bottle can really transform your gym experience and aid in all of your hydration and supplementation needs. It is important to look at all factors like durability, portability, size by volume, and effectiveness before purchasing an individual bottle or a shaker pack.  Whether it be a traditional design, something more advanced, or even electric, there is absolutely the right product out there for you. Check out our list above of the best shaker bottles and look to really elevate your overall health and performance.
Generation Iron may receive commissions on purchases made through our links. See our disclosure page for more information.
Let us know what you think in the comments below. Also, be sure to follow Generation Iron on Facebook, Twitter, and Instagram.