Testosterone boosters are a performance aid best used in combination with a healthy routine.
Many people who train hard take testosterone boosters for a subtle boost and others take them as a part of a daily health and supplement routine. Since testosterone boosters are great aids for increasing performance in athletes of all levels, those will low testosterone should consider taking these supplements. It should be clear that natural testosterone boosters are not steroids but performance enhancing aids used for those with low testosterone and can prove worthwhile so we put together a list of the best testosterone booster supplements to improve normal levels and stress and mood changes to see results to better your life.
Testosterone is a vital sex hormone to help aid in muscle growth and development, hair growth, and other important daily functions for both men and women. Men produce way more of it and when levels are decreased, it can lead to poor sex drive and a host of other unwanted side effects. This is where solid natural testosterone boosters can come to your aid to boost testosterone levels.
Testosterone has great benefits on your body and low testosterone levels in men can really hurt more than one aspect of your training and overall quality of life. The key factors of testosterone, and why a testosterone booster would be beneficial are important to know so you are comfortable with the choice to take a natural testosterone booster to improve your overall health and wellness.
Key Factors of Testosterone
Heart and blood health: Helps with red blood cell count in bone marrow.
Body composition: Increases muscle mass while decreasing fat mass (1).
Bone density: Strengthens bones to boost athletic performance.
Sex drive: Increases libido and overall sexual function for increased sex drive (2).
Cognitive function: By increasing oxygen around your body and brain.
When taking testosterone boosters, expectations should be that you may see a slight change in performance and that's with any nutritional supplement. While supplements should never replace food, as there are ways to naturally boost your low testosterone levels, they should be used in tandem with a healthy diet to see great gains. Don't let low testosterone bring you down and look into a solid testosterone booster to increase testosterone for every day use and great results.
Check out our list of the Best Testosterone Boosters, which are good enough to give you a slight edge. Each has unique features but will work to boost testosterone levels to really work to enhance performance results.
---
Best Testosterone Booster For Men: Centrapeak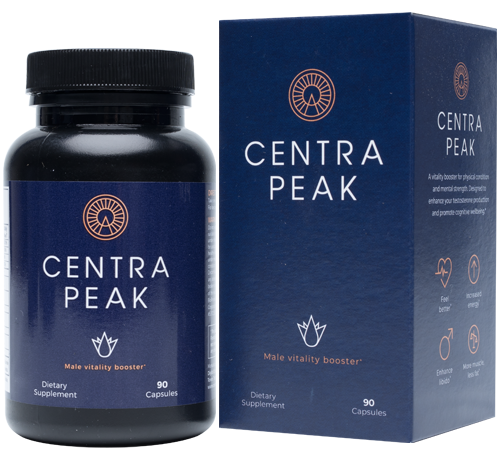 Centrapeak is a great testosterone booster to increase vitality for improved physical condition and mental strength. Designed to help testosterone and cognitive wellbeing, this product will increase T levels to boost energy levels, build strength, enhance libido, and increase your confidence. With researched backed and clinically dosed ingredients, Centrapeak offers a unique and effective formula. Vitamin D3 and zinc work to increase levels of testosterone and improve mental wellbeing. Vitamin K2 works to support natural testosterone production while Indole-3-carbinol reduces estrogen production. With 14 total ingredients, Centrapeak works to help you achieve your peak as the best testosterone booster for a blended formula to boost your testosterone levels naturally.
Pros: This is a top-quality innovative formula with great health advantages and is vegan-friendly and is a top booster on the market. With no proprietary blends, the label is honest and is manufactured in a cGMP approved facility. There is also free worldwide shipping on all orders.
Cons: The price is high due to premium ingredients and advanced manufacturing and they only sell directly from the website. The dosage of magnesium could be higher to boost the effects of testosterone.
Price: $69.00
Check out our individual review for Centrapeak here!
---
Best For Optimal T Levels: Enhanced Black Ox
Enhanced Black Ox is an incredibly powerful testosterone booster designed from a 2-in-1 formula made from 11 scientifically proven ingredients for one of the better boosters on the market. As a great booster for the production of testosterone and regulation of estrogen to remove metabolites, Black Ox is not just for hardcore users, but natural athletes as well. With a transparent label and 8 capsules per serving size, this is a great supplement to enhance power, help with weight management, and optimize hormone levels to boost athletic performance as a result of taking testosterone.
Pros: This is a powerful booster with a great 2-in-1 formula with top ingredients. Its ability to enhance your power will support your overall athletic performance and can be used by everyone for weight loss and increased libido.
Cons: The serving size of 8 capsules is a lot to have to take to receive similar results of other top testosterone boosters you may buy.
Price: $64.99
Check out our individual review for Enhanced Black Ox here!
Best For Power: Testo Lab Pro
Testo Lab Pro boasts an "ultramodern" upgrade to the testosterone-boosting blend typical of most testosterone supplements making this a strongest testosterone booster option. Testo Lab Pro is allergen-free, gluten-free, non-GMO, and free of all synthetic additives, making this a great choice for those who have allergies or other sensitivities to chemicals. Testo Lab Pro is loaded with Ashwagandha extract and DAA for a testosterone boost, plus Vitamins D, K1, K2, and magnesium for added strength performance (1) and optimized mass gain. There's also a healthy dose of zinc, which has been shown to help replenish testosterone that has been depleted through heavy exercise making this a top choice for the best testosterone booster to help your body and get rid of low levels of testosterone.
Pros: This booster is a complete formula with top ingredients to support energy, vitality, lean muscle, and your health. The capsules are safe to take long-term and are designed for easy absorption as well as a money-back guarantee.
Cons: You are limited to buying only on their website and while this is a great formula, some of the ingredients you would want more of are a touch under-dosed in order to see results.
Price: $69.00
Check out our individual review for Testo Lab Pro here!
---
Best For Energy: EVL TEST Testosterone Booster
EVL TEST contains plenty of Vitamins D3, B6, and the essential minerals magnesium, and zinc. But for the testosterone-supporting ingredients you have the potent D-aspartic acid, Tribulus Terrestris, Fenugreek seed extract, and diindolylmethane (DIM). D3 is essential for bone, immune system, and even mental health according to some studies (2). B6, magnesium, and zinc make up a complex for heart, nerve, and immune health with are very effective as a sleep aid. Now, in one study, fenugreek in a 500mg dose showed to have a significant increase in muscle mass, strength, and fat loss. This was in combination with an eight-week training program and this is an interesting find for those looking for a natural performance boost and increasing testosterone results.
Pros: EVL Test offers a transparent label and a great combination of minerals and vitamins at an affordable price to buy. For those looking for a solid booster with the added benefits provided, this is a good option.
Cons: Some side effects have been reported and some of the ingredients actually don't have many testosterone boosting benefits. The tablet size and lack of a refund may deter some consumers.
Price: $29.99
Check out our individual review for EVL Test here!
---
Best All-Natural: TestRX
TestRX is an all-natural testosterone booster designed to help you shed unwanted fat, build muscle mass, and improve your libido. It replenishes the key nutrients in your body needed to ramp up testosterone production naturally, rather than getting it from a synthetic source. The unique TestRX formula combines plant extracts, vitamins, and minerals to make a powerful supplement that will transform your body. This dietary supplement is a good choice for helping men over 35 feel as vibrant and energetic as they did in their 20s – making it easier to reach their athletic goals. If you're interested in boosting your low T-levels and putting on more muscle, TestRX may be right for you.
Pros: This booster is backed by doctors and clinical studies with results visible in a few weeks. It is all natural and contains high-impact ingredients for optimal effectiveness.
Cons: Premium priced and only available online. Not suitable for vegetarians or vegans.
Price: $69.99
Check out our individual review for TestRX here!
---
Best For Muscle Growth & Strength: RSP Prime-T
With a sufficient daily dose of D3, Vitamin B12, and zinc, Prime T contains the typical test booster ingredients D-aspartic acid, fenugreek, DIM, boron, and Bioperine. It supports vitality, energy, and gives a little boost for performance benefits and zinc works to modulate and increase testosterone levels as well as the production of testosterone (3). Prime T isn't anything too out of the ordinary, but it's got some good ingredients for overall health and well-being and the ability to produce more testosterone.
Pros: It has great ingredients like boron and zinc to support healthy testosterone levels, as well as others to increase libido. It is fairly reasonably priced compared to others on the market for boosting testosterone.
Cons: It contains a high dose of DIM, which can activate estrogen in the body and one serving will not last the whole day. Some ingredients don't have much use for testosterone boosting.
Price: $34.99
Check out our individual review for RSP Prime-T here!
---
FAQ Section
What is the best testosterone Booster?
Centrapeak. This testosterone booster is one to increase vitality and improve physical performance and mental strength through an increase in testosterone. With a great formula of clinically dosed ingredients, you get an honest and transparent product from Centrapeak to help your lifestyle changes.
How does a testosterone booster work?
Testosterone is an important sex hormone responsible for bodily functions such as muscle growth, hair growth, muscle development, as well as others. What a testosterone booster does is it will increase testosterone slightly with proven ingredients to give your production a boost. Low T levels happen for a number of reasons and a quality booster is really something great to have to increase testosterone levels.
How do I know if I should use a testosterone booster?
Checking with your doctor is key and having your testosterone levels checked is also something worth looking into. For teenagers, unless at the direction of a doctor, this is not necessary because you have enough in your body as is. For older men, you may start getting into booster territory, for as we age, our levels can decline. Always consult a doctor for expert medical advice before using though in case of side effects.
Wrap Up
These testosterone boosters are about as good as it gets for their intended purpose and they come from reputable companies who practice safe production with quality control. Now, these products won't make you huge or super strong but if you're someone who needs every little advantage possible, a good quality test booster is worth a try and can provide smaller benefits in terms of muscle growth, performance, and energy levels. But chances are someone 30 or over will benefit most seeing as testosterone begins to decline after this age and people who have really low test won't benefit much from them either, which is where looking into natural ways may be more beneficial overall. Supplements like these best testosterone boosters are a bonus to a healthy lifestyle and fitness routine so treat them as such.
Generation Iron may receive commissions on purchases made through our links. See our disclosure page for more information.
Let us know what you think in the comments below. Also, be sure to follow Generation Iron on Facebook, Twitter, and Instagram. 
References
Corona, G.; Giagulli, V. A.; Maseroli, E.; Vignozzi, L.; et al. (2016). "Testosterone supplementation and body composition: results from a meta-analysis of observational studies". (source)
Travison, Thomas G.; Morley, John E.; Araujo, Andre B.; O'Donnell, Amy B.; McKinlay, John B. (2006). "The Relationship between Libido and Testosterone Levels in Aging Men". (source)