Creatine is a powerful supplement for improving performance from increased muscle mass, strength, and exercise performance.
Creatine is a very popular supplement for athletes of all experience levels with great potential to aid in muscle growth and other aspects of your performance. As a widely researched and staple supplement on your shelf, this safe and effective supplement can seriously enhance your gains. While we are all looking for the edge to get us over that training bump, creatine is one of those tools to heavily consider.
What Is Creatine?
Creatine is found in our bodies naturally in the muscle cells and helps provide energy during big workouts. Your body works to convert protein into adenosine triphosphate, which your body can then use for more energy. Chemically, creatine shares similar profiles to amino acids, which is where this comes to your aid in terms of muscle growth and recovery (1, 2).
We put together this list of the best creatine supplements on the market to really enhance your training and performance to the next level.
---
Best Overall: Transparent Labs StrengthSeries Creatine HMB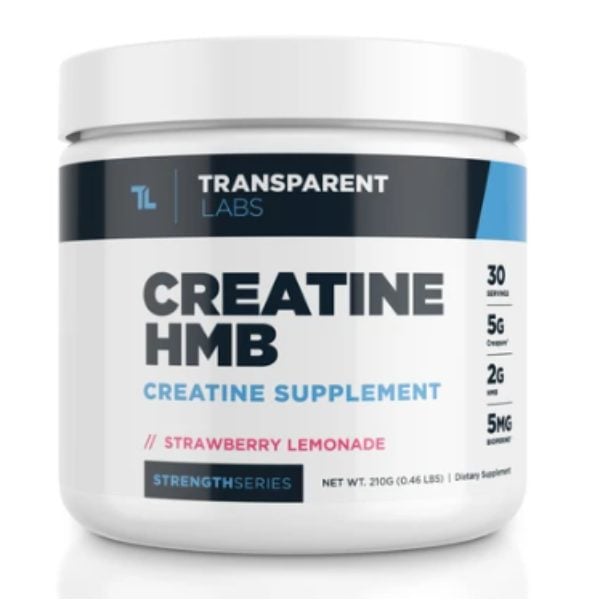 Although one of the more expensive creatine supplements available, Transparent Labs creatine is well worth the price and is one of the best creatine products for pure creatine. It has no added artificial flavors, fillers, preservatives, or coloring, which means the body isn't wasting energy metabolizing useless chemicals — just pure creatine. Transparent Labs creatine is infused with HMB, or β-Hydroxy β-Methylbutyrate, which has been proven to increase muscle strength and lean body mass while decreasing fat mass. At a good price, this is a one of the best creatine products to buy for athletes.
Pros: Clean ingredients with no artificial additives. Great flavors and benefits. From a reputable and trusted company.
Cons: A premium priced option only available through their website.
Price: $39.00/ 30 servings
Check out our individual review for Transparent Labs StrengthSeries Creatine HMB here!
---
Best Ingredients: Performance Lab Maintain
This supplement from Performance Lab can restore depleted muscles on your rest day with 12 hours of steady anabolic nourishment. It can reload your muscles with key sport nutrients, provides extended-relief muscle growth support, and promotes strength, power, and endurance. With three ingredients, creatine monohydrate being the biggest, this has the power to upgrade your rest day to new heights. The ultramodern design and easy to swallow capsules are great for digestion and comes from the best in sports nutrition technology.
Pros: Amazing natural ingredients with optimal effectiveness. The ultramodern design allows for maximum absorption.
Cons: A premium priced product. Only available from their website directly.
Price: $30.60/ 10 servings
Best For Muscle Soreness: Legion Recharge
This post-workout supplement from Legion is a 100% natural post-workout drink that boosts muscle growth, improves recovery, and reduces muscle soreness. With four great flavors and three main ingredients, this naturally flavored supplement is perfect for giving you a healthy and effective recovery product. Each ingredient is well-researched and clinically dosed with no added artificial food dyes, fillers, or junk to give you a great post-workout supplement for muscle soreness.
Pros: Great natural supplement for muscle building and recovery. Amazing taste with natural sweeteners.
Cons: May cause stomach and digestive problems.
Price: $35.99/ 60 servings
---
Best For Absorption: Optimum Nutrition Micronized Creatine Powder
Optimum Nutrition is a leading manufacturer of fitness supplements, and with good reason. Their pure micronized creatine monohydrate powder is in pure Creapure form and unflavored, so you can mix it in anything without worrying about a taste. With no added fillers and no additives, this is one of those highly concentrated creatine supplements that supports lean muscle growth and speeds up recovery time offering you a large amount of creatine per serving at a great buy that people need.
Pros: Solid pure creatine supplement great for energy, endurance, and recovery. Micronized allows for great absorption.
Cons: Unflavored has a rather chalky and poor taste.
Price: $9.99/ 30 servings
---
Best Pure Creatine: MyProtein Creatine Monohydrate
MyProtein Creatine Monohydrate is a vegetarian, vegan, and gluten free creatine powder made convenient for all of your goals. This hard hitting powder is scientifically proven to increase physical performance by improving overall power. Great for everyone, this pure creatine supplement will pump you with this naturally occurring substance to provide for even better recovery and muscle growth. MyProtein brings this straight creatine supplement to enhance all of your training goals.
Pros: Hard hitting formula great for increased physical performance. Conducive to almost all diets.
Cons: Bitter after taste being unflavored and may contain less than advertised.
Price: $23.75/ 200 servings
---
Best Premium Blend: Staunch Creatine Five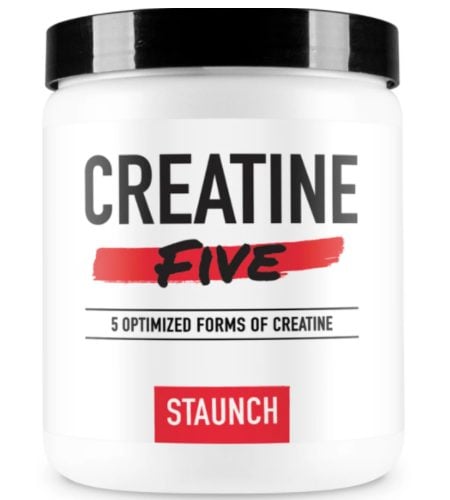 Staunch Creatine Five is a synthesized blend that contains 5 optimized forms of creatine working in tandem to make this one of the best creatine products. Creatine monohydrate, MagnaPower creatine, tri-creatine malate, creatine pyruvate, and creatine anhydrous are all found in this powerful blend and delivers more creatine by weight than any other form of the best creatine on the market making it a good buy. The blend of creatine allows the body to break down, process, and use the maximum amount of creatine ingested — virtually nothing is wasted.
Pros: Great formula packed with five forms of creatine and awesome benefits. Great flavor at a good price. From a reputable company who knows sports supplements.
Cons: Does contain sucralose and other artificial flavors with unspecified amounts.
Price: $29.00/ 30 servings
Check out our individual review for Staunch Creatine Five here!
Best For Post-Workout: Jacked Factory Power Build
This clinically dosed recovery and muscle growth fuel from Jacked Factory is a seriously effective formula designed for muscle growth, strength and power, maximized recovery, and seriously reduced muscle soreness to keep you growing and primed for whatever workout comes next. With no artificial food dyes or sweeteners, this naturally flavored and keto-friendly supplement is conducive to most lifestyles and diets. With 7 main ingredients, you can be sure this supplement will pump you up big time.
Pros: Perfect for muscle growth and recovery with great flavors to choose from. Naturally sweetened and flavored and great for both men and women.
Cons: May cause an itchy feeling and stomach problems.
Price: $35.99/ 20 servings
---
Best Without Additives: Naked Creatine
Naked Creatine is a 100% pure micronized creatine monohydrate supplement that is certified vegan, non-GMO, and soy and gluten free. Made of the highest quality, Naked Creatine doesn't settle for anything less than when looking for their ingredients. Pure creatine monohydrate allows for fast absorption which enhanced gains, strength, and increased training capacity. With no artificial sweeteners, flavors, or colors, this supplement has potential to really light up your post-workout routine.
Pros: A solid pure creatine product to aid in strength gains. No artificial ingredients and good for most diets.
Cons: Noticeable negative reactions like headaches were reported.
Price: $20.95/ 200 servings
---
Best For Power: BulkSupplements Creatine Monohydrate
BulkSupplements brings this pure creatine supplement to the table as well, which has the benefits of contributing to increased muscle mass, aids in boosting anaerobic strength, and supports brain and cognitive function. With only the best in mind, BulkSupplements uses top tier ingredients for all of their supplements, which vary widely. Third party tested for trusted quality and accuracy, this supplement is one that will surely show you great gains.
Pros: Great for increasing athletic performance and cognitive function. Decent price for the amount of servings.
Cons: Does contain added sugar and other additives.
Price: $19.96/ 200 servings
---
Wrap Up
Creatine is a great supplement to add to your routine in efforts to maximize those gains and enhance recovery so you are primed and ready to for whatever challenge comes your way. A widely researched supplement, creatine is naturally occurring in your body and safe to take as a supplement to enhance all of these gains. Check out our list here of the best creatine supplements and really see what they can do for you to enhance all of your goals.
Generation Iron may receive commissions on purchases made through our links. See our disclosure page for more information.
Let us know what you think in the comments below. Also, be sure to follow Generation Iron on Facebook, Twitter, and Instagram. 
References
Bode-Boger, Stefanie M.; Boger, Rainer H.; Galland, Andrea; Tsikas, Dimitrios; Frolich, Jurgen C. (1998). "L-arginine-induced vasodilation in healthy humans: pharmacokinetic-pharmacodynamic relationship". (source)
Graham, A. S.; Hatton, R. C. (1999). "Creatine: a review of efficacy and safety". (source)