Everything you need to know about Transparent Labs StrengthSeries Creatine HMB.
Product Overview
Choosing the right creatine to boost your workouts is important to maximize overall total growth and get the most benefits out of your supplement. While the decision can seem overwhelming, we reviewed Transparent Labs StrengthSeries Creatine HMB to bring you the best information out there about top creatine supplements.
StrengthSeries Creatine HMB is designed for those looking to enhance strength and endurance, while also decreasing body fat without sacrificing lean muscle. This supplement will also increase bioavailability and absorption so you do not lose out on any added benefits this product has to offer.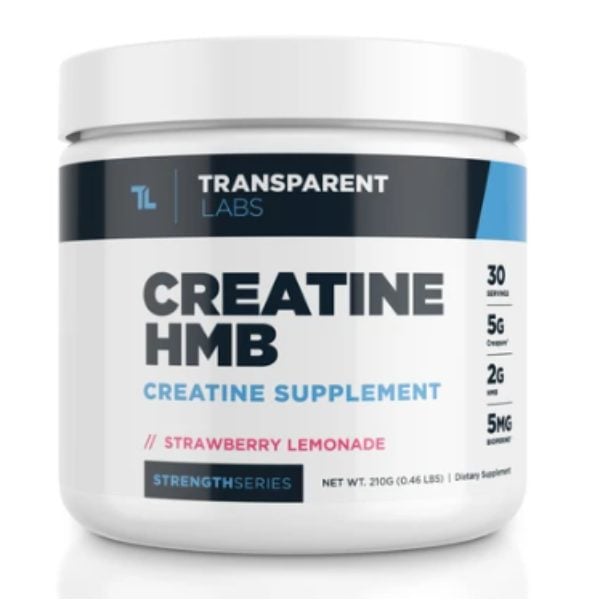 Transparent Labs as a company prides themselves on their transparent labels and honest commitment to bringing the best ingredients to the table to ensure the best results for its consumers. StrengthSeries Creatine HMB has zero artificial sweeteners, coloring, or preservatives and the ingredients are measured to clinically effective dosages.
Transparent Labs' state-of-the-art-facility in Utah is certified current good manufacturing processes (CGMP) and their products are registered with the Food and Drug Administration (FDA). To ensure the highest quality care and honesty with each product, they are third-party tested to provide accuracy and make your decision on supplements easier to maximize your gains.
StrengthSeries Creatine HMB Highlights
StrengthSeries Creatine HMB only contains three ingredients to aid in your supplement needs. With no added dyes or harmful additives, this product is simple and effective in helping you towards the intended goal. Being gluten-free and non-GMO as well adds to the cleanliness and quality of this supplement.
This creatine product is for those looking to really boost their performance without suffering the consequences of losing their hard-earned gains. Creatine monohydrate and HMB together have been shown to promote strength, increase endurance and prevent lean muscle loss, all while helping to decrease fat mass at the same time. The added BioPerine allows for increased bioavailability and absorption so this supplement reaches its maximum capacity to aid in all your fitness needs.
Ingredients
Creatine Monohydrate (Creatine)
Creatine is one of the most popular and widely studied natural supplements for fitness junkies and average gym-goers alike. Supplementing with creatine can increase strength and muscle growth, as well as fat free mass, with heavy resistance training. Working with HMB, creatine has been shown to increase lean body mass and muscle strength more than each supplement can on their own (1). Creatine's effectiveness on strength has been proven time and time again and can also greatly increase net lean mass gains. It can also affect body composition (2) and with the ability to keep on lean muscle and help shed fat, that toned physique is within your grasp.
This product uses creatine monohydrate from Creapure, a German company which produces the purest source of creatine. Their approach to their product is a careful selection of raw materials, high-performance technology, and chemical analysis, so while this ingredient may come from an outside source, Transparent Labs ensures it meets their standard of excellence to match their own products.
B-Hydroxy B-Methylbutyrate (HMB)
HMB is a great ingredient to pair with creatine monohydrate because together they work to do very similar things. HMB is also known to increase strength, promote lean body mass, and decrease fat mass (3). HMB has the ability to boost athletic performance to keep you running at maximum capacity during your workouts. This is centered around the fact that HMB supplementation can help increase oxygen capacity resulting in increased performance (4). Placed together with creatine monohydrate, HMB plays a crucial role in StrengthSeries Creatine HMB and only adds to the serious benefits that come with these two ingredients working on your behalf.
BioPerine
Bioperine is an extract originally found in the black pepper fruit. It is known to enhance bioavailability of supplement nutrients through increased absorption. The importance of BioPerine in this product allows for the supplement to enter circulation to have an active effect on your body and see those gains grow.
Price And Flavors
StrengthSeries Creatine HMB comes in at $39.00 for one 0.46 lbs. tub. With thirty servings per container, you can take this supplement 30 minutes following a workout, or you can take one scoop in the morning on days off to aid in recovery. It is important to drink plenty of water when taking this supplement. Flavors include:
Tropical Punch
Blue Raspberry
Unflavored
Strawberry Lemonade
Sponsored Athlete
Transparent Labs works with strongman Hafþór Júlíus Björnsson to bring awareness to their high-quality products. Björnsson has made a great career for himself in the world of strongmen and was the first to win World's Strongest Man, Europe's Strongest Man, and the Arnold Strongman Classic in the same year. While his career as a strongman gave him great notoriety, he also played the role of "The Mountain" in HBO's Game of Thrones. Björnsson and Transparent Labs seek to take the supplement game to new heights and bring you products that are honest and effective.
Overall Value
StrengthSeries Creatine HMB by Transparent Labs is a great choice when it comes to your strength-building and performance enhancing creatine supplement. As a consumer, you know this product comes from the highest quality facilities run by a transparent and honest company. With only three ingredients, no added artificial sweeteners, coloring, or additives, and no additional fillers, this supplement will boost your growth, decrease fat mass, and hold onto that hard-earned lean muscle. What you are getting with this product is a safe, affordable, and effective supplement to boost your performance from a company you can trust.
Try StrengthSeries Creatine HMB at Transparent Labs Today
Generation Iron may receive commissions on purchases made through our links. See our disclosure page for more information.
Let us know what you think in the comments below. Also, be sure to follow Generation Iron on Facebook, Twitter, and Instagram. 
*Images courtesy of Transparent Labs and Hafþór Júlíus Björnsson
References