These knees sleeves will surely provide great support and keep you seeing big gains.
Our knees may be tough joints. They do support our large frames all day after all. But even the strongest things start to wear down and that loss of stamina could lead to imbalances and poor support ultimately leading to injury. Knee sleeves are incredibly useful tools when it comes to weightlifting, especially Strongman, where so much load is compressed onto your poor knee joints.
Knee sleeves are not knee braces. Knee sleeves are designed for your overall protection against future injuries by working to reduce pain and increase blood flow (1). With the added compression during a workout, there is less pain and swelling after. By keeping the knee warm for any workout, you do not risk tightness or anything to cause further harm.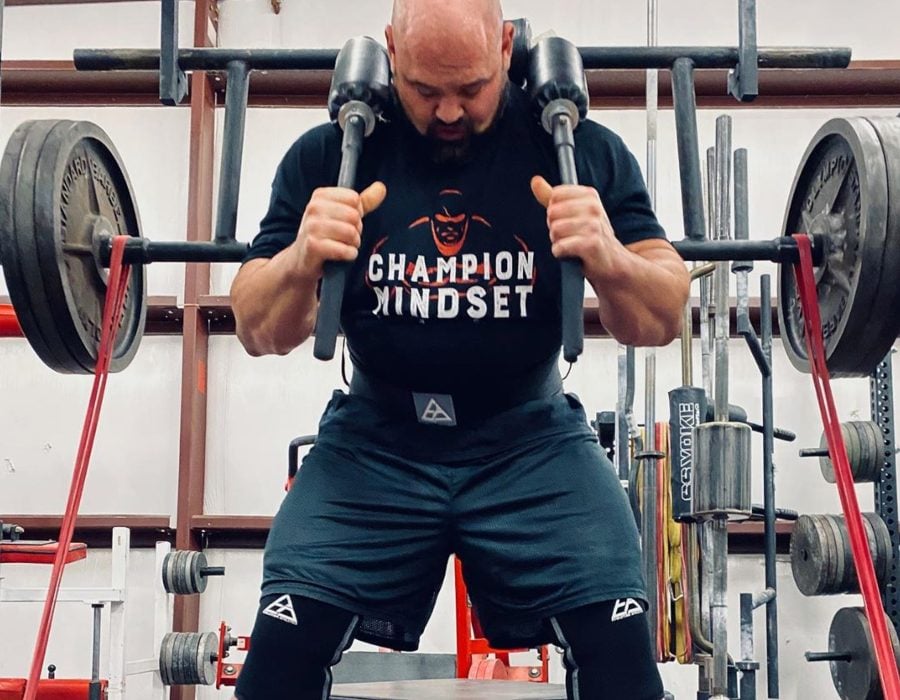 As solid lifting tools for strongmen, knee sleeves allow them to move massive amounts of weight while also staying healthy and in top performance despite the overwhelming load. For someone like Brian Shaw, who just recently pulled a 770 horse power Shelby F150 as part of his training, knee sleeves provide support without even a second thought. Or fellow strongman Mark Felix who while training for the medley may not have worn them in preparation for competition but wears them for all aspects of his training as he prepares for competition to stay in peak shape and injury free.
Benefits Of Knee Sleeves
These compression garments will aid in recovery by increasing blood flow to reduce the build up of lactic acid in muscles. More healthy blood and oxygen flow ensure a more efficient muscle recovery (2). Knee sleeves offer protection by supporting the muscles and decreasing the number of muscular vibrations to assist in muscle fatigue and improve athletic endurance (3). By supporting these vulnerable spots, it also reduces your risk of future injury. Finding the right knee sleeve for you can be challenging, but thankfully an added benefit is that there are plenty of options for you.
Check out our list of the best knee sleeves for maximum comfort and support and really work to see those gains come to life.
---
Best Overall: SBD Weightlifting Knee Sleeve
SBD brings this amazing weightlifting knee sleeve designed to minimize the risk of injury while working to maximize performance. Sold as a pair, this 5mm high grade neoprene and four-way stretch fabric has a reinforced seam constructed to last a long time with continuous use. An anti-microbial inner lining is matched by an abrasion resistant exterior lining for optimal protection against wear and tear. Registered and developed with help from elite athletes, coaches and other health professionals, this sleeve is approved for all competitive use including USPL, IPF, IWF, and was approved for the USPA in 2021.
Pros: Top quality knee sleeve designed from elite athletes and other professionals. Very durable and built to last, the high-grade neoprene is reinforced to tackle wear and tear. Approved for all competition is a huge plus.
Cons: It is on the expensive side for knee sleeves and you can only buy directly from their website.
Price: $90.00
---
Best For Circulation: Mava Sports 7mm Knee Sleeve
This knee sleeve from Mava offers a 7mm compression sleeve to work on full support to ensure injury prevention, promote muscle and joint health, and offer optimal stability. Anatomically shaped for performance, they provide the right amount of support and compression to offer maximum comfort and relieve stiffness and soreness after any big lift. These strong neoprene knee sleeves will allow you to achieve more from all of your sessions. USPA approved, Mava also prides themselves on great customer service.
Pros: Offers great support and maximum comfort so your lifts are more mobile and aren't stunted by a bulky sleeve. Being USPA approved is a bonus for competitors.
Cons: The sizing tends to be slightly off. Being thick may provide comfort but it also doesn't wick moisture away as well as it could.
Price: $29.99-$36.00
---
Best For Strength Training: Rehband Rx 5mm Knee Sleeve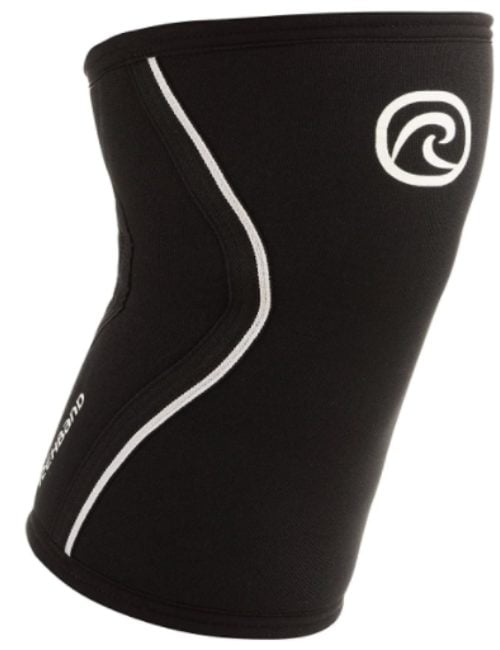 Rehband Rx knee sleeve allows you to feel more confident and secure with any activity with this classic 5mm design to provide knee support, comfort, flexibility, and compression. The 3-D contoured design is based on the contour of the leg so it is an anatomical fit instead of an angled tube. Providing reinforcement all around the knee, it allows for optimal range of motion for whatever your sport. As a dependable creator of knee sleeves since 1955, Rehband always keep the customer in mind.
Pros: The 3-D design allows for a more comfortable fit and the range of motion is great for all lifts. Made from a trusted and reputable company.
Cons: Sizing tends to be off which can cause discomfort. Tend to be a slightly thicker than others so circulation may become a problem.
Price: $35.99
---
Best For Powerlifting: SBD 7mm Knee Sleeve
SBD offers another great compression sleeve with their 7mm knee sleeve. Sold as a pair, these are the market leading knee joint support products for strength sports and strength training by top athletes in powerlifting and Strongman. Designed to minimize the risk of injury while also aiding in performance, this registered and patented design is developed by elite athletes and other health and fitness professionals. The 7mm high grade neoprene knee sleeve is approved by USAPL, IPF, and USPA, and is compliant with IWF.
Pros: Top-tier product in terms of quality and longevity. Very effective design from elite athletes and other professionals. Fully approved for competitive use is a huge plus.
Cons: This sleeve is on the expensive side and only available through their website.
Price: $82.50
---
Best For Warmth: Sling Shot 7mm Knee Sleeves By Mark Bell
Mark Bell brings Sling Shot 7mm knee sleeves to the table with years of experience as a professional powerlifter, coach, and fitness expert. This strong 7mm thick level 3 neoprene provides for compression with solid rebound to really maximize weightlifting loads. The patented design allows for comfort and convenience and is great for providing warmth to keep you lose and limber yet stable. The benefit of promoting body awareness is great as it works to assist neighboring parts of your body as well. Overall, the added stability will promote confidence with lifting more weight.
Pros: They are lighter than others but offer the same support. Level 3 neoprene is high quality and ensures durability and they are top of the list for warmth.
Cons: Expensive product and are of average quality overall when compared to others in the similar price range.
Price: $83.00
---
Wrap Up
Knee sleeves will work wonders on your knee pain by offering support and stabilization all while boosting confidence and promoting more weight in your lifts. Don't let vulnerable joints or imbalanced muscles take away from what could be a quality lift. Check out these best knee sleeves for maximum comfort and support and keep yourself as safe as possible while still seeing big gains.
Generation Iron may receive commissions on purchases made through our links. See our disclosure page for more information.
Let us know what you think in the comments below. Also, be sure to follow Generation Iron on Facebook, Twitter, and Instagram. 
References
Vaile, Joanna; Stefanovic, Brad; Askew, Christopher D. (2016). "Effect of lower limb compression on blood flow and performance in elite wheelchair rugby athletes". (source)
Husmann, Florian; Mittlmeier, Thomas; Bruhn, Sven; Zschorlich, Volker; Behrens, Martin (2018). "Impact of Blood Flow Restriction Exercise on Muscle Fatigue Development and Recovery". (source)
Raabe, Margaret E.; McNally, Michael P.; Chaudhari, Ajit M. W. (2017). "The Effect Of Compression Tights On Muscle Vibration And Fatigue From A High-Intensity Run". (source)