These weightlifting shoes are great to help with stability and strength during those big lifts.
For those who lift big, you know how much support you need to continue to thrive inside and out of the gym. What a good pair of weightlifting shoes can do is provide you with something that is comfortable and versatile that also offers great stability and support, especially when you're under so much weight. You want to give yourself the best chance at success when you're at the gym and a solid pair of weightlifting shoes can do just that.
Weightlifting shoes are generally hard and flat soled shoes with an elevated heel and straps to allow for adjustability as you seek your desired fit. These are designed to assist in your heavy powerlifts and other forms of training to ensure you remain stable and balanced in efforts to enhance safety and effectiveness of your lifts (1). Once you find a pair that works great for you, there's no turning back and the gains you seek most will only start to increase.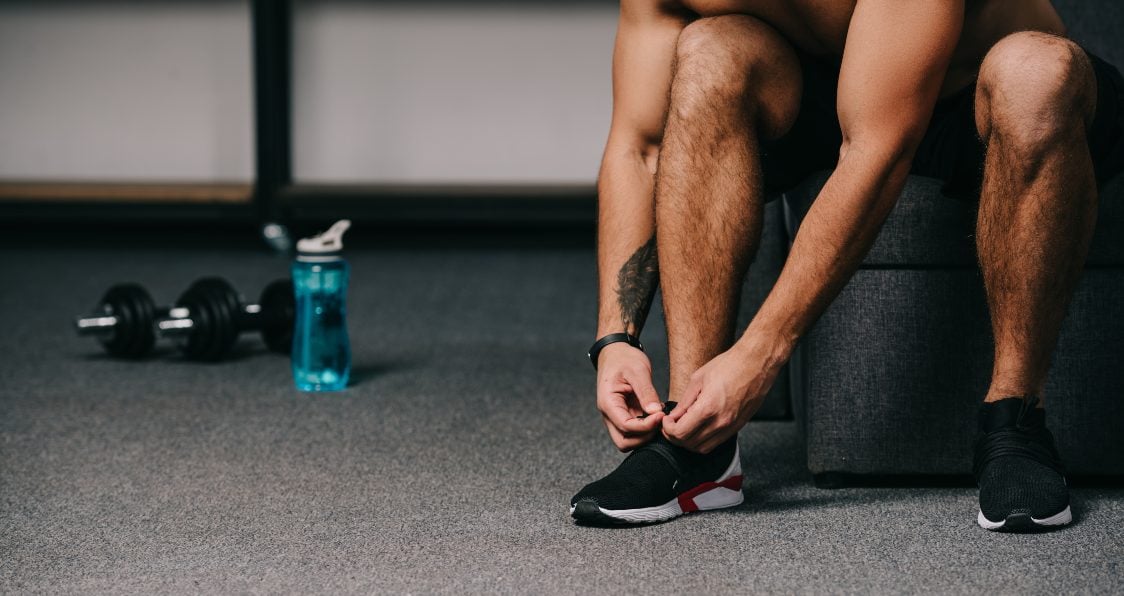 Here is our list of the Best Weightlifting Shoes for 2021 as we seek to bring you the best when it comes to workout equipment. Don't settle for anything less than great and this list will provide you with some stellar options as you look to enhance your training and performance.
Best Weightlifting Shoes for Bodybuilders In 2021
---
Best Overall: Reebok Legacy Lifter Li Cross Trainer
Reebok Legacy Lifter Li Cross Trainer is a great overall weightlifting shoe for whatever workout or lift comes your way. The bold new design includes a textile upper for consistent and comfortable air flow to avoid overheating and provide the best feel. The lockdown straps provide for a good all-around fit to match your desired adjustability and the raised heel offers maximum stability. With natural contours, this shoes fits you just right for support and max power.
Pros: Comfortable with natural contours to fit your shape. Lockdown straps are sturdy and the raised heel is great for stability. This shoes works especially great with deadlifts.
Cons: A bit tight around the toe area and not great for squatting.
Price: $109.99-$346.00 (prices vary based on size)
Best For Powerlifting: Nordic Lifting Shoes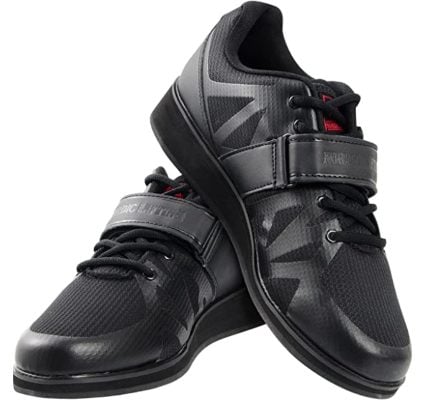 Nordic Lifting Shoes are great for improving powerlifting performance and heavy workouts. This premium shoe offers good foot support to ensure a powerful workout and greater gains and are built to last under any stress. For those powerlifters or athletes who regularly lift heavy weight, these can improve posture to promote longevity and keep you physically healthy overall. The smooth, anti-slip sole is designed for maximum stability during all movements to promote the best lift possible.
Pros: Perfect for powerlifters and other heavy lifters. Great for working on posture and supporting gains by offering top notch stability.
Cons: Heel fit is rather loose and heel height is a bit awkward. The single strap doesn't provide the best fit across the top of the foot.
Price: $89.95
---
Best For Squats: Adidas Men's Fitness Shoes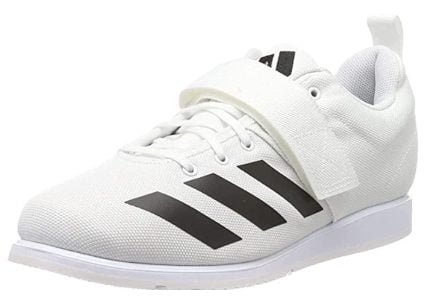 Adidas Men's Fitness Shoes are 100% synthetic and the canvas upper increases durability and stability. A reinforced heel locks the heel in for greater support and lace enclosure allows the locked-in fit to be secured with one strap coming across the top. With a strong, stable base and a sockliner for increased comfort, these lifting shoes are the best for squatting as you work towards that new personal record.
Pros: Great support and reinforcement in the heel and the lace enclosure offers a snug fit on the top of the foot. Great for squats with the stability support.
Cons: Not much support in the arch and feels to be a tight fit.
Price: $102.50-$151.46 (prices vary based on size)
---
Best For Cross Fit: Reebok Men's Legacylifter Cross Trainer
For those looking for a great Cross Fit shoe, Reebok Men's Legacylifter Cross Trainer combines quality construction with a firm foundation with a level of comfort that is hard to find. Overlapping straps offer a great fit along with the lockdown strap and the shoe's breathability allows for comfort and less moisture build-up. With a versatility to move but also the comfort of a workout shoe, this weightlifting shoe from Reebok is a great one to get you competition ready.
Pros: Firm foundation but provides great comfort and versatility. Breathability allows for comfort as well.
Cons: Tight in the toes and where the laces start to thread, it can dig into the foot.
Price: $129.04-$324.24 (prices vary based on size)
Best For Weightlifting: Otomix Men's Warrior Shoes
Otomix Men's Warrior Shoes are great for bodybuilders and those into MMA for they are extremely lightweight but offer great ankle support and a thin sole for better grips. The higher build around your ankle allows for a more snug fit and comfort in knowing you have extra stability working for you. These are also perfect for any use whether inside or out of the gym, but for those who lift and seek that shredded aesthetic, the look and feel of these shoes will only enhance what you've already started.
Pros: Look and feel great with amazing ankle support for everyday use, as well as workouts. Extra stability provides comfort in knowing you're protected.
Cons: For those with wider feet, these may be a touch too tight.
Price: $88.00-$109.00 (prices vary based on size)

Benefits Of Weightlifting Shoes
The benefits of weightlifting shoes will make you consider investing in a pair, or even upgrading your current pair, so you get the most out of your workouts.
Increased support: These can increase support by providing better traction for your grip to the floor, as well as supporting the foot and the ankle during those big lifts (2).
Ankle support: Provide a secure, snug fit around your ankle so you can develop mobility and power without putting it in a vulnerable position.
Ensure safety of lifts: Work to protect against injury that can keep you out of the gym.
Raised heel: Helps with things like flexibility and mobility while also giving you a more comfortable posture with some of these lifts.
Boost confidence & style: Looking good is half the battle and a great pair of shoes can increase your confidence as you look like a pro with a stylish pair.
How We Choose
Our list is comprised of weightlifting shoes we believe will give you the best when it comes to quality, support, longevity, and price. These brands are great and take pride in their products and care of the consumer. While some of these options are more expensive than others, we believe the quality and longevity of these shoes are matched by comfort and versatility they provide to your lifts. The support these shoes have will enhance your comfort in the gym and allow you to focus on other things aside from your safety.
What Else To Know
What's The Ideal Heel Height For A Weightlifting Shoe?
The standard heel height for a lifting shoe is about .75" but many shoes also go up to an inch (ideal for Olympia lifting) and even down to .6"-.65", which are more beneficial for deadlifts. But .75" is a good height for weightlifting in general (especially squat type movements) and is versatile for most lifting activities. So, you could say it's like a hybrid since the heel isn't low or particularly high either.
Now, certain physical attributes, goals, movement, and lifting technique will ultimately determine which height you decide to go with. So, there's no perfect one-size-fits-all shoe option for every individual. But, chances are, most people would benefit from using a standard weightlifting shoe at with a .75" lift.
Different Heel Types
There are weightlifting shoes with wooden, stacked leather, plastic, EVA (ethylene vinyl acetate) and TPU (thermoplastic polyurethane). These materials are very durable and provide a very stable and solid base which you need in a weightlifting shoe which athletic shoes do not provide.
Strap System
Most weightlifting shoes have laces by default but straps (one or two) are often included for additional security. When lifting heavy weight you want your ankles and feet to be as secure and stable as possible since they are the base.
The choice to have one or two straps really comes down to how secure you prefer your lifting footwear to be. Two will result in maximum secureness but it's not always necessary. And some shoes have a BOA tightening system which allow you to turn a dial to get a tighter fit.
FAQ Section
What is the best weightlifting shoe?
Reebok Legacy Lifter Li Cross Trainer. This shoe is a bold new design that is comfortable to provide for the best feel. The straps ensure a good fit and the natural contours will match your foot perfectly. These are designed for and will improve support and maximum power.
What are the benefits if I use a weightlifting shoe versus a normal workout shoe?
What you'll get out of a weightlifting shoe is something designed for and geared towards weightlifting. When it comes to support, comfort, durability, and use, these shoes are created to help with those big lifts from an elevated heel to better traction on the sole. You are working to give yourself better support when under so much weight.
How do I decide which shoe is right for me?
This may take some trial and error because each fit is unique to the individual but look for a shoe that fits nicely without being too tight. It is possible to have a snug fit that still allows for movement. Also, look for what you want to use it for. If you're into Cross Fit, look into something geared towards that. Same with powerlifting and bodybuilding. With so many options, it is possible to match one that will work for you perfectly.
Wrap Up
Weightlifting shoes are great to use in the gym to ensure comfort, versatility, support, and longevity as you seek to pack on muscle and work towards that shredded aesthetic. Looking into a pair of shoes will only improve your training and performance and is a great idea if you don't own a pair. This list contains high-quality and amazing weightlifting shoes to help you towards your goals so check it out today and see which one's will work best for you.
Generation Iron may receive commissions on purchases made through our links. See our disclosure page for more information.
Let us know what you think in the comments below. Also, be sure to follow Generation Iron on Facebook, Twitter, and Instagram. 
References
Legg, Hayley S.; Glaister, Mark; Cleather, Daniel J.; Goodwin, Jon E. (2017). "The effect of weightlifting shoes on the kinetics and kinematics of the back squat". (source)
Sato, Kimitake; Fortenbaugh, Dave; Hydock, David S. (2012). "Kinematic changes using weightlifting shoes on barbell back squat". (source)