The right supplements in a bodybuilders diet will build muscle, performance and recovery for physique gains.
You put yourself through constant physical and emotional stress every day. Family matters, personal issues, relationships, and balancing a job are coupled with your workouts that just take it all out of you. You eat well but may not get enough of all those vital nutrients and sometimes your energy levels are just too low to juggle it all. It is important to know the best bodybuilding supplements to keep you on track and working for your intended goals.
Whether it be one of these, or a combination of many, each of these supplements can support your overall bodybuilding goals from increasing energy, aiding in weight loss, pumping you with protein for muscle growth, or keeping your overall health and wellness high so you operate at maximum capacity. Knowing what to take and when to take it shouldn't be a challenge, especially when it comes to your health.
Why You Should Take Supplements
There are many reasons to take certain supplements but each works to put certain nutrients in your body to elevate your health and increase your overall performance, whether that be inside or out of the gym. Many of the essentials our bodies cannot produce naturally and it is important we obtain those through food. But often times our diets do not give us everything we need and that's where supplements can be our best friend. It is important to note that supplements should never replace food. They work in tandem with food to provide you with the best possible diet and lifestyle.
Supplements are good for all sorts of benefits, whether it be for pre-workout energy and muscle pumps, a mid-workout boost for prolonged activity, or post-workout recovery to build muscle and keep you seeing you great gains. A whey protein supplement can really fuel muscle growth and BCAAs, along with omega-3 supplements like krill oil, are great for recovery. When it comes to joint support, supplements can alleviate pain or reduce the risk of injury all together. While pre-workout attention and a mid-workout grind can ignite growth and performance, it is recovery where real gains are made.
Whether you need one supplement to support a certain area of your routine, or you need many to work together for you benefit, these supplements will support pre-, mid-, and post-workout needs to keep you on track and seeing great gains. Check out our list of the best bodybuilding supplements for this year.
---
Best Whey Isolate Protein Powder: Transparent Labs 100% Grass-Fed Whey Protein Isolate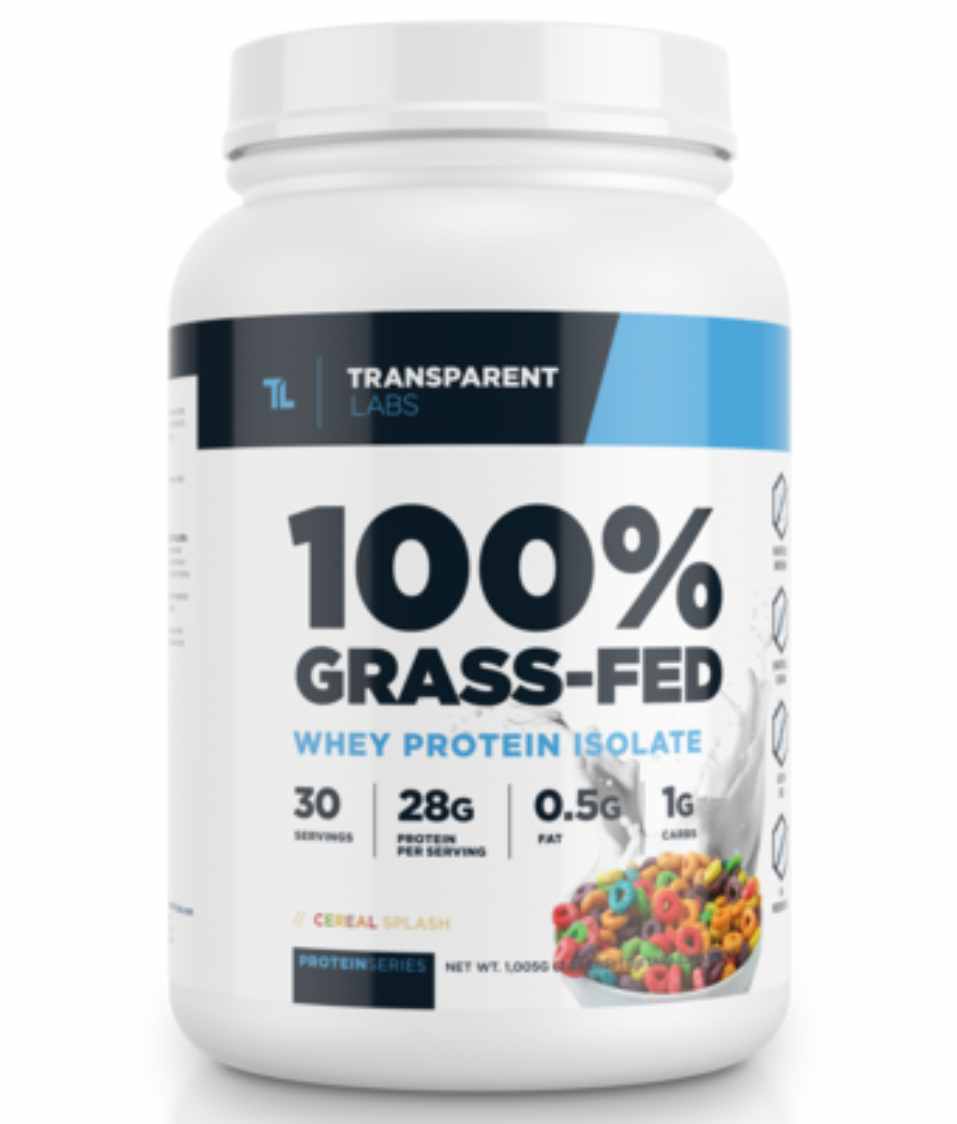 Transparent Labs 100% Grass-Fed Whey Protein Isolate has an impressive array of eco-friendly accomplishments in that it is organic, non-GMO, and gluten-free. With no artificial sweeteners, coloring, or preservatives, this protein isolate will pump you full of what you need after a workout to really see great growth. Sourced from 100% grass-fed American cows, all of the ingredients in Transparent Labs products are of the highest quality and each batch is third party tested for accuracy. From a company that prides themselves on transparent and honest labels, this whey isolate is a fantastic choice for a whey protein supplement.
Pros: Transparent Labs products do not contain artificial sweeteners, coloring, or preservatives and their honest labels provide all the information you need to trust it. The perfect amount of protein with great flavors will pump you full of benefits.
Cons: It is slightly high in carbs and cholesterol and despite lactose, there are no digestive enzymes. You can only buy from their site and it is a pricy product.
Price: $59.00 for a 2 lbs. tub
---
Best Post-Workout: Transparent Labs CoreSeries Post
Transparent Labs realized the best window to maximize muscle growth was right after you finish a workout and CoreSeries Post Workout is a great supplement to get those targeted nutrients into your body to recharge and grow those muscles. As a great recovery and muscle-building supplement, Post works to optimize recovery and muscle repair by pumping you full of 6 great ingredients to boost nitric oxide production, reduce soreness, promote protein synthesis, and aid in gut health.
With no artificial additives, these ingredients are pure and of high quality to promote transparency and honesty when it comes to your health. L-glutamine works as a naturally occurring nonessential amino acid to enhance protein synthesis and stop protein breakdown in the muscles (1). L-carnitine L-tartrate aids in energy production and helps turn body fat into fuel to aid in weight loss, reduce fatigue, and increase overall exercise performance (2). Beta alanine works to delay fatigue and promote the healthy formation of proteins and along with all these ingredients comes the guarantee that, coupled with a high protein whey supplement or meal, this product will get you recovered and seeing big gains.
Pros: It will help with recovery and muscle growth, but is well designed for those looking to decrease muscle soreness and inflammation. Great pairing for those with high protein to accompany it and no artificial fillers promotes transparency and safety.
Cons: If you eat a well-planned diet already, you may be getting these essentials as is. It is slightly more expensive than others on the market and you can only buy directly from them.
Price: $44.00 for a 1 lbs. tub (30 servings)
---
Best Multivitamin: Performance Lab NutriGenesis Multi for Men
Performance Lab NutriGenesis Multi for Men is an ultramodern multivitamin for overall health and peak human performance calibrated specifically for the nutritional needs of men. With 17+ essential daily vitamins and minerals and whole-food cofactors for optimal absorption, this is a great supplement to help with metabolic performance, immune function, cardiovascular health, muscle growth and functions, and digestive health. The NutriGenesis process is an innovative way to mirror nutrient genesis in nature, so even though the vitamins, minerals, and amino acids are lab grown, the natural process is replicated for your health and safety. By working to match whole foods' natural structure, they become more bioavailable for your body to utilize.
With a host of essential vitamins and minerals, this multivitamin will only work to enhance all aspects of your health and wellness. Vitamin C protects against immune system deficiencies and promotes solid immune health (3). It also can influence muscle growth and tissue repair. Vitamin E is great for vision, reproduction, blood, and brain health and has powerful antioxidants to protect against free radical damage (4). Zinc is one of those staple minerals in immune health and can help return the body to homeostasis (5). As an antioxidant it helps fights oxidative stress and decreases your chances of coming down with illness making this a top multivitamin.
Pros: It contains a diverse group of vitamins and minerals to cover all aspects of your health and all the ingredients are natural. The NutriGenesis process is unique and innovative and makes all the vegan-friendly ingredients bioavailable.
Cons: It is slightly low in calcium and magnesium and is only available through their website.
Price: $39.00 for 120 tablets (30 servings)
---
Best Fat Burner: PFX Labs Fighters Core
When it comes to a great fat burner, PFX Labs Fighters Core is the leading fat burner while you continue to gain muscle. Fighters Core can provide energy and focus to lift your mood, increase metabolic rate to start the thermogenic process, control food cravings, and supply vital nutrients that enable better absorption. With great ingredients geared towards your overall benefit, this muscle gain, fat loss supplement can provide for your desired body transformation.
Chromium picolinate works to reduce cravings (6) so you aren't tempted to indulge in that unnecessary binge and will also help regulate insulin. Green tea and caffeine work to provide for a natural source of energy to also kickstart your metabolism into gear. Coleus forskohlii is a stimulant used to release stored fat from fat cells (7) and it can also support a calorie deficit by suppressing appetite, aid in digestion, and increase metabolic rate.
This fat burner works great for those who already workout at least three times a week in order to enhance the fat burning and muscle-building process. Fighters Core can be a great aid to reach your goals faster.
Pros: This product offers a solid modern formula with great ingredients including those that spare muscle and act as stimulants. It is safe for competitive use and is regularly checked for an updated formula.
Cons: This is a high end, premium priced item only available on their website with limited online reviews.
Price: $49.00 for 90 capsules (30 servings)
---
Best Sleep Aid: Performance Lab Sleep
Performance Lab Sleep is designed to optimize overnight recovery and repair without compromising your next morning performance and vitality. It works by supplying natural melatonin to encourage pre-sleep drowsiness without feeling it the next morning and enhances overnight cell renewal with antioxidants to help repair damaged tissues. It will also work to block sleep-disruptive muscle twitches and stabilize circadian rhythm especially against late night screens. This sleep aid is a great tool for athletes of all levels to stabilize their sleep cycle.
With their NutriGenesis technology, these ingredients will work well in your body to provide for easy absorption of all the nutrients. Magnesium works to calm nerve impulses and support soothing relaxation. It can also relax vascular smooth muscles cells and stop any disruptive twitches. Tryptophan helps break the unhealthy stress-sleep cycle with versatile mood and sleep support by converting into serotonin to promote relaxation and converting into melatonin in the GI tract to optimize the natural production of melatonin in the pineal gland.
Pros: Fully disclosed labels and their NutriGenesis process provides for no added or banned ingredients. Tested for purity and other contaminants, this sleep aid will promote a better sleep overall.
Cons: It is premium priced and only available through their website. Not many customer reviews are available.
Price: $39.00 for 60 capsules (30 servings)
---
Best Omega-3: Transparent Labs CoreSeries Krill Oil
Transparent Labs CoreSeries Krill Oil is a superior source of nutrition to get all of your omega-3 needs without any harmful additives or fillers. Krill oil attaches to phospholipids as opposed to fish oil which attaches to triglycerides. This allows for more gentle absorption in the stomach allowing for better assimilation into the cells. From a company who prides themselves on transparency and honesty, the labels are accurate and each batch is third party tested. With 120 mg of EPA, 55 mg of DHA, and 80 mcg of astaxanthin, these easy to digest capsules are great for brain, heart, and joint health.
This product contains vital ingredients to really pump you full of omega-3's for your overall wellness. Phospholipids promote the passage of molecules into the intestinal wall and increase the rate of absorption (8). Eicosapentaenoic acid (EPA) is an omega-3 fatty acid found in cold water fish that has strong anti-inflammatory properties, while Docosahexaenoic acid (DHA) is the other omega-3 fatty acid that promotes learning capability and academic performance (9). Astaxanthin can increase blood flow and improve oxidative stress while working as a powerful antioxidant (10).
Pros: This product comes with great ingredients and an honest label. Great value and well-researched, as well as third party tested, to provide for accurate assessment of the benefits.
Cons: It could have slightly higher doses of both EPA and DHA. Compared to others, astaxanthin is low and it is only available through their website.
Price: $29.00 for 60 softgels (30 servings)
---
Best Testosterone Booster: TestoLab Pro
TestoLab Pro is an ultramodern testosterone booster to ensure muscle growth, increased energy and virility. It will work to boost muscle size and strength as well as recovery while also increasing fortitude, focus, and overall power. This T booster is a clean, plant-based source of nutrition with no artificial colors, additives, or fillers and is perfect for those struggling with low testosterone to get them back on the right track. The creating process works great for your health and as a safe and effective supplement, your overall performance will see an increase.
Ashwagandha extract is an interesting ingredient to promote both mental and physical performance and as an antioxidant, can help fight free radical damage to testosterone (11). Mucuna pruriens extract is an active ingredient in testosterone production and can help signal various parts of your brain to release and produce certain hormones. It helps release gonadotropin-releasing hormones and signals the pituitary gland to produce luteinizing hormone, which increases testosterone in the testes (12). With other essential vitamins and minerals, like vitamin D3 and magnesium, T+ works to positively impact your life and boost testosterone levels.
Pros: This booster is a complete formula with top ingredients to support energy, vitality, and your overall health. The NutriGenesis process ensures great absorption and the capsules are safe to take long term.
Cons: This is a premium priced option and six capsules is a lot for a serving size. Some of the ingredients may be under-dosed as well.
Price: $69.00 for 120 capsules (20 servings)
---
Best Pre-Workout: National Bodybuilding Co. Stage Ready Pre-Workout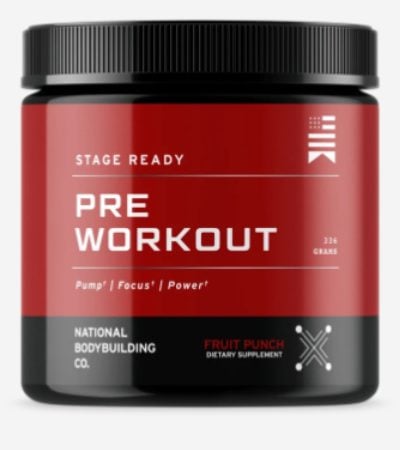 National Bodybuilding Co. Stage Ready Pre-Workout is a solid pre-workout supplement designed to enhance levels of strength through a combination of 13 highly researched ingredients. This will boost your training by increasing training capacity and provide for muscle pumps and support muscle-building by delivering nutrients and oxygen into tissues. It will also optimize cellular ATP production to boost overall performance and enhance neurotransmitter synthesis to provide for clean and sustained mental focus.
With 13 well-researched and clinically dosed ingredients, this pre-workout supplement is certainly a great product. Vitamin B12 works to promote the synthesis of the myelin sheath in the brain which leads to faster signaling between brain cells. It can also increase oxygen delivery into your muscles leading to improved overall performance. L-citrulline eventually turns into L-arginine in your kidneys which increases nitric oxide plasma levels and acts as a vasodilator to boost blood flow. For this reason, citrulline is a great ingredient to promote muscle pumps (13). Green tea extract can reduce inflammation, protect muscle tissue from catabolism, provide for great natural energy, and help you recover faster from injuries (14).
Pros: This offers you a full 30-day supply. The ingredients are naturally sourced, clinically researched and optimized for results. It will keep your energy levels high without a mid-workout crash and promote muscle growth and recovery and is easily modified depending on your desired level of strength.
Cons: It is a premium priced option and is only available on their website directly. It also only ships to customers in the United States.
Price: $48.00 for 336 grams (30 servings)
---
Best Creatine: Transparent Labs Creatine HMB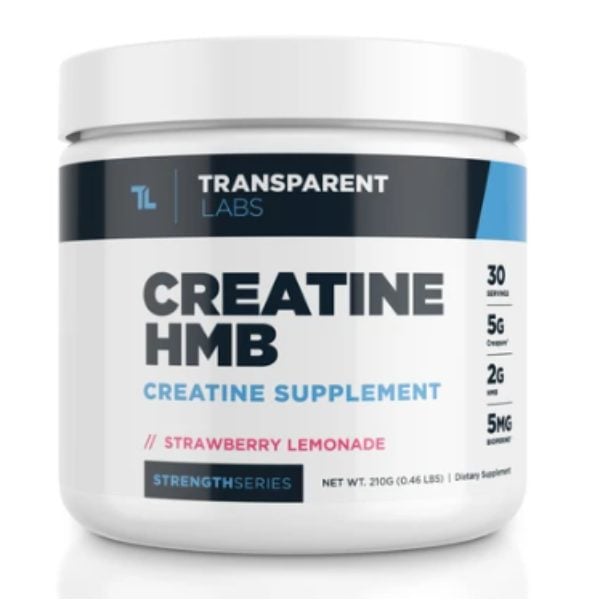 Transparent Labs Creatine HMB is a solid creatine supplement that only contains three ingredients. With no harmful or artificial additives, Transparent Labs lives up to their reputation of honest and accurate labels to ensure a quality and healthy product. This is great for those looking to boost performance without suffering the consequences of hard-earned gains. Creatine monohydrate and HMB together have been shown to promote strength, increase endurance, and prevent lean muscle loss, all while helping to decrease fat mass at the same time making this a top creatine supplement.
Creatine monohydrate has been shown to increase lean body mass and muscle strength to greatly increase net lean mass gains. It can also affect body composition by keeping on lean muscle and helping to shed fat (15). B-hydroxy B-methylbutyrate (HMB) works to increase strength, promote lean body mass, and decrease fat and can help increase oxygen capacity for increased performance (16). BioPerine is an extract from black pepper fruit and can enhance bioavailability through increased absorption so you get all of those vital nutrients.
Pros: An effective product from a transparent company with just three ingredients. No artificial fillers to ruin this product and there is little to no water retention or bloating.
Cons: It is an expensive product and only available through their website directly and there is a slightly sour taste due to the HMB.
Price: $39.00 for 0.46 lbs. tub (30 servings)
---
Best BCAA: National Bodybuilding Co. Pro Contest BCAA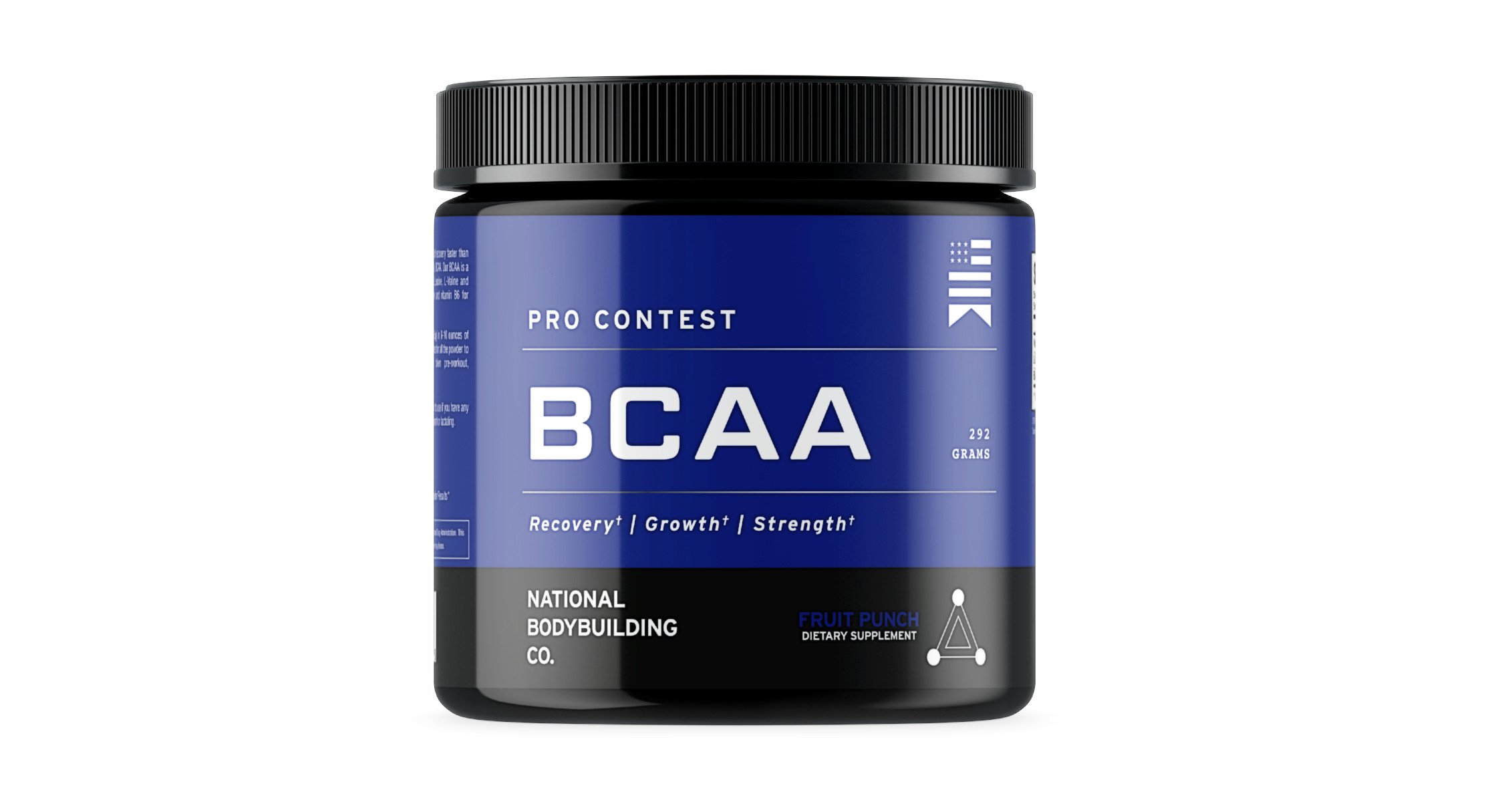 Formulated for athletic nutritional support, National Bodybuilding Co. Pro Contest BCAA works to help athletes maintain and gain muscle while cutting fat. It helps boost cellular energy production, reduce muscle catabolism, extend time to exhaustion, and stimulate anabolic muscle hypertrophy. Since BCAAs are highly concentrated in the muscle tissues, keeping your body fueled with them is exactly what you need to boost performance and protect that hard-earned work put into building muscle.
With three ingredients, this core profile is naturally sourced and free of side effects, based on scientific research, and designed for those looking to maintain and build strength. Vitamin B6 supports red blood cell production and increases the amount of oxygen delivered to the muscle tissue, as well as aiding in nitric oxide production that widens the blood vessels. L-glutamine boosts recovery and plays a role in gut health and immune function. This BCAA supplement uses a 2:1:1 ratio of the BCAAs L-leucine, L-isoleucine, and L-valine in their purest form. They work to slow muscle breakdown and ramp up anabolic growth.
Pros: The ratio of BCAAs allows for better absorption and with no harmful fillers or chemicals, this will really help maintain muscle in an effective way. With 45 servings per tub, that is more than a lot of products on the market.
Cons: It is only available on the company's website and currently only ships to customers in the United States and Canada. The only flavor is Fruit Punch.
Price: $38.00 for 292 grams (45 servings)
---
Wrap Up
Finding the right supplement for your bodybuilding needs can be challenging and frustrating especially when you want the best for your body. Knowing just what to take and when to take it will not only elevate your physique and performance, but you will feel great knowing you have the right stuff flowing through your body. Supplements are a great addition for food and should never replace it, but work with it to give you the best possible benefits. Check out these top bodybuilding supplements and feel confident that your physique and performance goals are well on their way.
Generation Iron may receive commissions on purchases made through our links. See our disclosure page for more information.
Let us know what you think in the comments below. Also, be sure to follow Generation Iron on Facebook, Twitter, and Instagram. 
References
MacLennan, P. A.; Brown, R. A.; Rennie, M. J. (1987). "A positive relationship between protein synthetic rate and intracellular glutamine concentration in perfused rat skeletal muscle". (source)
Sawicka, Angelika K.; Renzi, Gianluca; Olek, Robert A. (2020). "The bright and the dark sides of L-carnitine supplementation: a systematic review". (source)
Carr, Anitra C.; Maggini, Silvia (2017). "Vitamin C and Immune Function". (source)
Lewis, Erin D.; Meydani, Simin N.; Wu, Dayong (2018). "Regulatory role of vitamin E in the immune system and inflammation". (source)
Allen, Lindsay H. (2002). "Iron Supplements: Scientific Issues Concerning Efficacy and Implications for Research and Programs". (source)
DOCHERTY, JOHN P., MD; SACK, DAVID A., MD; ROFFMAN, MARK, PhD; FINCH, MANLEY; KOMOROWSKI, JAMES R., MS A Double-Blind, Placebo-Controlled, Exploratory Trial of Chromium Picolinate in Atypical Depression: Effect on Carbohydrate Craving, Journal of Psychiatric Practice®: September 2005 – Volume 11 – Issue 5 – p 302-314
Litosch I, Hudson TH, Mills I, Li SY, Fain JN. Forskolin as an activator of cyclic AMP accumulation and lipolysis in rat adipocytes. Mol Pharmacol. 1982;22(1):109-115.
Ahn, So Hyun; Lim, Su Jin; Ryu, Young Moo; Park, Hye-Ryung; Suh, Hyung Joo; Han, Sung Hee (2018). "Absorption rate of krill oil and fish oil in blood and brain of rats". (source)
Singh, Meharban (2005). "Essential fatty acids, DHA and human brain". (source)
Ekpe, Lawson; Inaku, Kenneth O.; Ekpe, Victor; Contact, Lawson (2018). "Antioxidant effects of astaxanthin in various diseases-a review". (source)
Singh, Narendra; Bhalla, Mohit; de Jager, Prashanti; Gilca, Marilena (2011). "An overview on ashwagandha: a Rasayana (rejuvenator) of Ayurveda". (source)
Suresh, Sekar; Prithiviraj, Elumalai; Prakash, Seppan (2010). "Effect of Mucuna pruriens on oxidative stress mediated damage in aged rat sperm". (source)
Moon JR, Vogel RM, Falcone PH, et al. A comparison of citrulline and arginine for increasing exercise-induced vasodilation and blood flow. J Int Soc Sports Nutr. 2015;12(Suppl 1):P6. Published 2015 Sep 21. doi:10.1186/1550-2783-12-S1-P6
Chacko SM, Thambi PT, Kuttan R, Nishigaki I. Beneficial effects of green tea: a literature review. Chin Med. 2010;5:13. Published 2010 Apr 6. doi:10.1186/1749-8546-5-13
Branch, David J. (2003). "Effect of creatine supplementation on body composition and performance: a meta-analysis". (source)
Vukovich, M. D.; Dreifort, G. D. (2001). "Effect of beta-hydroxy beta-methylbutyrate on the onset of blood lactate accumulation and V(O)(2) peak in endurance-trained cyclists". (source)