With high-quality beef protein, this non-dairy protein is dominant above all
Product Overview
Most of us get so used to whey protein that all other types don't even cross our minds. For those who follow a plant-based diet, you obviously gravitate towards those vegan powders to avoid dairy and not deal with any of those unwanted side effects. But what if we told you there was a protein powder that wasn't dairy or plant-based. In fact, one that uses beef protein as its primary source. MuscleMeds Carnivor Beef Protein Isolate is a non-dairy and fast digesting protein supplement that is changing the protein powder game. It is especially useful for athletes and those who have difficulty meeting their protein needs through food sources alone. But what sets it apart from many protein powders on the market is that it does not contain any whey, making it a suitable option for people following a whole foods diet who are looking for non-dairy protein supplements.
30% OFF
Carnivor is a 100% beef protein isolate that is fast digesting and great tasting for an effective non-dairy protein supplement.
We know what a protein powder does for our gains. It helps us build muscle, especially after those grueling workouts where our muscles beg for protein and fuel. In efforts to repair those torn and damaged muscle fibers, protein works for better recovery and increases the strength and size of our muscles as a result. And depending on your goals, protein powders can either help you bulk or lean out. Regardless, a protein supplement needs to be in your routine and a high-quality product like Carnivor can do all of this and much more. Protein powders offer an easy way to increase your protein intake.
Generation Iron has also partnered with MuscleMeds to provide our audience an additional 10% off when purchasing Carnivor. Click the shop link above and sign up when prompted to earn more savings for a total of 40% off!
MuscleMeds has pushed the boundaries in the sports nutrition game for over a decade and relies on innovation and premium ingredients to produce the best supplements for bodybuilders, strength and high-performance athletes. Focusing on those who seek to enhance training, build muscle faster, and perform at their best, MuscleMeds puts a focus on what counts so you see results.
Main Takeaways
23g of hydrolyzed beef protein that is fast digesting and easy on your stomach
Non-dairy to avoid dairy and unpleasant side effects
Great flavors
What Is Lactose Intolerance?
MuscleMeds puts a real focus on Carnivor being non-dairy because the protein powder market is so saturated by whey protein. And while those plant-based proteins do exist for those sensitive to dairy, Carnivor is on a whole new level with significantly higher amounts of amino acids than plant-based proteins.
Nearly 70% of the global population is lactose intolerant. This intolerance is likely genetic and occurs because your body fails to reduce and breakdown lactase, the chemical that works to help digest dairy. Symptoms include things like stomach discomfort and cramps, among others, and with Carnivor being a non-dairy protein supplement, not only do you get something that is fast digesting, but you have an option with an advantage over whey and casein. For those restricted to a dairy-free diet, it can be a challenge to get enough of this essential nutrient every day.
How To Tell If You Are Lactose Intolerant
If you are lactose intolerant, you will feel symptoms within a reasonable time frame after eating or drinking anything containing lactose. Many people experience some sort of bloating and stomach discomfort from drinking whey protein. Typical symptoms of lactose intolerance include:
Stomach cramps
Bloating
Gas
Diarrhea
Nausea
Carnivor Highlights
MuscleMeds Carnivore Beef Protein Isolate is a revolutionary protein supplement that is well-researched and clinically tested to improve muscle gains and aid in your overall protein goals. Using 23g of hydrolyzed beef protein, this is 350% more concentrated in amino acids than steak and is fast digesting to make it easier on your stomach. Being non-dairy gives athletes the opportunity to get a dairy-free product that will still produce gains, potentially at an even better rate. With a touch of zero-carb stevia extract for sweetness, this protein supplement not only provides the necessary amino acids but also enhances the taste with a hint of sweetness from the natural stevia extract.
In fact, it was shown in studies between whey protein and Carnivor that this beef protein isolate supplement is not only comparable to whey but slightly better. Athletes consuming Carnivor had 3.8% higher gains to lower body strength, nearly a 1% increase in body lean mass gains, and that Carnivor had a higher release in total amino acids levels than gluten-free whey protein concentrate.
Carnivor Vs. Whey Lower Body Strength Graph
Carnivor Vs. Whey Body Lean Mass Gains Graph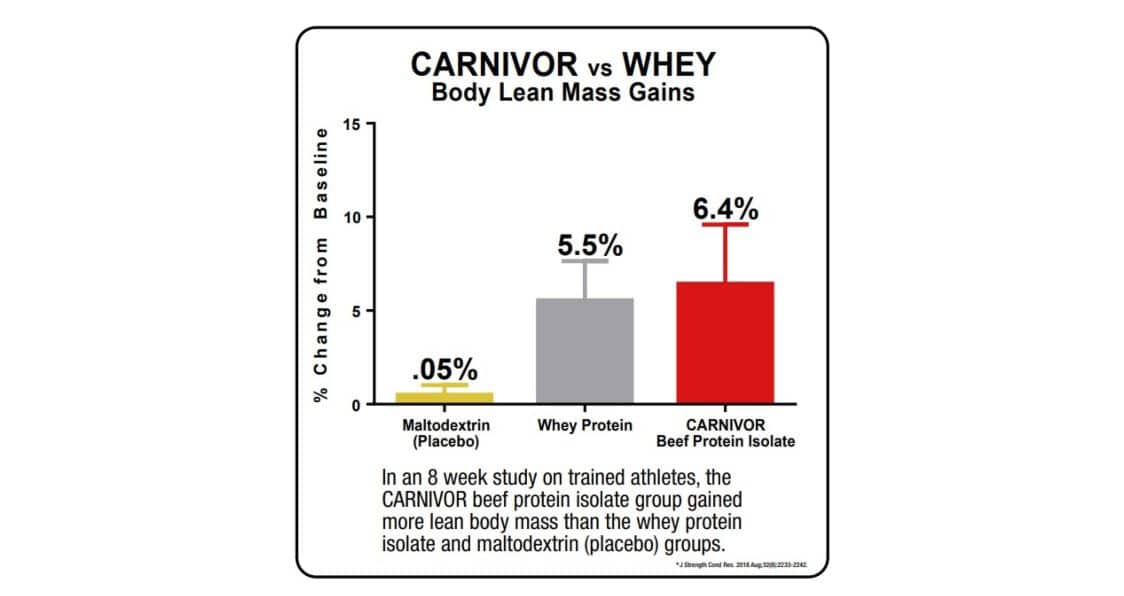 Carnivor Vs. Whey Total Amino Acid Levels Graph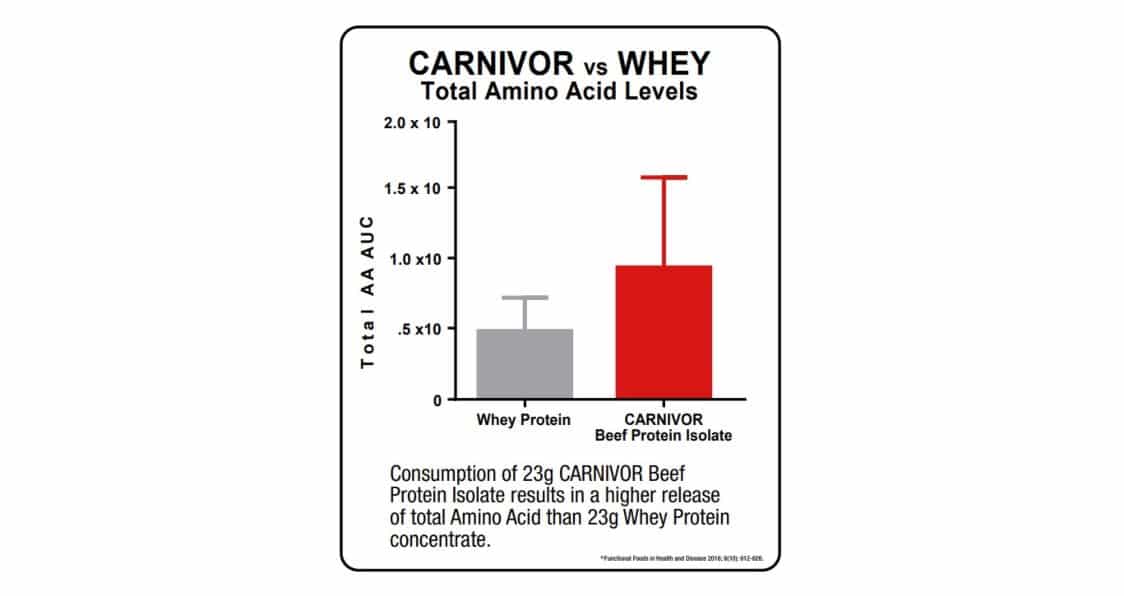 Carnivor has some very good clinical data which supports its effectiveness. Perhaps the most compelling data is from a study conducted in 2015 at the University of Tampa. The purpose of the study was to determine the effects of post workout consumption of 46 grams (two scoops) Carnivor beef protein isolate on athletes . The results of the study showed the athletes consuming Carnivor gained an amazing 7.7 lbs. of lean muscle in 8 weeks (1).
This protein supplement undergoes a 6-stage purification process to ensure the highest quality protein source. What you will find is a low calorie (just 110) protein powder with 23g of protein, 4g carbs, and 0g fat to power your gains and give you real results.
Ingredients
Hydrolyzed Beef Protein Isolate: Shown to increase muscle mass and show effective lean body mass change while offering no stomach discomfort like whey protein sources (1,2).
BCAAs: May work to ignite muscle protein synthesis, decrease soreness, and push through fatigue. It may also help prevent muscle protein breakdown (3,4).
Glutamine-Alpha-Ketoglutarate (GKG): Can help you build muscle and may increase energy for better workouts.
Ornithine-Alpha-Ketoglutarate (OKG): May improve performance by working to strengthen muscles and prevent muscle loss (5).
Alpha-Ketoglutarate (AKG): May increase athletic performance through improving energy and reducing fatigue and muscle loss (6).
Other Ingredients
Alpha-Ketoisocaproate (KIC), Maltodextrin, Cocoa, Natural And Artificial Flavors, Salt, Silica, Acesulfame Potassium, Xantham Gum, Sunflower Lecithin, Sucralose, Antifoam
| | |
| --- | --- |
| Calories | 110 |
| Protein | 23g |
| Carbs | 4g |
| Fat | 0g |
| Sugar | 0g |
| Flavors | Rocket Pop, Chocolate Peanut Butter, Chocolate, Vanilla Caramel, Cookies & Cream, Strawberry, Fruit Punch |
| Number Of Servings | 56 |
Price, Flavors & Effectiveness
MuscleMeds Carnivore Beef Protein Isolate is that non-dairy protein powder great for those seeking a high-quality protein option without worrying about any digestive issues or discomfort while still seeing gains. With 56 servings per container, 1 scoop of this protein will pump you with premium beef protein isolate for serious gains.
Great flavors in Chocolate Peanut Butter, Chocolate, Vanilla Caramel, Cookies & Cream, Strawberry, Fruit Punch, and Rocket Pop will ensure you never grow bored of the taste.
Pros
23g of hydrolyzed beef protein isolate
Non-dairy to eliminate any dairy concerns or discomfort
Fast digesting and clean ingredients
Great flavors
Cons
Could have better mixability
Price: $69.74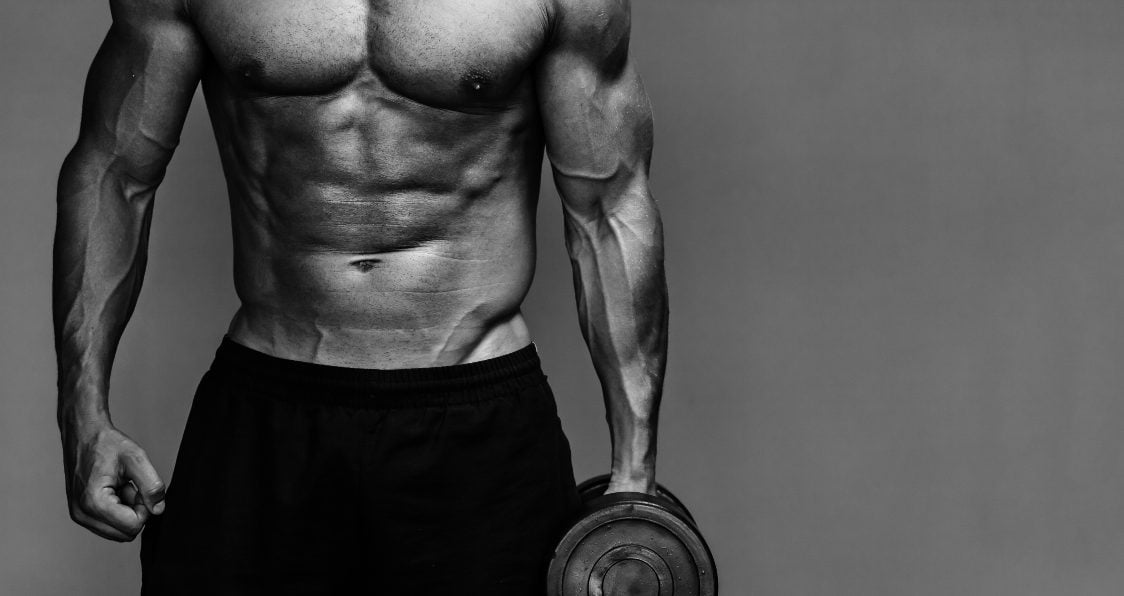 Who Should Buy & Who Shouldn't Buy Carnivor
Who Should Buy: Those looking to avoid dairy and who want a revolutionary source of protein. Bodybuilders and high-performing athletes who want the best for their gains with a nutritional, non-dairy and great tasting protein powder.
Who Shouldn't Buy: Those who wouldn't buy are probably those who don't want to stray away from their protein powder.
How Best To Take Carnivor
When taking Carnivor, MuscleMeds advises to mix 1 scoop of this powder with 6-8 fl. oz. of cold water in a shaker bottle. For the best mixing, give it a good shake and enjoy!
Pro Tip: Grab a quality shaker bottle to mix your protein with
MuscleMeds Carnivor Overall Value
MuscleMeds Carnivor Beef Protein Isolate is a high-quality beef protein isolate powder with clean and effective ingredients and great flavors. A revolutionary approach to the protein powder market, MuscleMeds has gone outside the box and sought to create something that elevates gains for bodybuilders and high-performance athletes. What you are really getting is a high-quality, non-dairy protein powder designed for results with clean ingredients and great flavors. Try MuscleMeds Carnivor Beef Protein Isolate and take advantage of a revolutionary and non-dairy protein powder today.
Try MuscleMeds Carnivor Beef Protein Isolate Today
---
Generation Iron may receive commissions on purchases made through our links. See our disclosure page for more information.
Let us know what you think in the comments below. Also, be sure to follow Generation Iron on Facebook, Twitter, and Instagram. 
*Images courtesy of MuscleMeds and Envato
References