These top multivitamins are ideal for fitness-minded individuals to keep your overall health high.
Multivitamins are a beneficial aid for active people and those who need more vitamins in their diets but finding the right multivitamins for bodybuilding can be tricky. Vitamins are important for daily life and health functions of the body and you will find the best bodybuilding multivitamin benefits like muscle maintenance and immune health to give you extra energy so you get all you need in your day to make you better.
Some people are deficient in vitamins, others supplement to replenish them after being active, and they also make for a healthy daily supplement.
Vitamins A, C, D, E, K, and a B complex are all essential for good health and well being. And quality multivitamin products will supply all of them in generous amounts.
But, minerals are just as important and any product worthwhile will have respectable quantities to improve health and nutrition in both men and women along with amino acids.
Now, people who weight train need sufficient nutrients to support muscle growth and strength and the best multivitamins for bodybuilding can help with that. The body is placed under stress and muscle fibers tear down during a training session. And without adequate vitamins and mineral deficiencies can occur if nutrition is not up to par…
Check out these awesome multivitamins which have everything you need to support your fitness goals, each a unique supplement at a great value to ensure you are taking care of all your nutrition goals, muscle growth, and bodybuilding desires to give you the best multivitamin for bodybuilding.
The Benefits of Multivitamins
It is important to know that vitamins are non-negotiable when it comes to health and since you won't find most of these made by the body, we must get them extra from foods.
But, sometimes we don't get enough from foods and supplements are a beneficial aid in this case to give you what you need in your day to keep you going strong and include all of these essentials in your diet from a solid multivitamin for bodybuilding.
It's important to understand that when we take a multivitamin that supplements should never be a replacement for food and taking them should accompany a normal diet to give you what you need as a choice to feel better. Multivitamins for bodybuilding are good only in combination with a good diet that includes everything you want and need, especially with healthy foods.
"Supplements are never a substitute for a balanced, healthful diet, and they can be a distraction from healthy lifestyle practices that confer much greater benefits," explained Dr. Joann Manson, a professor of medicine at Harvard Medical School and professor of epidemiology at Harvard's T.H. Chan School of Public Health.
Important Vitamins To Know
Vitamin A is crucial for maintaining healthy vision. It's also important for immune function, cell growth, heart, kidney, and lung health. (1)
Vitamin C is necessary for a healthy immune system, and it plays a role in connective tissue health (Important for wound healing). (2)
Vitamin also has antioxidant properties and is needed for protein metabolism and the biosynthesis of collagen and L-carnitine.
Vitamin D plays a big role in the absorption of calcium for bone health. But Vitamin D is also essential for cell growth modulation, immune function, and it has anti-inflammatory properties. (3)
Recent studies have also shown that Vitamin D also helps reduce inflammation and in some cases lower the risk of virus death rates. (3.5)
Vitamin E is used by the body in the form of alpha-tocopherol and it's a vital antioxidant which protects the body against free-radical damage which can cause diseases and cancers. (4)
Vitamin E is also important for heart and skin health. (5)
Vitamin B6 is an enzyme which plays a big role in many chemical reactions in the body. B6 is essential for brain health, immune function, nervous system, and blood cell health. (6)
Vitamin B12 is vital for creating red blood cells, nerves, and DNA. Plus, it's important for cellular energy and even mental health. (7)
B12 deficiency is a problem in a lot of adults and 20% are borderline deficient according to research.
But for people who lead a vegan lifestyle, supplementing B12 is highly recommended for health. Meat and dairy are a main source of B12 so this is something to be aware of.
Vitamin K is necessary for making proteins which support healthy bones and tissue. And K also makes proteins for blood clotting. (8)
From new brands to those more established, we've ranked the top 10 multivitamins and the best purposes they serve so you can take multivitamins and be comfortable knowing they will help you.
---
Best For Muscle, Health, Recovery and Overall: National Bodybuilding Co. Bodybuilder's Multivitamin

Looking for a multivitamin that keeps you protected, energized and builds on strength and power?
This supplement is a leading multivitamin for bodybuilding. Created by National Bodybuilding Co., we found this formula will help quickly advance your goals every day, offering your muscles the right micronutrients for growth. Also helping to keep your joints stable, and improving your workouts to help get rid of fat and stay lean by keeping you much healthier, and stronger.
What You Can Expect:
More Daily Energy – Advanced blend of b-vitamins, green tea, grape extract contribute to health and energy
Better Workouts – Recover faster and perform better with zinc, magnesium, manganese and vitamin E
Anabolic and muscle boosting edge – Boost key hormones for progress with a blend of vitamin D, saw palmetto, nettle extract and lutein
Immunity – Increase immunity (more important than ever) with a diverse range of ingredients to keep you healthy, even if you're battling with a demanding lifestyle.
Why Do You Need this Multi?
"An essential part of any athletes stack, a multi ensures your nutrition is always dialed in"
Getting the right vitamins and minerals into your body can develop new muscle and aid in performance and this multivitamin is a great formula for bodybuilders to add to your list for a well rounded vitamin.
From increased immune support, the promotion of hormonal vitality, all the way to supporting recovery, National Bodybuilding Co. Bodybuilders Multi is a natural and safe multivitamin geared towards athletes to optimize all of their health and wellness needs. As a clean formula with 20 essential vitamins and minerals, you can be sure this has no harmful fillers or chemicals to ruin all of your hard work or put you in an unhealthy state.
Who Is it For?
National Bodybuilding Co. multi is for anyone looking to boost performance, improve physique and/or improve daily wellbeing and immunity. The effects and benefits will be perfect for anyone looking to take their health seriously and develop their physique.
Suitable for men of any age, this multivitamin will make you feel great so you can look great as you keep those muscles strong while shedding off fat knowing you are also improving your joint, immune, and overall health.
Pros:
Quick results, feel improvements and perform better
Advanced blend of ingredients perfect for athletes and has parallels with some t-boosters!
Simple to use and stack with other supplements
Free fast shipping
Competitive price point and multi buy deals
Cons:
Only available direct
Currently USA only shipping
Price: $29.00 for 60 capsules / 0.93c a day
Order National Bodybuilding Co. Bodybuilder's Multi Here
---
Best Advanced Formula: Performance Lab NutriGenesis Multi for Men
The Performance Lab Multivitamin is another great option as a multivitamin for men specifically formulated for bodybuilders to help with your supplement needs. Being non-GMO, as well as additive and allergen free, we found this to be a very appealing and healthy multivitamin. By working to restore nutrients missing from your diet, it supports healthy cell performance across all body systems.
What You Can Expect:
Ultramodern multivitamin- Enhance overall health and peak human performance
Immune Health- Promote immunity with great ingredients like vitamin C, vitamin D3, and zinc
Enhanced energy metabolism- Boost your workouts with great ingredients like vitamin B5, B12, and magnesium.
Foundational nutritional support- promote vitality, long-range overall health, and recovery
Why Do You Need This Multi?
Ensuring all of those vital nutrients make it into your body is super important for enhanced performance and overall health. This multivitamin uses a NutriGenesis technology to mimic nutrient genesis found in nature so their capsules are easily absorbed for all of your health and wellness needs.
From improving cardiovascular health, metabolic performance, immune function, energy metabolism, muscle growth and function and many more benefits, this multivitamin has 17+ essential daily vitamins and minerals to round out a solid list of top-tier ingredients. With whole food cofactors for optimal absorption, all of these nutrients work for your benefit.
Who Is It For?
This multi is for anyone looking to boost their overall health and performance by aiding in all of the benefits of a high quality multivitamin. Suitable for men of all ages, this multivitamin will help develop your physique while keeping you healthy to take on any workout.
Pros:
Contains a diverse group of vitamins to cover your overall health
All ingredients are natural
Vegan-friendly
Ultramodern design with patented technology
Cons:
Low in calcium and magnesium
Only available on their website.
Price: $39.00 for 120 tablets
Order Performance Lab NutriGenesis Multi For Men Here
---
Best For Men and Women: Transparent Labs WellnessSeries Multivitamin
Transparent Labs WellnessSeries Multivitamin is an ultra-potent product great for both men and women. From a company that prides itself on transparency and honest labels, this product has key vitamins and minerals to ensure your body can properly absorb and use these essential nutrients making this a serious contender for the best multivitamin. An advanced formula allows for proper absorption and utilization of key ingredients.
What You Can Expect:
An ultra-potent multivitamin- Packed full of key vitamins and minerals for overall health
Enhanced absorption- Makes sure all those vital nutrients fill your body
No artificial fillers- An all natural supplement to keep you healthy and safe
Why Do You Need This Multi?
Any multi worth taking will offer great absorbing benefits in order to get all of those vital nutrients into your body. With this advanced formula, all of those vitamins and minerals can be properly absorbed and utilized for your benefit.
From increased immune support, muscle growth and recovery, cognitive function, and a host of other benefits, this multi will surely provide you with everything you need. A clean formula with 22 ingredients will really work to provide a safe and effective natural supplement free from any artificial junk.
Who Is It For?
Transparent Labs Multi is for men and women of all ages looking to advance their health and wellness needs. Anyone who takes fitness and their physique seriously will really benefit from this clean multi. Those who are active will reap the benefits of this high-quality multivitamin.
Pros:
Honest and accurate labels
Each ingredient is natural and clinically dosed
A great immune booster with key vitamins and minerals
Gentle on your stomach
Great for both men and women.
Cons:
4 pills is a large serving size
Only available through their site
Price: $29.00 with 30 servings per container
Order Transparent Labs WellnessSeries Multivitamin Here
---
Ritual Essential for Men 18+
Ritual Essential for Men 18+ is a scientifically-developed multivitamin for men 18-49 to pump you full of vital nutrients while aiding in overall performance. With micronutrients to aid in heart and brain health and normal muscle and immune function, this multivitamin has it all. With 10 traceable ingredients, you know exactly what is in this supplement and you know exactly what you are putting in your body.
Omega-3 DHA will help support heart health and is a key omega-3 fatty acid that is in vegan-certified form. With vitamins A, D3, and K2, you get the full benefit of these vitamins coupled with valuable minerals like magnesium and zinc. Vitamin D3 and Magnesium will work to support healthy muscle contraction, while zinc works as a valuable helper to boost the effects of vitamin A.
Pros: The clean ingredients are well researched and clinically dosed and are easily absorbed by the body. A vegan-friendly supplement, this is a great supplement for sensitive stomachs and has a great slow-digesting capsule design.
Cons: It is simple with ingredients and could have way more to offer. It isn't specific to any one need and is a general multivitamin.
Price: $30.00 with 60 capsules per container
---
My Protein Alpha Men Multivitamin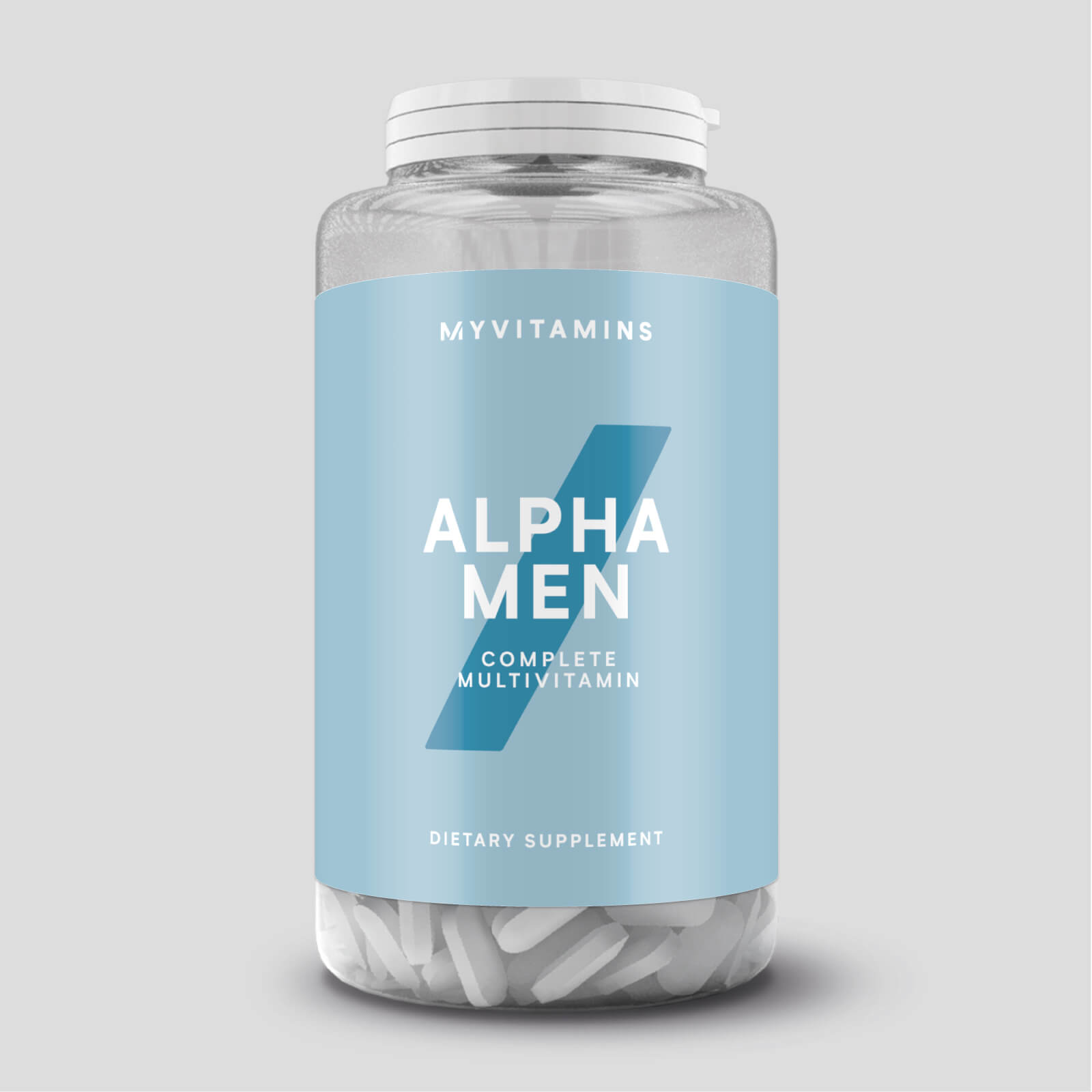 MyProtein Alpha Men Multivitamin is another strong contender for athletes looking for a daily vitamin supplement and solid multivitamin for men. The high dose of selenium has immune-boosting qualities (9), while the inclusion of calcium and biotin help prevent possible injury in the gym. Another great feature of the MyProtein Alpha Men Multivitamin is that it comes in both 120- and 240-count bottles, so you can potentially buy it and not have to worry about your daily multivitamin for a long time.
Pros: The full ingredients profile is great for boosting your immune system and preventing injury and the high amount of selenium adds to the immune benefits. It is unlikely for you to feel any side effects as well.
Cons: Some essential ingredients are left out for a multivitamin targeted for men and the no money-back guarantee could lead consumers to other options.
Price: $19.99 for 120 tablets
---
Animal Pak Multivitamin
Animal came out with the "Animal Pak" in 1983 and has since evolved into a leading multivitamin manufacturer for the hardcore fitness addicts and this is a solid daily multivitamin for bodybuilding and building muscle.
Their name (Animal) and packaging will no doubt hype you up before you even take your first serving, and that's another reason "beasts" choose Animal!
With this pack (Pak), there's no shortage of vitamins and minerals plus you'll get a top-notch liver blend, antioxidant, and digestive enzyme complex full of beneficial ingredients.
Pros: This multivitamin is great for supporting lean muscle mass and constant anabolism. The unique blend also provides a good source for energy for those into hardcore fitness looking to build muscle and have great overall health from their daily intake.
Cons: The pills are large in size and for the price point there are other multivitamins worth exploring that are smaller with the same, if not more, amount of vitamins.
Price: $30.99 for 44 servings
---
Optimum Nutrition Opti-Men
Optimum Nutrition is a leading brand because they have always delivered products which stood above the rest. This is a good daily multivitamin for bodybuilding that includes many ingredients worth taking.
Now, Opti-Men is nothing incredibly special but it's a good quality multivitamin which will meet your bodybuilding needs. It has a complete vitamin and mineral profile so there's nothing to miss there. And it interestingly has a Phyto blend similar to the EVL multi with green tea extract to really boost energy.
The "Viri Men Blend" has some nice additional ingredients to support men's health as well. Saw Palmetto may be beneficial for improving urinary symptoms of an enlarged prostate. And Ginkgo Biloba extract is added for its antioxidant properties. (10, 11)
Pros: Opti-Men has powerful blends that are great for foundational immune health in bodybuilders. Its complete vitamin and mineral profile offers a wide array of benefits for men's health and is a good choice to help you function properly.
Cons: The vitamin forms are not 100% ideal for absorption by your body once ingested. It is a good quality multivitamin but there is nothing obviously special about it.
Price: $19 for 90 servings
---
Evlution Nutrition VitaMode High Performance Men's Multivitamin
Evlution Nutrition brings VitaMode Multivitamin to the table and is a great supplement to take with a complete daily high performance multivitamin. With over 50+ active ingredients, this supplement provides a multitude of vitamins, minerals, and an immune support complex designed for any high-performance lifestyle. With core antioxidants and metabolism support, this multivitamin will cover all of your health needs.
Vitamin C supports your immune system and fights free radicals that can destroy healthy cells in your body, while vitamins A and E help minimize cell damage and stabilize free radicals before they can cause harm and actually hurt your bodybuilding goals. Also full of vitamins E, K1, B3, and B6, you don't miss out on any of the essentials needed to keep you healthy.
For bone and eye health, VitaMode has lutein to reduce oxidative damage and vitamin D to help absorb calcium and phosphorus from foods to keep your bones strong. With great metabolism support, molybdenum works to activate key enzymes to support a healthy metabolism and chromium helps transport glucose to the cells to regulate blood sugar.
With pure ingredients and two easy to swallow tablets, Vitamode is a great multivitamin to cover all of your health needs and keeps you running at peak capacity by aiding in your high performance goals to keep you free from illness.
Pros: VitaMode has a great formula with a multitude of clean ingredients. Rich in vitamins and minerals, you don't miss out on any of the essentials. From a reputable brand, this is a great price for the amount included.
Cons: The tablets are rather large in size and may leave an unenjoyable after taste.
Price: $22.99 for 60 servings
---
GAT Sport Men's Multi+Test
GAT makes hardcore supplements to use for everything from immune help, to muscle maintenance, to daily wellness. This is a solid multivitamin that provides testosterone support and is a complete multivitamin supplement for daily use.
It has everything a nice spectrum of vitamins and minerals, in addition to Tribulus Terrestris (TT) which may help raise testosterone slightly in those with low test levels. (12)
However, the evidence is scant regarding TT resulting in any significant changes in body composition and strength.
Pros: This product lists all the ingredients and are clinically tested. The testosterone support is great for those with low testosterone.
Cons: The high caffeine content may not be for everyone and the product listing may overwhelm some consumers. With a reasonable price, there are cheaper options for those not geared toward bodybuilding.
Price: $39 for 150 servings
---
Garden of Life Vitamin Code Men's Formula
Garden of Life Men's Formula Multivitamin is another high quality multivitamin available to athletes. The biggest difference between Garden of Life and other multivitamins is its live probiotic and enzyme content. Live probiotics assist with digestion and nutrition absorption (13), boosting your body's ability to use the food you eat. Definitely a great multivitamin supplement with quality ingredients for someone looking to increase their metabolism naturally and boost energy production by taking a supplement daily to really boost their nutrient intake and aid in bodybuilding goals.
Pros: The vitamins come with live probiotics and amino acids to enhance absorption and the enzyme blend is great for the digestive process and your metabolism. None of the ingredients are genetically modified.
Cons: This product is not for vegetarians because the vitamin D is derived from lanolin, which comes from sheep. The ingredients are only 5% organic and the nutrients are not extracted from real food.
Price: $32.19 for 120 tablets
---
Final Words
Multivitamins are effective in replenishing lost nutrients after intense training sessions. But, they also make a good daily supplement for maintaining good health and the right multivitamins for bodybuilding can make your training that much better and give you what your body needs.
And of course, different products will vary in what they offer, although not significant. A good multi won't skimp on quality and these products are a good example of that.
Now, don't expect huge results with any nutritional supplements as they're only an aid. A proper diet is a must and cannot be replaced.
So, choosing the best multivitamins for bodybuilders is all about what will suit your needs and budget, as there are several options you cannot go wrong with and enhance your overall health with the best multivitamin for bodybuilding around.
The Top Three Are:
And the Runner's Up Are:
Let us know what you think in the comments below. Also, be sure to follow Generation Iron on Facebook, Twitter, and Instagram. 
References:
1- "Office of Dietary Supplements – Vitamin A". ods.od.nih.gov.
2- "Office of Dietary Supplements – Vitamin C". ods.od.nih.gov.
3- "Office of Dietary Supplements – Vitamin D". ods.od.nih.gov.
3.5- "The role of vitamin D in the prevention of coronavirus disease 2019 infection and mortality." Aging Clinical and Experimental Research, 2020; DOI: 10.1007/s40520-020-01570-8
4- Boston, 677 Huntington Avenue; Ma 02115 +1495‑1000 (September 18, 2012). "Vitamin E". The Nutrition Source.
5- "Vitamin E and Skin Health". Linus Pauling Institute. November 7, 2016.
6- "Vitamin B-6". Mayo Clinic.
7- Skerrett, Patrick J. (January 10, 2013). "Vitamin B12 deficiency can be sneaky, harmful". Harvard Health Blog.
8- "Vitamin K". medlineplus.gov.
9- "7 Science-Based Health Benefits of Selenium". healthline.com.
10- Shaughnessy, Allen F.; Gordon, Andrea E. (March 15, 2003). "Saw Palmetto for Prostate Disorders". American Family Physician. 67 (6): 1281–1283. ISSN 0002-838X.
11- "Ginkgo". Mayo Clinic.
12- "Tribulus: Uses, Side Effects, Interactions, Dosage, and Warning". www.webmd.com.
13- PubChem. "beta-Carotene". pubchem.ncbi.nlm.nih.gov