An ultra-potent multivitamin for both men and women
Multivitamins are a great supplemental aid for those active people who are constantly training and depleting their bodies of essential nutrients, and for those who just need more vitamins in their diets. The benefits of multivitamins are non-negotiable. Many of the essential vitamins and minerals in a multivitamin cannot be produced by our bodies, but we can obtain through food. However, what we obtain through food sometimes is not enough, and a good supplement can pump us back full of everything we need. Transparent Labs WellnessSeries Multivitamin is one supplement to do just that.
Let's break it down.
Transparent Labs WellnessSeries Multivitamin Overview
Code GENIRON10 For 10% Off
Transparent Labs WellnessSeries Multivitamin is an ultra-potent supplement for those looking to optimize their health. With 22 active ingredients, this will pump you with vital nutrients with easy absorption.
Transparent Labs is a great company who pride themselves on transparency and honest labels when it comes to their ingredients and formula. With zero added artificial sweeteners, coloring, or preservatives, consumers know exactly what they are getting and Transparent Labs ensures it is a clean product.
All of their products are manufactured in a state-of-the-art facility in Utah that is current good manufacturing practices (CGMP) and registered with the Food and Drug Administration (FDA). With each product third party tested to ensure no false ingredients or even anabolics, there is a level of accountability that consumers can trust when it comes to any of their products.
WellnessSeries Multivitamin Highlights
WellnessSeries Multivitamin is an ultra-potent supplement for both men and women with an advanced formula to ensure your body gets all of the essential micronutrients. Created from bioavailable forms of key vitamins and minerals, it also ensures easy absorption of these key nutrients. From top to bottom, WellnessSeries Multivitamin will support your overall wellness and is iron-free for ease on the stomach.
With 22 active ingredients, WellnessSeries Multivitamin includes vitamins A, C, D, and K, as well as B1 and B12. Solid minerals like magnesium, zinc, selenium, and copper are just a few of the many vital nutrients Transparent Labs has added to this formula. For those looking to stay healthy and on top of their game with a great multivitamin, this supplement will ensure you absorb all of the nutrients in order to maximize each and every benefit.
Ingredients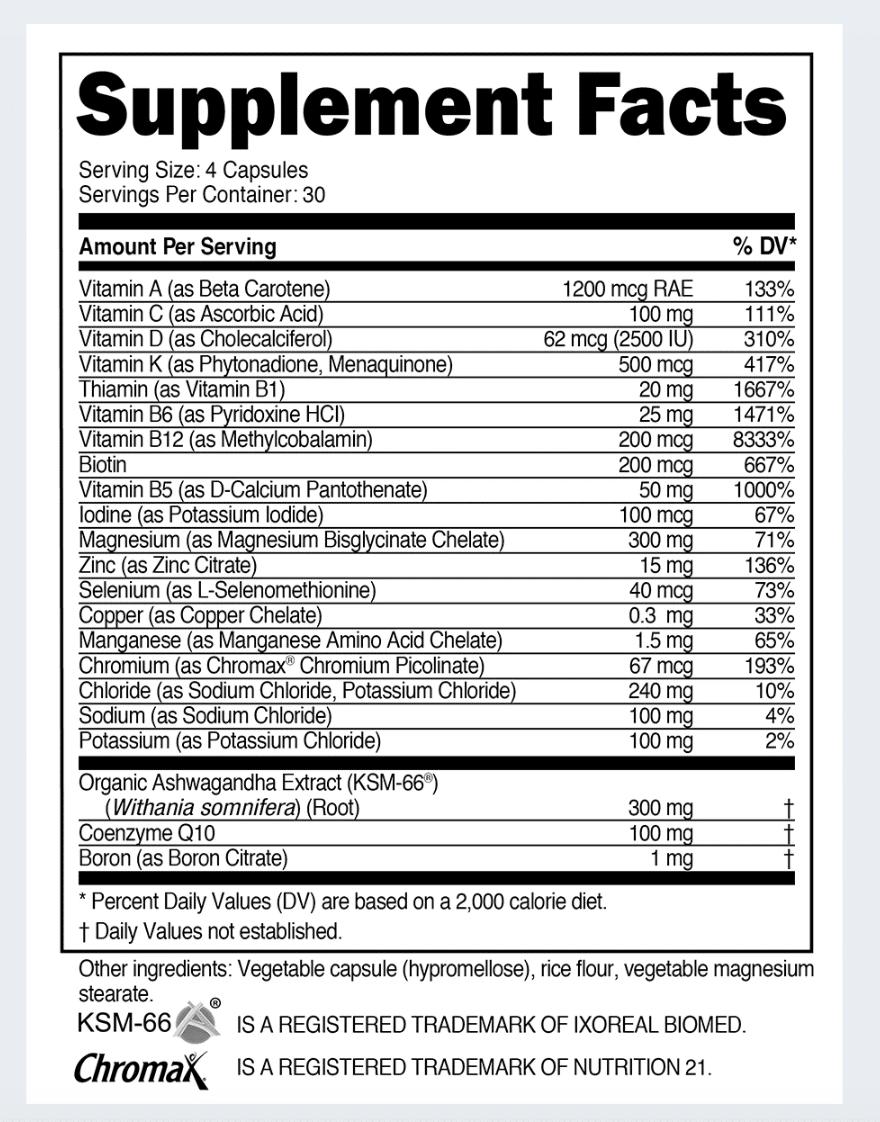 Vitamin C: A powerful antioxidant to support repair and regeneration of tissues. It can also aid in the absorption of iron and decrease levels of bad cholesterol and triglycerides. Commonly used for its immune fighting capabilities, it can lessen the duration of a cold and support overall healthy immune function (1).
Vitamin K: A fat-soluble vitamin that works particularly well with bone and vascular health. As a potent antioxidant, it can help with tissue renewal and cell growth control, especially with new skin cells. Its anti-aging effects (2) are matched with its ability to serve as an anti-inflammatory aid.
Vitamin B5: Also known as a pantothenic acid, it can stimulate your adrenal glands and also is essential for the formation of fats, proteins, and carbs. As a great stress reliever, it can aid in anxiety and depression and also reduce fatigue with its ability to increase stamina.
Magnesium: The fourth most abundant mineral in the body, magnesium works to boost exercise performance by moving blood sugar into your muscles to dispose of lactate. For cognitive function, it can play a role in brain health, function, and mood. A solid balance of magnesium can work well to reduce inflammation (3).
Chloride: For physical health, chloride acts as a neutralizing agent to balance electrolyte and alkaline levels. It assists the liver during the cleansing process to enhance your metabolism and promotes digestion through effectively breaking down food to smaller sizes for the small intestine.
Organic Ashwagandha: As an adaptogen, ashwagandha helps manage your body's hormonal response to stress, aids in muscle and tissue growth, and supports joint health, respiratory health, and cognitive function. Rich in iron, it supports healthy blood circulation and nutrient absorption by the cells (4).
N-Acetyl Cysteine: A supplement form of cysteine, which is a semi-essential amino acid, it aids in the production of antioxidants which help neutralize free radicals that can damage cells and tissues. It can also relieve symptoms of respiratory conditions by acting as an expectorant. For cognitive health, it can regulate glutamate levels to boost memory and brain functions (5).
Other Ingredients: Vitamin A, vitamin D, vitamin B1, vitamin B12, biotin, iodine, zinc, selenium, copper, manganese, chromium, sodium, potassium, coenzyme Q10, and boron.
Price
With a serving size of 4 capsules and each container holding 30 servings, you can be sure this will pack you full of all of those essential vitamins and minerals. A container of 120 capsules costs $29.00 USD and at this price, for the number of capsules included, it is a good deal compared to others on the market.
FAQs
Can I take a multivitamin with other supplements?
Yes, a multivitamin is designed to give you the necessary micronutrients to keep you healthy. Even if you are using other supplements like creatine, or pre-workouts, or anything really, a multivitamin is fine to take.
Do I need a multivitamin if I eat right?
If you are eating even the utmost perfect diet, there is a good chance you are deficient in some nutrients. That being said, a multivitamin can help to ensure that you are not deficient.
Overall Value
Transparent Labs WellnessSeries Multivitamin is a great multivitamin supplement for all of your health and wellness needs. With 22 active ingredients, this ultra-potent multivitamin will promote bioavailability and ensure you get every benefit out of this formula. With no artificial sweeteners, coloring, or preservatives, consumers can be sure this is a clean and solid product. From a company who prides themselves on transparency and honesty, you will be comfortable when reading the label. What you are really getting is a multivitamin packed full of essential vitamins and minerals from a great company at a great price and with all the benefits you could ask for. Check out WellnessSeries Multivitamin today and watch your overall health and wellness greatly improve.
Try WellnessSeries Multivitamin at Transparent Labs Today
Generation Iron may receive commissions on purchases made through our links. See our disclosure page for more information.
Let us know what you think in the comments below. Also, be sure to follow Generation Iron on Facebook, Twitter, and Instagram. 
*Images courtesy of Transparent Labs and Hafþór Júlíus Björnsson Instagram
References