The best weightlifting gym bag can prove most effective for your bodybuilding and powerlifting goals for space and convenience.
Finding a great weightlifting gym bag can be difficult but those looking to boost their bodybuilding and powerlifting goals need one to boost all gains. While there are many different fitness aids, including weightlifting shoes, lifting belts, wrist wraps, and more, having a convenient way to transport these to and from the gym is a necessity. A gym bag worth your while will take care of all your transport needs to and from the gym, while also being suitable for other environments and travel, making this product your new gym partner.
We've put together a list of the Best Gym Bags for 2021 to offer great products to maximize your space and convenience so you can tackle any workout. High-quality for bodybuilding, powerlifting, and weightlifting, these are the best gym bags for men to boost gains.
Best Gyms Bags For 2021
---
Best Gym Bag Overall
The best gym bag overall will be one of the highest quality and made from durable and long lasting material. Able to hold all of your equipment, many compartments and other features will make your life easier as you travel to and from the gym.
King Kong Apparel CORE35
King Kong Apparel CORE35 is a high-quality duffel bag made to support all your gym needs. The outer material is tough, durable, and lightweight while also being water resistant and easy to clean. Multiple external and internal compartments are perfect for storing gear, including an internal shoe compartment and a 13'' internal laptop sleeve. The best part about this bag is that your weightlifting belt can be strapped around it to maintain proper shape and save space.
King Kong Apparel CORE35 is a high-quality gym duffel bag designed to support all your needs. Durable and lightweight, while also providing space and comfort, this bag is perfect for any gym day. 
Pros
Stores belt on the outside
Huge internal capacity from a weightlifting gym bag
Multiple compartments for all your gear
Great quality and durability to ensure longevity
Cons
If your shoes are larger than US size 13 Mens, then the CORE51 with its larger shoe compartment is a better match for you
Price: $129.95
Check out our individual review for King Kong Apparel CORE35 here!
---
Best Gym Bag For Space
You want a bag that offers space and works to fit everything you need inside. This can be either with one large compartment to fit everything you need, or many separate ones to keep your whole bag organized.
Under Armour 4.0 Gym Bag
Under Armour 4.0 Gym Bag is a lightweight and well-built bag made with incredible materials to boost everyday performance. The UA Storm technology offers a highly water-resistance finish with an abrasion resistant bottom. Two large front zippered pockets allow for convenient storage and a removable and padded shoulder strap offers the best for comfort. A one size fits all bag, this offers great space for all your equipment needs.
Under Armour 4.0 Gym Bag is a water-resistant and highly durable bag for any conditions. Large vented and zippered pockets are great for organizing and ventilation.
Pros
Lightweight and well-built with great material
Water and abrasion resistant to withstand repeated abuse
Great for space with convenient pockets and storage compartments
Cons
Zippers may be poor quality for a weightlifting gym bag
May have too much space depending on your needs
Price: $27.99-$72.65
---
Best Lightweight Gym Bag For Durability
With so much inside, your gym bag can heavy and you really don't need to lug it around before your workout. One that is lightweight, but also durable, is exactly what you need to see those gains you want most.
Serious Steel Fitness Gym Bag
Serious Steel Fitness Gym Bag is a great bag for those looking for durability and extra storage while still being lightweight. A spacious main compartment is accompanied by shoes compartments, multipurpose pockets, and ventilated pockets to only give you the best in terms of carrying your equipment. Heavy duty strap buckles and durable smooth zippers make this bag easy to use as well. Carrying all your equipment can get heavy but a lightweight and durable bag is exactly what you need.
Serious Steel Fitness Gym Bag is made from heavy-duty fabric to last you years. Spacious compartments allow for all your equipment like belts, wraps, straps, and more.
Pros
Lightweight and durable for long term use out of this powerlifting gym bag
Many spacious compartments to be used for carrying all your equipment
From a reputable company in Serious Steel
Cons
Shoe compartment does take up a lot of the main compartment
Smaller than expected for a weightlifting gym bag
Price: $99.90
---
Best Gym Bag For Style & Design
While you want a functional bag, you also want one that will make you look good. When you walk into the gym, others should envy your bag as you will definitely look the part.
adidas Court Lite Duffel Bag
adidas Court Lite Duffel Bag is the perfect duffel to flaunt your stuff in the gym. A wide U-shaped opening makes it easy to find what's inside and with two outer zipper pockets, you can keep everything you want separated away from each other. Made from 100% polyester, the wipeable material is easy to clean and this weightlifting bag is also comfortable. With an adjustable shoulder strap, dual carry handles, and plenty of space, this bag will make you look good and feel better as others will certainly envy you.
adidas Court Lite Duffel Bag is a sport-inspired style bag that is sturdy and durable. A lifetime warranty ensures you always have a quality bag in the gym.
Pros
Wide U-shape for easy access
Durable and comfortable for everyday use from a bodybuilding gym bag
Looks great and is perfect in terms of style and design
Cons
No reinforcement on the bottom
Shoulder strap is not removable
Price: $46.59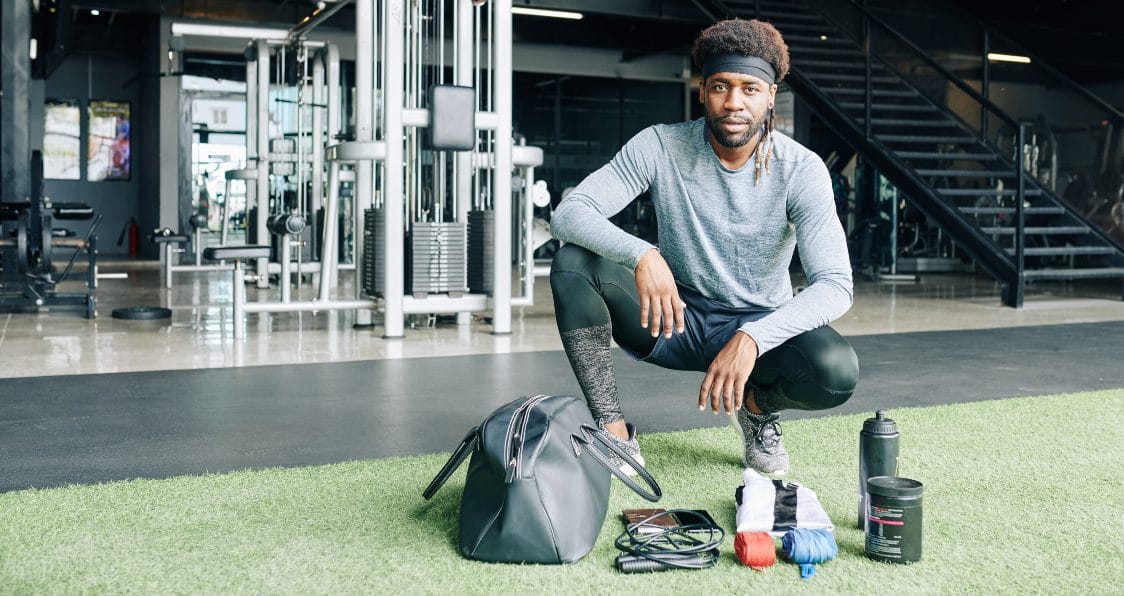 Benefits Of A Quality Gym Bag
Having a gym bag that you can trust can prove to be highly effective when it comes to boosting all of your gains inside and out of the gym. The best gym bags for men will be from a company you can trust and can greatly influence space and convenience so you never have the hassle of packing and hustling to the gym again. Benefits of a quality gym bag include:
Ensure you have everything packed: Never have to leave anything at home and allow yourself to pack your equipment, clothes, and supplements effortlessly.
Save space: A good bodybuilding gym bag will keep things tidy and save you space as opposed to just throwing it into any old bag.
Utmost convenience: Packing and unloading your bag has never been easier with compartments and space to be sure you get the most out of your gym bags.
Last a long time: Made from durable material, the right powerlifting gym bag can last you a long time and provide everything you need to thrive.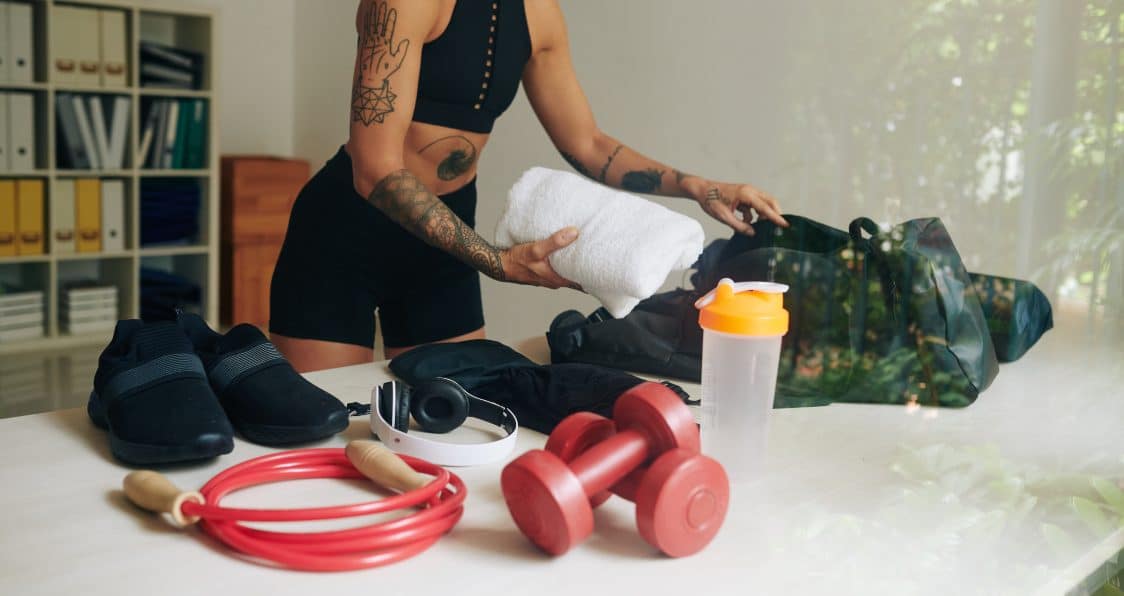 What You Can Include In Your Gym Bag
While this may seem obvious, the right gym can allow you to include a host of things to better prepare you for your workout. Your fitness clothes and weightlifting shoes will fit effortlessly in your gym bag, as well as any supplements you choose to take, whether that be a protein powder, pre-workout, or intra-workout BCAA. Don't forget room for your shaker bottle as well.
But the best part about a spacious powerlifting gym bag is that it can fit all of that equipment like lifting straps, weightlifting gloves, resistance bands, and of course, your weightlifting belt. The best gym bags for men allow you to wrap your belt around the bag so it keeps its shape and won't clutter the inside of your bag. Finding the right gym bag to include all of this may seem dauting but the best bodybuilding bags allow for this and much more.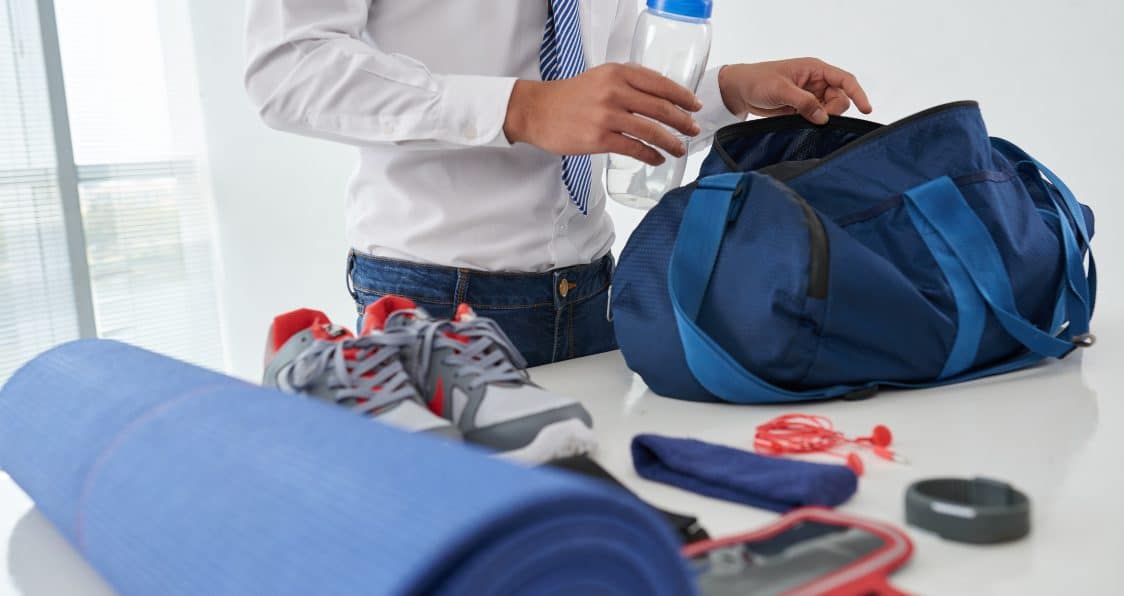 Gym Bags Vs. Drawstrings & Backpacks
A good, functional gym bag is great for people who prefer to take their things with them into a fitness center or who need to have convenient access to their belongings. But why not just use a backpack or drawstring bag? It's the same thing, right? Well, there are several reasons why a dedicated gym bag would be preferred and superior to a backpack or drawstring bag for gym use.
Gym Bag vs. Drawstring
First off, we already know that most drawstring bags will bunch up everything together (although some have compartments and more features than the standard drawstring bag), with items stacked on top of the other. And oftentimes, they aren't as durable for heavier items. Not to mention, your stuff can be more difficult to sort through depending on how big the bag is. And that's another negative of the drawstring. They can only be so big.
And in most cases, you can store quite a bit more in a decent-sized gym bag and most of these great options on our list will allow you to do so. Many of the quality gym bags are longer and higher from base to top which means there's room for more options overall. Plus, you have more compartments and features for ease of storage.
Gym Bag vs. Backpack
Backpacks are great because they're pretty durable with a decent amount of room to store your belongings. And like the drawstring bag, most backpacks are designed to where your items will all be piled on top of the other and it can get pretty deep in there making digging through to find your stuff a challenge sometimes. Now, there are some more high tech backpacks out there which are better designed for convenience and ease of use but they are mostly made to be carried on your back in the same manner a drawstring bag is.
A good gym bag is more elongated so that you can carry it by the handles. Gym bags are generally higher from base to top to where you can separate your belongings in sections.
So, you can carry your gym bag around with you while you train and everything will be so much easier to navigate through. And it's much easier to carry around by the top handles since the bag is designed for it. But another advantage (purely aesthetic) a gym bag has over a backpack is that if you want to look the part, the former will be more fitting for the environment than the latter, which is an added bonus!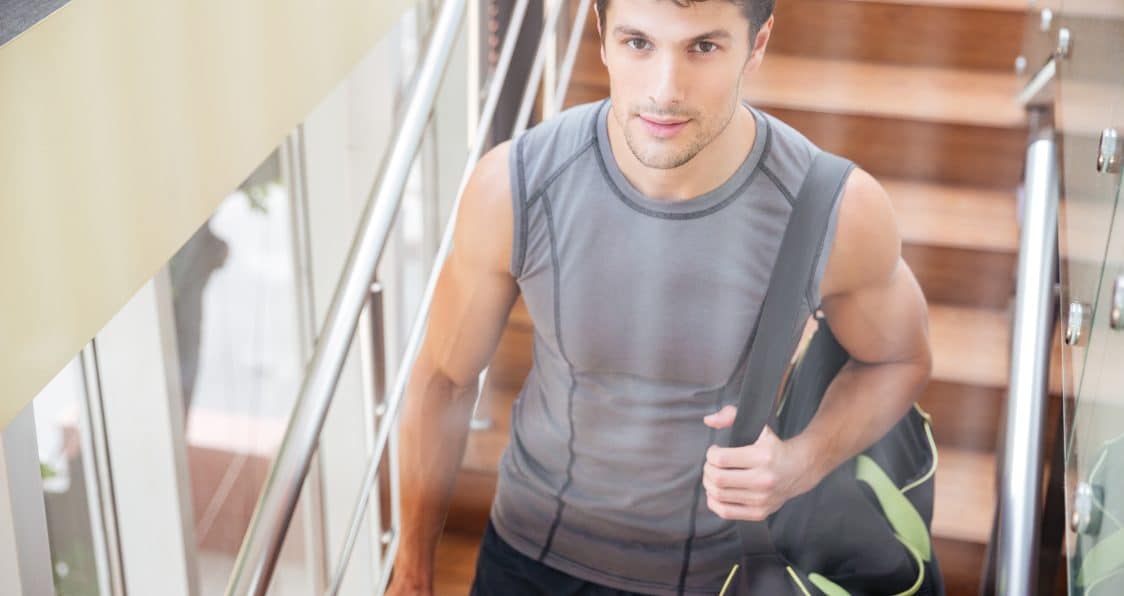 Rogue Vs. Bags On This List
Many people gravitate towards Rogue gym bags but we felt other bags offer better features than many of the bags Rogue does. Don't get us wrong, Rogue offers a good bag with quality and convenience, but the bags on this list from King Kong Apparel and Gymreapers are great for they contain the best in terms of space with compartments, nice features like wrapping the belt, and the utmost organization to keep your gym experience running smoothly. It's nothing personal to Rogue, but we just feel some of these brands offer a bit more for the dollar.
How We Choose
When it comes to choosing the best gym bags for men and all your bodybuilding and powerlifting needs, we focus first on the company and the brand. You deserve to have a great brand that is highly reputable working on your behalf to produce only the best bodybuilding bags around. Looking next at quality and what the bags offer is important. The material should be durable and able to last you a long time while withstanding abuse from the constant wear and tear. Each bag should offer compartments and plenty of space for all your gym needs. Lastly, we look at price because we know these products can get expensive but it is possible to find a great gym bag at an affordable price.
FAQ Section
What is the best gym bag?
King Kong Apparel CORE35. This gym is a high-quality duffel bag made to support all your gym needs and is one of the best gym bags for men. Made from great material with tons of storage, this bag offers great features to make your life as easy as possible.
Why can't I just use a backpack?
You absolutely can use a backpack but know the organization of a backpack just doesn't compare to that of a gym bag. Gyms bags allow you to capitalize on space for the utmost convenience to make the experience even easier.
Aren't all gym bags the same?
While gym bags tend to have similar qualities, top tier gym bags will offer the best in terms of amenities and other features. Things like the ability to wrap your belt around the bag is a nice touch that some bags offer. So while gym bags tend to be similar, they are quite different in many ways.
Wrap Up
The best gyms bags for men and those looking to boost their bodybuilding and powerlifting goals have great affects on your overall training and performance. The right bag will allow you to fit everything you need for your workout inside so you never have to leave any equipment behind. A great weightlifting bag will save you time and be of the utmost convenience so no gains are ever sacrificed. Check out these great gym bags and work to improve your training and performance inside and out of the gym today.
---
Generation Iron may receive commissions on purchases made through our links. See our disclosure page for more information.
Let us know what you think in the comments below. Also, be sure to follow Generation Iron on Facebook, Twitter, and Instagram.