Designed for lifters, this gym bag is exactly what you need to look good and see gains in the gym.
When looking to maximize our gains in the gym, we all have certain products and equipment to help us. Some of the best bodybuilding supplements like pre-workout and protein powders ensure our nutrition stays on point to see energy, growth, and added recovery. A weightlifting belt and lifting straps keep us strong and stable during those big lifts so we stay away from injury. But too often do we neglect one important piece of our weightlifting journey, a gym bag. Believe it or not, a gym bag is essential, and a high-quality one at that, to transport all of these important elements of our health and training into the gym with us.
KNKG Apparel
KNKG Apparel CORE35 is a high-quality gym duffel bag designed to support all your needs. Durable and lightweight, while also providing space and comfort, this bag is perfect for any gym day. 
To neglect a bag that offers style and comfort, and of course space as you flaunt that shredded physique into the gym, would be a terrible disservice to you. KNKG Apparel CORE35 is the right gym bag for you to easily transport all of of those essential gym tools. When looking for a great gym bag, look no further than to KNKG Apparel as this bag offers everything you could ask for in terms of comfort, space, versatility, and style. One sure fire way to ensure a quality lifting partner, this bag will give you support every time you sling it over your shoulder. Be the one others will envy when you show off not only a toned aesthetic, but stylish gym bag.
KNKG Apparel Origins
KNKG Apparel was founded in 2011 with the idea to make the most functional gym bag while still being of the highest quality so athletes everywhere never had to worry about their bags. By working to reinvent the vision of what a good gym bag is, KNKG challenged the status quo and successfully put top tier products on the market. Valuing intelligence, performance, and community, KNKG seeks to better the lives of their consumers by giving them gear that works for their benefit only.
KNKG Apparel CORE35 Highlights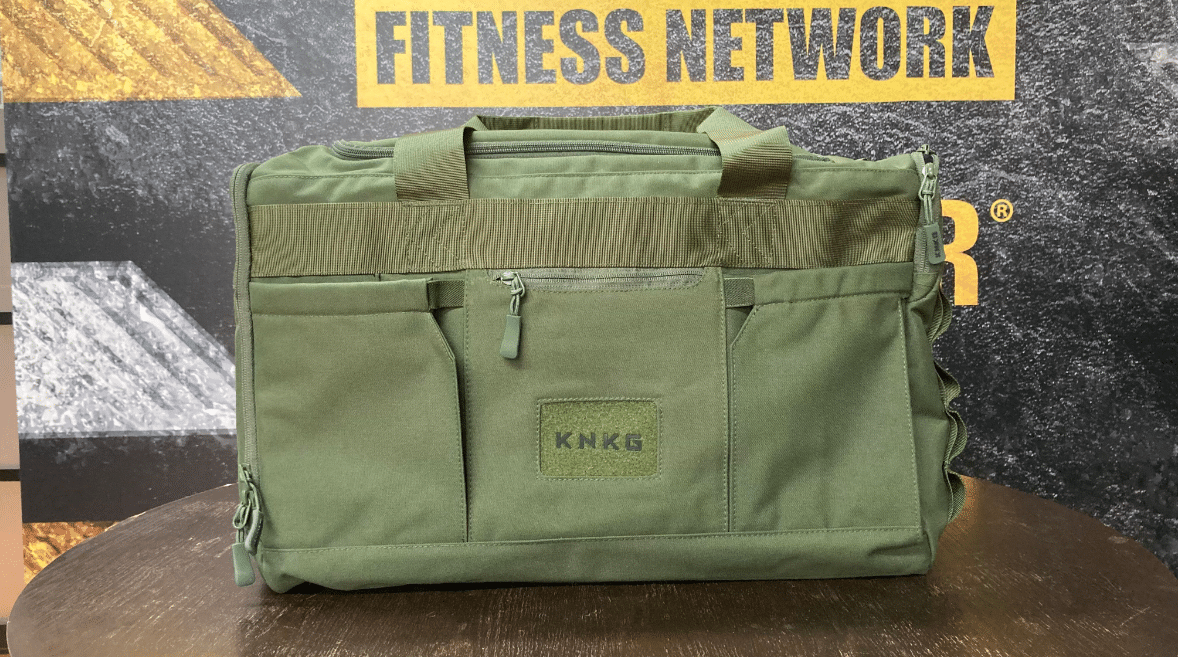 The CORE35 is a high-quality gym duffel bag made to support any and all of your needs. Designed for lifters and made for maxing out space so you fit all the essentials into your bag, you may have just found your new lifting partner, and an incredibly loyal one at that. The CORE35 was designed to solve all your packing problems so you can pack your bag with ease. The CORE35 holds a capacity of 35L (9.2 gal) with the following dimensions: height of 28cm (11''), width of 45cm (18''), and a depth of 28cm (11''). This ensures everything you need for that grueling workout or off-day recovery fits snug to not ruin anything and cause you headache and discomfort as you lug it around. KNKG sought to make the most functional bags around and with the CORE35 they did that and much more.
Product Features
Design
KNKG CORE35 has many amazing features that set this bag apart from its rivals. When it comes to your lifting belt, the days of cramming it into your bag are over. With the loop around design, you can secure your belt around the bag to save space inside, have easy access, and allow it to maintain that vital curve. Along with the belt, this bag holds up to two pairs of shoes so you can have the option to switch up shoes depending on the given exercise. Multiple external and internal compartments are perfect for storing gear, including an internal shoe compartment and a 13'' internal laptop sleeve. And of course, an easy access compartment for your bottle or shaker ensures proper hydration throughout.
Quality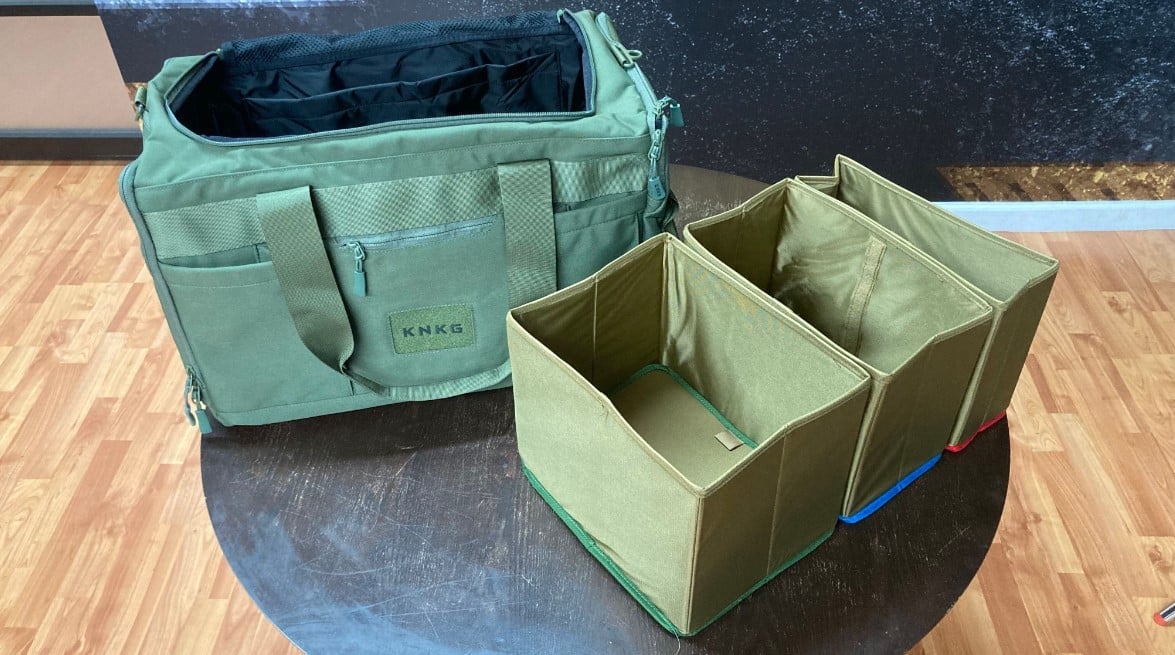 The overall quality of this bag is very high. The outer material is tough, durable, and lightweight while also being water resistant and easy to clean, and the inner ripstop nylon lining is incredibly tough. If you wanted, you could throw this bag around the floor, pull the belt in and out, and it would still hold its shape with continued longevity. Though these products are extremely high quality, there is a lifetime warranty and KNKG will fix any manufacturing defects during the practical lifetime of the bag, although any defects are unlikely to happen.
Price & Effectiveness
KNKG CORE35 is a high-quality and top tier gym bag able to hold all your equipment and withstand repeated abuse of always being in the gym. This bag comes in two sizes available, 35L and 51L, and in three colors: Black, Desert, and Charcoal.
Pros
Stores belt on the outside
Huge internal capacity
Multiple compartments for all your gear
Great quality and durability to ensure longevity
Cons
If your shoes are larger than US size 13 Mens, then the CORE51 with its larger shoe compartment is a better match for you
Price: $129.95
FAQs
Why do I need such a high quality gym bag?
Think about it, you are tossing your gym bag around on floors, car seats, and other surfaces. That will cause some wear and tear, so rather than continuously replacing your bags, getting a quality bag that will last is key.
Why do I need so much space in a gym bag?
Having the extra space allows you to fit more in there. Although you may not fill the bag right away, as you add to your supplement or lifting gear collection, you can fit it right in your gym bag, comfortably.
Overall Value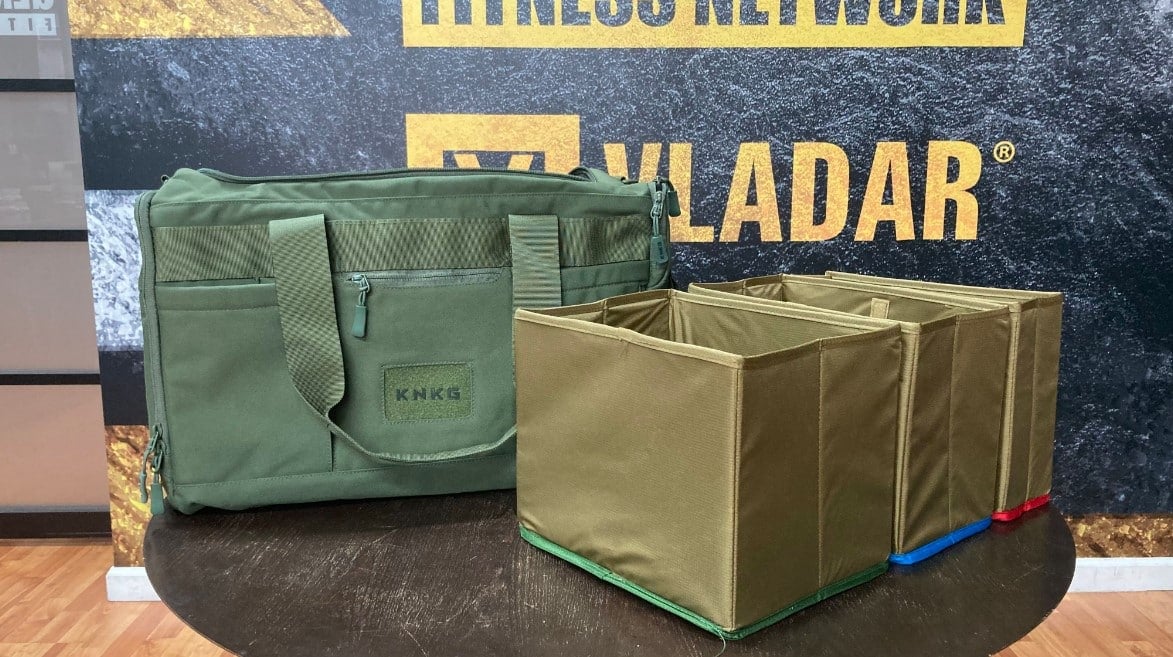 KNKG CORE35 is a great gym duffel bag to tackle any and all of your needs. Able to fit all your equipment and added gear, the headache of trying to make everything fit is over. KNKG knows the needs of athletes and sought to make the most functional gym bags around and all expectations were exceeded. What you are really getting is a high-quality gym bag with tons of space and great durability from a company who cares deeply about putting the best product out there. Check out KNKG Apparel CORE35 to look good and feel even better as you flaunt your stuff in the gym.
---
Generation Iron may receive commissions on purchases made through our links. See our disclosure page for more information.
Let us know what you think in the comments below. Also, be sure to follow Generation Iron on Facebook, Twitter, and Instagram.