Elevate your training and competition with a great pair of wrist wraps for support and protection.
You may see people in the gym all the time wearing wrist wraps. You definitely see powerlifters and strongmen wearing them. But you may be wondering why. Like a pair of deadlift socks or knee sleeves, wrist wraps are just one of those fitness aids that can really work for your overall benefit when it comes to lifting big and seeing huge gains. Looking into a proper pair for your strength and fitness goals should be at the top of your priority list especially entering this holiday season.
As we push ourselves to the max and really do our best to boost all aspects of athletic performance, it is important for us to have proper protection in order to keep ourselves injury free and working hard every single day. A pair of wrist wraps can do just that as we seek nothing but the best for ourselves, our form, and overall physical and mental health as we take our training as high as it can go.
Benefits Of Wrist Wraps
The benefits of wrist wraps may be enough to convince you to buy a pair, or at least give them a try. While our bodies are amazing specimens, it doesn't hurt to give them an extra boost in our quest for big gains.
Stabilize the wrists: For heavy lifts, stabilizing your wrists is key in helping to prevent hyperextending while promoting solid form and grip on the bar. By doing this, you only add to your foundational strength to properly execute any big lift (1).
Support high volume and intensity: Relieve pain in your wrists so you don't have to worry about injury while also promoting the longevity of your workout.
Enhance grip: Provide for a better grip to be more comfortable while lifting more weights to enhance overall growth (2).
Promote healthy recovery: After an injury, wrist wraps can offer that extra level of support to take away any injury or swelling and relieve any pressure to allow you to lift while still giving your wrists time to strengthen and heal.
Here are the top 5 wrist wraps for promoting wrist support and optimal performance:
---
Best Overall: SBD Wrist Wraps
SBD brings these great wrist wraps to consumers that are perfect for training, repetitions, and competition use. The flexible wrist wraps are designed for easy self wrapping and the stiff wrist wraps are designed for optimal support to maximize work effort. With two options to choose from, SBD covers all of your wrist wrap needs for your desired goals. With a heavy-duty thumb loop and manufactured alongside a main wide elastic, these are designed for powerlifters and strongmen and an industrial fastener ensures longevity and security. Approved for USAPL, IPF, and USPA, these wrist wraps are great for all of your needs.
These wrist wraps by SBD were seen at the World's Strongest Man 2020 competition worn by the winner Oleskii Novikov. Able to support the most elite athletes in the sport, these wrist wraps are specially designed for powerlifters and strongmen to enhance all aspects of their training and competition goals.
Pros: Two options allow for a flexible or a more stiff wrist wrap. Durable and designed for powerlifters while also being competition approved.
Cons: A premium option with price and only available directly from their website.
Price: $42.50
---
Best For Heavy Lifting: Rogue Fitness Wrist Wraps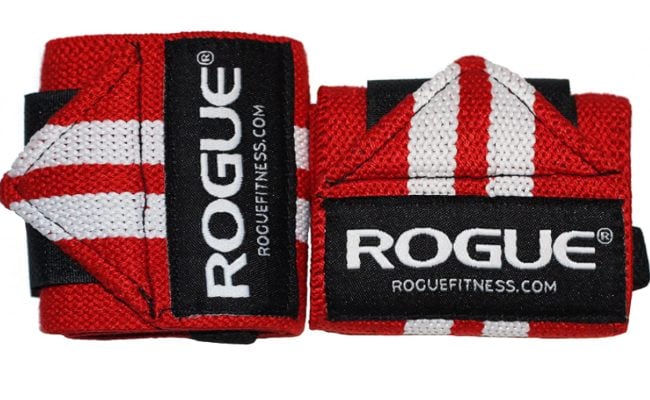 Rogue offers these wrist wraps that are available in three different lengths to provide any additional wrist support you may need. Affordable and durable, they absorb moisture to protect your skin from irritation and provide stability for any kind of weightlifting training. A convenient thumb loop and hook-and-loop closure provide for a secure fit, easy adjustment and quick removal. With great stiffness, but also enough flexibility to move, Rogue wrist wraps are great for any heavy lifting.
Pros: Durable and able to support and stabilize your wrists for optimal protection. The price is good compared to many on the market.
Cons: The Velcro is not as sticky so they do come loose often and they lose elasticity after some uses.
Price: $23.98
---
Best For Stiffness: Rip Toned Wrist Wraps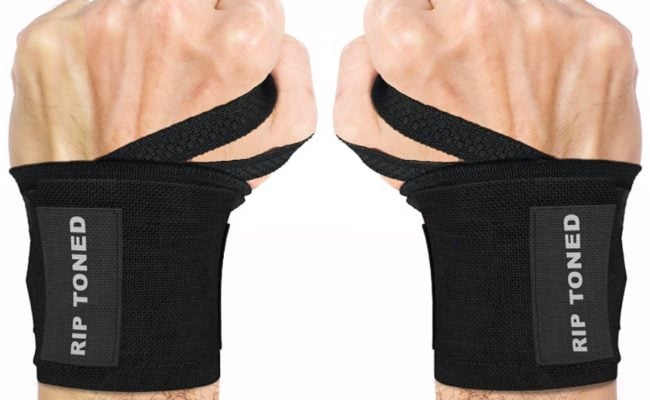 Rip Toned bring these great wrist wraps to the mix to offer solid stabilization and the ability to lift more weight. Great for any type of workout, these 18-inch wrist wraps are endorsed by elite athletes who use them to prevent injury and boost their performance. Premium stitching and a durable extra wide Velcro strap allow for easy adjusting and stiffness. Reinforced thumb loops allow you movement and flexibility while also promoting solid stabilization for any big lift.
Pros: The balance of stiffness and flexibility are great for support with optimal movement. A great price and endorsed company make these trusted and quality wrist wraps.
Cons: Tends to leave a mark if too stiff and quality comes into question with longevity.
Price: $12.97
---
Best For Durability: Stoic Wrist Wraps
Stoic offers these high grade, heavy duty wrist wraps that are built to last. Using high quality nylon material, they are tested to perform in extreme conditions. The 18-inch wrap allows for high levels of tightness and adjustability to give you plenty of support while not being cumbersome. While they do provide a snug fit, they don't restrict blood flow and the thumb loop and hook and loop fastener offer a secure fit. Built to last, Stoic wrist wraps are a pair for durability.
Pros: Great stiffness provides for optimal support without sacrificing movement and range of motion. High quality and ultra strong, these come at a great price and are built to last.
Cons: The material may be too stiff for some and can cause some irritation for users.
Price: $14.99
---
Best For Versatility: Bear Grips 2-Band Wrist Wraps
These wrist wraps from Bear Grips offer protection for working out and strength training by allowing you to lift more to keep you at an optimal lifting angle. Triple stitched and a premium thumb loop provide for strong closure and dual elastic protectors to enhance versatility. Great for functional use, they won't restrict total movement and are great for replacing bulky braces. They not only support big lifts but also provide therapeutic relief making these very versatile wrist wraps.
Pros: Offer support and provide for comfort while being stable and versatile. At a great price, they are useful for many type of workout.
Cons: The thumb loop tends to cause some pain depending on the tightness and they are not as stable as others for big lifts.
Price: $14.99
---
Wrap Up
Wrist wraps are great aids to use for any workout, but in particular those big lifts. Able to support and stabilize your wrists, these workout aids are perfect for those looking to enhance their overall growth and performance while staying safe doing so. Worn by professionals and elite athletes, these can be game changers for whatever your workout may be. Check out a good pair of wrist wraps and see what they can do for you when it comes to elevating your overall performance.
Generation Iron may receive commissions on purchases made through our links. See our disclosure page for more information.
Let us know what you think in the comments below. Also, be sure to follow Generation Iron on Facebook, Twitter, and Instagram. 
References
Weiss, A. K.; Tsai, H. H.; Puffer J. C. (2002). "Bilateral Wrist Pain-Weightlifter". (source)
Lee, Julia-Ann; Sechachalam, Sreedharan (2016). "The Effect of Wrist Position on Grip Endurance and Grip Strength". (source)