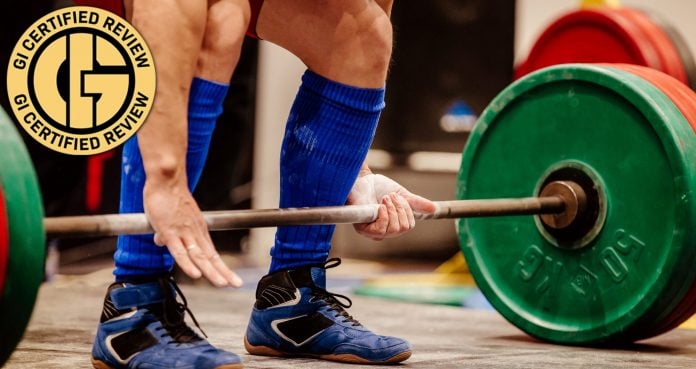 These best socks for deadlifting are great for those weightlifting and powerlifting needs offering great support and compression.
When it comes to big lifts, the deadlift is a must and definite favorite of many bodybuilders, strongmen, and high-performance athletes. However, scraping the bar against your shins can be painful and torn skin does not compliment the physique too much, so deadlift socks can be what you need to see great gains, without hurting your shins too much. A beastly lift that tests strength, power, and overall body mass, this lift is not only a staple in the powerlifting world but also in many peoples' training routines.
Overview
As stated above, the downside to this exercise is that proper form requires you to keep the barbell as close to you as possible which can be problematic when it comes to suffering from abrasions that this can cause. And with this exercise being so useful for building gains, that protection is so important.
We've put together a list of the Best Deadlift Socks for 2023 so you can have the best support and compression for those weightlifting needs. Powerlifting socks are perfect for protecting your shins against the barbell and can greatly affect your lifting output for serious gains.
Best Deadlift Socks For 2023
---
Best Deadlift Socks Overall
The best deadlift socks will be of quality material and offer comfort and durability to withstand any repeated abuse from lifting. They will also offer support and protection against scraping as you lift big weight.
SBD Deadlift Socks
SBD offers these premium deadlift socks to cover the shin to assist with any pulling movements. This custom sock is designed to cover the shin without turnover and is manufactured with a tight knit from durable synthetic fiber to offer a high quality product to protect your shins from hitting the bar. Breathable, comfortable, and fitted for training and competitive use, these deadlift socks are manufactured in Great Britain and are USAPL, IPF, and USPA compliant.
SBD Deadlift Socks are premium long socks designed to protect your shins and offer support for any pulling movements.
Pros
High quality, breathable, and comfortable while being competition compliant
The tight knit and quality material provides for durability
From a reputable company in SBD
Cons
Only available directly through their website
Price: $19.50
Check out our individual review for SBD Deadlift Socks here!
---
Best Deadlift Socks For Compression
Deadlift socks can offer compression to help you feel more supported and provide for a snug fit. This will give you more confidence in your lower half as you look to lift that massive weight.
Hoplite Premium Lifting Compression Socks
Providing great protection are the Hoplite Lifting Compression Socks. Built to support and protect any tough workout, these socks offer graduated compression to stabilize the muscles, reduce fatigue and lessen impact. Offering breathability for coolness and knit in special areas to prevent scraping, these dense padded socks will provide that much needed protection but also plenty of comfort to really take on any big lift. Easy to take on and off, they provide great compression to increase blood flow and circulation making these a top choice for compression.
Hoplite Premium Lifting Socks are built for support and protection with gradual compression for all your lifting needs.
Pros
These provide for great compression to offer comfort and increased circulation
Still breathable and with added protection, these are nice and supportive
Cons
Protection lacks a little and the fit is slightly loose
Durability comes into question after a few uses as well
Price: $21.99
---
Best Deadlift Socks For Bodybuilding
Bodybuilders should feel comfortable in knowing that good fitness equipment exists to really protect them during their workouts. Deadlifting socks and those socks for weightlifting can greatly influence gains as you seek that shredded aesthetic.
BOORE Deadlift OCR Socks
BOORE brings these premium deadlift socks to the table offering great support for any impact. Premium arch support and a great nylon and spandex blend allows for comfort and breathability, while an extra cushion added from mid-calf to the knee ensures optimal protection from any bumping of the bar. Thickness added directly to the shin area and getting you to the next lift.
Scraped shins can be detrimental to a physique's appearance, so bodybuilders need deadlift socks too. 
Pros
Ventilated and breathable
Added cushion for comfort and protection
Machine washable
Cons
The extra padding could be better as advertised
Top band may be a bit tight
Price: $25.00
---
Best Deadlift Socks For Performance
When it comes to performance, you want the best working for you and all your goals. Achieving PRs and feeling good about your results requires the utmost care for your body and deadlift socks will provide for that comfort and support when lifting big.
Pure Athlete Lifting Socks
Pure Athlete Lifting Socks are designed to enhance performance in all sports or workouts, whether that be running, weightlifting, or cross-training. The arch and ankle support provide for comfort and the breathable mesh wicks moisture away to offer odor and blister control. Designed with durability in mind, these will hold strong through whatever sport or workout you put yourself through. Supportive and strong yet flexible, these are a great pair of socks to bring your performance to the next level.
They are also equipped with grip on the bottom, so you never have to worry about staying in place or not. Not to mention, they are designed to protect your shins from scraping during your deadlift sessions.
The socks for all of your athletic needs from running to lifting, whatever it may be.
Pros
Great for performance for being comfortable and breathable
Offer solid support for stability
Flexible and versatile
Cons
Difficult to get on and off
Shin padding can be a bit thin
Price: $19.97
Benefits Of Deadlifting Socks
The best deadlifting socks will greatly affect your lifting ability and allow you to feel more comfortable especially when under so much weight. The right powerlifting socks will enhance those big three lifts and also offer support and compression for increased comfort.
Benefits of deadlift socks include:
Prevents scraping and bruising: Protect your shins against the rough barbell when deadlifting close to your body. Proper form forces you to keep that barbell close to your shins which can cause bleeding and socks can help alleviate this problem.
Good arch support: Give your feet good support for better balance and overall comfort when lifting such big weight.
Absorb sweat and provide ventilation: Give yourself room to breathe during those grueling workouts with nice ventilation and good sweat absorption.
Good compression for increased lifting confidence: With a nice, snug fit, you can increase confidence and feel more comfortable lifting such big weight (1).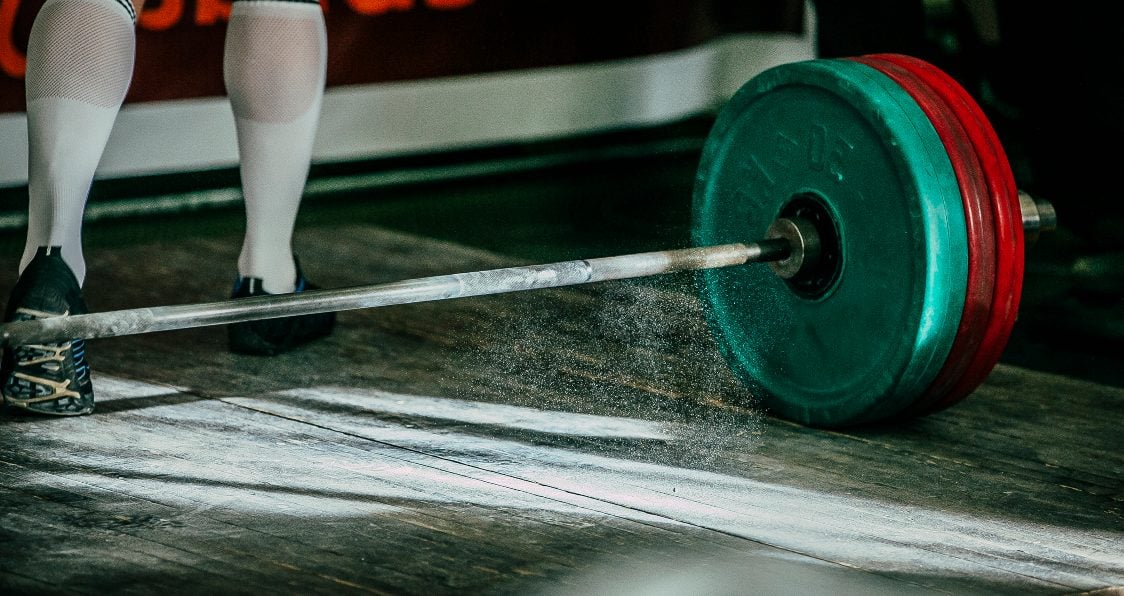 Why Powerlifting Socks & Lifting Socks For Weightlifting Matter
Deadlifting socks matter because they can give you support and comfort for those big lifts, especially the deadlift. With proper form, the bar tends to rub against your shins as you keep it close to your body. Unfortunately, this causes scraping and unwanted pain that you just don't really need. Deadlifting socks can protect you so you don't suffer from bleeding and those annoying scrapes. They also can provide good grip for your feet to provide for a more grounded, more stable lift as you will feel more balanced and supported. When lifting big weight and seeing PRs, you want the best to see those gains.
How We Choose
Choosing this list of the best deadlifting socks was important because these can greatly affect your training and overall performance. Powerlifting socks and those socks for weightlifting should be made of great material that is comfortable and versatile as you seek the best for your goals. We focus heavily on the durability as well because you want to get used to a pair that can really help.
We also look at compression and support since these two factors will increase your confidence especially when you're under so much weight. Of course, price matters and these options can get expensive. Looking at those affordable options are important and can save you stress and money.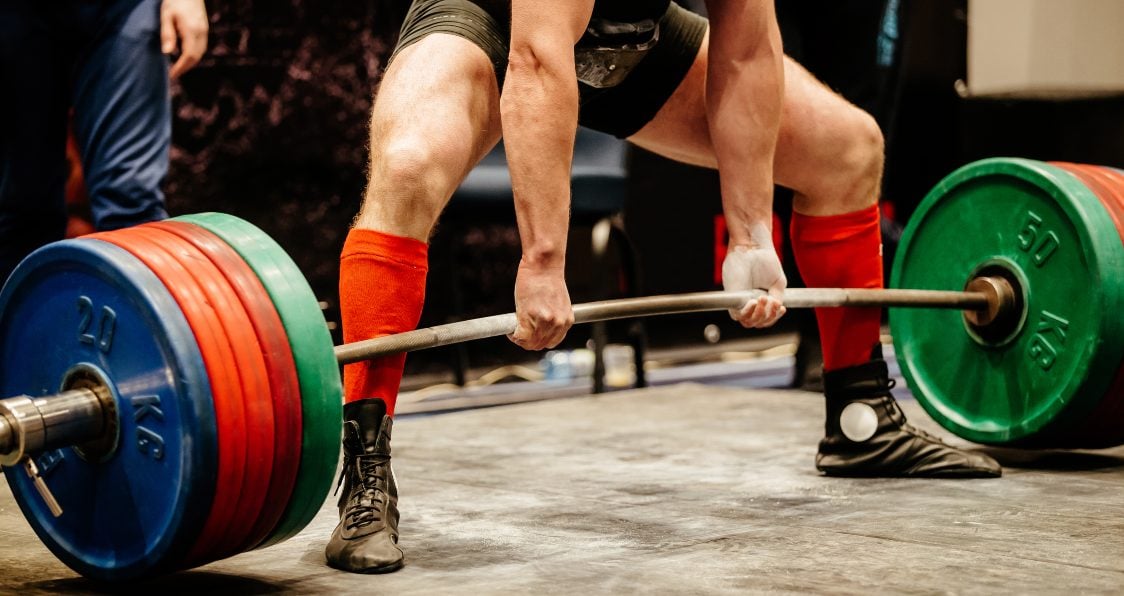 FAQ Section
What is the best pair of deadlifting socks?
SBD Deadlift Socks. These deadlifting socks offer protection to cover the shin to assist with any pulling movements. This custom sock is designed to cover the shin without turnover and is manufactured with a tight knit from durable synthetic fiber to offer a high quality product to protect your shins from hitting the bar.
What should I look for in deadlifting socks and those socks for weightlifting?
You should look for comfort, versatility, and support. You want the most comfort possible especially when under so much weight but also the versatility for these to be used for other exercises. The added support will allow you to thrive and lift that big weight for PRs.
Are deadlifting socks necessary?
These socks are not necessary but they can greatly affect how you lift. When it comes to the deadlift, the bar can cause scraping and unwanted pain on your shins so the added protection is nice. Also, having support and comfort is huge when it comes to lifting and pushing your body to the limit.
Wrap Up
When looking to enhance your goals and really elevate performance in the gym, certain equipment can really help get you there. Deadlift socks provide for protection and comfort while also allowing you to perform the deadlift to peak capacity, really reaping the benefits of that great exercise. These best options for these pieces of equipment can really help get you to where you want to be and are worth checking out. Look into a quality pair of deadlift socks today and see your performance take off.
---
Generation Iron may receive commissions on purchases made through our links. See our disclosure page for more information.
Let us know what you think in the comments below. Also, be sure to follow Generation Iron on Facebook, Twitter, and Instagram. 
References
Armstrong, S.; Till, E.; Maloney, S.; Harris, G. (2015). "Compression Socks and Functional Recovery Following Marathon Running". (source)