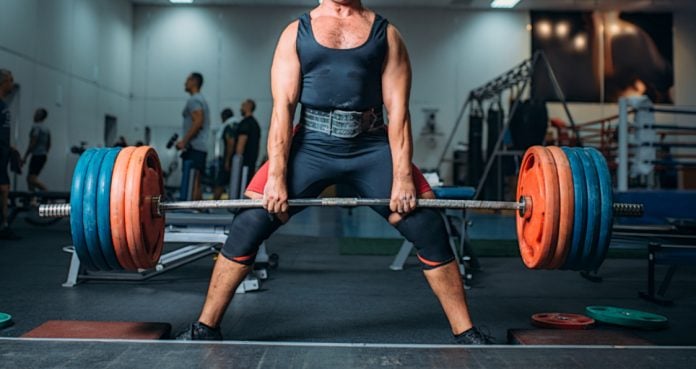 A change in bad habits leads to a change in life.
The deadlift is one hell of a monster workout. And as simple as it may look in theory, it is much more complex in practice. So how does a seemingly simple exercise leave so much leeway to do it incorrectly? Well, you've got to remember there's a lot of moving parts. This exercise takes strength, coordination, and explosiveness, not to mention moving your bodies in ways that aren't completely intuitive.
What many people forget is that the deadlift is a FULL body exercise. It's not just engaging  your legs but everything from your feet, to your core, to your shoulders. Many trusted fitness advisers have repeatedly said if they had to choose anyone exercise to do for the rest of their lives it would be the deadlift.
With all that movement it's no wonder this exercise is so commonly performed incorrectly. This could lead to wasted gains and, even worse, injuries that keep you out of the gym. So let's put the problems to rest with these top 6 deadlifting mistakes that you might making without even realizing it.
6. Rounding your back
This is by far the most common mistake we've seen by newbies and even some higher level lifters if they're getting lazy. You don't want to round your back or overcompensate by arching either. You want a flat back from the back of your head to your caboose. Instead of looking at the bar or at the ceiling try picking a spot a few feet in front of the bar and focusing on that throughout the lift.
5. Jerking your deadlifts
A lot of times guys get a hard on with deadlifts. They see all that weight and their emotions start to rise. They want to tackle it like Jenny Spinelli on prom night. While we're all about getting in touch with your primal side, we're going to recommend a controlled craziness on this one. Though you do push massive weight – this is actually a controlled exercise best performed with the arms locked. Try to keep everything tight and think of slowly pushing the floor away. Remember it's a full body exercise, your arms are used as a lever.
4. Turning your dead into a squat
Of course, we're not talking literally – but a common mistake with intermediates and even some experienced guys, leaning back too far on the bar will turn your deadlift into a squat. To remedy this raise your hips so your shoulders are over the bar. Keep the bar over your mid-foot with back straight. You can make adjustments according to your limbs but it's pretty hard to screw it up from here.

3. Leaning back at the top
When you lean back at the top of a rep it squeezes the disk in your lower back which can possibly result in injury like a herniated disc. Stop when you knees and hips are locked, nothing more, nothing less. Sure pro powerlifters might do it but this is to show judges they've locked out. Some UFC fighters also fight with their hands down but I wouldn't recommend that either.
2. Shin crushing
Do you dread the deadlift not because of the weight but because of the pain of the iron crashing into your shins at the beginning of each rep? Well stop it, it doesn't have to be that way. As we mentioned in "squatting your deadlifts" keep the bar over your midfoot. This should keep it close enough to move along your body but far enough to eliminate unnecessary pain.
1. Switching your hand grip too early
Yes, we know it looks cool and all your friends are doing it, but switching to an inverted hand grip can be potentially dangerous.  Changing the arm position also changes the muscles being used on by your back. By changing to an inverted lift before necessary – it can tweak a muscle or cause lower back injury. Try to stick with a traditional grip as long as you can. When the weight gets higher and you do eventually have to change over be sure to wear a lifting belt and go up gradually.
Well there you have it. Now that you've corrected these common mistakes you should be deadlifting like a true pro in no time. Don't say we never gave you anything. So what do you think of these common mistakes? Were you performing any of these? Did we miss any? Hit up the comments section below and put in your two cents.