Weightlifting gloves are a useful workout aid to support those big lifts.
Weightlifting gloves are popular workout tools for those who lift big or who seek the most protection for their hands. We wear gloves all of the time, whether it be cold weather, painting our house, or cleaning with certain products and your workouts in the gym should be no different. Wearing lifting gloves is a personal choice made by some to assist in their workout, but others feel it interferes with certain exercises and choose to not use them. It is all a preference on how you feel, your intended goals, and your scheduled workout.
Benefits Of Weightlifting Gloves
Weightlifting gloves provide a lot of benefits for workouts and should be considered. They can enhance grip to wick away any moisture or sweat that gets in the way of having a solid grasp of a barbell or pullup bar. In this regard, they can make your lift safer. For longer periods of time, they can help prevent calluses and blisters and can relieve pressure put on your hands to help you lift more weight. Providing stability and support for your wrists is an overlooked benefit for wrist stability is important to consider to stay injury free (1). Some gloves actually provide extra straps to give your wrists proper support. Lifting gloves will really work to enhance your lifts so you go bigger and work out longer to see those big gains happen.
Finding The Right Weightlifting Gloves
Lifting gloves come in all kinds of material from cotton, to leather, to other synthetic materials and finding the one that is most comfortable for you in terms of both wear-ability and functionality is more than important before executing those big lifts. Some provide padded support while others do not and that can be a make or break when it comes to interference. Look into ones that will support your most popular lifts. If you are a powerlifter, look into specially designed gloves for your sport, but if you are an all around athlete, check out the more versatile lifting gloves to find what works best for you.
We put together a list of the best weightlifting gloves around to give you the best chance at elevating your workouts. Check out this list of the top 10 best lifting gloves for 2020.
---
Best Overall: Fit Viking Weightlifting Gloves
Fit Viking weightlifting gloves are designed to offer overall support and versatility by covering your palm but allowing for free finger and thumb movement. The enhanced grip will maintain a solid hold on the bar to keep you lifting big and for longer without the unwanted pain. An added 2 inch wide and 16 inch long wrist wrap provides for comfort and protection while encourages wrist support and an increased grip. Made from natural cow leather and a Velcro strap the stitching makes this a durable glove for any type of exercise.
Pros: The leather is a solid barrier between the bar and your hand and it does prevent sweating. They will dry quickly and are fairly durable.
Cons: The leather is thick so working to find a solid grip can be challenging and depending on your hand size, the finger loops may feel uncomfortable. The Velcro wrist strap has rigid edges and may dig into your skin.
Price: $16.99
---
Best For Bodybuilding: Skott Evo 2 Weightlifting Gloves
Skott Evo 2 weightlifting gloves are designed to fit comfortably for both men and women. With the option for a finger free glove or one that covers your fingers, you get the option depending on your desired needs. The wrist wrap feature offers a fully integrated wrist wrap from the latest in weightlifting technology to maximize support and results. With gel printed palms to prevent slippage and injuries, this glove provides for ultimate comfort and durability while avoiding injuries and blisters during those heavy lifts.
Pros: Overall quality is good and even with the extra padding, they look and feel comfortable. Sizing is accurate so you don't have to guess.
Cons: With so much padding, it is hard to get a good grip so more energy is required than wanted to actually perform the exercise. Finger lengths are the same size and cause bunching on shorter fingers. The wrist wrap does feel too wide for some.
Price: $24.99-$26.99
---
Best For Wrist Support: Portzon Weightlifting Gloves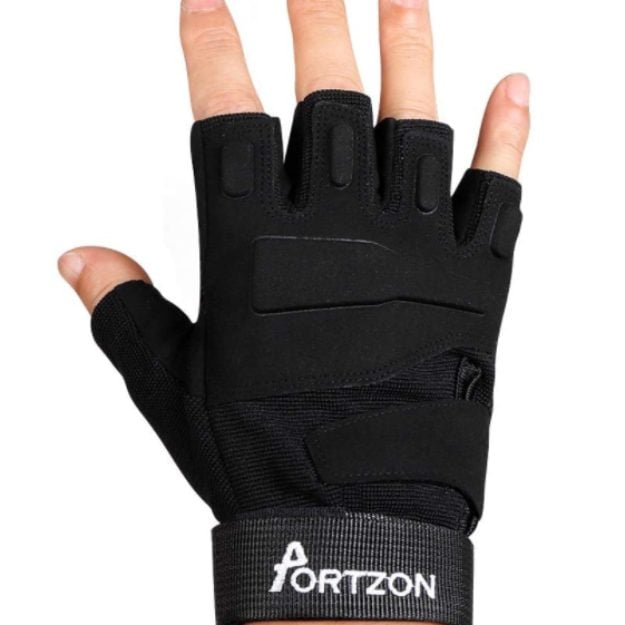 Portzon weightlifting gloves offers these half finger outdoor gloves for ideal versatility. Having your fingers free, combined with a strong, durable glove, it reinforces wrist support, finger joints and provides for great flexibility and dexterity. Stitched well and breathable, the dual-layer synthetic leather palm offers a great grip and the Velcro strap allows for movement and dexterity for the best efficiency. The convenient hook and loop allows for easy size changes and an additional pad gives you added hand and knuckle protection.
Pros: A comfortable design and a great grip, they provide for palm protection with the versatility of having your fingers free.
Cons: Those with smaller to average sized hands may find this too big. They tend to be a little tight causing more sweating than desired.
Price: $28.98
---
Best For Women: Simari Weightlifting Gloves
Simari weightlifting gloves offer full hand protection and wrist support with an added thick foam palm pad to act as a buffer for any high impact exercise. The palm is made from microfiber to provide for great durability, but the back of the hands are made of air mesh for breathability and comfort. The humanized design works to maximize comfort and functionality by providing sturdy wrist protection, reusable Velcro, soft sponge pads, and towels on the thumbs for easy on and off access while being lightweight and breathable. They are designed for power and are suitable for any type of workout.
Pros: Great for any workout and all experience levels. The nonslip grip and breathable fabric, coupled with the wrist support, make this a great glove.
Cons: They don't offer as much protection as advertised which is disappointing. Durability comes into question and the palm pad is very thin.
Price: $9.98-$18.98
---
Best For Palm Protection: Harbinger Pro Wrist Wrap Weightlifting Gloves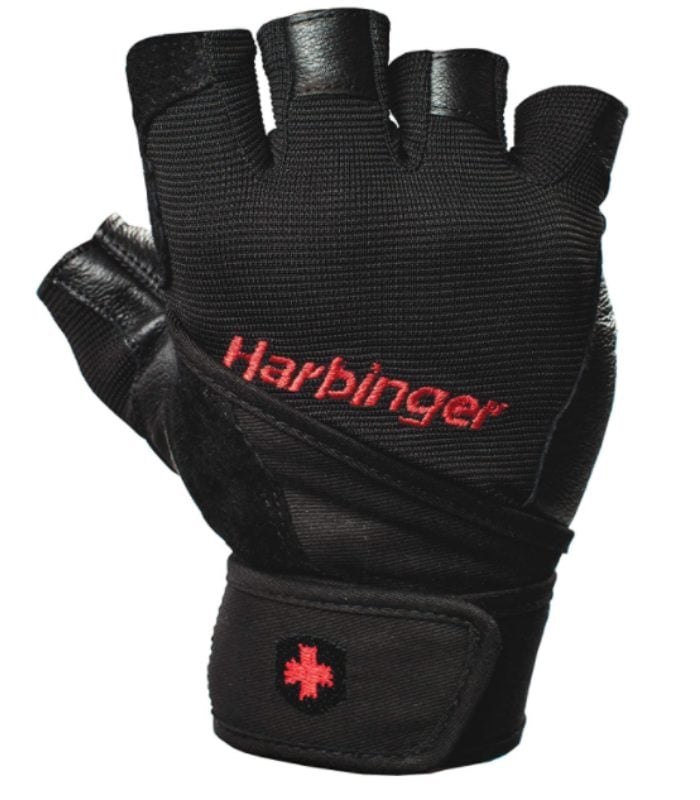 Harbinger Pro Wrist Wrap weightlifting gloves comes with solid palm protection with integrated wrist wraps for wrist stabilization and increased strength benefits. The genuine leather palm is padded with resilient open-cell foam and vented to minimize sweat. Having your fingers free can help increase contact for a better grip and the wrap around thumb protection consists of leather. Double stitched for durability, this will minimize sweating and enhance protection for those big lifts.
Pros: The fit is great and the high quality leather mixed with the wrist wraps make this a great value for a  weightlifting glove.
Cons: Durability comes into question and the padding is thin and not of the highest quality. The palm vents don't offer much breathability.
Price: $17.15
---
Best For Sweating: NH Weightlifting Gloves
NH weightlifting gloves offer an ergonomically designed glove for heavy duty exercises. The non-slip hexagon silicone rubber beading provides for good grip and palm traction so the bar stays tight in your hands. The four finger loops and strap keep the grip in place. The palm cushion provides for comfort and support and offers a reliable hold on the weights to avoid blisters and calluses. Providing for great comfort, the cushioned pads will allow for breathability and minimize sweating to keep your performance high.
Pros: Fairly simple design and padded well, these gloves offer a great grip and are unobtrusive to your workouts. They provide for solid wrist stability as well.
Cons: Not the best for heavy lifting and durability comes into question with the Velcro backing and sewing. It is tough to get a tight feel with the strap.
Price: $12.99
---
Best For Ventilation: Ihuan Ventilated Weightlifting Gloves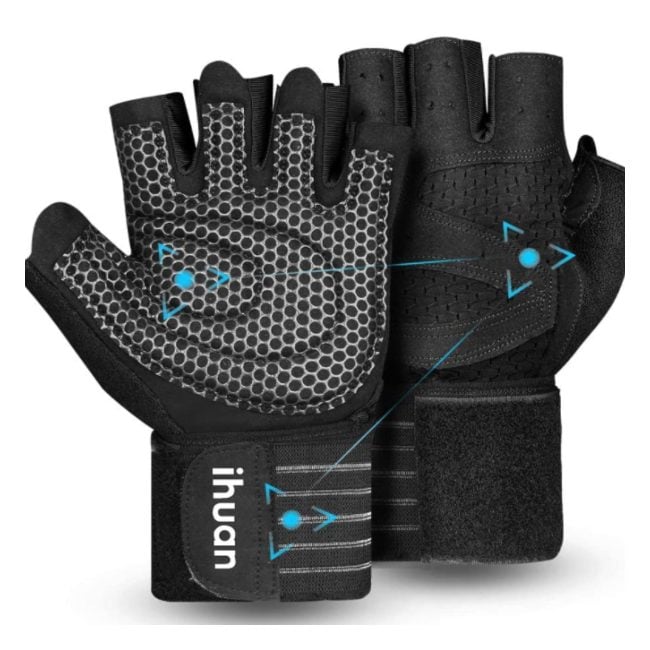 Ihuan Ventilated weightlifting gloves offer full palm protection to protect hands and avoid calluses and blisters. The wrist support provides for solid protection and stabilization while the foam pad acts as a nice buffer to wick moisture and provide for high levels of durability. The back of the hands is made from light and breathable fabric to keep hands dry and the Velcro wrist strap offers easy access to tighten or loosen for maximum comfort for whatever your workout is.
Pros: The non-slip palms offer great support and the wrist strap really does provide for great stabilization and support.
Cons: Almost too lightweight, the durability of these gloves is called into question. The grip is decent but doesn't offer as much protection for some.
Price: $17.99-$19.99
---
Best For Pull-Ups: Fit Active Sports Weightlifting Gloves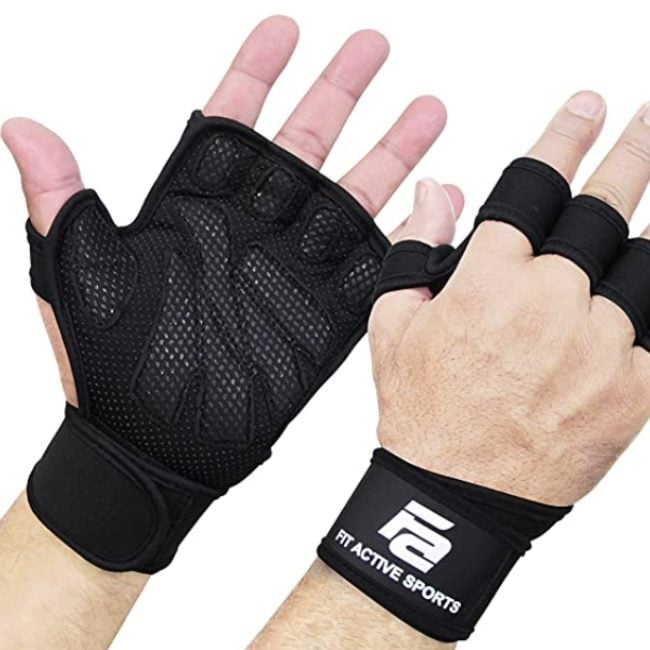 Fit Active Sports weightlifting gloves will offer full palm protection with the benefit of finger loops for versatility and dexterity. Covering the entire palm, the high quality material will prevent against injuries and blisters while also acting as a water resistant and durable material. The wrist strap is great for support and the silicon printed neoprene palm design offers a tight grip for any of those big lifts. Comfortable and breathable, these gloves have nice ventilation and are easy to adjust.
Pros: The palms offer flexibility while staying durable and the wrist straps are great for added stability.
Cons: Quality comes into question with some consumers and the fit may be slightly off. This causes the grip to be off and not as tight as advertised.
Price: $19.95
---
Best For CrossFit: Glofit Freedom Workout Gloves
Glofit Freedom workout gloves offers enhanced protection with a hollowed out back design perfect for breathability and freedom. These gloves have a cushioned pad with silica anti-slip points for increased friction and stability during movements. The double layer palm design enhances comfort and durability while also protecting your hands from abrasions. The hook and loop closure secures a nice fit and the Velcro wrist wraps adjust for personal comfort while not sacrificing support.
Pros: They are comfortable, breathable, and flexible for your workout needs. The palm fabric lifts easy and provides for a good grip.
Cons: Sizing may be slightly off and they may be too tight for comfort. Quality comes into question for some user as well.
Price: $17.99-$18.99
---
Best For Extra Grip: YHT Workout Gloves
YHT workout gloves brings you a lifting glove that covers your entire hand, palms and fingers. The shock absorbing foam padding helps stop vibration and hand fatigue for comfortable workouts. The upper portion is made from Lycra, which is stretchable and breathable to conform to your hands for a natural and comfortable feel. The towel cloth on the thumb helps wipe away moisture. As a full glove, but one with versatility and flexibility, it will really maximize protection for whatever your workout is.
Pros: The grip allows for safety and proper lifting and the gloves are lightweight and comfortable. They also offer solid protection.
Cons: Quality comes into question with the Velcro and stitching and the finger lengths may be slightly off making them uncomfortable. The grip loses effectiveness after some use.
Price: $14.99
---
Wrap Up
Lifting gloves can be beneficial aids to your lifts and work to give you the most effective and safest workout possible. If you are someone new to lifting gloves, there may be a trial and error period but eventually you will find what works best for you. From grip support, wrist stabilization, and improving proper form, lifting gloves can work wonders for your workouts. Check out this top 10 list and see if one of these is the one for you.
Generation Iron may receive commissions on purchases made through our links. See our disclosure page for more information.
Let us know what you think in the comments below. Also, be sure to follow Generation Iron on Facebook, Twitter, and Instagram. 
References
Weiss, A. K.; Tsai, H. H.; Puffer, J.C. (2002). "Bilateral Wrist Pain-Weightlifter". (source)