These kettlebells are top tier workout products to enhance all aspects of your at home workouts so you see huge growth even when out of the gym.
Kettlebells are great training tools to enhance our growth in a number of ways. With gyms closed or operating at limited capacity, our need for a home gym is amplified. Kettlebells are simple and convenient tools used to enhance your gains from the comfort of your own home. Through prioritizing your at-home goals, kettlebells can maximize our training and ultimately our performance once the time comes.
Benefits Of Kettlebells
Kettlebells provide many benefits for growth in a multitude of areas for a variety of exercises. With an increased effort to make kettlebells a staple in all routines, these exercise tools are a main focus for many athletes.
Full body workout: Targets many muscle groups and increases strength, endurance, and flexibility (1).
Promote strength & power: Improved power output at an intense pace for increased lean muscle mass (2).
Improved balance, stability, & coordination: Enhance mind-muscle connection and work to improve technique and form.
Simple & convenient tools: No changing weights and easy to learn for great workouts.
Here are the top 5 kettlebells to increase your at-home workouts so you see great growth and improved performance.
Best Kettlebells of 2021
---
Best Overall: Kettlebell Kings Powder Coat Kettlebells
These kettlebells from Kettlebell Kings are amazing for promoting better grip for safer and more effective workouts, overall protection of the iron for durability and longevity, and a promise from an amazing company in Kettlebell Kings. Each kettlebell is made from a single piece of cast iron so the handle remains intact and each is color-coded so you know exactly what amount you're using. The powder coat ensures a solid grip for no slippage or poor form. The structural integrity of these kettlebells will ensure the integrity of your lifts and lifestyle.
Pros: The powder finish is the right amount of smooth and rough for enhanced grip and the different weights add nice versatility to each workout. Consistent and durable products from a company who cares about their equipment and consumers.
Cons: It is a premium priced item and some of the higher weights may have pitting issues.
Price: Ranges from $69.99 (9 lbs.) to $424.99 (203 lbs.)
---
Best Natural Grip: Rogue Fitness Rubber Coated Kettlebells
These rubber coated kettlebells are a standard for Rogue and are durable and great for high-traffic places. The protective urethane coating creates a smooth surface around the ball and the handle if properly textured to chalk well and enhance grip. With quality construction and color-coded handles, these kettlebells will surely work well for your home gym. Great to provide the foundation for functional training, other lifts and everyday activities will also be enhanced by this great product.
Pros: Well designed and beautifully constructed, durability and longevity are ensured. The natural grip is perfect for any workouts or exercises. From a reputable company in Rogue.
Cons: Slightly high in price and only five different kettlebell options for weight.
Price: Range from $69.00 (26 lbs.) to $146.00 (70 lbs.)
---
Best For Competition: Kettlebell Kings Competition Kettlebells
Kettlebell Kings Competition Kettlebell is a great tool to aid in all of your training and performance needs so you are primed and ready for any competition thrown your way. Made of steel, each of these is the same size bell regardless of weight. Designed for high repetition exercise, each handle is 35mm for the right grip to work on form and really get those reps in. No welding adds to the high quality construction to promote durability and longevity to keep you training for as long as you can.
Pros: Perfect for training for any competition. No welding is great for longevity and each is designed for high reps to get a great workout. Kettlebell Kings is a trusted company who cares about their customers and products.
Cons: Premium priced kettlebells, but you pay for the quality.
Price: Range from $94.99 (18 lbs.) to $299.99 (106 lbs.)
---
Best For Training Optimization: Onnit Kettlebells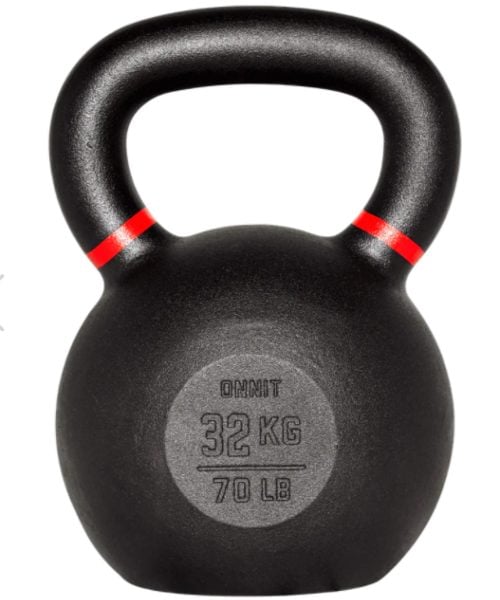 Onnit kettlebells have the ability to be the most versatile tool in your bag. This new line of equipment underwent a major upgrade and is even better than before. These kettlebells have a gravity cast for added consistency and durability, an enhanced powder finish for no slippage and better workouts, and are color-coded for accessibility, safety, and efficiency. With 8 great kettlebells ranging from 13 lbs. to 70 lbs., all of your needs will be met for a multitude of exercises.
Pros: Great quality and grip for overall training and performance needs. Gravity cast works great for durability and color-coded is nice for easy accessibility. Onnit is a reputable and trusted company.
Cons: Buying one single kettlebell at a time can get expensive, especially as you increase in strength.
Price: Ranges from $22.95 (13 lbs.) to $114.95 (70 lbs.)
---
Best For Any Experience Level: Rogue Powder Coat Kettlebells
These powder coat kettlebells from Rogue offer a wide selection of high quality and great kettlebells for all of your training needs. Made from quality cast iron with a black powder coat, the superior quality ensures a reliable grip and excellent resistance against scratches, chipping, and fading. Their wide selection allows you to consistently move up in strength as you get bigger, faster, and stronger. Perfect for anyone of all experience levels, these kettlebells are sure to give you the most out of every workout.
Pros: Wide selection and high quality material to keep you growing and your kettlebell in great shape. From an honest and reputable company in Rogue.
Cons: The handles may be too large for some people with smaller hands. This can potentially jeopardize grip slightly.
Price: Range from $35.00 (13 lbs.) to $132.00 (88 lbs.)
---
Wrap Up
Kettlebells are great exercise tools to enhance all of your gains and are simple and effective pieces of equipment to use. These five kettlebells will work to seriously give you great benefits for overall training and performance. The benefits of these tools will really get you to consider adding them to your workout routine so when performance time comes, you are more than ready. Check out these kettlebells today and see what they can do for you.
Generation Iron may receive commissions on purchases made through our links. See our disclosure page for more information.
Let us know what you think in the comments below. Also, be sure to follow Generation Iron on Facebook, Twitter, and Instagram. 
References
Kravitz, Len. "Kettlebell Research Update". (source)
Beardsley, Chris; Contreras, Bret (2014). "The Role of Kettlebells in Strength and Conditioning: A Review of the Literature". (source)