These kettlebells are designed to increase your training so all your desired performance goals are met.
Product Overview
When looking to build your home gym, it is important to have the essentials lined up so you can tackle any workout that comes your way. It is especially important now with gym closures to have everything you want and need in a home gym so you can further growth and excel during these cold months. Finding the right equipment can be challenging as so much of it is just too expensive, but sports equipment companies know the challenges and are seeking to make a difference. Onnit is one such company looking to enhance your lifestyle without taking all the money from your wallet.
Onnit Kettlebells are great fitness aids to increase strength, promote better balance and support, and work to enhance cardio so you can train and be as successful as possible when it comes to your overall goals. Kettlebells have great capabilities to advance your workouts by not only promoting muscle growth and better aerobic and anaerobic capabilities, but also working to improve a number of other areas like range of motion, weight loss, and mobility (1). Cost effective, time efficient, and overall just fun exercise tools, kettlebells can really round out your gym in a great way.
Onnit is a top tier sports equipment company determined to make the lives of their loyal customers better overall. They believe improvement comes when your mind, body, and spirit get better, even if only by a little, each and every day, leading to a better, more healthy, more fit version of you. Seeking to change peoples' lives, they use only the best ingredients in their supplements and high quality material in their workout equipment to ensure the best quality possible for all consumers.
---
See where ONNIT Kettlebells fall on our list of the Best Kettlebells!
---
ONNIT Kettlebells Highlights
Onnit kettlebells can, and will, be the most versatile tool in your gym bag. This new line of kettlebells underwent a major upgrade to be even better than before in efforts to remain on the cutting edge of innovative sports equipment.
These kettlebells have a gravity cast for added consistency and durability, an enhanced powder finish grip for no slippage and better workouts, and they are all color-coded for easy accessibility, safety, and efficiency. There is no more shuffling through kettlebells to find the right one, only eating up time in your workout. As a great tool to increase explosive power, strength, and endurance, Onnit kettlebells are a great move for you to make.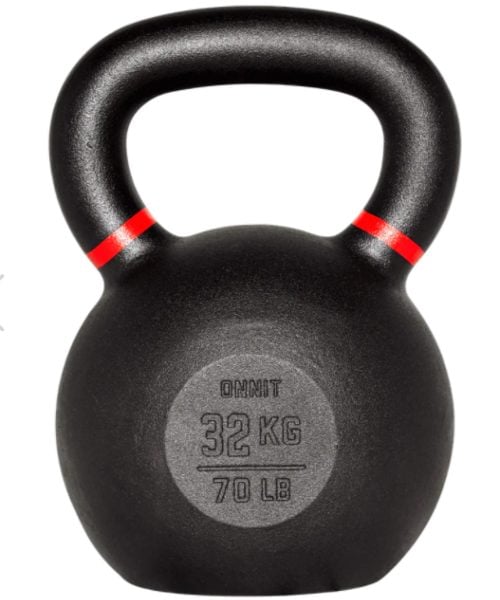 Weights & Pricing
Onnit offers 8 great kettlebells, all varying in weight to provide the best possible chance at your overall growth and success in both training and performance. Whatever skills level or desired goals for each exercise you perform, Onnit has you covered.
The weights and their pricing are listed below:
6kg (13 lbs.)- $22.95
8kg (18 lbs.)- $29.95
12kg (26 lbs.)- $44.95
16kg (35 lbs.)- $59.95
20kg (44 lbs.)- $69.95
24kg (53 lbs.)- $84.95
28kg (62 lbs.)- $99.95
32kg (70 lbs.)- $114.95
Pros & Cons
Pros: Great quality and grip for overall training and performance needs. Gravity cast works great for durability and color-coded is nice for easy accessibility. Onnit is a reputable and trusted company.
Cons: Buying one single kettlebell at a time can get expensive, especially as you increase in strength.
Sponsored Athlete
Donald "Cowboy" Cerrone is a top ranked UFC fighter in the welterweight division and a serious all-around athlete. With a record of 32-8, Cerrone knows exactly what it takes to be the best in the sport as he battles some of the toughest athletes in the world.
As someone who is constantly training and fighting, Cerrone knows just how important it is to work hard on bettering your overall self when it comes to health, fitness, and performance to promote longevity in the sport but also maintain a healthy lifestyle away from the bright lights of competition. Cerrone relies on Onnit for all his sports supplement and equipment needs to power his workouts and fuel his body with everything he needs to succeed. Working alongside Onnit, Cerrone promotes these high quality products so others can be as tough as he is.
Wrap Up
Kettlebells have the ability to be great exercise tools to enhance overall growth and endurance for whatever exercise or training day you need to tackle. Onnit kettlebells are the perfect ones to buy for their new design and total makeover have only enhanced the overall quality of what was already a great product. With a gravity cast for more consistency and durability, a powder finish for better gripping, and color-coded for easy accessibility, you won't be disappointed with the results you see from these kettlebells. What you are really getting is a high quality product from a reputable and trusted company at a great price. Check out Onnit kettlebells today and work to advance your home gym to the next level.
Check out Onnit Kettlebells Here
Generation Iron may receive commissions on purchases made through our links. See our disclosure page for more information.
Let us know what you think in the comments below. Also, be sure to follow Generation Iron on Facebook, Twitter, and Instagram. 
*Images courtesy of Onnit, Donald Cerrone Instagram, and Envato
References
Kravitz, Len. "Kettlebell Research Update". (source)