These best foam rollers for muscle recovery are the ultimate recovery tools for pain relief and less stress.
While we would all love to get a massage or see a specialist to aid in our recovery process, that tends to be expensive and simply unrealistic. Thankfully there is an alternative to this self-care dilemma in foam rollers and the ultimate back roller can work for muscle recovery and back pain. While massages work to release tight and sore muscles, so too do foam rollers but they offer the benefit of being affordable and easy to use. Great muscle recovery tools for back pain and stress relief, the benefits of foam rollers can greatly influence your training and performance, but also your overall health and wellness.
We've out together a list of the Best Foam Rollers for 2021 so you can get great muscle recovery tools to increase all your gains. The right roller can target your specific needs so you never suffer from unwanted pain or strain after a grueling workout.
Best Foam Rollers For 2021
---
Best Foam Roller Overall
The best foam roller will be high-quality and durable to withstand repeated abuse as you look to maximize recovery. It will offer unique features to target certain spots so you get the most out of your recovery and rehab.
TriggerPoint GRID Foam Roller
TriggerPoint makes the first foam roller to feature a multi-density exterior built around a hollow core and is one of the best travel foam roller devices around. Tested for durability and effectiveness, this product is trusted by athletes and professionals alike. The design built around a hollow core allows this roller to keep its shape and integrity so it can better serve you. By decreasing muscle and joint pain, increasing circulation, improving flexibility and range of motion, and promoting better balance, this dense, firm foam roller allows you to target certain spots for pain to really attack all of those unwanted painful areas.
Pros
Constructed well and seems to last a while for the best travel foam roller
Can target those stubborn spots of targeted pain
The durable design and hollow interior will allow it to keep its shape
Cons
It is on the more expensive side
May cause more pain for those not used to such a dense foam roller
Price: $59.99
---
Best Foam Roller For Bodybuilding
Bodybuilders work their bodies hard as they seek that desired physique. Keeping your body loose and relieving those muscles will prove to be very beneficial for those on a strict bodybuilding routine.
Theragun Wave Roller
Theragun Wave Roller is a great roller for full body support thanks to its innovative material and wave-shaped grooves. With five speed settings, you can control the vibration of this foam roller great for stimulating blood flow. High density foam is quality and durable for repeated abuse and a Bluetooth enabled connecting device offers the ability for customized routines and Therabody app integration. Perfect for accelerating recovery, stimulating blood flow, enhancing mobility, and releasing tension, this is one of the top muscle recovery tools that is innovative and worthwhile.
Pros
Provides an effortless and powerful back massage
Vibrating ability is awesome for relieving tension and stimulating blood flow
Innovative material and wave-shaped grooves are great for full body support
Quality and durable material to withstand repeated abuse
Cons
May not be able to support entire body weight
App can be hard to navigate as well
Price: $149.00
---
Best Foam Roller For Deep Tissue
Getting deep into the tissue will really loosen up all those sore spots. A good foam roller for deep tissue work can break up any tight spots for the best recovery results.
321 STRONG Foam Roller
This high density foam roller from 321 STRONG is comfortable to use and is great for all levels. The alternating bumps on this roller mimic the fingers, palms, and thumbs of a therapist to effectively penetrate the soft tissue layer of sore, tired muscles. As a great recovery tool, it will treat muscle pain, increase performance and flexibility, promote blood flow to those worn down sites, and flush away built-up lactic acid. Used for a warm-up or a cool down, this foam roller will really benefit all of your muscular needs. Patented, durable, and made from high-quality material, this roller can support up to 500 lbs. and offer a high-density option for your at-home needs.
Pros
The unique bumps design gives you great feel for different types of treatment
Allows for great soft tissue penetration
Very dense, this will work great for muscle relief
Cons
Durability comes into question
For those not used to a hard, dense foam roller, this won't be for you
Price: $23.98
---
Best Hand-Held Foam Roller
A hand-held foam roller allows you to target spots that traditional ones may not. Having the flexibility to really work out the kinks is great when it comes to seeing those gains you want most out of the best muscle roller stick.
TheStick Travel Stick
Rolling sticks are also great rolling options and TheStick provides the same benefits as a foam roller but with more portability and is the best muscle roller stick. As a more flexible option, the core bends and allows you to treat a much larger area, and while it is primarily used on the legs, it can be used for other muscles groups, although it may be harder. As a pre-workout tool, it can improve strength, flexibility, and endurance by priming those muscle for whatever workout is ahead. Post exercise, this can accelerate muscle recovery by squeezing out lactic acid and its unwanted effects. For a great hand-held option and the best muscle roller stick, try TheStick and see what it can do for you.
Pros
Very portable and flexible, it allows for a great surface massage and is the best travel foam roller
Since the core bends, it also allows for a larger area to be hit
Cons
Really only effective on the legs
Not great for targeting deeper muscles given the design and density
Price: $27.45
---
Best Foam Roller For Beginners
Those just starting out may want a slightly less dense foam roller as you get used to the movement. The right foam roller can set you up for when you need to move on to a more dense one.
Gaiam Foam Roller
Gaiam Foam Roller is a semi-firm density foam roller designed to relieve muscle soreness and tension to improve flexibility, mobility, and circulation. With two sizes, these foam rollers come in 18-inches or 36-inches each with their own respective benefits. The 18-inch roller is versatile and can work to soothe soreness effectively, while the 36-inch roller is better suited for balance and full body work. This foam roller also comes with a digital workout that will teach you great routines and help aid any soreness.
Pros
Two sizes are great for versatility and variety and this is the best travel foam roller
Perfect for improving flexibility, mobility, and circulation
Digital workouts are great for teaching you techniques to further recovery
Cons
Not as hard as higher density foam rollers for those looking for deeper tissue work
Price: $24.98
---
Best Specialty Foam Roller
Specialty foam rollers allow for that advanced level of recovery which can greatly influence gains. The right specialty roller will relieve pain and work for muscle recovery in unique ways that a traditional one cannot.
The Ultimate Back Roller
An interesting rolling and muscle recovery tool, The Ultimate Back Roller is unique in that it is the first chiropractor invented foam roller with a spine gap to enhance overall spinal mobility and flexibility. A flat roller can often times do a disservice by jamming the spine, but this wheel contours nicely into your spine and offers great relief. Used on the floor or the wall, the ultimate back roller can help target back, shoulders, glutes, hamstrings, and quad muscles and is perfect for athletes of all experience levels. Firm but therapeutic, this design keeps your spine in mind by having a no pressure gap over your spine and offering four rows of alternating bumps to offer wide and stable relief. For back pain, The Ultimate Back Roller will provide great relief.
Pros
The spinal gap is great for avoiding spinal contact and pain
Four rows offer a nice amount of pressure
Unique to target back and lower body pain, it is portable for wherever you go
Cons
Only useful for your back, as you cannot get full use like a traditional foam roller
The ultimate back roller is expensive despite being a niche recovery tool
Price: $64.95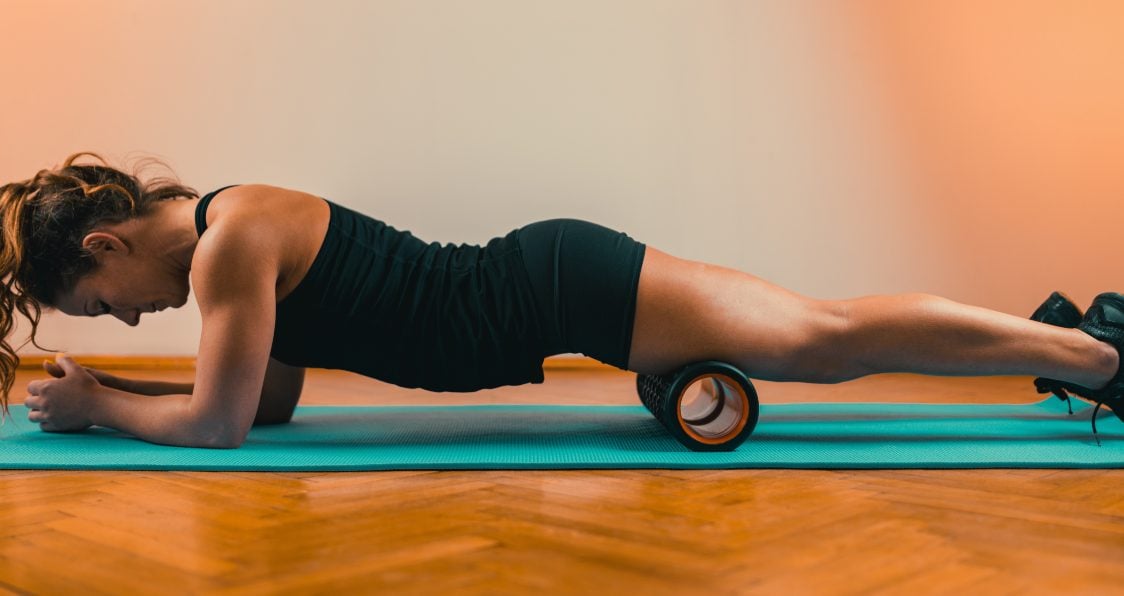 Benefits Of Foam Rollers
Using a foam roller has many benefits, especially when it comes to your overall training and performance, but also your physical health and wellness. Staying loose and limber will help avoid injury and keep you moving as efficiently as possible and the best foam rollers for back pain can help greatly. Benefits of foam rollers include:
Improve recovery and rehab: Using a foam roller can loosen up those tight muscles and work to improve recovery and rehab so you get the most bang for your buck. This will ensure you feel better and increase muscle growth without tight muscles (1).
Increase range of motion: By loosening up those muscles, you get the best out of increased range of motion so you can lift more and see better growth (2).
Offer better flexibility and mobility: Keeping those muscles loose and those joints limber will offer better flexibility and mobility for better posture and decreased pain (3).
Bounce back faster for better workouts: Using top muscle recovery tools will give you the best chance at bouncing back faster for your next workout so you can tackle everything that comes your way (4).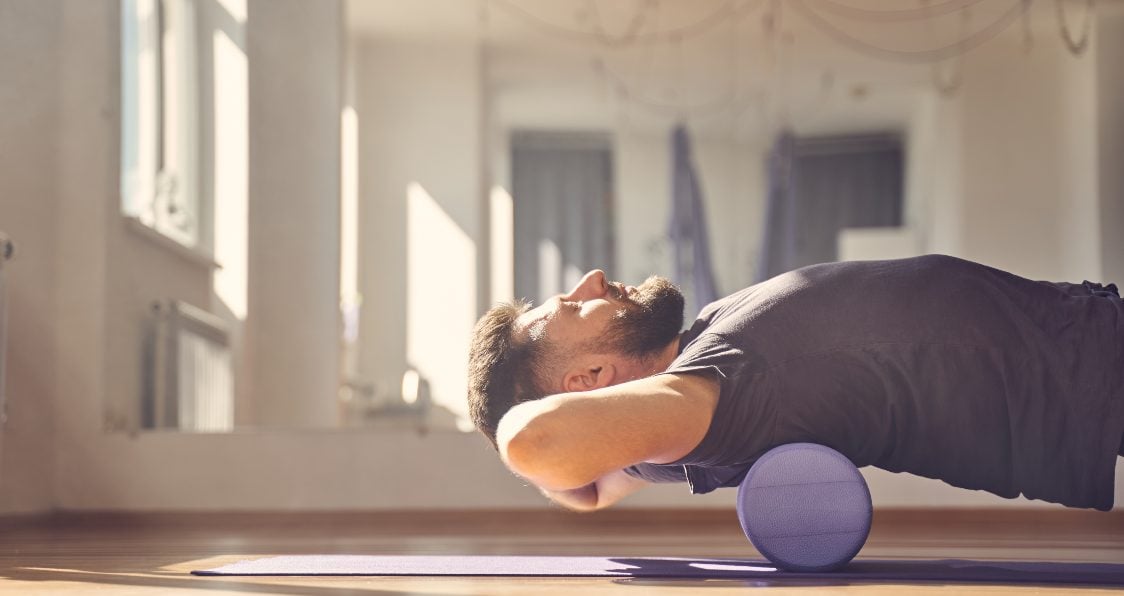 What To Look For In A Foam Roller
When choosing the best foam rollers for back and muscle recovery, there are some key things to look for to decide ultimately which one is best for you.
Many come in different lengths and other rolling tools are out there like a massage stick or ball. Length matters for the intended use and a longer one will be more versatile. A traditional roller is one we all know of, but a massage stick or ball can provide for unique ways to target the muscle to really help with relief and recovery.
Intensity Level & Density
Each provides a different level of intensity in terms of design and material for intended use. Density is something to pay attention to for more intense recovery will require a more dense roller. Semi-dense and lighter density foam rollers will work better for more rehab oriented recovery. Certain features like grooves are also important to look for because some rollers work to mimic the hands of a massage therapist for added relief.
If you will use it regularly, make sure it is durable and will handle your frequent needs. Using a foam roller every day is certainly something that will prove to be worthwhile and the more active you are, the more you will use it.
How We Choose
When looking at the best foam rollers for back pain and muscle recovery, we consider many factors when it comes choosing this top list, especially for those looking for the best travel foam roller or those used at home. We look at the quality of the roller overall and the durability of the product. You deserve to have a product that will last a long time and be worthy of withstanding abuse every day as you will most certainly use this every day. We then look at the density and other features, like if it vibrates or not, because that will influence what the roller is used for. The more dense, the deeper it will penetrate the muscle and relieve more pain. Other features like vibration can help stimulate blood flow and work to provide additional relief. Lastly, we look at price. We know fitness equipment can get expensive and having affordable options that are still high-quality is very important for your gains.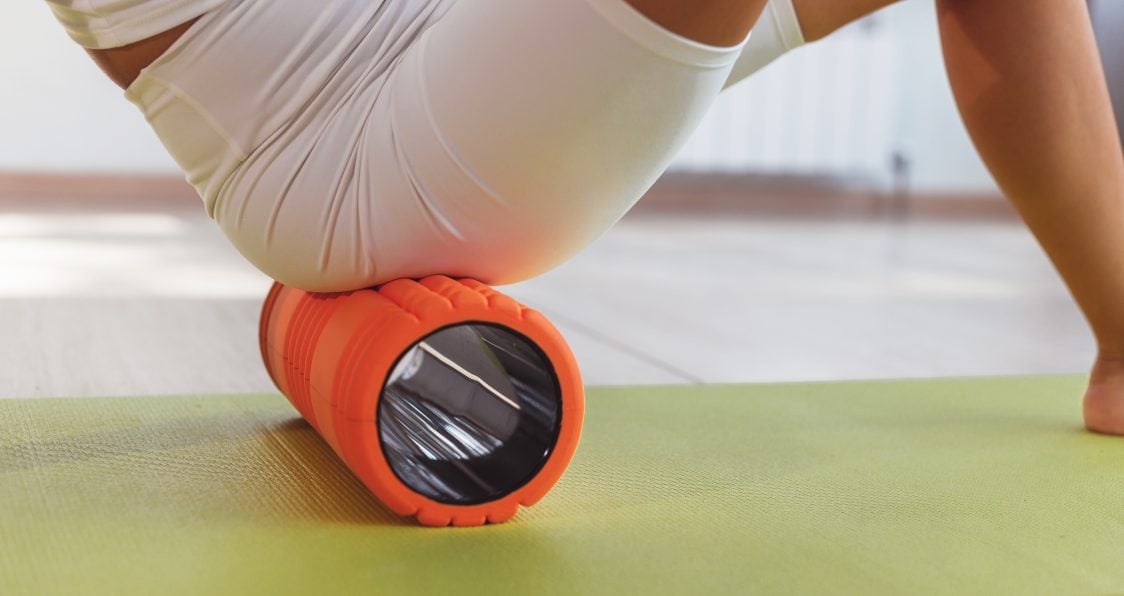 FAQ Section
What is the best foam roller?
TriggerPoint GRID Foam Roller. This foam roller features a multi-density exterior built around a hollow core tested for durability and effectiveness to target all those sore spots for the best muscle recovery. For your travel needs, this is the best travel foam roller as well.
How often should you foam roll?
You can use a foam roller every day. How often you use it is up to you and your workout routine, but recovery and a good rehab routine is advised after every workout. This is the perfect time to use a foam roller.
What is the best way to use a foam roller?
Finding those spots that hurt and targeting those specifically is the best way to use one. For general recovery, lying on a muscle group and gently rolling around will loosen up those muscles so you feel relief.
Wrap Up
Foam rollers are extremely useful tools and for anyone who works out they are a must to have in your gym bag or at home. Able to provide solid muscle relief, rid the body of pain and tension, increase flexibility, mobility and blood flow, and promote a better overall lifestyle, the best foam rollers for back pain, along with the best muscle roller stick or roller balls, are all much needed recovery tools. Look at these top foam rollers and other rolling tools and see which one is right for you. Feel good in knowing that there are affordable options to help you handle all of your muscle recovery needs from the comfort of your own home is a huge plus for your gains.
---
Generation Iron may receive commissions on purchases made through our links. See our disclosure page for more information.
Let us know what you think in the comments below. Also, be sure to follow Generation Iron on Facebook, Twitter, and Instagram. 
References