These squat racks are perfect for that extra garage space or corner in the basement to give you great growth at home while not sacrificing any upper or lower body gains.
Having an at-home gym may seem like a luxury when it comes to space. We see social media influencers and others with stellar home gyms packed full of equipment that we would all die to have. But the truth is, it isn't as much of a dream as you'd think. Squat racks are great pieces of equipment that can be placed in your garage, basement, or wherever you can find extra space and work to give you a sense of the gym while in the comfort of your own home.
A squat rack would be an important piece in your home gym, and while you may need to get other equipment like a barbell or plates, that is all very solvable. Knowing what to look for is half the battle and this list of the best squats racks will put you one step closer to achieving that. Able to perform a variety of exercises with these racks, you will notice an increase in strength, power, and endurance all while never leaving home. Although your busy schedule can limit you when it comes to working out, having the luxury of working out from home shouldn't be difficult with good power racks.
We've put together a list of the Best Squat Racks for 2021 which include other features to enable full body workouts to take place. Affordable, versatile, and convenient, you deserve to have your home gym be a place of gains and growth with some of the best power racks. Here are the best squats racks for 2021.
Best Squat Racks Of 2021
---
Best Overall Squat Rack: Songyang Multi-Functional Power Cage
Songyang Multi-Functional Power Cage is a commercial quality, thick, heavy duty steel squat rack designed for all of your workout needs. Able to support a variety of exercises, this piece of equipment is virtually a total gym in your home. Anything from squats, deadlifts, bench press, dips, pull-ups and more can be performed using this cage and a high and low pulley system adds that extra chance for upper and lower body exercises. With bar heights and a weight capacity of 1,000 lbs., this multi purpose equipment cage can save you money and space. With four uprights for sturdiness and durability, you never have to worry about your safety with this power cage.
Pros: Able to support a host of exercises with the added benefit of a pulley system that includes a pull dimension. Durable and sturdy with added support. Adjusting racks can hold up to nearly 1,000 lbs.
Cons: High in price and may be too big for certain spaces.
Price: $779.99
---
Best For Versatility: Fitness Reality 810XLT Super Max Power Cage
Fitness Reality 810XLT Super Max Power Cage comes with two chrome dual mounted safety bars and two chrome lock-on safety.  Each of the bars can hold up to 800 lbs. and can be adjusted with 19 levels to give you full access to any height. Ideal for squats, shrugs, pull-ups and presses, you'll find everything you need to perform those strength-training exercises you need for growth. Even though it is rather large in size, the versatility of this squat rack is great for you can get a full body workout, work all different muscle groups, yet still have space for this to live at your home and be easy to use to make sure you have space.
Pros: Easy assembly and good dimensions for whatever space you need. Can hold up to 800 lbs. with 19 levels. Great for strength-training goals with exercises like squats.
Cons: Durability issues with certain parts not as supportive as they should be. Product is rather thin and flimsy.
Price: $242.47
---
Best For Efficiency: Papababe Power Rack Power Cage Workout Station
This heavy duty and durable squat rack from Papababe can hold up to 1,200 lbs. in weight and 400 lbs. for the pull-up bars. The safety bars are designed with double sleeves to enhance weight cushioning for safety and 26 holes allows for any position or posture you desire for your intended exercise from the J hooks.. The built in pull-up bar is great for ab work and exercises like pull-ups and there is plenty of space to perform anything from the bench press, squat, and other muscle-training exercises. Four bolt holes are included so this won't wobble and this is a good squat rack to have an efficient routine for best power and increased wide lifting capacity.
Pros: Heavy duty and sturdy frame holding up to 1,200 lbs. With 26 holes, you can find your optimal position for exercises and there is plenty of space to do so making this a good purchase.
Cons: The one size bolts of 0.8'' are unique and no additional attachments can fit. No where to stack weights is not the end-all be-all, but would be nice.
Price: $299.99
---
Best For Beginners: Doeplex Multi-Function Adjustable Squat Rack
Doeplex Multi-Function Adjustable Squat Rack is a durable and sturdy rack made from high quality steel with an enhanced frame for extra support. With 12 adjustable levels for different heights, this frame can support up to 550 lbs. The added dip station is a nice touch to work those triceps and offers an anti-slip grip for support and protection. The multi-function and multi-grip design offers a retractable base and is great for beginners to learn how to use a rack, as well as perform certain exercises. Able to adjust in height and easy to move for accessibility, this is a great squat rack for beginners looking to start their muscle-building journey that allows you to perform well with this fitness equipment for better lifting capacity without buying a machine.
Pros: Durable and sturdy from high quality steel with 12 adjustable levels. The dip station with anti-slip grip is a nice touch for dip bars. The retractable base offers a quality multi-function design making this a good purchase.
Cons: Durability concerns with smaller attachment parts. Not quite able to support the advertised 550 lbs.
Price: $169.99
---
Best For Durability: Titan Fitness T-3 Series Squat Stand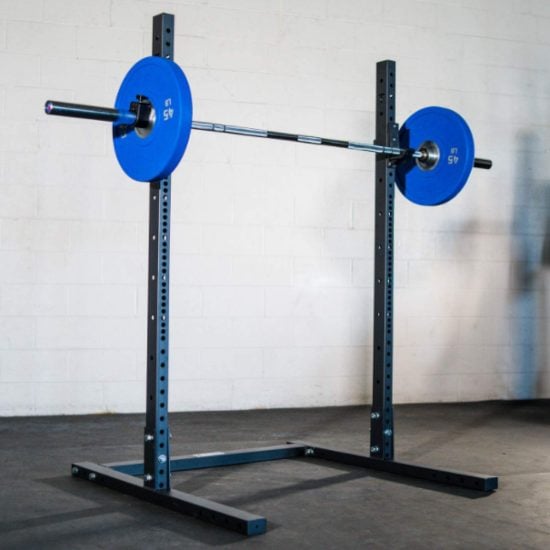 This short squat stand from Titan Fitness is heavy-duty with a bolt together base for easy set-up and movement, while also being durable and sturdy. The pair of J-hooks included can hold up to 1,000 lbs. in weight and protect the bar's knurling and from scratching. With no cage attached, the durability of this Titan product is great with the added bonus of easy movements from one room to the next if need be. Perfect for any of the big three powerlifting lifts, as well as a host of other muscle-building exercises to form that shredded physique with added depth, Titan Fitness T-3 Series Squat Stand is great for durability and increased capacity with things like presses from a good station.
Pros: Versatile and durable for easy to move access and convenience and not very tall. Holds up to 1,000 lbs. which is great for those who lift big, including elite athletes who lift and are serious about  equipment that isn't expensive and is easily stable.
Cons: No cage so bodyweight workouts are challenging for a solid, standard routine and some racks cost less.
Price: $249.99
---
Best For Adjustability: UBOWAY Barbell Adjustable Rack
UBOWAY Barbell Adjustable Rack is a heavy steel structure able to hold up to 550 lbs. for safe and secure lifts to ensure durability. The benefit to this rack is it is a multi-functional piece of equipment with 2 adjustable barbell storage racks which allow you to perform a variety of exercise and lifts with added depth. The T-shape base is great for enhanced stability of the whole rack and won't fall over with repeated use. A great adjustable and easy to store and set-up rack, UBOWAY is a the perfect fitness power rack for adjustability and maximum capacity.
Pros: Easy set-up and storage for great convenience and small spaces for extra room for plate storage and floor space in a garage. Durable and sturdy for safety while holding up to 550 lbs. while not being very tall. Low in price is nice for users of every level for a great saving.
Cons: Durability concerns with the plastic pieces attached to the rack and sturdiness to the floor which should be standard.
Price: $129.89
---
Best For Value & Space: Yaheetech Adjustable Squat Rack Pair
Yaheetech Adjustable Squat Rack Pair is a practical piece of equipment most suitable for lifts like the squat and bench press. Made from high quality steel, the maximum load on this rack is 441 lbs. The stands do have anti-skid pads to avoid damage and provide increased security which is a nice feature. With 14 safety pins, you are able to explore the best height for you and with each of these stands separate from one another, you can adjust to whatever you want and they are easy to move and store. For the value and the space, Yaheetech's product is a good option.
Pros: Practical in terms of storage and price with each stand separate from the other. Holding 441 lbs. is not bad considering they aren't attached. Budget friendly and easy to assemble for this gym equipment that won't beak the bank.
Cons: No cage eliminates some exercises from your at-home routine. Each leg is separate so sturdiness is questioned at times with what this rack offers.
Price: $94.99
---
FAQ Section – Squat Rack Essentials
What is the best squat rack for my at home gains?
Songyang Multi-Functional Power Cage. This rack is durable and sturdy with a host of options to perform a great workout. Able to support 1,000 lbs., the pulley system attached will give you opportunities to see huge growth.
Why do I need a squat rack if I can do other exercises?
A squat rack will seriously enhance your home gym and allow for greater opportunities for you to enhance your gains. The luxury of a squat rack at home alleviates stress of the gym and you can take your fitness journey to new heights.
Do I need a cage in order to optimize my gains, or can I go without?
Some squat racks offer the cage which allows for more durability and the opportunities for pull-ups and other bodyweight exercises. A cage is not needed and some on this list are great options to provide for big lifts and that desired muscle growth.
Wrap It All Up
Squat racks have the ability to really enhance your home gym and offer great variety to your workouts. While a home gym is a luxury, it doesn't have to be out of your realm or budget. These squat racks have full functionality and can assist with a host of other things as you start your journey towards big gains. Check out our list and find the best squat rack to beef up your home gym today.
Generation Iron may receive commissions on purchases made through our links. See our disclosure page for more information.
Let us know what you think in the comments below. Also, be sure to follow Generation Iron on Facebook, Twitter, and Instagram.