These multivitamin supplements can enhance your overall health so you thrive both inside and out of the gym.
A multivitamin is one of those supplements that should absolutely be in your diet and supplementation routines. Especially for active men, too often do we find ourselves deficient of those essential vitamins and minerals that we desperately need in order to stay on top of our game. Packed full of valuable vitamins and minerals, as well as other essential nutrients, multivitamins have extremely helpful benefits to our health functions, cognitive abilities, and physical maintenance of our bodies. These top multivitamin supplements are exactly what you need as active men seeking to support a healthy lifestyle.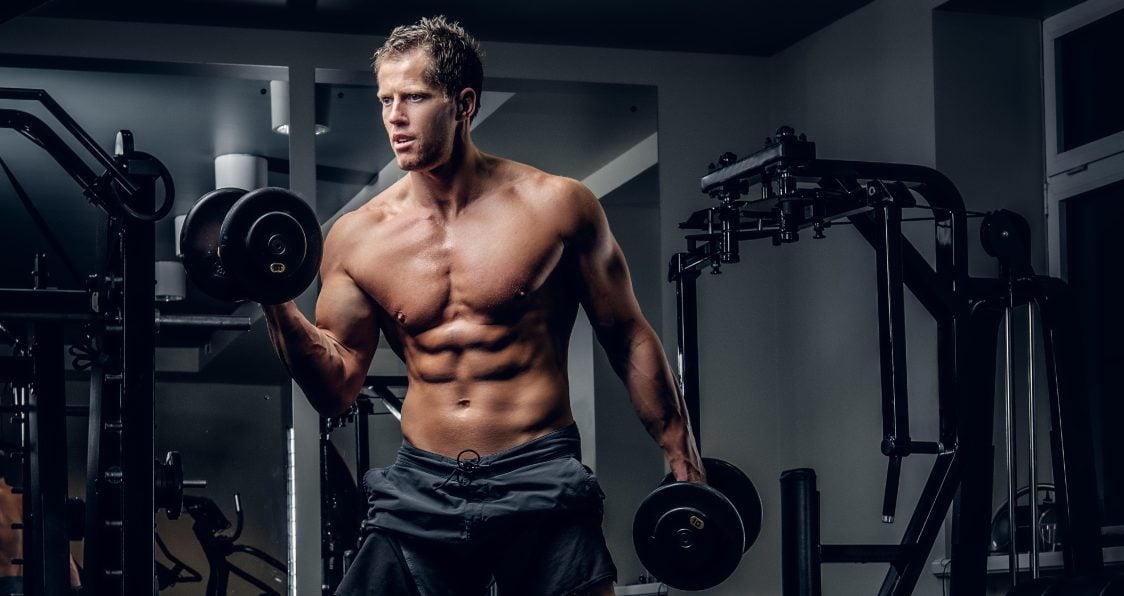 Benefits Of Multivitamins
The benefits of multivitamins cover a wide range of areas including valuable health functions, cognitive capabilities, and physical maintenance and care of our bodies (1). These benefits include:
Increased energy: Offer that vital boost of energy to power you through your day and any workout.
Better immunity: Offer support to your immune system to fight off any nasty viruses (2).
Muscle maintenance: Give your body time to repair those muscles you work so hard for.
Nutritional support: Fill in any areas where you may be deficient, so your diet is well-rounded and balanced (3).
Cognitive assistance: Help improve mood and focus, while raising your level of alertness.
We've put together a list of the Best Men's Multivitamins for 2021 so you can work to improve your overall health and wellness and really start to grind in the gym.
---
Best Overall Multivitamin: National Bodybuilding Co. Bodybuilder's Multivitamin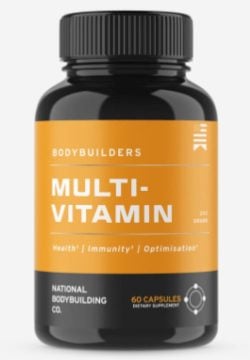 National Bodybuilding Co. Bodybuilder's Multivitamin is for anyone looking to boost performance, improve physique and/or improve daily wellbeing and immunity. The effects and benefits will be perfect for anyone looking to take their health seriously and develop their physique. Suitable for men of any age, this multivitamin will make you feel great so you can look great as you keep those muscles strong while shedding off fat knowing you are also improving your joint, immune, and overall health.
Getting the right vitamins and minerals into your body can develop new muscle and aid in performance and this multivitamin is a great formula for bodybuilders to add to your list for a well rounded vitamin. From increased immune support, the promotion of hormonal vitality, all the way to supporting recovery, National Bodybuilding Co. Bodybuilders Multi is a natural and safe multivitamin geared towards athletes to optimize all of their health and wellness needs. As a clean formula with 20 essential vitamins and minerals, you can be sure this has no harmful fillers or chemicals to ruin all of your hard work or put you in an unhealthy state.
Pros: Quick results to feel improvements and perform better. Advanced blend of ingredients perfect for athletes and has parallels with some t-boosters! Simple to use and stack with other supplements for great results.
Cons: Only available directly from their website.
Price: $29.00/ 60 capsules
Check out our individual review for National Bodybuilding Co. Bodybuilder's Multivitamin here!
Best Blend & Ingredients: Performance Lab NutriGenesis Multi For Men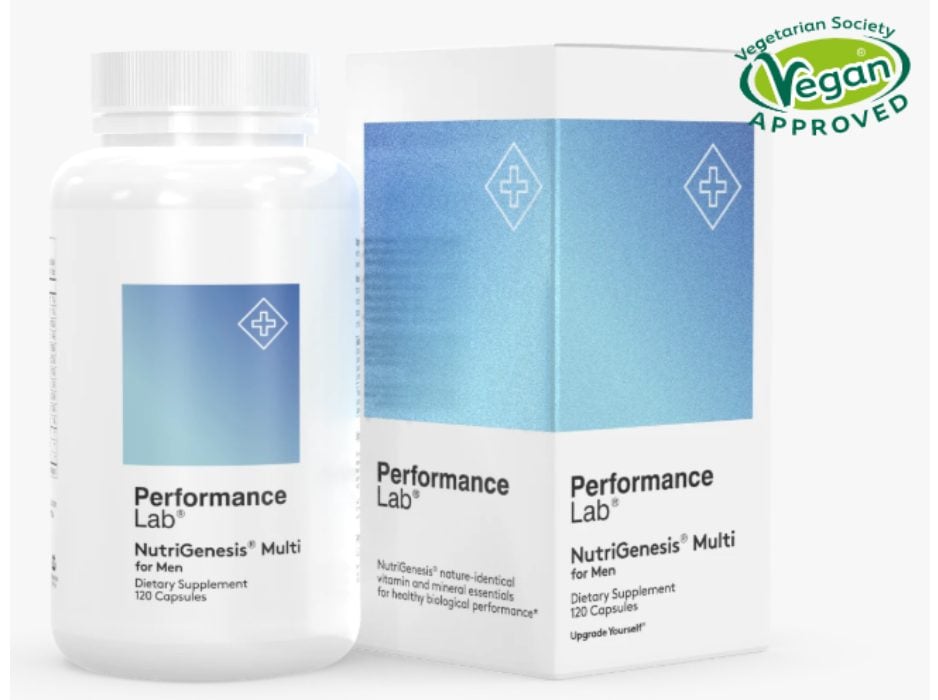 Performance Lab NutriGenesis Multi For Men is another great option as a multivitamin for men specifically formulated for bodybuilders to help with your supplement needs. Being non-GMO, as well as additive and allergen free, we found this to be a very appealing and healthy multivitamin. By working to restore nutrients missing from your diet, it supports healthy cell performance across all body systems.
Ensuring all of those vital nutrients make it into your body is super important for enhanced performance and overall health. This multivitamin uses a NutriGenesis technology to mimic nutrient genesis found in nature so their capsules are easily absorbed for all of your health and wellness needs. From improving cardiovascular health, metabolic performance, immune function, energy metabolism, muscle growth and function and many more benefits, this multivitamin has 17+ essential daily vitamins and minerals to round out a solid list of top-tier ingredients. With whole food cofactors for optimal absorption, all of these nutrients work for your benefit.
Pros: Contains a diverse group of vitamins to cover your overall health. An ultramodern design with patented technology, all natural ingredients, and a vegan-friendly formula.
Cons: It is only available directly from their website and is low in calcium and magnesium.
Price: $39.00 for 120 capsules
Check out our individual review for Performance Lab NutriGenesis Multi for Men here!
---
Best For Active Men & Women: Transparent Labs WellnessSeries Multivitamin
Transparent Labs WellnessSeries Multivitamin is an ultra-potent supplement for both men and women with an advanced formula to ensure your body gets all of the essential micronutrients. Created from bioavailable forms of key vitamins and minerals, it also ensures easy absorption of these key nutrients. From top to bottom, WellnessSeries Multivitamin will support your overall wellness and is iron-free for ease on the stomach.
With 22 active ingredients, WellnessSeries Multivitamin includes vitamins A, C, D, and K, as well as B1 and B12. Solid minerals like magnesium, zinc, selenium, and copper are just a few of the many vital nutrients Transparent Labs has added to this formula. For those looking to stay healthy and on top of their game with a great multivitamin, this supplement will ensure you absorb all of the nutrients in order to maximize each and every benefit.
Pros: Honest and accurate labels ensure that each ingredient is clinically dosed. A great immune booster with key vitamins and minerals. Gentle on your stomach and great for both men and women.
Cons: Only available directly from their website and four pills is a large serving size.
Price: $29.00/ 120 capsules
Check out our individual review for Transparent Labs WellnessSeries Multivitamin here!
---
Best For Immunity: Enhanced SuperHuman Immunity
Enhanced SuperHuman Immunity is a 3 in 1 formula designed to maximize immunity and defeat sickness to keep you in the gym and seeing those gains. Each dose is calculated and properly dosed to give you the best chance at seeing great results. With scientifically proven herbal botanicals, probiotics, and digestive enzymes, this supplement can also improve digestion and reduce fatigue.
With great ingredients like vitamin C and D, Echinacea, elderberry, and probiotics, all of these will work together to create a superhuman supplement for all of your gains. A money back guarantee ensures that Enhanced knows the true value of this product and that you will be sick less often, feel better overall, and recovery faster for serious growth.
Pros: Great mix of ingredients including vitamins and minerals, probiotics, and digestive enzymes. No proprietary blends and a money back guarantee is great.
Cons: Three capsules is a lot compared to others on the market of similar value with just one pill per serving.
Price: $25.99/ 90 capsules
Check out our individual review for Enhanced SuperHuman Immunity here!
Best Multivitamin For Men Over 50: Ritual Essential for Men 50+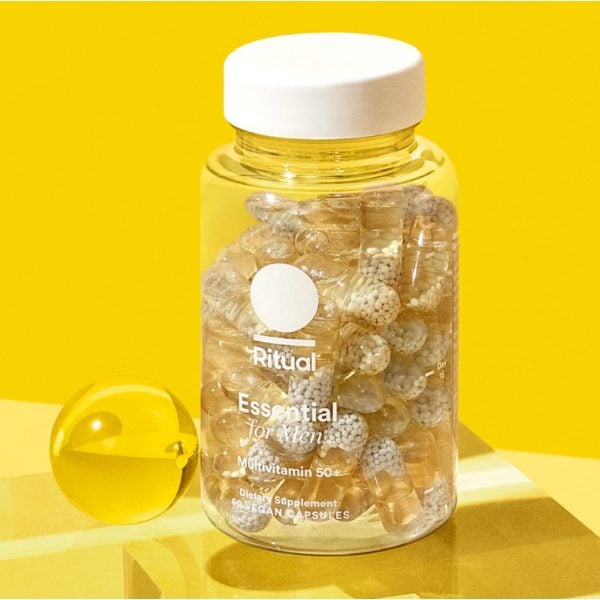 Ritual Essential For Men 50+ is a delayed-release capsule design that is vegan friendly, as well as gluten, allergen, and GMO free. With no artificial colorants or external fillers, this supplement is clean and safe for your health and wellness goals. With 10 traceable ingredients, this formula is great for men who need to fill in some missing nutrient gaps. Each ingredient can also be traced back to the source so you know exactly where it is coming from.
Ritual Essential contains key micronutrients to support key bodily functions including promoting heart health and bone health, as well as maintaining both. It will also help with keep normal muscle function for workouts and daily activity as well as normal immune function to keep your healthier overall. The smart capsule design allows for better absorption so all these nutrients hit you faster for optimal effectiveness.
Pros: Highly absorbable capsule that is well-priced with great ingredients. Knowing where the ingredients come from offers nice transparency.
Cons: Monthly subscription and is short on some vitamins and minerals that would be nice to see.
Price: $35.00/ month
Check out our individual review for Ritual Essential For Men 50+ here!
---
Best For Fitness: Optimum Nutrition Opti-Men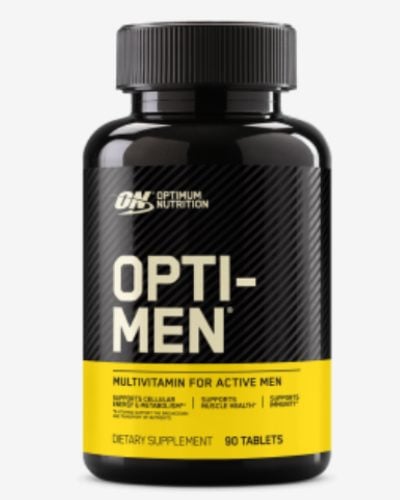 Optimum Nutrition is a leading brand because they have always delivered products which stood above the rest. This is a good daily multivitamin for bodybuilding that includes many ingredients worth taking. Opti-Men is nothing incredibly special but it's a good quality multivitamin which will meet your bodybuilding needs.
It has a complete vitamin and mineral profile so there's nothing to miss there. And it interestingly has a Phyto blend similar to the EVL multi with green tea extract to really boost energy. The "Viri Men Blend" has some nice additional ingredients to support men's health as well. Saw Palmetto may be beneficial for improving urinary symptoms of an enlarged prostate. And Ginkgo Biloba extract is added for its antioxidant properties.
Pros: Opti-Men has powerful blends that are great for foundational immune health in bodybuilders. Its complete vitamin and mineral profile offers a wide array of benefits for men's health and is a good choice to help you function properly.
Cons: The vitamin forms are not 100% ideal for absorption by your body once ingested. It is a good quality multivitamin but there is nothing obviously special about it.
Price: $19.99 / 90 capsules
Check out our individual review for Optimum Nutrition Opti-Men here!
---
Best With Complete Amino Acid Profile: Animal Pak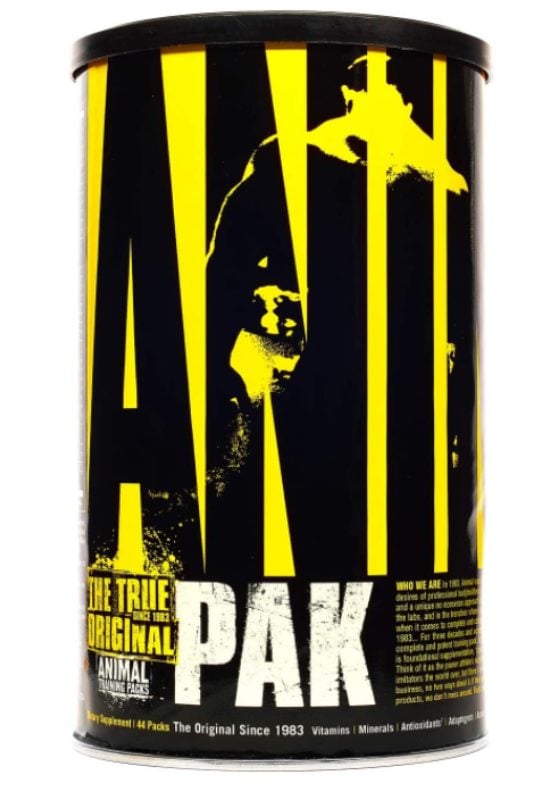 Animal came out with the Animal Pak in 1983 and has since evolved into a leading multivitamin manufacturer for the hardcore fitness addicts and this is a solid daily multivitamin for bodybuilding and building muscle. Their name (Animal) and packaging will no doubt hype you up before you even take your first serving, and that's another reason "beasts" choose Animal!
With this pack (Pak), there's no shortage of vitamins and minerals plus you'll get a top-notch liver blend, antioxidant, and digestive enzyme complex full of beneficial ingredients. For those hardcore athletes looking for a complete profile and seriously effective multivitamin to pair with their other top notch supplements, Animal Pak is the way to go.
Pros: This multivitamin is great for supporting lean muscle mass and constant anabolism. The unique blend also provides a good source for energy for those into hardcore fitness looking to build muscle and have great overall health from their daily intake.
Cons: The pills are large in size and for the price point there are other multivitamins worth exploring that are smaller with the same, if not more, amount of vitamins.
Price: $18.95/ 44 packs
Check out our individual review for Animal Pak here!

FAQ Section
What is the best multivitamin for men?
National Bodybuilding Co. Bodybuilder's Multivitamin. Not only is this supplement from a great company who cares about their consumers and the quality of their ingredients, but it is highly effective for great results. This multi can boost energy, provide for better workouts, support immune health, and keep key hormones in check.
Why should I take a multivitamin?
Too often do we miss essential nutrients, even when we follow a good, clean diet. A multivitamin can ensure we fill in any nutrient gaps, as well as promote areas we may be lacking in support, like immune health and hormone balances.
What is the difference between a multi for men and women?
Much of the difference lies in the nutritional needs for each gender. While both men and women need similar nutrients, certain ingredients like iron or calcium may be increased in a women's multi due to certain needs of their bodies. The same goes for men. However, there are multivitamins, such as Transparent Labs WellnessSeries Multivitamin that is suitable for both men and women.
When is the best time to take a multivitamin?
This depends on the supplement and brand you chose. It is very common to take a multivitamin in the morning when you wake you up, or before bed. But some products require 4-6 capsules as a serving size and you may space these out throughout the day. Reading the label is important to know exactly what to do to maximize your results.
---
Check out our list of the Top Multivitamin Supplements for other great multivitamin products!
---
Wrap Up
Multivitamins are effective in replenishing lost nutrients after intense training sessions. But, they also make a good daily supplement for maintaining good health and the right multivitamins for bodybuilding can make your training that much better and give you what your body needs. It is important to find the right multivitamin for you so you can tackle anything that comes your way. Check out this list of the Best Men's Multivitamins and see which one can advance your goals today.
Generation Iron may receive commissions on purchases made through our links. See our disclosure page for more information.
Let us know what you think in the comments below. Also, be sure to follow Generation Iron on Facebook, Twitter, and Instagram. 
References
Johns Hopkins Medicine. "Is There Really Any Benefit to Multivitamins?". (source)
Oregon State University (2020). "Multivitamin, mineral supplement linked to less-severe, shorter-lasting illness symptoms". (source)
National Institute of Health Office of Dietary Supplements. "Multivitamin/mineral Supplements". (source)