Everything you need to know about CoreSeries Krill Oil by Transparent Labs, a leader in krill oil supplements.
Product Overview
When searching for the right supplement to satisfy your omega-3 needs, many of us turn to fish oil, which is derived from fatty fish. But one omega-3 supplement may provide better benefits than the long sought-after fish oil. Krill oil is derived from cold-water crustaceans known as krill and can be absorbed better than fish oil, as well as contain more antioxidants. Transparent Labs CoreSeries Krill Oil is a great omega-3 supplement for all of your health and wellness needs and made our list of the best krill oil products for 2020.
CoreSeries Krill Oil is an elite health supplement for anyone looking for a superior source of nutrition that is low in accumulated contaminants. With safe and effective ingredients, CoreSeries Krill Oil is backed by science and is a safe and effective way to obtain the vital omega-3 fatty acids EPA and DHA. Krill oil also is attached to phospholipids as opposed to triglycerides, which are common in fish oils. This allows for better, more gentler assimilation in the stomach and cells.
Code GENIRON10 For 10% Off
Transparent Labs CoreSeries Krill Oil is a superior source of omega-3s that allows for more gentle absorption. Easy to digest, this will help promote better brain, heart, and joint health.
Transparent Labs has built a reputation of being a transparent and honest company when it comes to their products and labels. With no artificial sweeteners, coloring, or preservatives, CoreSeries Krill Oil is a high-quality and trustworthy omega-3 supplement.
Each product from Transparent Labs is manufactured in their state-of-the-art facility in Utah that is certified current good manufacturing processes (CGMP) and registered with the Food and Drug Administration (FDA). You can be sure these products are high-quality and honest because each batch is third party tested for accuracy. As a company that prides itself on transparency, Transparent Labs certainly lives up to their reputation.
---
See where CoreSeries Krill Oil landed on our list of the Best Krill Oil!
---
CoreSeries Krill Oil Highlights
CoreSeries Krill Oil offers the best for an omega-3 supplement. Its krill oil is exclusively extracted from Antarctic krill species, Euphausia Superba, which is rich in the omega-3 fatty acids Eicosapentaenoic acid (EPA) and Docosahexaenoic acid (DHA). Using phospholipids, as opposed to triglycerides, separates krill oil from fish oil by being easier on the body when it comes to ingestion.
Krill oil has been found to increase glucose metabolism in the liver, enhance lipid metabolism, and lower cholesterol synthesis. With no reflux or fishy aftertaste, on top of the superior levels of omega-3 fatty acids, CoreSeries Krill Oil can support brain, joint, and heart health with a high-quality, mercury free supplement.
Ingredients
Superba Krill Oil
Superba krill oil contains four main components for making this supplement great for your health. The essential fatty acids EPA and DHA have a wide range of benefits from aiding in heart and brain health, as well as promoting benefits for your eyes and liver. Phospholipids assist in omega-3's integration into the cell membranes which allows for better delivery to your organs (1). Since our bodies cannot produce enough choline, we need to obtain this vital nutrient somehow and krill oil is great for it. Choline supports nerve signaling, as well as liver and muscle functioning (2). Unlike fish oil, which tends to be yellow in color, krill oil is red as a result of astaxanthin, which eliminates the need to add any harmful additives or preservatives.
Phospholipids
Phospholipids are much gentler on the stomach and are more readily absorbed by the body. They are important components of the cell, both on the surface and within. Phospholipids promote the passage of molecules into the intestinal wall and increase the rate of absorption (3) allowing for your body to effectively take in those vital omega-3's.
Omega-3 Fatty Acids
One of the two omega-3 fatty acids included in CoreSeries Krill Oil is EPA, otherwise known as Eicosapentaenoic acid. Found primarily in cold-water fatty fish, EPA is known to have great effects on the body and contains strong anti-inflammatory properties (4). It can also decrease symptoms in many diagnoses, including depression, heart, lung, and kidney disease, obesity, and a host of others.
DHA, also known as Docosahexaenoic acid, is the other omega-3 fatty acid found in CoreSeries Krill Oil and is great for brain development and maintenance. As a predominant structural fatty acid in the central nervous system, DHA can promote learning capability and academic performance (5) and has great benefits for diseases like arthritis, depression, and hypertension.
Astaxanthin
Astaxanthin is a carotenoid, which is a fat-soluble pigment that provides color. It can increase blood flow and improve oxidative stress by suppressing lipid peroxidation (6), which is the oxidative degradation of lipids allowing for fatty acids to be used for energy. Astaxanthin is also a powerful antioxidant that can suppress free radicals which can cause harm to your body's cells (7).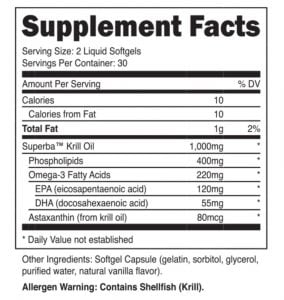 Price
CoreSeries Krill Oil is a safe, effective, and easy supplement to add to your dietary regimen and is great for those looking for a superior source of nutrition. At a price of $29.00 with 30 servings per container, this product is affordable and is easily digested with no reflux or aftertaste.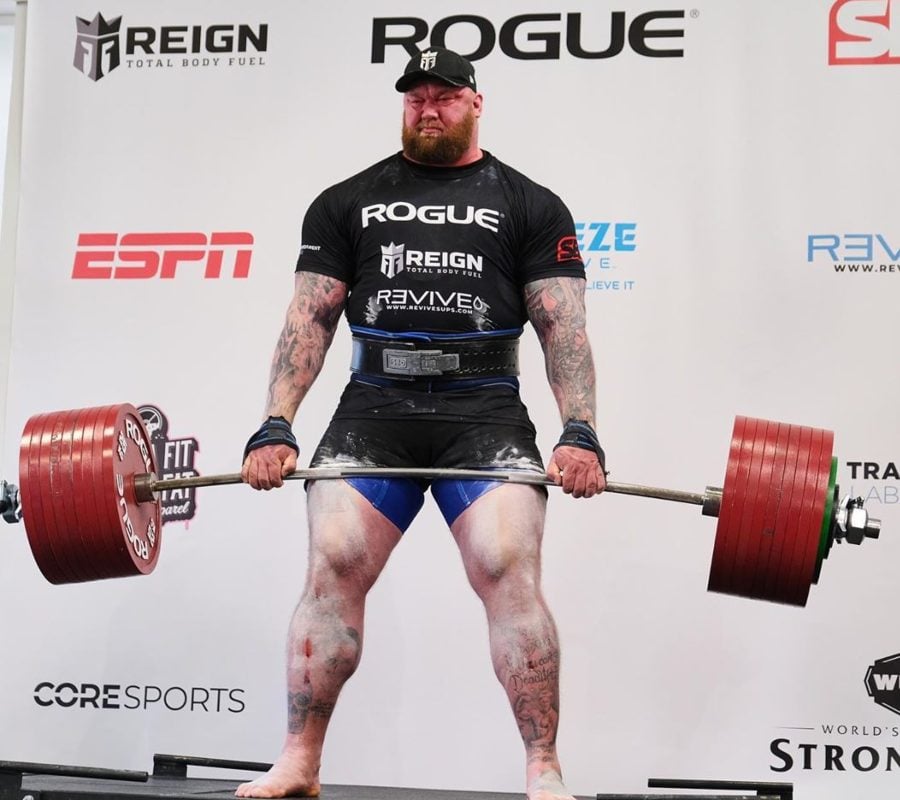 Sponsored Athlete
Former Icelandic strongman and actor Hafþór Júlíus Björnsson works with Transparent Labs in their quest to bring the best supplements to the table for consumers. His strongman career gave him great notoriety and he was the first to win World's Strongest Man, Europe's Strongest Man, and the Arnold Strongman Classic in the same year. His acting career is defined by his role as "The Mountain" on HBO's Game of Thrones. Björnsson uses Transparent Labs and their products to elevate his performance and advocate for high-quality products for all consumers.
Overall Value
Transparent Labs CoreSeries Krill Oil is a great omega-3 fatty acids supplement with a host of other benefits to boost your overall health and organ function. Its ability to reduce inflammation, aid in heart and brain health, and use fatty acids for energy are just a few advantages for choosing this supplement. As a consumer, you know exactly what you're getting with this product from a company who prides itself on transparent ingredients and honest labels. What you are really getting is a solid supplement with no added sweeteners, coloring, or preservatives that is gentle on your stomach to support your overall health and wellness.
Try CoreSeries Krill Oil at Transparent Labs Today
Generation Iron may receive commissions on purchases made through our links. See our disclosure page for more information.
Let us know what you think in the comments below. Also, be sure to follow Generation Iron on Facebook, Twitter, and Instagram. 
*Images courtesy of Transparent Labs and Hafþór Júlíus Björnsson Instagram
References