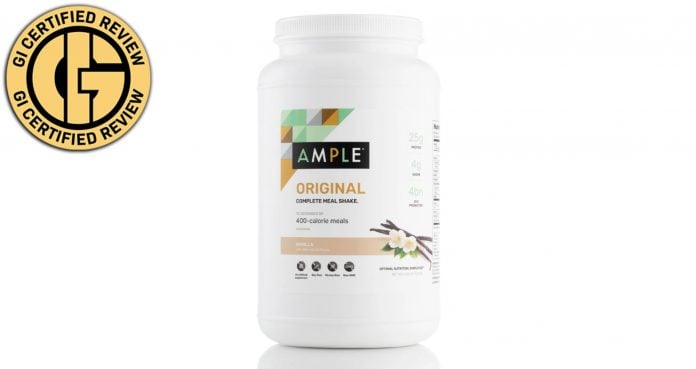 A complete, low-carb meal made from real food ingredients for the ultimate meal replacement shake.
When looking for a good meal replacement shake, it can be challenging to find one that is healthy and full of everything you need to help power you through the day. The fine balance lies in the amount of macronutrients, being carbs, fat, and protein, and if it matches our diets or particular lifestyle. While it is best to get as many nutrients as you can from whole foods, you should never deprive yourself of those much needed vitamins and minerals. A high quality meal replacement shake will elevate you to the next level in performance and pump you with all of those essentials so you never miss anything.
Ample Bulk Canister Meal Replacement
Ample Complete Meal Shake Bottles are protein-rich, low-carb, complete meal shakes made from whole foods to optimize your nutrition. Made with 20+ super foods, these will pump you with all the essentials for performance and overall health.
Ample Bulk Canister Meal Replacement is designed for those constantly looking for meal replacement shakes and this allows the opportunity to buy more with more bang for your buck. Our busy schedules can be overwhelming and often times we skip out on food, ultimately leading to a snacking binge, or a late night cheat meal. But with Ample meal replacement shakes, you will stay full and eliminate unwanted snacking with something full of only the best ingredients.
Ample's mission is to bring consumers the best products so they can make eating well just more simple. Nutrition is key in getting that shredded physique and too often does this fail us, forcing us to look for yet another way to stay on track. Ample believes health, convenience, and taste should not be treated individually but together. Backed by science and nutritional research, Ample seeks to only better the lives of their consumers for whenever they come calling.
Ample started as a way for the founder's close friends to get ample meals when studying or working crazy hours. What started at a micro level soon took off into a macro business, thus giving everyone the opportunity to eat well. Staying on the cutting edge of the market and nutritional science, their products reflect hard work and exactly what people need.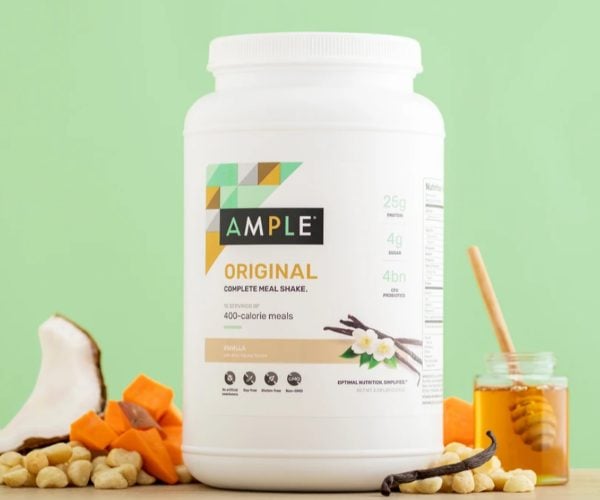 Ample Bulk Highlights
Ample Bulk is a complete, low-carb meal made from real food ingredients all in one bulk canister. Designed and formulated with 20+ superfoods, Ample is the optimal breakfast or lunch to keep you full and focused. The superfoods include premium fats, proteins, fibers, antioxidants, electrolytes, and probiotics. Ample adds zero artificial additives or fillers so you can be sure no extra added nonsense ingredients will come and ruin this great meal replacement product.

The benefits that come along with Ample Bulk will surely tempt you to try this great product. It can keep you full for up to 4+ hours and is a complete meal in only 30 seconds. This will allow your body to burn fat for fuel while preventing any unwanted snacking and cravings from attacking. It will support digestion as well as gut health, support muscle growth and maintenance, as well as increase focus by providing a serious boost in energy. With four great flavors and great ingredients, you will never get bored with this product. With options for the keto diet, dairy free, or high protein, all of your dietary needs will be handled with this great bulk canister.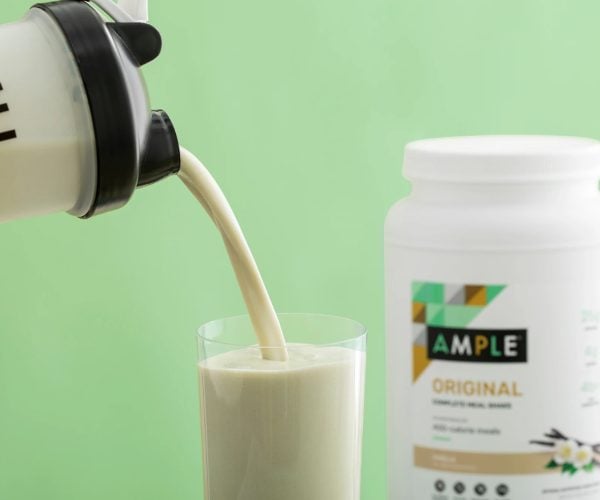 Ingredients
Some ingredients may vary slightly depending on the product, for there are ketogenic, dairy-free, and high protein options, but these ingredients reflect the Vanilla- High Protein flavor.
Calcium: Essential for bone and teeth health and is the most abundant mineral in the body (1).
Vitamin D: Works for a host of benefits like strengthens bones, serves as a building block for sex hormones, and allows calcium to work properly.
Grass-Fed Whey Protein Concentrate: Complete with BCAAs to stimulate protein synthesis and EAAs to enhance it, this will affect muscle growth and your overall health (2).
Coconut Oil: Rich in MCTs, they can be used quickly for fuel in muscles and your brain while also aiding in the immune system.
Chicory Root Fiber: Can promote immunity, improve digestion and aid in your overall health when it pertains to insulin (3).
Pea Protein: A top tier plant-based protein that can aid in muscle growth and seriously enhance recovery (4).
Organic Sweet Potato Powder: Low in sugar and can digest slowly to promote fullness. Contains a powerful antioxidant called anthocyanin.
Organic Wheat Grass: Contains many nutrients and has great anti-inflammatory properties (5).
Monk Fruit Extract: A natural and no calorie sweetener to provide for that sweet taste without the guilt.
Other Ingredients: Iron, magnesium, acacia fiber, high oleic sunflower oil, whole grain oat powder, grass-fed hydrolyzed collagen protein, macadamia nut oil, sunflower lecithin, natural flavors, dried honey, sea salt, organic psyllium husk, lemon juice powder, organic barley grass, organic guar gum, cinnamon, stevia extract, probiotic blend
Price & Effectiveness
Ample Bulk comes with one canister equaling 15-30 meals. There is the option for one scoop or two scoops per serving which would judge the number of meals you would receive in each container. With four great flavors, each comes at a price of $79.00. The four flavors include:
Vanilla- High Protein
Chocolate- Keto Friendly
Vanilla Cinnamon- Keto Friendly
Berry- Dairy Free
Pros: All natural ingredients is a huge plus and the number of probiotics is great. Able to keep you full for 4+ hours with other benefits while also coming in great flavors.
Cons: A premium priced product and some of the ingredients are not fully quantified on the label.
Overall Value
Ample Bulk Canister Meal Replacement is a really great meal replacement product to tackle all of your health and wellness needs. As a complete, low-carb meal made from all natural ingredients with no added fillers or preservatives, you know exactly what you are getting with this formula made from 20+ superfoods. With four great flavors, each geared towards specific needs, you won't be disappointed with the taste or results. What you are really getting is a high quality meal replacement from a great new company with awesome flavors and results. Try Ample Bulk today and work to satisfy your cravings right away.
Try Ample Bulk Meal Replacement Today
Generation Iron may receive commissions on purchases made through our links. See our disclosure page for more information.
Let us know what you think in the comments below. Also, be sure to follow Generation Iron on Facebook, Twitter, and Instagram. 
*Images courtesy of Ample
References