These meal replacement products are great for keeping you full while giving you all the essentials to see great gains with your training and performance while keeping you full with valuable nutrients.
Meal replacement shakes have grown in popularity for those with busy schedules who don't have the time to sit and prepare a home-cooked meal. As an efficient system to load up on the essential nutrients and pack us full of those vital macronutrients, the benefits of meal replacement supplements are hard too ignore. Portable and accessible options, these are great tasting options to substitute for a meal. It should be said that the best way to get all these essentials is from whole foods, but for those who struggle with this, meal replacements are a solid option to get you where you need to be from a nutritious meal while feeling full.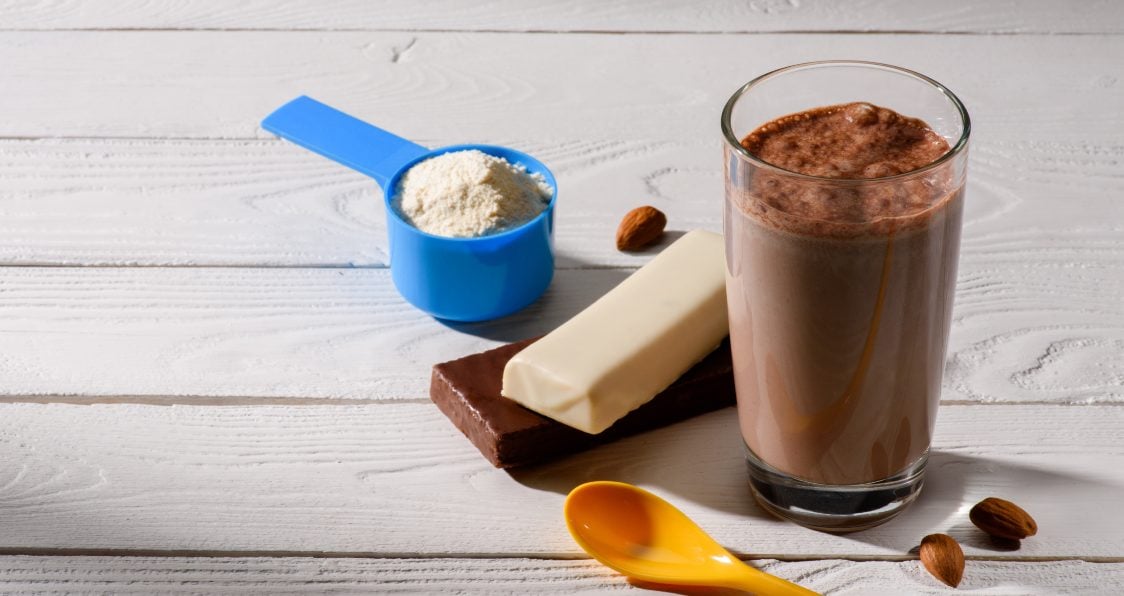 Benefits Of Meal Replacement Shakes For Gains
The benefits of meal replacements can seriously affect our gains inside and out of the gym and lead us to living a healthier lifestyle. Benefits of meal replacements include:
Supporting weight management: High in protein with balanced macronutrients, these are a solid way to track calories and ensure you get something into your body (1,2).
Perfect for busy schedules: Great for grab and go options, these can fuel you wherever you are.
Have amazing ingredients: A variety of ingredients are offered to aid in all aspects of our overall health.
Affordable and convenient: A quick source of fuel at an affordable price for easy convenience.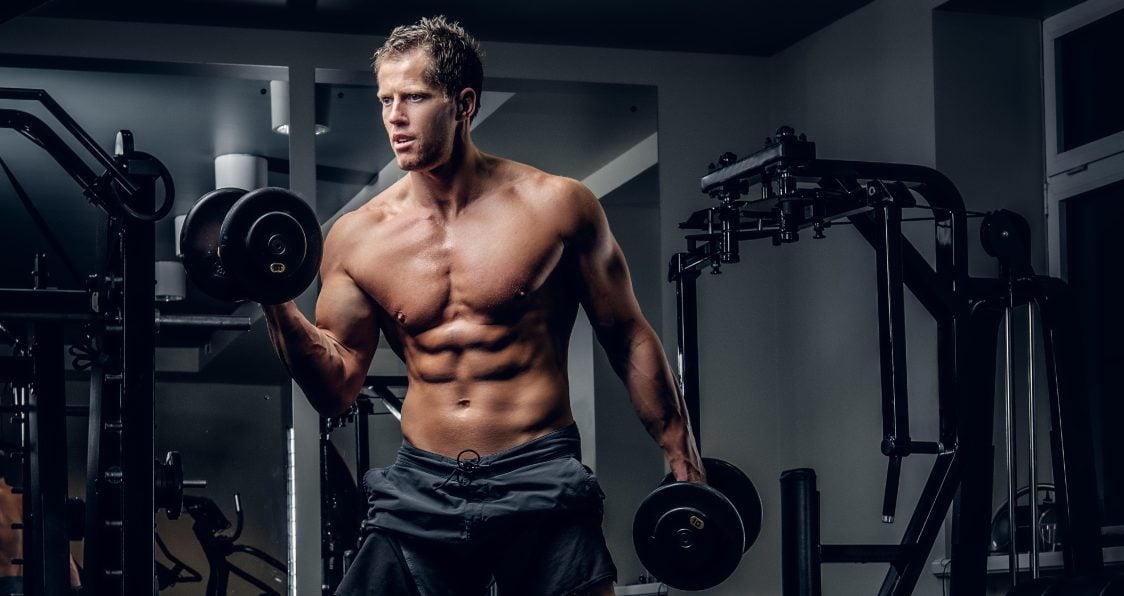 We've put together a list of the Best Meal Replacements for 2021 to make your choice a little easier. These products taste great, contain solid ingredients, and can offer the benefit of really enhancing your gains and aiding in a better lifestyle.
---
Best Overall Meal Replacement Shake: Ample Complete Meal Shake Bottles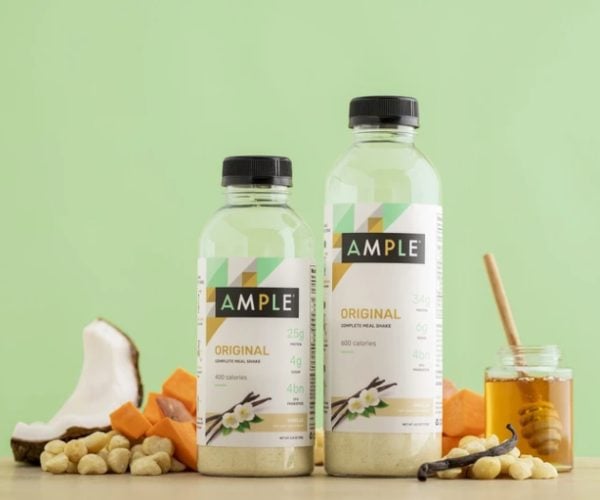 Ample brings this low-carb, complete meal shake to you made from real food for the optimal breakfast or lunch replacement shake. Made from 20+ superfoods, this shake can pump you full of premium fats, proteins, fibers, antioxidants, electrolytes, and probiotics. There are two options for this product including a 400 calorie bottle and a 600 calorie bottle. Ample Complete Meal Shakes are gluten, soy, and BPA free and contain zero artificial sweeteners, flavors, or sugar alcohols. A great product for muscle growth and maintenance, increased focus, and gut health, this is one of the best meal replacements for a whey protein shake to drink without sweeteners for your diet.
Pros: A solid balance of macronutrients and no artificial ingredients is a huge plus. Good probiotic bacteria for gut health and amazing choices for ingredients to give you what you need with low calories with nutrient value.
Cons: Lacks some vitamins and minerals we would like to see and no mention of omega-3's is disappointing. It is also a fairly expensive product.
Price: Two options: 400 calorie bottle is $90.00 for 12 meals and the 600 calorie option is $108.00 for 12 meals.
Best Meal Replacement Shake For Women: IdealShape IdealShake Meal Replacement Shake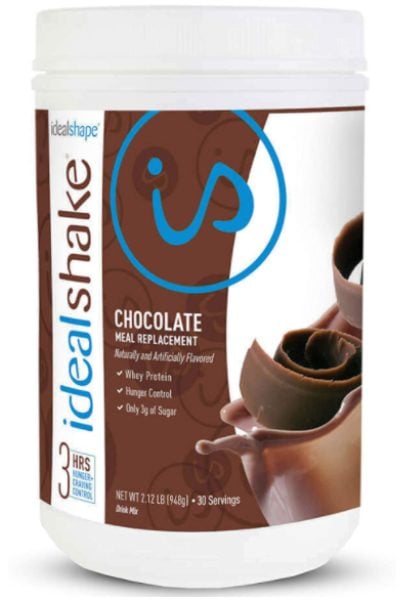 IdealShape offers this great meal replacement product designed to see your weight loss and fitness goals come to life. This shake is designed to block hunger and increase fat loss and is easily digestible and absorbed by your body. This ensures all of those vital nutrients get to you faster. Created with a hunger blocking blend, this product has a blend of protein, fiber, and Slendesta, which is a potato protein extract, which is designed to eliminate snacking. With 120 calories per serving, this can ensure no cheating on your diet with this protein shake that is high in protein plus nutrient value.
Pros: Very filling with great flavors makes this an effective and great tasting product. Contains good digestive enzymes and solid vitamins and minerals. Good ratio of macronutrients and low in calories for this meal replacement powder.
Cons: Does contain artificial ingredients, like maltodextrin, and is low in certain minerals you would want more of, like potassium.
Price: $32.99
---
Best Meal Replacement For Bulk: Transparent Labs ProteinSeries Mass Gainer
This pure formula from Transparent Labs is loaded with essentials to give you serious growth and better overall health and wellness. Designed to enhance lean muscle growth, this is a safe and effective way to pack on muscle and healthy weight. With 750 calories for a two scoop serving size, this mass gainer is loaded with 53 grams of protein per serving. With no artificial sweeteners, food dyes, or harmful additives, this product is transparent with its label and high quality with ingredients great for pairing with whey protein or other protein drinks so you feel full while getting the right protein content with this powder.
Pros: Great for lean muscle growth and perfect for a meal replacement or paired with a grass fed whey protein supplement. Great ingredients and no artificial additives for a transparent label. From a reputable company in Transparent Labs.
Cons: A premium priced option only available directly through their site.
Price: $65.00
Best Meal Replacement For Taste: Premier Protein Meal Replacement
Premier Protein Meal Replacement is the perfect product to support fullness and immune health by pumping you full of great essential nutrients. With 30g of protein per serving, this is a great mid-day snack or post-workout recovery shake to help curb hunger and see great gains. Packed with 24 vitamins and minerals, this includes all essential amino acids and can support both immune and bone health. At 160 calories, this is one of those smooth and creamy protein shakes that is the perfect tasting on the go treat.
Pros: Great tasting and convenient at a solid price. Packed with great ingredients for solid benefits from a weight loss meal to lose calories.
Cons: Some have reported "stringy-like" substances in the drink, but that could be because they weren't shaken well. May have a slight powdery aftertaste.
Price: $23.99 for 12 pack
---
Best Meal Replacement For Energy: SlimFast Advanced Energy Meal Replacement Shakes
SlimFast Advanced Energy is a great product with solid benefits including enhanced energy lasting hours, digestive support with 5g of fiber, the ability to curb hunger, and a mass amount of protein, vitamins, and minerals so you get all the essentials quickly to help you lose weight. With 20g protein at 180 calories, this shake is conducive to any diet and makes weight loss and getting energy easy. Ready to drink with delicious flavors, this product is one that will seriously enhance all of your gains with ease and convenience without a protein powder yet still providing a great nutrition shake for your weight loss goals as you shed calories to replace a meal.
Pros: Good energy boost and great for digestion. Great ingredients to help keep you full and aid in weight loss while shedding calories to replace snacking.
Cons: May contain caffeine for those sensitive and the liquid may clump together and coagulate.
Price: $26.97 for 3 pack

Wrap It All Up
Meal replacement shakes are the perfect solution for many people replacing a meal who need a quick grab and go option with tons of benefits while still getting enough protein. Able to support a healthy lifestyle, these products are packed with essential vitamins and minerals, like protein and fiber, to ensure all of your dietary needs are covered with a low calorie option for fewer calories and muscle building. While it is always best to get these essentials from whole foods, sometimes our busy schedules just don't allow that. Give these meal replacement products a try and really see what they can do for you from a full meal similar to protein powders.
Generation Iron may receive commissions on purchases made through our links. See our disclosure page for more information.
Let us know what you think in the comments below. Also, be sure to follow Generation Iron on Facebook, Twitter, and Instagram. 
References
Treyzon, Leo; Chen, Steve; Hong, Kurt; Yan, Eric; et al. (2008). "A controlled trial of protein enrichment of meal replacements for weight reduction with retention of lean body mass". (source)
Kulovitz, Michelle; Kravitz, Len. "Do Meal Replacements Deliver Results?". (source)