Everything you need to know about Transparent Labs Mass Gainer to build effective muscle.
Product Overview
Mass gainer supplements have become increasingly popular for bodybuilders for those looking to put on increased muscle mass. Providing people with a good amount of protein, carbs, and fats, the intention is to give people a high-calorie supplement to meet their daily caloric intake while promoting healthy weight gain. Transparent Labs ProteinSeries Mass Gainer is a great supplement for building muscle and gaining weight in an efficient manner.
ProteinSeries Mass Gainer is a supplement that has been designed for those looking to increase lean muscle mass with a pure and effective product. Backed by science, Mass Gainer offers high-quality ingredients to add to your dietary regimen as a supplement to your workout, or as a meal replacement.
Code GENIRON10 For 10% Off
Transparent Labs ProteinSeries Mass Gainer is great for packing on muscle and healthy weight. Perfect as a meal replacement or a mass gaining supplement, this product is pumped with protein and no added artificial substances.
Many times, mass gainer supplements are filled with junk ingredients and mysterious blends that you are not entirely sure of. However, Transparent Labs is a company who prides themselves on clean and transparent labels to ensure high-quality products and solid customer service. With zero artificial sweeteners, coloring, or preservatives, this mass gainer is made from clean ingredients with a label consumers can trust.
Transparent Labs manufactures all of their products in a state-of-the-art facility in Utah that is current good manufacturing processes (CGMP) and registered with the Food and Drug Administration (FDA). To ensure that you are not getting a sneaky dose of anabolics, (as some companies have been caught slipping these into their products) each batch of every product is third party tested for an accurate assessment of the quality and ingredients to assure consumers their products are clean and safe for all. If the nutrition label fits your diet, then this mass gainer is the perfect solution to your muscle-building and weight-gaining needs.
ProteinSeries Mass Gainer Highlights
ProteinSeries Mass Gainer is loaded with everything you need to enhance lean muscle growth to safely and efficiently pack on muscle and healthy weight, it is a good product for a nice lean bulk. This supplement is great for the perfect meal replacement, or a great weight gainer protein supplement to pair with a workout. The pure formulas included with this supplement provide amazing benefits for not only growth, but your overall health and wellness.
Mass Gainer offers 53 grams of protein per serving, which is derived from 100% Grass-Fed Whey Concentrate. At 750 calories for two scoops, you get 12 grams of fat and 109 grams of clean and natural carbs derived from organic tapioca, oat, and sweet potato sources. With no artificial sweeteners, food dyes, or harmful additives, you know exactly what you are getting with this mass gainer to ensure high-quality and healthy muscle growth.
ProteinSeries Mass Gainer Ingredients
Grass-Fed Whey Protein Concentrate
Whey protein concentrate differs from whey protein isolate because it undergoes less of a filtering process. Whey isolate tends to drop the carbs and fat as a result of the process, while whey concentrate provides a healthy dose of protein, carbs, and fat. Whey concentrate will keep you full longer and decrease those cravings (1) by lowering your blood sugar spikes to keep unhealthy foods away. Whey concentrate also contains glutathione, a strong antioxidant in the body that can reduce stress as well as boost your immune system (2). This source of protein has great effects on muscle growth and overall strength.
Creatine Monohydrate
Creatine is a chemical mostly found in the muscles, but also the brain, that is commonly used for increasing athletic performance and supporting muscle mass, as well as cognitive function (3). Creatine is best for turning leftover energy back into useful, more powerful energy. Adenosine triphosphate (ATP) gives your body's cells energy, but once that is used up from exercise or physical exertion, it turns into adenosine diphosphate (ADP), the phosphate by-product. Creatine helps turn ADP back into ATP for energy and recovery (4), boosting your overall athletic performance to keep your workouts moving.
Medium Chain Triglycerides (MCT)
Medium Chain Triglycerides, or MCT, is commonly found in coconuts or palm kernel oil and is great for people who have issues taking in fat or nutrients, those seeking weight loss, or appetite control (5), and providing extra energy during exercise. MCT allows your body to make ketones, a carb-less energy source for your brain and can keep you full longer while storing less fat.
Stevia & Monkfruit
Both of these sweeteners provide great flavor and are amazing alternatives to sugar. With very few calories, if any at all, each provides more flavor than sugar alone (6). With very few disadvantages, Transparent Labs stays away from artificial ingredients by using stevia and monkfruit in their Mass Gainer.
Other Ingredients: Organic tapioca maltodextrin, Hydrox cookie meal, natural cookies and cream flavor, coconut milk powder, VitaFiber, oat flour, sweet potato, and sodium chloride

Price & Flavors
ProteinSeries Mass Gainer is an effective supplement to add to your muscle-building and weight-gaining needs. Although it is more of a premium priced option, you are getting quality ingredients in a quality supplement. One 6.5 lbs. tub costs $79.99 and holds 15 servings per container.
The flavors include chocolate glazed donut and sweet vanilla.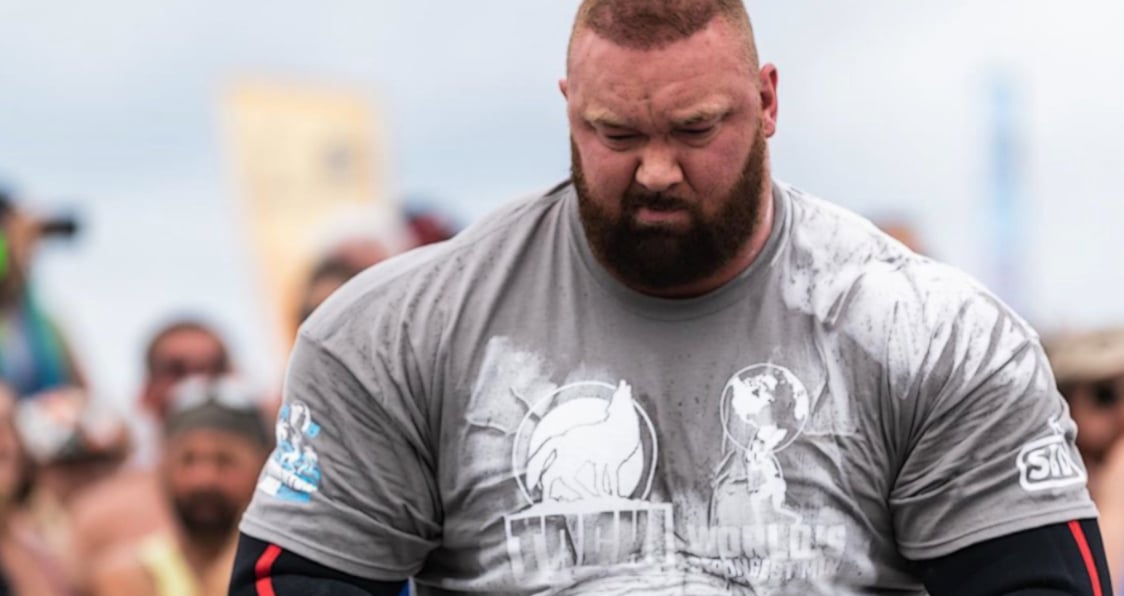 Sponsored Athlete
Strongman Hafþór Júlíus Björnsson works with Transparent Labs to bring high-quality supplements to consumers everywhere. As a force in the world of strongmen, he became the first to win the Arnold Strongman Classic, Europe's Strongest Man, and World's Strongest Man in the same year. As an actor, he is most recognizable for his role on HBO's Game of Thrones as "The Mountain". Björnsson uses his platform, along with Transparent Labs, to bring the best quality supplements to the world of health and fitness.
Overall Value
Transparent Labs ProteinSeries Mass Gainer is a great choice for those looking to put on muscle and healthy weight in a safe and effective way. Packed with high-quality protein, carbs, and fat, this supplement is the perfect solution to add to a workout, or act as a meal replacement. From a company that prides itself on transparency and clean labels, consumers can trust that the ingredients are pure and effective. What you are really getting is a solid mass gainer to aid in muscle growth with zero harmful additives or fillers from a company consumers can trust.
---
Generation Iron may receive commissions on purchases made through our links. See our disclosure page for more information.
Let us know what you think in the comments below. Also, be sure to follow Generation Iron on Facebook, Twitter, and Instagram. 
*Images courtesy of Transparent Labs and Hafþór Júlíus Björnsson Instagram
References