One of the healthiest and most delicious meal replacements to help with gains.
Product Overview
Meal replacements are great for those working with busy lives who just can't find the time to cook a home cooked meal. For many, their lifestyle requires an on-the-go mentality. That's where meal replacements come in. Used as a pre-bottled shake, bar, or powder, these supplements work to give you a strong caloric intake while pumping you with a good ratio of macronutrients, as well as other essentials, so you don't miss out on anything in your diet.
While meal replacements should never replace a whole meal if possible, sometimes our days just don't allow it. HLTH Code Complete Meal Replacement Shake is a fantastic meal replacement to offer great benefits, high-quality ingredients, and the goal of giving you the best meal replacement product around.
When it comes to these meal replacements, you will come to find some great benefits associated with them. As convenient options, they can provide for great balance of macros to cover all your needs, while working to reduce snacking and promote fullness to help with weight management.
For those of us who are active, or involved in strength sports, structure is so important to our daily routine. Meal replacements can work to provide us with nutrients, give us energy throughout the day, and work on boosting your performance and recovery by keeping us in check and on schedule with all our meals.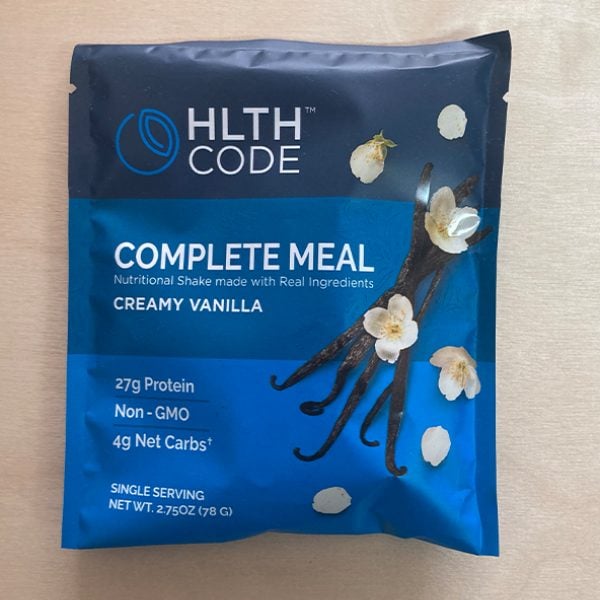 HLTH Code knows that a fast-paced lifestyle can make it hard to eat well and stick to a good, stable diet. This is why metabolic scientist, Dr. Benjamin Bikman, and the team at HLTH Code have made it their mission to make sure your health stays at the top of its game. A team of nutrition and industry experts, HLTH Code worked tirelessly to bring us this complete meal replacement, an affordable and convenient option for all our needs. At the end of the day, a lot of opinions and misinformation are out there that just aren't correct. HLTH Code works to be transparent and honest in their process so you know exactly what you are getting, every single time.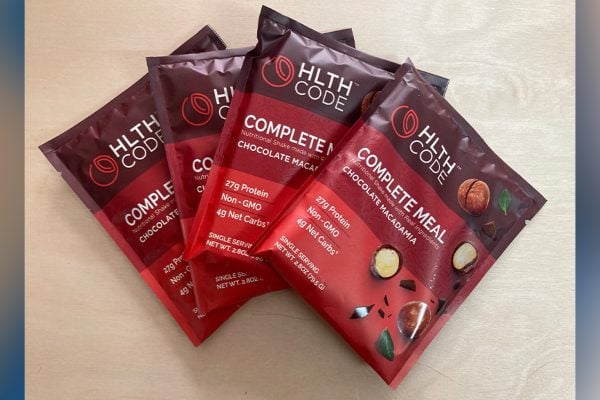 HLTH Code Meal Replacement Highlights
HLTH Code meal replacement is a complete meal with zero compromises that has the right combination of nutrients at the right ratios and potencies to optimize your health. With 27g of smooth, creamy protein made from whey concentrate, egg whites, and hydrolyzed grass-fed collagen, this meal replacement pumps you with enough protein to keep you full while also aiding in other functions like growth and recovery. Matched with 27g of healthy fats and only 13g carbs, HLTH Code really works to provide a great ratio of macros for your benefit.
On top of that, HTLH Code includes other great ingredients like apple cider vinegar, digestive enzymes, probiotics, and fiber for your gut, an ideal ratio of omega-3 to omega-6, and 25 vitamins and minerals so nothing is left out of your diet. With no GMOs or artificial ingredients you get a more than healthy product that is keto-friendly and tastes amazing. For that added bit of transparency, this product is made in the USA at a cGMP-certified and FDA-registered facility.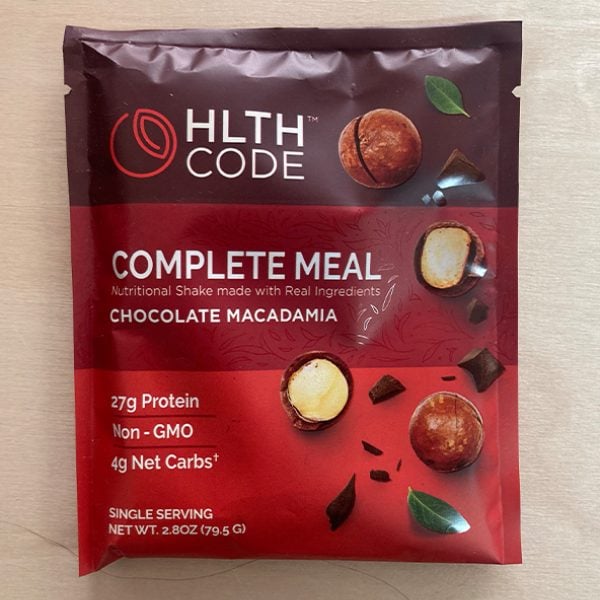 Ingredients
Protein Blend
Whey Protein Concentrate: Promotes muscle growth and retention by providing essential amino acids to be readily used in the body (1). It can also protect against oxidative stress (2).
Grass Fed Collagen: Important component of connective tissue and directly effects things like tendons, skin, and other parts of your body (3).
Egg Whites: Have the highest net protein utilization for optimal absorption and can influence muscle growth as well (4).
Healthy Fats Blend
Coconut Oil Powder: Can elicit metabolic changes including weight loss and improve blood lipids (5).
Medium Chain Triglycerides Powder: A saturated fatty acid that is easier to digest than long-chain triglycerides and provides for a host of benefits including stimulating your metabolism, increasing satiety, and enhancing brain energy (6).
Flaxseed Powder: Packed with nutrients and is high in omega-3s. A great source of fiber to help with digestion and inflammation.
Others: Olive oil powder, cocoa butter fat, grass fed ghee
Digestive Enzyme Blend
Alpha and Beta Amylase: Enzymes that catalyze hydrolysis of starch into sugars and work to break down the carbohydrate chain into maltose.
Lipase: Breaks down fat into fatty acids and can help with gut inflammation and indigestion.
Cellulase: Helps keep cholesterol at optimal levels and supports cell membranes from free radicals.
Others: Protease I, protease II, lactase hemicellulose, invertase, diastase
Other Ingredients
Digestion Resistant Maltodextrin: Improves blood glucose control, insulin levels, and blood lipids (7).
Redmond Red Salt: Important to provide great minerals so blood lipids and insulin resistance levels stay low and don't worsen (8).
Apple Cider Vinegar: A short chain fatty acid shown to improve metabolic function, as well as improve glucose regulation and insulin sensitivity (9).
Others: Cocoa powder, digestion resistant dextrin, sodium caseinate, natural flavors, sunflower lecithin, inulin, xantham gum, monk fruit extract, stevia leaf extract, Lactobacillus acidophilus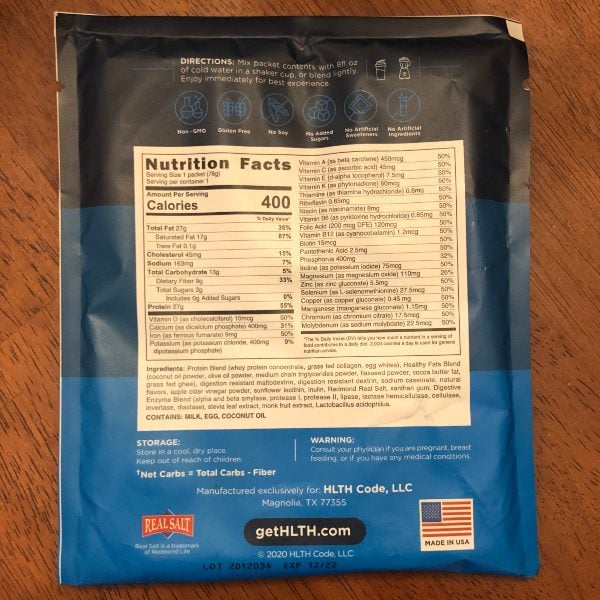 Price, Flavors, & Effectiveness
HLTH Code Meal Replacement Shake is that complete formula designed to pack you with vital nutrients to keep you full and assist your busy lifestyle. With 15 servings per bag, 2 scoops of this meal replacement will work to give you absolutely everything you need. With two great tasting flavors in Chocolate Macadamia and Creamy Vanilla, HTLH Code has worked to bring something delicious, as well as beneficial, to the table.
Pros: Packed with tons of nutrients and made with well-researched and scientifically-backed ingredients. Keeps you full and works with any lifestyle. Tastes great and mixes well to avoid clumping. From an honest and reputable company in HLTH Code.
Cons: For those who don't like the taste of stevia or monk fruit, you may dislike a slight aftertaste of this shake. It is a premium priced product but for the great ingredients and stellar formula, that's something you'll have to think about.
Price: $59.95/ bag
---
Check out our list of the Best Meal Replacements for some amazing products!
---
Overall Value
HLTH Code Complete Meal Replacement Shake is that one meal replacement you need to try. Packed with a great 1:1 ratio of healthy fats to protein, this will help you feel full while aiding in growth and recovery. This formula contains other phenomenal ingredients not often found in other meal replacements so you can optimize your health and wellness and really work to give yourself an edge. HLTH Code is an honest and transparent company working to bring consumers the best meal replacement because they know you deserve it. What you are really getting is a great tasting and amazing meal replacement with top tier ingredients, proven benefits, and a reputable company backing it. Check out HLTH Code Complete Meal Replacement today and see results you want and deserve out of your supplements.
Try HLTH Code Complete Meal Replacement Shake Here 
Generation Iron may receive commissions on purchases made through our links. See our disclosure page for more information.
Let us know what you think in the comments below. Also, be sure to follow Generation Iron on Facebook, Twitter, and Instagram. 
References
Hoffman, J.R. and M.J. Falvo, Protein – Which is Best? J Sports Sci Med, 2004. 3(3): p. 118-30.
Micke, P., et al., Oral supplementation with whey proteins increases plasma glutathione levels of HIV-infected patients. Eur J Clin Invest, 2001. 31(2): p. 171-8.
Watanabe-Kamiyama, M., et al., Absorption and effectiveness of orally administered low molecular weight collagen hydrolysate in rats. J Agric Food Chem, 2010. 58(2): p. 835-41.
van Vliet, S., et al., Consumption of whole eggs promotes greater stimulation of postexercise muscle protein synthesis than consumption of isonitrogenous amounts of egg whites in young men. Am J Clin Nutr, 2017. 106(6): p. 1401-1412.
Cardoso, D.A., et al., A Coconut Extra Virgin Oil-Rich Diet Increases Hdl Cholesterol and Decreases Waist Circumference and Body Mass in Coronary Artery Disease Patients. Nutr Hosp, 2015. 32(5): p. 2144-52.
Croteau, Etienne; Castellano, Christian-Alexandre; Richard, Marie Anne; Fortier, Melanie; et al. (2018). "Keotenic Medium Chain Triglycerides Increase Brain Energy Metabolism in Alzheimer's Disease".
Resistant maltodextrin- Astina, J. and S. Sapwarobol, Resistant Maltodextrin and Metabolic Syndrome: A Review. J Am Coll Nutr, 2019. 38(4): p. 380-385.
Apple cider vinegar- Santos, H.O., et al., Vinegar (acetic acid) intake on glucose metabolism: A narrative review. Clin Nutr ESPEN, 2019. 32: p. 1-7.
Redmond salt- .Petrie, J.R., et al., Dietary sodium restriction impairs insulin sensitivity in noninsulin-dependent diabetes mellitus. J Clin Endocrinol Metab, 1998. 83(5): p. 1552-7