Designed as an optimal meal replacement bottle, this supplement will surely help with all your weight loss and maintenance needs.
Product Overview
Finding a good meal replacement shake can be challenging. Some have too many carbs, others high in fat, and then some with too little protein. That balance is important and don't think you're being too picky because you want it. As something being used to literally replace a whole food meal, you shouldn't settle for anything less. While getting all those nutrients through whole foods is important and the optimal way to go, there are high quality meal replacement shakes out there to really elevate your nutritional goals.
Ample Complete Meal Shake Bottles are designed to pack a punch when it comes to giving you all of those essentials while also working as a healthy aid, not just pumping you full of excess nonsense to ruin a great product. Ample works with many diets and for a meal replacement shake, it is top of the line.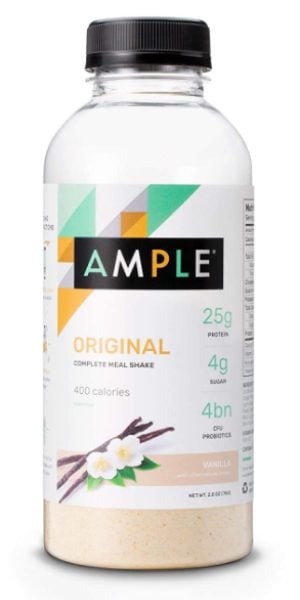 Ample believes that health, convenience, and taste should not be exclusive. Their mission is to bring people the best products so they can simplify eating well. Too often does nutrition become our enemy, costing us way more than it should in our efforts to stay healthy. Backed by science and nutritional research, Ample works to help people eat, live, and work better in all aspects of their lives whenever they need it.
Working to stay on the cutting edge of the health food market, Ample has a bright future ahead. Started as a way to bring healthy foods to close friends, it soon took off into macro level business offering everyone the chance to eat healthy and be well.
---
See where Ample Complete Meal Shake Bottles fell on our list of the Best Meal Replacements, as well as our list for the Best Protein Powders as the Best Whey For Meal Replacement!
---
Ample Highlights
Ample is a complete low-carb meal replacement shake made from real-food ingredients. It is the optimal breakfast or lunch replacement to help you feel full and focused for up to 4 hours. Made up of 20+ superfoods, this product includes premium fats, proteins, fibers, antioxidants, electrolytes, and probiotics. A gluten, soy, and BPA free product, it also contains no artificial sweeteners, flavors, or sugar alcohols to ruin a great product.
With the option of 400 calories or 600 calories per bottle, the macro nutrient ratio of the 400 calorie bottle looks like 25g fat, 21g carbs, 25g protein, with just 4g sugars. A complete meal, this supports muscle growth and maintenance, increases focus, promotes solid digestion and gut health, and will keep you full for an extended period of time.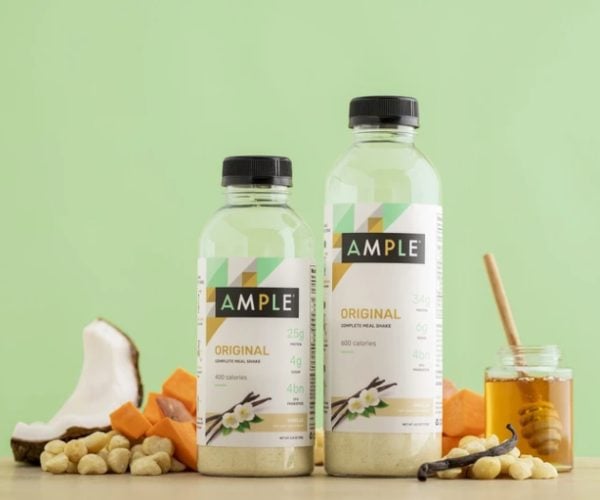 Ingredients
Coconut Oil: Used for energy for both muscles and your brain and rich in medium chain triglycerides (MCTs), it will offer all the benefits of fuel, immune fighting capabilities, and much more (1).
Macadamia Nut Oil: Promotes solid heart health and works to regulate cholesterol by lowering levels of bad (LDL) cholesterol.
Grass Fed Whey: Packed with BCAA's and all other EAA's, whey promotes solid recovery and muscle growth. It will also help keep you full longer (2).
Pea Protein: A plant-based protein, this will aid in muscle recovery and is equally as high in amino acids as whey (3).
Acacia Fiber: Works to regulate both cholesterol and blood sugar levels and also promotes healthy digestion and gut health.
Organic Sweet Potato: Will keep you full longer and contains anthocyanin, an antioxidant that has great benefits to your heart and brain (4).
Wheat Grass: A host of benefits include boosting immunity, promoting digestive health by killing harmful bacteria, and working against inflammation (5).
Vitamin D3: Great for strengthening bones and teeth while also acting as a building block for sex hormones. It can fight disease, reduce depression and boost weight loss as well (6).
Other Ingredients: High-oleic sunflower oil, sunflower lecithin, grass-fed collagen protein, chicory root fiber, organic guar gum, organic psyllium husk, whole grain oats, barley grass, lemon, L. acidophilus, L. paracasei, B. lactis, B. infantis, L. rhamnosus, B. coagulans, potassium, calcium, magnesium
Price & Effectiveness
Ample Complete Meal Shake Bottles come with two options for 400 calories or 600 calories. There are also four flavors to choose from: Vanilla (high protein), Berry (dairy free), Chocolate (keto-friendly), and Vanilla Cinnamon (keto-friendly).
Price:
400 Calorie Option: $90.00 for 12 meals ($7.50 per meal) or $180.00 for 24 meals
600 Calorie Option: $108.00 for 12 meals ($9.00 per meal) or $216.00 for 24 meals
Pros: A good balance of macronutrients and no artificial ingredients is a huge plus. Good probiotic bacteria for gut health and good choices for ingredients to give you what you need.
Cons: Lacks some vitamins and minerals we would like to see and no mention of omega-3's is disappointing. It is also a fairly expensive product.
Overall Value
Ample Complete Meal Shake Bottles are one of those meal replacements you need to try. Not packed with artificial nonsense and made with care and whole foods will really promote a healthier lifestyle when it comes to work and recovery. With great options to choose from, Ample really solidified themselves as a solid meal replacement company on the market today. What you are really getting is a high quality and healthy product from a determined company with great flavors for all your nutritional needs. Try Ample today and really give your health that boost it needs and deserves.
Try Ample Complete Meal Shake Bottles Here
Generation Iron may receive commissions on purchases made through our links. See our disclosure page for more information.
Let us know what you think in the comments below. Also, be sure to follow Generation Iron on Facebook, Twitter, and Instagram. 
*Images courtesy of Ample
References