Whatever your goals, SBD has three great knee sleeves sure to fit them.
Product Overview
When it comes to our knees, we often times neglect just how much of a beating they take each and every day. Through stress of grueling workouts to every day toll of our busy lives, supporting our body is a challenge for those knees. While they are incredibly strong, even strong things can break down. When this happens, it could lead to a loss in stamina and support, as well as muscle imbalances and injury. Thankfully, knee sleeves exist and SBD as a company works to provide the best workout equipment to keep you as effective as possible.
Knee sleeves are solid workout tools for overall protection as they work to reduce pain, increase blood flow, and provide compression and support for big lifts. They are wearable devices that fit snug over your knees and are most often made of neoprene, a stretchable but durable synthetic type of rubber. While knee sleeves are not the same thing as a brace, they are designed to prevent the knee from being injured. Important to use in heavy weightlifting sports, you take away the physical risk of injury and the mental hurdle of thinking you can't do it.
The compression from a knee sleeve, in particular SBD knee sleeves, can increase blood flow to help reduce lactic acid build-up, thus bringing more blood and oxygen to the muscle to enhance recovery (1). By supporting the muscles, they limit the number of muscular vibrations to fight against fatigue (2) and offer a comfortable fit to really keep everything intact. Feeling that warmth and knowing you are doing what you can to benefit yourself is a huge plus.
SBD is a leader in sports and exercise equipment and works with top coaches, sports medicine experts, and other fitness leaders around the world to produce top-tier products. Athletes who rely on SBD products know exactly what they are getting and that the quality is high. As sports like Strongman and powerlifting evolve, so has SBD and their mission to provide innovative and updated products so their athletes can continue to thrive. They work to have their equipment approved or compliant with major leagues to ensure their athletes not only stay safe in training, but can be their absolute best in competition as well.

Check out our list of the Best Knee Sleeves here.
SBD Knee Sleeves Highlights
SBD has three great options for knee sleeves depending on what your goals may be. All are sold as a pair and are designed to minimize the risk of injury by adding compression to increase blood flow and keep the muscle warm in efforts to aid in overall strength and performance. Made from 7mm or 5mm high grade neoprene, the reinforced seam construction allows for durability in efforts to maximize longevity. Manufactured in Great Britain, they are designed with help from elite athletes, coaches and other health professionals to make the best quality equipment safe and approved for USAPL, IPF, and USPA while being compliant with IWF.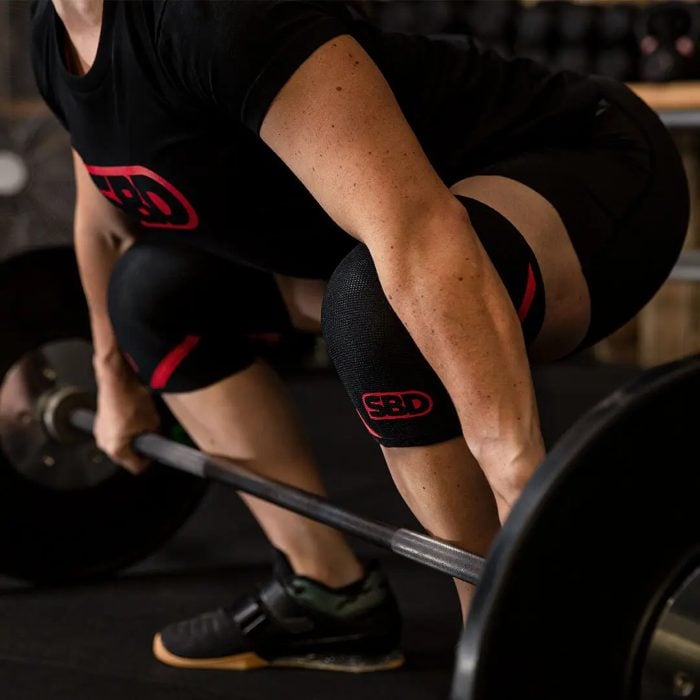 Product Details
Material
Neoprene allows for easy stretching with that softer inside feel and a thicker layer outside for added protection. The benefit to this is that it goes right back to the original fit and although you may continuously stretch it, that tightness and comfort won't leave. It may not absorb moisture well so slight movement may occur from sweating, but that is from a lack of absorbent material.
Comfort & Stability
The sleeve offers a tight and stable fit and is a solid balance of snug versus versatility. If you are someone who prefers a little more movement, this sleeve is definitely more on the rigid side when it comes to stability, so that is something to consider. While this does allow for flexibility and added movement, it is tight and stable so mobility may be limited slightly compared to others.
Durability
The reinforced stitching is a great plus for the durability of these knee sleeves to keep them from ripping and overall they are very well built. The ends are tapered nicely to keep that edge firm and intact. Neoprene itself is a very durable material and with proper care of these knee sleeves, they will surely last a long time.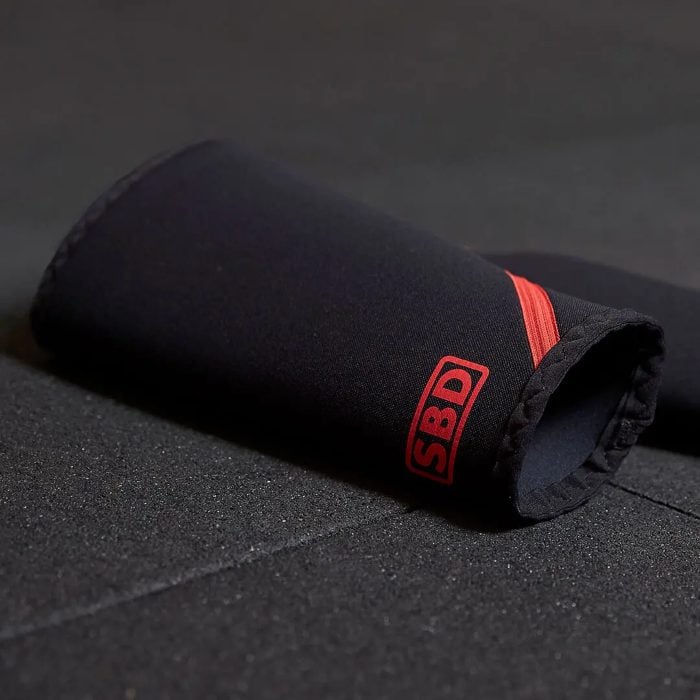 Price & Effectiveness
SBD offers really welly built and effective knee sleeves to boost overall performance and strength while providing for the best chance at having a safe and effective lift. The three options may be high in price but are even higher in quality. Their main knee sleeve option which is great for powerlifting (7mm) is $82.50, the weightlifting knee sleeves (5mm) cost $90.00, and their Eclipse knee sleeves (7mm) are also $90.00.
Pros: Top quality design from elite athletes and other professionals. Stable and durable neoprene is comfortable with reinforced stitching. Approved for all competitions is a huge plus.
Cons: They are definitely on the higher side with price and may be too snug for some depending on your comfort level. Also, only available on their website.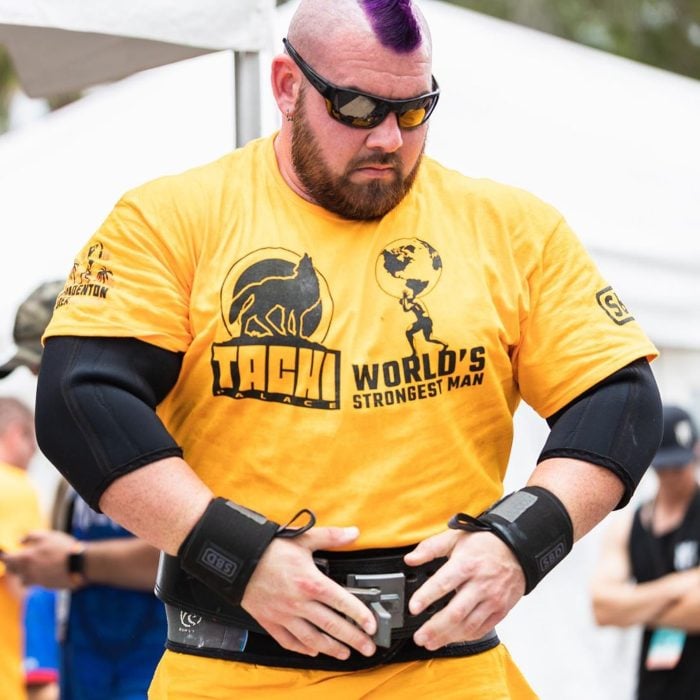 Sponsored Athlete
Rob Kearney is a professional Strongman who has competed at World's Strongest Man, has reached the podium at America's Strongest Man, the North American Open 2017, and the Arnold International World Series. He currently holds the American log press record of 476 lbs. As the first openly gay pro strongman, he uses his voice to help young people in the LGBTQ+ community and around the world to educate and inspire them through fitness and strength sports. While he has their backs, SBD always has his, keeping him healthy and safe in the gym so he can continue to thrive and spread his good word.
Overall Value
Knee sleeves can be really great exercise tools to use, especially for big weightlifters and powerlifters seeking the safest, most effective lifts. By increasing blood flow through compression, you eliminate the build up of lactic acid in effort to reduce fatigue while also providing for solid stability and support for proper technique to enhance big gains. SBD as a company provides very solid and high quality equipment and their knee sleeves are top of the line. What you are really getting are top tier knee sleeves from a professional and reputable company with the promise of more effective lifts. Built to last and provide for all of the above benefits, your lifts just got a whole lot bigger with SBD knee sleeves.
Generation Iron may receive commissions on purchases made through our links. See our disclosure page for more information.
Let us know what you think in the comments below. Also, be sure to follow Generation Iron on Facebook, Twitter, and Instagram. 
*Images courtesy of SBD and Rob Kearney Instagram
References
Vaile, Joanna; Stefanovic, Brad; Askew, Christopher D. (2016). "Effect of lower limb compression on blood flow and performance in elite wheelchair rugby athletes". (source)
Raabe, Margaret E.; McNally, Michael P.; Chaudhari, Ajit M. W. (2017). "The Effect Of Compression Tights On Muscle Vibration And Fatigue From A High-Intensity Run". (source)