This quality BCAA will combine great taste with proven ingredients for the best results to your training and performance.
Product Overview
When it comes to the needs of women athletes, it can be hard to find a great intra-workout product able to build muscle, work to shed fat, and promote better recovery. But the right BCAA product formulated specifically for women is exactly what you need to thrive inside and out of the gym and believe it or not, they do exist. IdealFit IdealLean BCAAs for Women is that BCAA supplement with proven and effective ingredients to help tackle any and all of your intra-workout needs.
Amino acids are organic compounds which provide the foundation for protein. The three branched-chain amino acids, being leucine, isoleucine, and valine, work to stimulate muscle protein synthesis and are great for growth, recovery, delayed fatigue, and body composition changes. The ability to grow lean muscle, decrease muscle soreness, and prevent muscle wasting has never been more possible with the right BCAA supplement and IdealFit is here to help.
IdealFit Ideallean BCAAs For Women provides high quality BCAAs with a unique fat loss blend. Packed with vitamins and minerals, 8 ingredients work well with this advanced formula.
IdealFit was born out of a passion for helping others see the best versions of themselves by promoting only the best in terms of overall health and wellness. By creating high quality products for women, they have worked to help women and female athletes everywhere reach their true potential. Looking for an alternative to a heavily male dominated industry, they only seek the best supplements so women everywhere can thrive, physically and mentally.
IdealLean BCAAs For Women Highlights
IdealLean BCAAs For Women is an amazing BCAA supplement designed to help build muscle, recover faster, maximize endurance, and burn fat for a leaner physique. A proven 2:1:1 ratio of BCAAs is matched with a Fat Loss Blend full of effective ingredients so you get only the best results. With 10 calories and only 3g carbs, with the added bonus of 0g sugar, this BCAA supplement has refreshing flavors and is ideal for those intra-workout needs. For those female athletes serious about building lean muscle, burning that unwanted fat, and promoting better, more efficient recovery, this BCAA product is the one for you.
Ingredients
BCAAs: Work to increase muscle growth, reduce fatigue, decrease muscle soreness, and prevent muscle wasting to see better athletic performance and overall health (1).
L-Citrulline: Can increase exercise capacity to perform better while decreasing muscle fatigue and soreness during strenuous exercise (2).
L-Glutamine: Provides for faster recovery, increases protein synthesis, improves immune function for better overall health, and reduces fatigue for more efficient workouts (3).
IdealLean Fat Loss Blend
Phosphatidylserine: Works to reduce stress and stabilize mood to control cortisol levels which in turn promotes weight loss.
Tonalin CLA: Can suppress appetite and increase energy expenditure thus aiding in fat loss (4).
Green Tea Extract: Will work to increase thermogenesis to boost fat loss and get your metabolism moving (5).
ThermoDiamine Evodiamine: By increasing lipolytic activity, this can contribute to weight loss and give you a leaner physique.
Other Ingredients
Vitamin B6, Vitamin B9, Vitamin B12, Magnesium, Natural & Artificial Flavors, Maltodextrin, Modified Food Starch, Corn Syrup, Caramel Color, Sulfites, Acacia Gum, Gum Arabic, Citric Acid, Sucralose, Malic Acid, Silicon Dioxide, Sunflower Lecithin, FD&C Red #40, FD&C Blue #1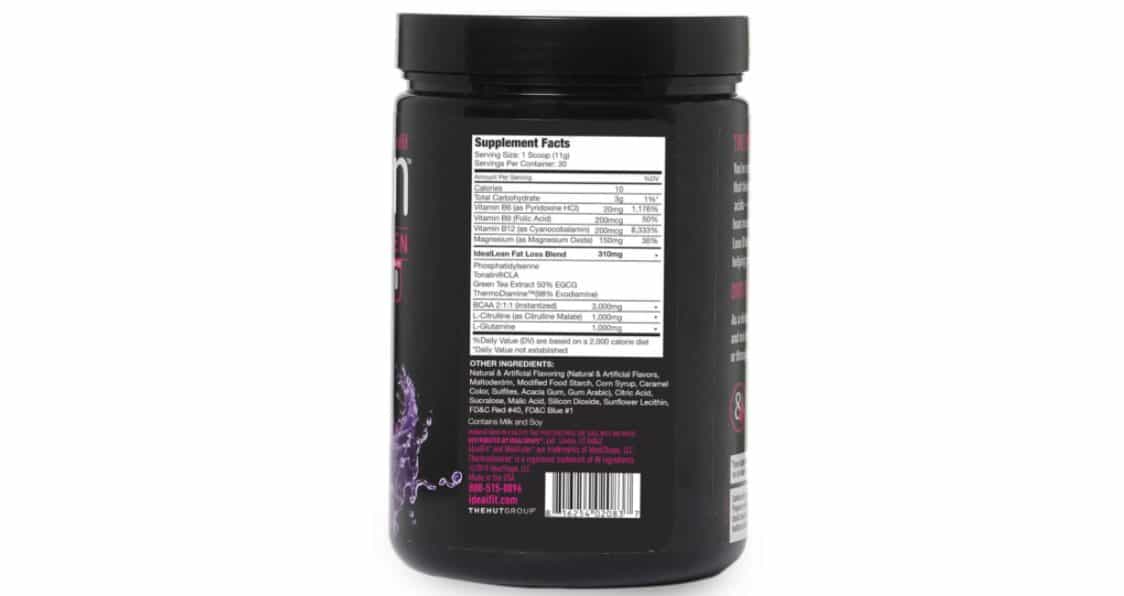 | | |
| --- | --- |
| Total BCAAs | 3,000mg |
| Calories | 10 |
| Carbs | 3g |
| Number Of Servings | 30 |
| Serving Size | 1 Scoop |
| Best Way To Take | Add one scoop with 8-16 oz. of water and mix. Consume during exercise on training days or throughout the day on non-training days. |
Price, Flavors & Effectiveness
IdealFit IdealLean BCAAs For Women is a great BCAA supplement designed to improve muscle recovery, build lean muscle, and work to burn fat as effectively as possible. With 30 servings per container, 1 scoop of this powerful and proven formula will pump you with these amazing ingredients for the best results. Great flavors include: Peach Rings, Orange Paradise, Grape Explosion, Peach Lemonade, Blueberry Pomegranate, Tropical Dragonfruit, and Strawberry Kiwi.
Pros
Proven 2:1:1 ratio of BCAAs helps with muscle growth and recovery
Fat Loss Blend allows you to burn fat and tone for better results
Unique flavors that taste great so you don't get bored
Cons
Does contain artificial flavors for those looking to avoid
Some ingredients may be under-dosed limiting the full effect of a BCAA
Price: $20.99
---
Check out our list of the Best BCAAs for more great intra-workout products!
---
Overall Value
IdealFit IdealLean BCAAs for Women is a great BCAA supplement designed for female athletes and formulated to work to increase lean muscle, burn fat, and promote better recovery for whatever workout comes next. With a proven 2:1:1 ratio of BCAAs and a Fat Loss Blend to work on those toning needs, this supplement is exactly what you need to see your performance thrive. IdealFit is a company who knows the needs of female athletes and seeks to produce only the best supplements around. What you are really getting is a great BCAA product from a reputable company with proven and effective results. Try IdealFit IdealLean BCAAs for Women today and see what this can do for all your muscle building and physique sculpting goals.
Try IdealFit IdealLean BCAAs For Women Today
---
Generation Iron may receive commissions on purchases made through our links. See our disclosure page for more information.
Let us know what you think in the comments below. Also, be sure to follow Generation Iron on Facebook, Twitter, and Instagram. 
*Images courtesy of IdealFit and Envato
References