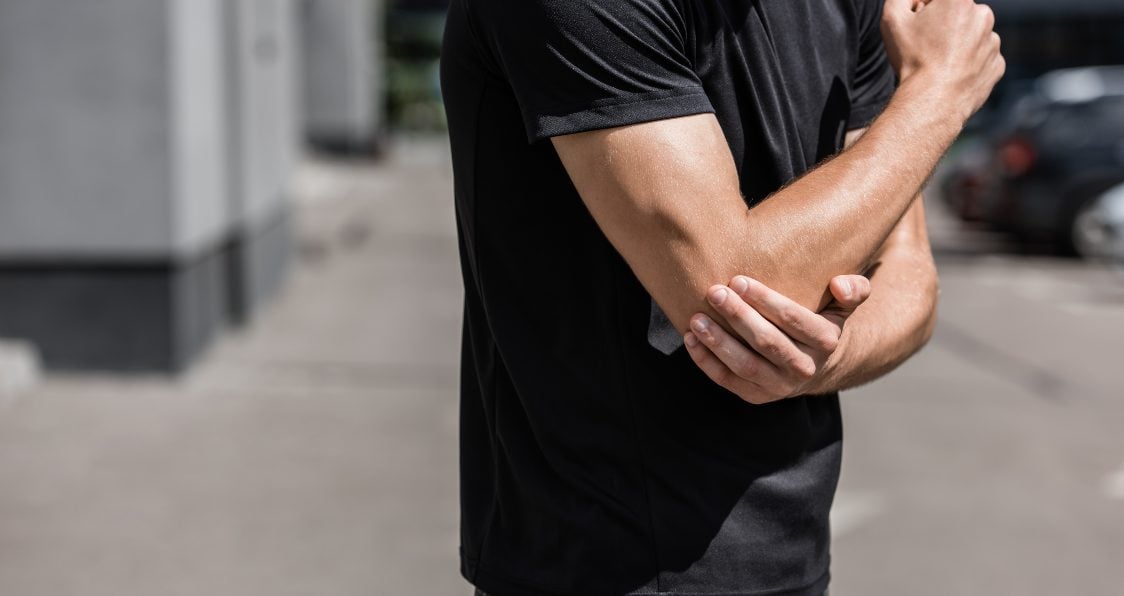 The top elbow sleeves for weightlifting can protect your joints from unwanted pain and strain.
You may see fitness folks wearing knee sleeves in the gym all the time, but elbow sleeves are another great tool to use to protect against and relieve pain. You know what they're for. Offer a snug fit to provide protection, support, and comfort to a vulnerable or recovering knee. But you may not be as familiar with elbow sleeves and the role they can play in enhancing your health and fitness goals. As beneficial workouts aids for those in the gym for casual training, those in the heat of serious athletic training, or even those competing, elbow sleeves can give you an edge when it comes to safe and effective lifts and overall performance.
We've put together a list of the Best Elbow Sleeves for 2021 for all your weightlifting, powerlifting, and bodybuilding needs. The right elbow sleeve can warm your elbows, help relieve aches and pains, and ultimately avoid injury to keep you going for a long time.
Best Elbow Sleeves For 2021
---
Best Overall Elbow Sleeves
The best elbow sleeve will work to add nice compression and support as you lift big weight in order to offer protection for this vulnerable joint from any unwanted pain, or worse, an injury given the nature of sports.
SBD Elbow Sleeves
SBD elbow sleeves are a serious contender in the market for a number of reasons. SBD as a company prides themselves on bringing athletes the best equipment around to enhance all aspects of their health, fitness, and performance and they do just that. Designed with powerlifters and strongman events in mind, these elbow sleeves are made to minimize the risk of injury and increase performance while maximizing longevity. Manufactured in Great Britain, these elbow sleeves are made of high grade neoprene with a thinner interior panel for easy fitting and free movement. Sold as a pair and available in all sizes, these elbow sleeves are for those looking to seriously advance in their weightlifting goals.
SBD Elbow Sleeves are designed for powerlifters and strongmen to increase performance and maximize longevity with great protection.
Pros
High quality neoprene ensures durability but also free movement
A reputable company with strength sports in mind and proven results
Cons
A premium priced item, these are only available on their website
Price: $62.50
---
Best Elbow Sleeves For Bodybuilding
Bodybuilders constantly put themselves through wear and tear as they work to perfectly sculpt their physiques. Elbow sleeves can keep them in the gym so they never lose those physique gains.
Gymreapers 5mm Elbow Sleeves
These elbow sleeves from Gymreapers are designed to help take you to the next level and improve all of your workouts. With a 5mm neoprene sleeve, it will slide easily up your arm and fit comfortably around your elbow, offering great support as you train. The thick padded material adds to the comfort but also to the durability of the sleeve as it won't tear with any lift. Able to increase muscular control and reduce elbow swelling, these sleeves from Gymreapers will support you no matter what.
Gymreapers 5mm Elbow Sleeves are made of neoprene with a great fit and easy adjustability for comfort.
Pros
Good quality and stitching to ensure longevity
Offer great support and don't inhibit movements
Great customer service from a company who cares
Cons
The sizing chart is wrong so potentially go one size up
The forearm is as big as the upper arm and there is no taper so it tends to be less snug as you move away from your upper arm
Slightly more expensive than others
Price: $39.99
---
Best Weightlifting Elbow Sleeves
For those who love weightlifting, you know how sore your elbows get but a compression sleeve can help. Keeping them safe and protected as you constantly abuse them in the gym will only enhance your chance for success and the right sleeves for weightlifting are exactly what you need.
Mava Sports Bamboo Elbow Compression Sleeves
Mava Sports is known for quality equipment and these elbow sleeves add to the list. Made for pain relief and recovery, these sleeves can reduce inflammation and swelling while also alleviating soreness. Best known for compression, these sleeves will improve endurance and promote faster muscular recovery so you can attack whatever comes your way next. Made from bamboo charcoal fiber, these sleeves are designed for sensitive skin and top tier durability, really putting these up there as some of the top elbow sleeves.
Mava Sports Bamboo Elbow Compression Sleeves are perfect for compression to improve endurance and promote faster muscle recovery.
Pros
They don't roll down and have a snug fit for these elbow sleeves for weightlifting
The bamboo charcoal fiber keeps your skin sensitivity in mind and provides for solid durability
Great compression to aid in recovery from this elbow compression sleeve
Cons
They may be slightly more stiff than other sleeves and can limit range of motion
The measurement scale is off
Price: $13.71
---
Best Elbow Sleeves For Lifting & Compression
Finding the right elbow sleeves on the market to fit are very important because ones that are too tight can limit blood flow and too loose won't get the job done. The right compression sleeve will only boost your lifting abilities as well as range of motion with more flexibility than an elbow brace.
PowerLix Elbow Brace Compression Support Sleeve
PowerLix offers great protection with these elbow sleeves as it applies stable pressure across your elbow with the ultimate goal of relieving pain from any ailment. While doing all of this, it still allows for peak performance and a full range of arm motion. Providing superior support and comfort, this tight, breathable compression fabric helps with joint stability and increased blood flow. The neoprene material wicks away moisture and its special knitted technology ensures it stays put right on your arm for any pain support you need.
PowerLix Elbow Brace Compression Support Sleeve applies stable pressure for reliving pain and improving your range of motion with comfort.
Pros
Offers nice compression and elbow support to alleviate any unwanted pain
Comes in at a very reasonable price for an elbow compression sleeve
Cons
Durability comes into question after multiple uses and the sizing chart seems to be off
The fabric is not as smooth so it can be uncomfortable after prolonged use
Price: $16.97
---
Best Elbow Sleeves For Powerlifting
Powerlifters are always lifting heavy weight and that can cause wear and tear on your elbows. The right sleeve will allow for powerlifting movement with the best elbow support around the elbow and forearm with it feeling too tight.
Rehband Rx Original Elbow Sleeve
Rehband offers the opportunity to unleash your full potential with these elbow sleeves to support peak performance and superior protection against any injury. The patented technology is engineered to provide elbow stability, compression, and warmth all with the goal of controlling power, leverage, and really boosting recovery. The 5mm thick elastic elbow sleeve does the best of both worlds for a tight fit as well as good mobility. Great for any activity, Rehband works to support performance, comfort and recovery to keep you grinding as long as you want.
Rehband Rx Original Elbow Sleeve provides elbow stability, compression, and warmth to control power and leverage with improved performance.
Pros
Offer nice tightness while also providing for free movement from this elbow compression sleeve
Supports any pain and recovering injury for added recovery enhancement
Cons
While the benefits are great, some of the quality concerns are disappointing, especially given that this is a highly priced item compared to other compression sleeve products
Price: $33.99-$43.27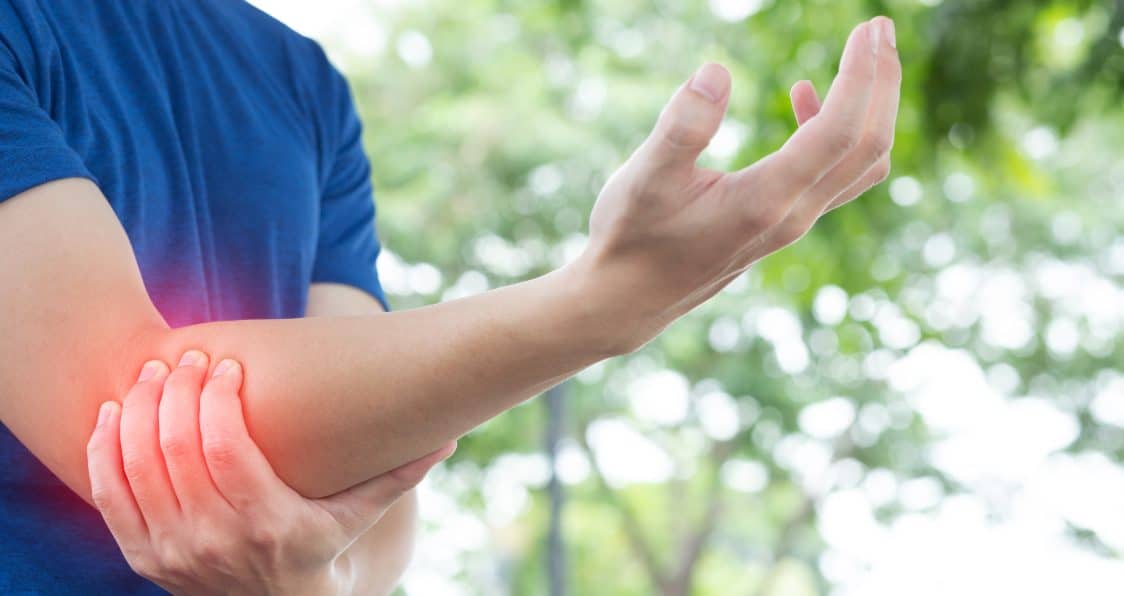 Benefits Of An Elbow Compression Sleeve
You see everyone from professional athletes to everyday gym-goers wearing elbow sleeves and its no wonder why. Compression, support, stability, protection, increased circulation, and warmth are all great benefits of elbow sleeves. Elbow sleeves and compression sleeves can:
Provide compression and warmth around the elbow to increase blood flow and enhance recovery for those looking to build muscles safely (1).
Support the elbow to distribute tension equally around other smaller muscles during fitness work to strengthen the joint.
Offer support and stability to really increase big lifts and see growth in strength (2).
Aid in recovery by improving blood flow and circulation thus providing comfort to the muscle.
An elbow sleeve should work for you and make you more confident as you lift to build those muscles and strengthen this joint. If you don't want to become reliant on it, then choose the days you feel you need it most and work that into your routine. But an elbow sleeve's ability to protect and support your workouts should not be forgotten, especially if you already deal with elbow issues and need extra support.
How We Choose
When it comes to choosing the best elbow sleeves, we first look at the overall quality and durability of the elbow sleeve. You want a sleeve that you can get used and one that will last a long time. With a durable sleeve, you never have to worry about it letting you down. We then look at comfort. While you exercise and lift, you want to be as comfortable as possible and not suffer through a workout because your equipment is uncomfortable. Finally, we look at price. It is possible to find the right fitness gear at an affordable price so you can protect yourself and not break the bank.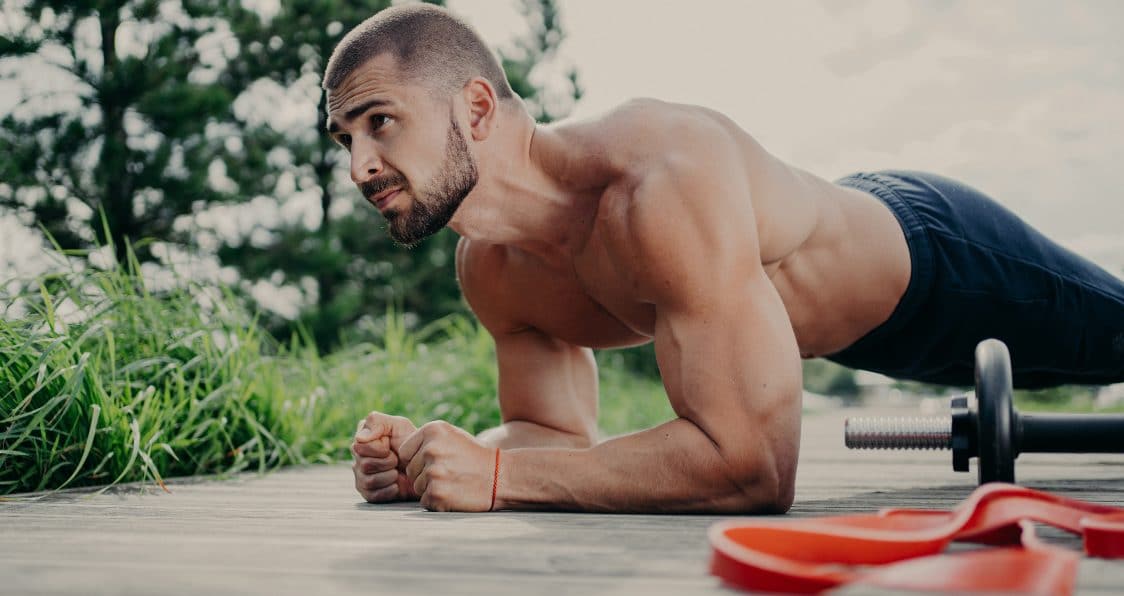 FAQ Section
What is the best elbow sleeve?
SBD Elbow Sleeves. These elbow sleeves are designed with powerlifters and strongman events in mind, these elbow sleeves are made to minimize the risk of injury and increase performance while maximizing longevity.
How should my elbow sleeve fit?
Your elbow compression sleeves should be snug and comfortable. Too tight and it can limit circulation and too loose, it just won't get the job done. Being able to move your elbow with comfort, feel support, and prevent injury is the end goal.
Will an elbow sleeve hinder my performance and workouts?
The right fit and a quality elbow compression sleeves will not hinder your weightlifting and performance. If anything, it will enhance your lifting by giving you something to protect that vulnerable elbow joint.
Wrap Up
Elbow sleeves are great workout aids to really enhance comfort and compression for enhanced lifting and performance. Make sure you keep longevity in mind as well as overall fitness so you last longer in whatever your competition requires. Whether professionally or recreationally, you deserve to enjoy what you're doing and work hard at it for as long as you can and elbow sleeves are just one great way for you to really achieve that. From increased blood flow, compression, protection, and recovery, elbow sleeves should be in your locker, gym bag, or both. Check out our list above and see what a great elbow sleeve can do for you!
---
Generation Iron may receive commissions on purchases made through our links. See our disclosure page for more information.
Let us know what you think in the comments below. Also, be sure to follow Generation Iron on Facebook, Twitter, and Instagram. 
References
Duffield, Rob; Cannon, Jack; King, Monique (2010). "The effects of compression garments on recovery of muscle performance following high-intensity sprint and plyometric exercise". (source)
Tohoku University (2020). "Compression garments reduce strength loss after training" (source)