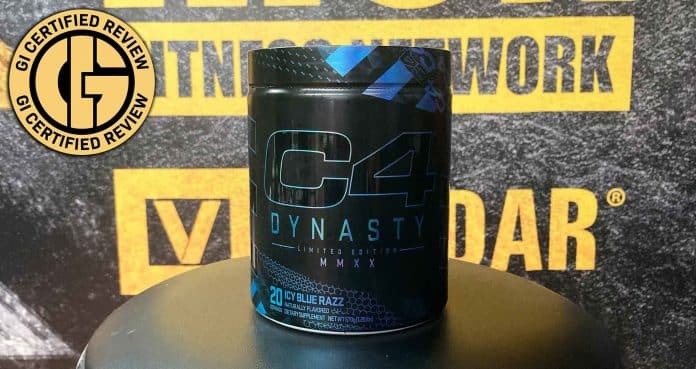 This pre-workout supplement is uniquely powerful and built to transform results.
How many pre-workout supplements have you tried that just haven't cut it? There are so many within the supplement market and with such saturation, it can be difficult to tell who is telling the truth and who is in it for just profit. The right pre-workout supplement will give you everything you need such as energy, muscle pumps, and more to take your workouts to the next level. And with our busy schedules, we want a product that will work for us, not against us. Cellucor C4 Dynasty MMXX is built to transform your results so you get only the best when it comes to unique power and serious gains.
A good pre-workout, and one worth taking, will of course give you energy and burst through any fatigue that may get in your way, but when it comes to building strength and increasing stamina, a pre-workout should also help you here. Clean ingredients work to benefit your health as well as performance, so don't settle for anything less than great. C4 Dynasty can do this and much more as a powerful and supercharged pre-workout able to take your gains to new heights.
Let's break it down.
Cellucor C4 Dynasty MMXX Overview
Cellucor C4 Dynasty MMXX is a supercharged formula with 18 active ingredients to offer unique power, extra pump support, and better muscular endurance.
Cellucor is a leading sports nutrition brand creating award winning products that are quality you can trust in. With a focus on creating the best supplements for athletes everywhere matched by prompt customer service, Cellucor is on a mission to better the lives of their consumers with top tier supplements, amazing benefits and results, and quality care.
C4 Dynasty MMXX Highlights
Cellucor C4 Dynasty MMXX is a uniquely powerful and supercharged formula engineered to transform your gains to see those desired results. This pre-workout combines cutting-edge innovation and leading industry research and expertise to send your performance to the next level. With 18 active ingredients, including 10 patented ingredients, one scoop of this pre-workout will offer explosive energy, powerful muscle pumps, and amplified muscular endurance to lead the way when it comes to pre-workout supplements.
Ingredients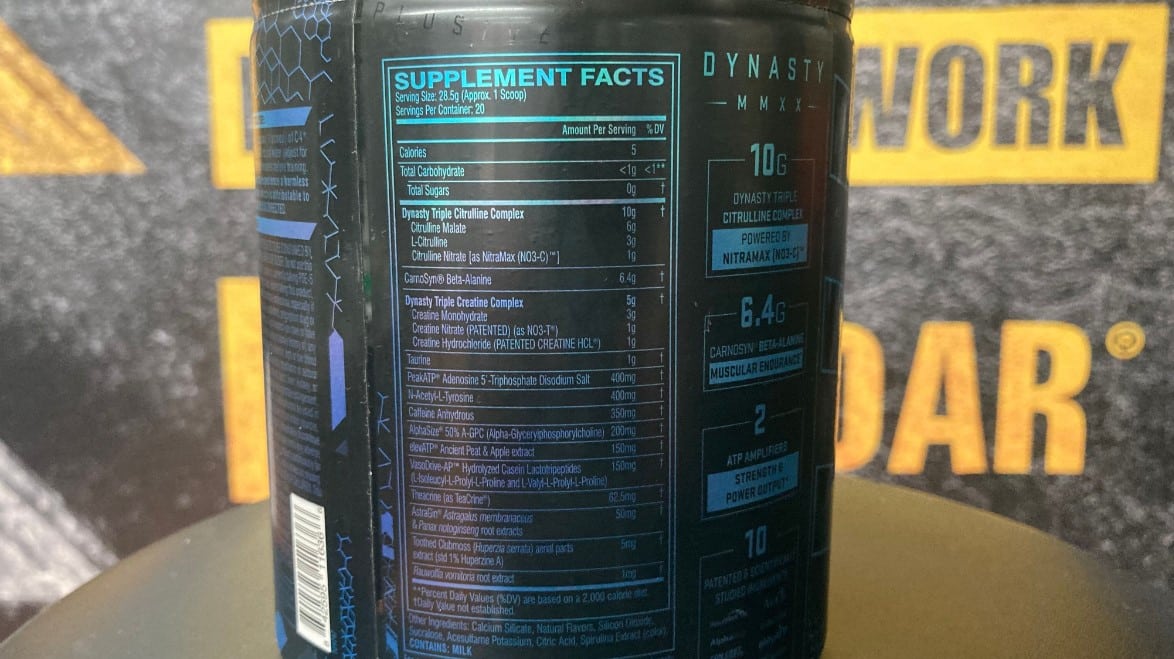 Dynasty Triple Citrulline Complex
Citrulline Malate: Can improve strength and power while working to decrease muscle fatigue (1).
L-Citrulline: Will increase L-arginine in the blood which in turn increase nitric oxide (2).
Citrulline Nitrate: Improves vascular function and exercise performance.
Dynasty Triple Creatine Complex
Creatine Monohydrate: Creatine is great for building muscle mass and plays a role in cellular energy metabolism (3).
Creatine Hydrochloride: Can increase strength, power, and muscle mass while also aiding in recovery.
Creatine Nitrate: Enhances power output, oxygen flow, and endurance (4).
Beta-Alanine: Improves muscle strength and aerobic endurance while also reducing lactic acid build-up from exercise (5).
Taurine: Boosts exercise performance while supporting and protecting your metabolism and skeletal system.
N-Acetyl-L-Tyrosine: Increases cognition and alertness while improving mood and weight loss.
Caffeine Anhydrous: Works to increase energy and your level of alertness while decreasing fatigue. Can also stimulate weight loss by kickstarting your metabolism (6).
Other Ingredients
Adenosine 5'-Triphosphate Disodium Salt, 50% A-GPC, Ancient Peat & Apple Extract, Hydrolyzed Casein Lactotripeptides, Theacrine, AstraGin, Toothed Clubmoss, Rauwolfia vomitoria root extract, Calcium Silicate, Natural Flavors, Silicone Dioxide, Sucralose, Acesulfame Potassium, Citric Acid, Spirulina Extract
| | |
| --- | --- |
| Stim Or No Stim | Stim |
| Calories | 5 |
| Carbs | Less than 1 |
| Sugar | 0g |
| Number Of Servings | 20 |
| Flavors | Violet Crown, Icy Blue Razz, Fruit Punch, Strawberry Lemonade |
| Best Way To Take | Take 1 scoop with your desired beverage of choice. |
Price, Flavors & Effectiveness
Cellucor C4 Dynasty is that supercharged formula with amazing ingredients to increase energy, muscle pumps, and muscular endurance so you only get the best when looking to boost your workouts and see those desired results. With 20 servings per container, 1 scoop of this powerful pre-workout thrown into your shaker cup will pump you with these powerful ingredients so your gains increase ten-fold. Four great flavors in Violet Crown, Icy Blue Razz, Fruit Punch, and Strawberry Lemonade ensure you never grow bored with the taste.
Pros
Supercharged formula with unique power
18 active ingredients, 10 of which are patented
Cutting edge innovation and a decade of industry leading research and expertise
Great benefits to energy, power, muscle pumps, and muscular endurance
Cons
Premium priced option
Does contain caffeine for those sensitive or avoiding it
Price: $69.99
FAQs
You may have some questions regarding C4, or pre-workout as a whole, so let's take a look and answer some.
Can I use pre-workout instead of morning coffee?
If you like caffeine in the mornings, but are not a huge fan of coffee, then pre-workout could be a good option for you to wake up in the mornings. However, if you are using one that includes the ingredient beta-alanine, you will get that itchy feeling that comes with it, so be wary.
Is C4 safe?
While C4 is filled with quality ingredients, it is always worth noting that not everyone can handle things such as caffeine, so it may be worth consulting with a physician before using this pre-workout supplement.
When should I take C4?
C4 could be taken when you are going to the gym, as it is a pre-workout designed to not only increase energy, but also give you muscular pumps, increase muscular endurance, and power output.
---
Overall Value of C4 Dynasty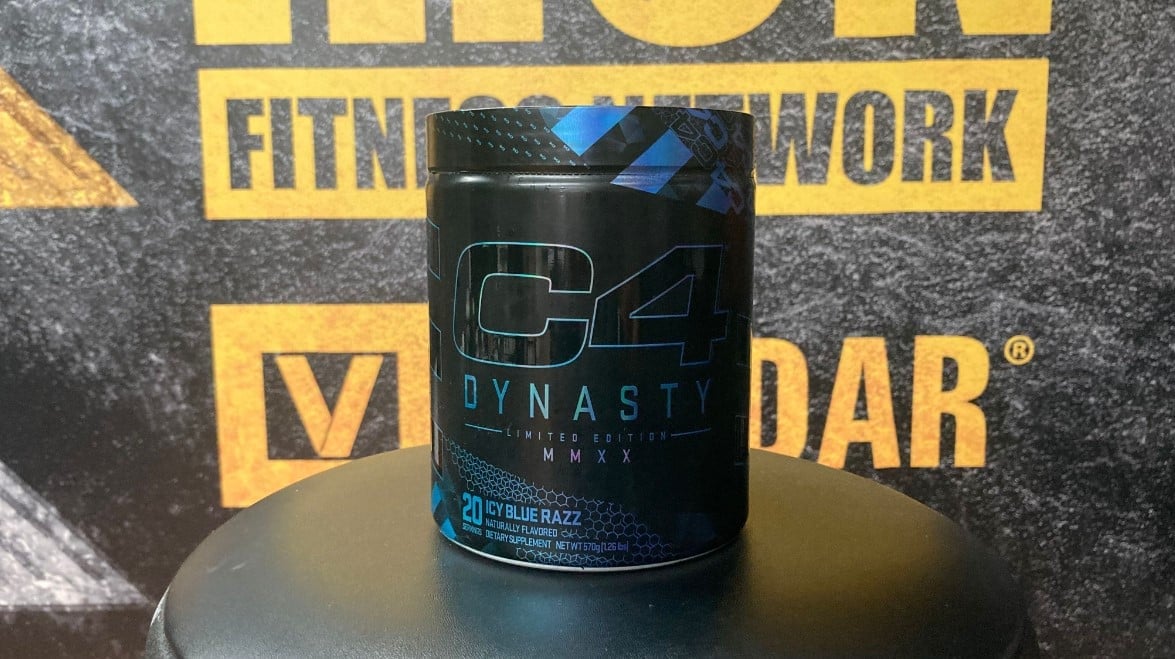 Cellucor C4 Dynasty MMXX is a supercharged pre-workout formula designed to give you the best when it comes to energy, muscle pumps, muscular endurance, and power. With amazing ingredients and a company like Cellucor backing it, this pre-workout is exactly what you need to see those gains come to life. What you are really getting is an innovative and powerful pre-workout supplement from a reputable company who knows the needs of athletes. Try C4 Dynasty MMXX and watch your gains take off today.
Try Cellucor C4 Dynasty MMXX Today
---
Generation Iron may receive commissions on purchases made through our links. See our disclosure page for more information.
Let us know what you think in the comments below. Also, be sure to follow Generation Iron on Facebook, Twitter, and Instagram. 
*Images courtesy of Cellucor and Envato
References