Everything you need to know about Transparent Labs PreSeries LEAN Pre-Workout Supplement.
Product Overview
With so many pre-workout supplements on the market, the frustration of making the right choice to boost your training to the next level can be incredibly overwhelming. Transparent Labs LEAN Pre-Workout is one of our focused supplements of 2020 to compare and bring you the best pre-workouts out there.
LEAN pre-workout is one of two that Transparent Labs markets, the other being BULK. While BULK focuses on gaining mass with a blend of amino acids and testosterone support, LEAN is designed for cutting, losing that stubborn belly fat and preventing the loss of lean muscle.
Code GENIRON10 For 10% Off
Transparent Labs PreSeries LEAN is perfect for those looking to target stubborn belly fat while still maintaining that hard-earned lean muscle. For those looking to slim down and lose weight, look no further than this great pre-workout with quality ingredients at effective dosages.
Transparent Labs prides themselves on transparency and their firm commitment to honest labels and accurate results. With no artificial sweeteners, coloring, or preservatives, LEAN contains clean ingredients at clinically effective doses. This means no hidden formulas and inferior ingredients.
Each and every Transparent Labs product is manufactured in a state-of-the-art facility in Utah that is certified current good manufacturing processes (CGMP) and registered with the Food and Drug Administration (FDA). Each product batch is third-party tested to ensure safe, high quality products to make your buying experience as easy as possible. Making the smart choice can be difficult, but knowing where the product comes from and what's inside will ensure you make the best decision for your health and fitness.
---
Check out where PreSeries LEAN landed on our list of the Best Pre-Workouts!
---
PreSeries LEAN Highlights
Transparent Labs PreSeries LEAN Pre-Workout has 21 active ingredients designed to provide a high-intensity pre-workout experience, while at the same time working to ensure fat loss without draining your energy. With no added colored dyes, fillers, or harmful additives, you can be sure that great taste is coming from natural flavors with help from stevia giving you a sugar-free, vegan friendly pre-workout.
While Transparent Labs' other pre-workout BULK is designed for bodybuilders and gym-goers to help pack on muscle, enhance blood pumps, and increase strength, LEAN is for those seeking to lose stubborn fat while focusing on the production of lean muscle mass. With their potent Fat Burning and Thyroid Support complex, this pre-workout will show progress in fat loss without destroying those gains in the gym.
Ingredients
Citrulline Malate
Citrulline Malate is the most active ingredient in LEAN and is a staple in pre-workout supplements. It has a great effect on improving strength and muscle endurance (1). Chosen over L-arginine for being more effective, it can enhance the use of leucine (2), a branch chain amino acid, during exercise allowing for a more positive workout. It also has the ability to aid in fatigue and performance during high-interval training, thus improving an athlete's performance overall (3).
Betaine
Betaine can trigger muscle growth without the presence of testosterone resulting in increased power, as well as reducing fatigue so as to not disrupt an athlete's endurance during a workout (4). As a result of this increase in power and reduced fatigue, the total number of reps, as well as weight lifted, increases providing a very advantageous supplement for muscle growth (5).
BCAA 2:1:1
Branch chain amino acids help trigger muscle protein synthesis and the ratio refers to the amount of each amino acid. In LEAN, every 1,000mg of leucine is matched by 500mg of both isoleucine and valine. Leucine is known to be a strong activator of mTOR, the gene responsible for protein synthesis, and has been found to increase strength and performance (6), as well as prevent the deterioration of lean muscle. Isoleucine and valine work to also promote muscle growth and gives the metabolism a boost to assist with energy.
Beta-Alanine
Often overlooked in other pre-workouts, LEAN incorporates Beta-Alanine for a variety of reasons. It has been shown to increase carnosine levels which can quickly become depleted in workouts (7). During high-intensity training, carnosine helps you to reach peak performance. Beta-alanine will also reduce fatigue and aid in lean muscle mass (8).
N-Acetyl L-Tyrosine
L-tyrosine will focus more on your energy and awareness to ensure a good quality workout the entire time. It can reduce the effects of stress and offer greater mental focus (9), as well as improve memory and performance giving you much needed mental assistance.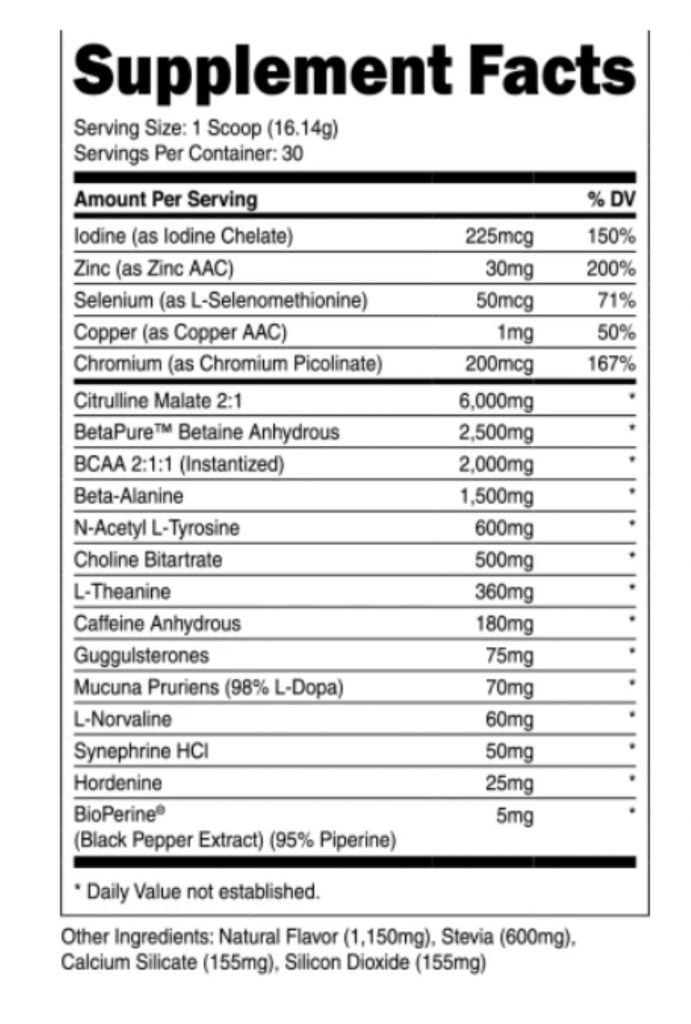 Other Ingredients
While the ingredients listed above are a large bulk of what LEAN consists of, other ingredients are present, including: choline bitartrate, L-theanine, caffeine anhydrous, mucuna pruriens, L-norvaline, synephrine, hordenine, BioPerine, chromium, zinc, and guggulsterones. Controlled for quality, all are beneficial to aid in muscle growth, metabolic boosts, energy, and cognitive function.
Many of these additional ingredients aid in your physical growth like choline bitartrate, mucuna pruriens, synephrine, hordenine, and chromium. They all work to promote healthy testosterone levels, increase metabolic rate and energy, and suppress hunger cravings to avoid snacking and keep you full longer in order keep you working out longer and more efficiently (10, 11).
Providing cognitive function and increasing performance, ingredients like L-theanine and caffeine can boost reaction time and attention and boost effort to get more reps and a better, longer-lasting workout (12).
Price and Flavors
LEAN offers many clean ingredients with a boat-load of benefits, but matches it all with a variety of flavors at a fairly decent price point. Flavors include:
Strawberry Lemonade
Orange
Blue Raspberry
Sour Grape
Green Apple
Tropical Punch
With 30 servings per container with each 1 lbs. tub, LEAN costs $49 making this a reasonably affordable and healthy pre-workout to add to your exercise and dietary regiment.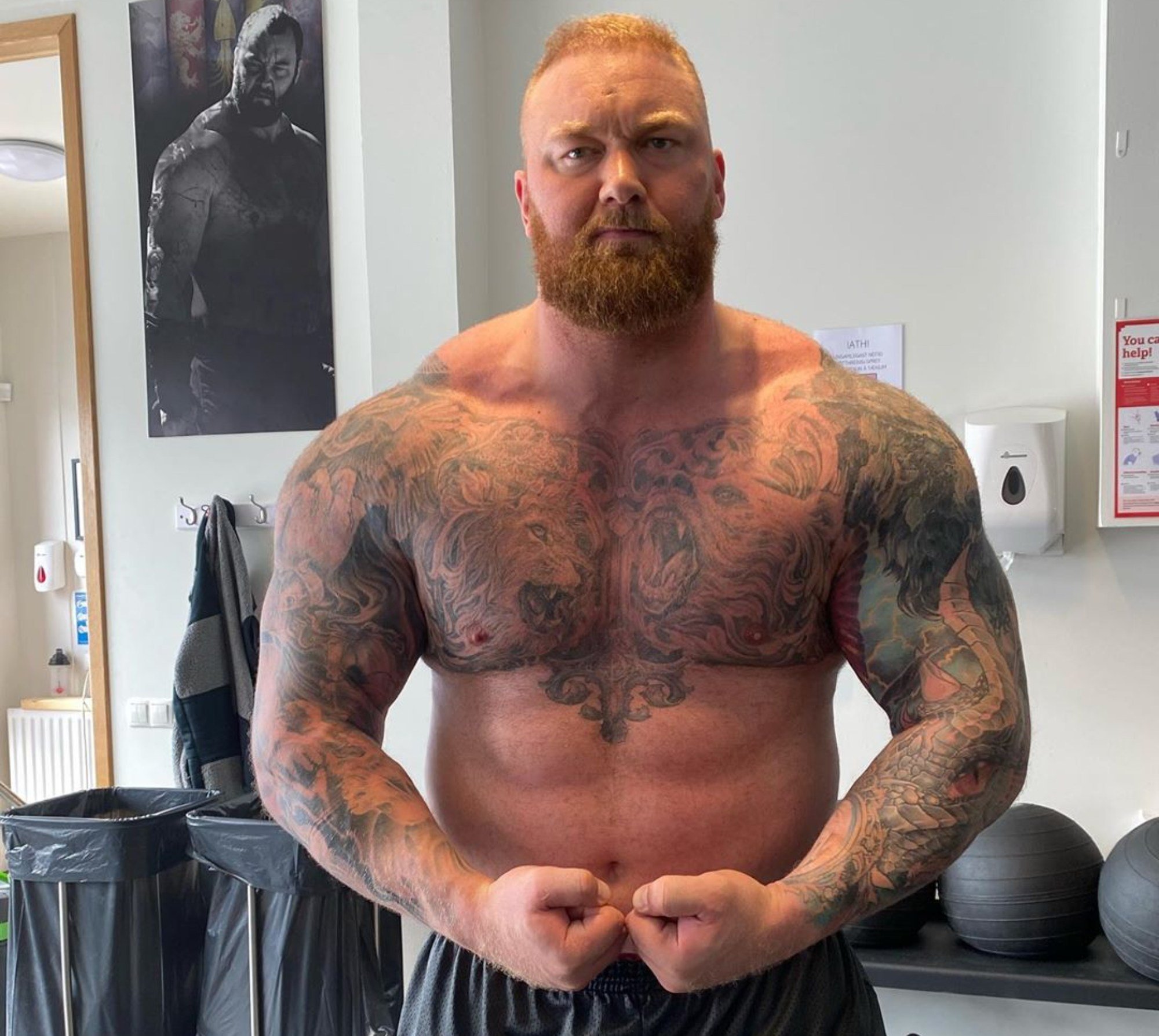 Sponsored Athlete
Hafþór Júlíus Björnsson is a member of the Transparent Labs family and spokesman for their products. While most recognizable as "The Mountain" on HBO's Game of Thrones, he is also the first strongman to win the Arnold Strongman Classic, Europe's Strongest Man, and World's Strongest Man in the same year. He adds Transparent Labs' products to boost his performance and remain elite in the world of strongmen.
Overall Value
Transparent Labs LEAN pre-workout is a great choice to add to your shelf for a number of reasons. The transparent label from a company that prides themselves on transparency offers excellent ingredients with no added sweeteners, coloring, or preservatives. What you are really buying is a product that will give you a high-intensity workout for those focusing on fat loss while also seeking to keep on that lean muscle. With great flavors at an affordable price, LEAN is exactly what you need to bring your workouts to the next level.
Try PreSeries LEAN Pre-Workout at Transparent Labs Today
Generation Iron may receive commissions on purchases made through our links. See our disclosure page for more information.
Let us know what you think in the comments below. Also, be sure to follow Generation Iron on Facebook, Twitter, and Instagram. 
*Images courtesy of Transparent Labs and Hafthor Bjornsson
Resources