Real Fast Food?
We all enjoy our powdered food sources when we are in a hurry, as a post workout protein shake, or trying to cram in our macros. However, we do know that many of these are packed full of artificial preservatives, additives, or are not coming from legitimate food sources. Enter, FLEX FOOD from MUTANT.
When you lack time, forget to prep your meal replacement, or stuff just happens that gets in your way, be ready with fast, flexible and complete real food macros on-demand. FLEX FOOD is packed with real ingredients to make sure that you are consuming quality macros, BCAAs, and EAAs, getting you quality gains. The team at Gen Iron tried it, and we have to say, FLEX FOOD blew our expectations out of the water. Let's dive into it.
When you lack time, forget to prep meals - or s#*t just happens - be ready with fast, flexible and complete real food macros on-demand. Designed from real bodybuilding meals for real gains!
Importance of Protein Powders
First off, take a look at your goals in the gym. Whether it is to lose fat, build muscle, become insanely strong, or just stay in shape, you still should aim to consume quality foods to help hit your goals faster. Sure you can clean or dirty bulk, but if you are not packing yourself full of good food sources, you just lose it all when you cut.
Protein powders are huge when it comes to reaching your fitness goals, in a bulk, cut, or maintenance phase. They help you hit your macros pretty simply. Unfortunately, not all protein powders or meal replacements are that high of quality, and this is where FLEX FOOD stands out. Let's take a look.
FLEX FOOD Overview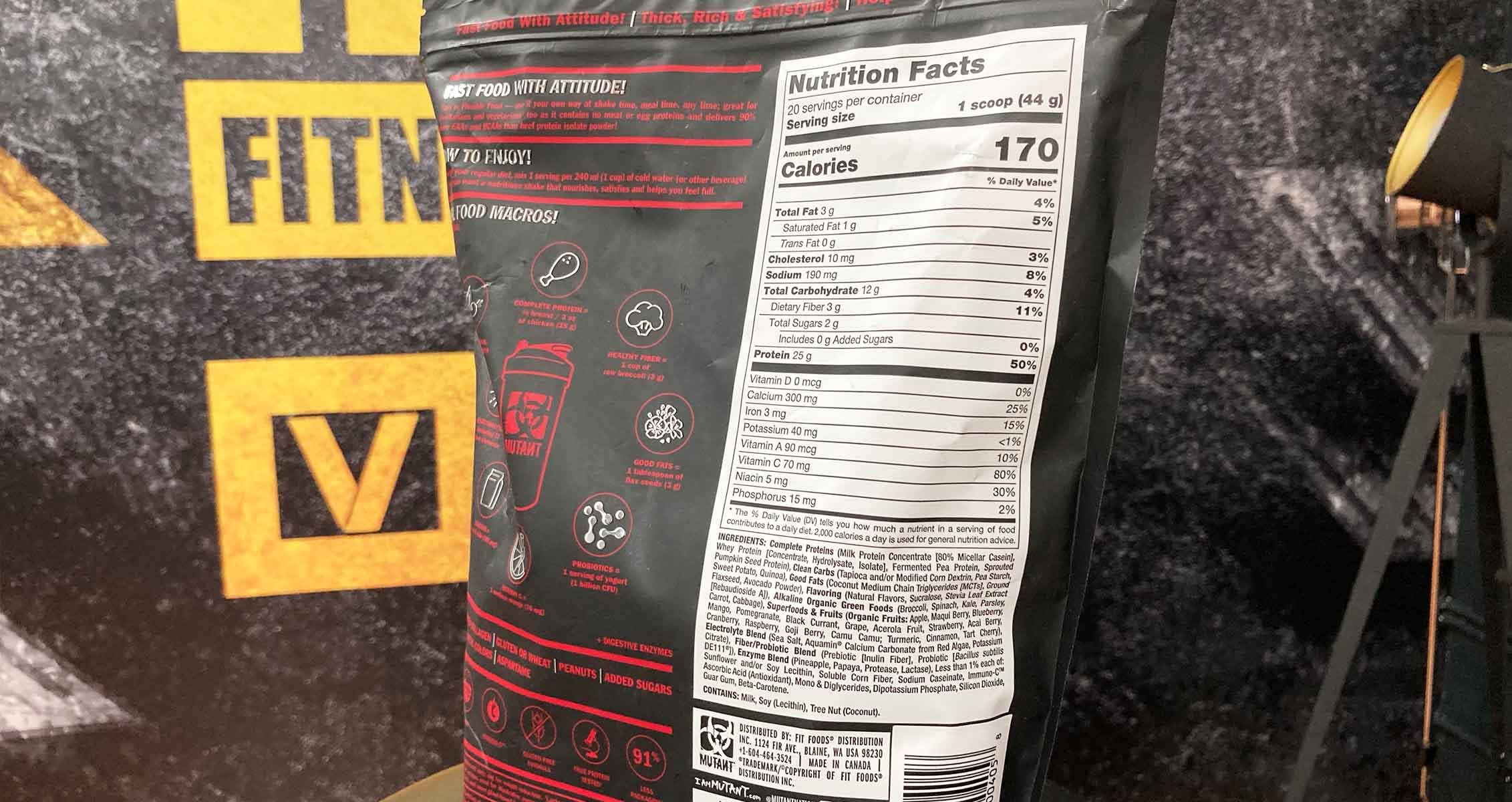 MUTANT unsurprisingly delivers a quality product here. They designed it after real bodybuilding meals to deliver quality macros and gains. With that being said, I know what you're thinking, "it probably just tastes like blended up meat and rice", however that is not the case. We can dive into flavor in a little bit, but let's check out the specs of this product first.
What is in FLEX FOOD?
FLEX FOOD contains a grocery list of real food ingredients from kale, broccoli, pomegranate, acai, and avocado to milk, quinoa, flax seed and sweet potato!
Proteins
MUTANT makes this with a more complete blend of milk protein concentrate (80% Micellar casein), whey (concentrate, hydrolysate, isolate). This is something you do not see in most protein powders, as many of them are either solely milk based or solely plant based, making FLEX FOOD stand out even more.
Other ingredients the proteins come from include fermented pea, and sprouted pumpkin seed proteins. FLEX FOOD contains 92% more BCAAs and EAAs than the collagen-like beef protein isolate other MRPs use.
Greens
Alkalizing greens balance out an acidic high protein diet while superfoods and antioxidants help boost immunity and fight endless lifting, dieting, working and whatever else you pack into your daily grind. Greens are not something you typically see in your protein powders or muscle shakes, which is yet another way that FLEX FOOD has blown our minds, as it is more than just a regular old protein powder.
Carbs
FLEX FOOD's blend of complex carbs stabilize blood sugar, fuel your brain and give your muscles the energy needed to crush weights! Healthy fats support nerve signaling, hormonal balance, and help decrease inflammation from all that heavy lifting!
Enzymes, Probiotics, and Electrolytes
Digestive enzymes + pre and probiotics ensure you break down and absorb every last nutrient while boosting gut health. Probiotic powerhouse DE111® has also been shown to improve body composition! Quality sea salt, OrganiCal™ calcium and potassium support better muscle function and hydration – no cramping!
Macros
There are a total of 170 calories which can be broken down into:
Fats- 3 grams
Carbs- 12 grams
Protein- 25 grams
FLEX FOOD Convenience
MUTANT delivers a product that is quality, but also extremely convenient. Life most certainly gets busy and MUTANT understands that, which is why this product is so great. They provide a quality muscle shake filled with legitimate ingredients, to provide great gains. Hitting the gym every day is easy. Eating the right macros and micros consistently, that tends to be where even the best of us are likely to fail.
Cheat meals turn into cheat weeks, forgotten lunches turn into eating out or even worse, fast food runs to that greasy burger joint down the street. When meal prep fails you, FLEX FOOD is there to be your weapon of convenience to keep on track to that peak physique!
Price and Flavors of FLEX FOOD
This is a big part of most buying decisions for people, and with such a quality product it has to be outrageously expensive, right? Wrong. FLEX FOOD is $44.99 for a container of 20 servings. That is about $2.95 per serving, which when you are looking at the ingredients and macros is a great price. You are essentially getting a full meal prep that you can prepare in a few seconds, for less than $3.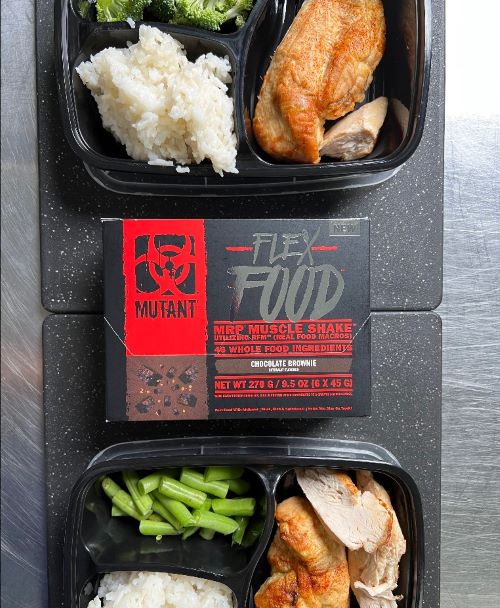 However, you can also get a FLEX FOOD 6-pack. This package is only $24.99 and you get 6, convenient packets. The convenience of these makes them worth every penny. You are getting all of the nutritional benefits of FLEX FOOD, just in a smaller "to-go" package.
But what does it taste like?
FLEX FOOD comes in two flavors as of now, Vanilla Cupcake and Chocolate Brownie, so no, you are not going to be taking in a shake that tastes like you threw whole foods into a blender. While a lot of protein powders or muscle shakes that are packed with ingredients can have a chalky texture or a taste that is nowhere close to what it is advertised as, FLEX FOOD does not. FLEX FOOD delivers a smooth texture with flavors that actually taste pretty close to the foods they are supposed to taste like. For someone who is really focused on their diet, flavor is a key factor in their choice of muscle shake. MUTANT does not disappoint with FLEX FOOD.
How to Enjoy FLEX FOOD
Alright, how do you prepare MUTANT FLEX FOOD? This is simple. Just like many other protein shakes, to enjoy this amazing shake experience as part of your regular diet, mix 1 scoop per 240 mL (1 cup) of cold water (or other beverage) any time you want a nutritious shake that nourishes, satisfies and helps you feel full.
FAQs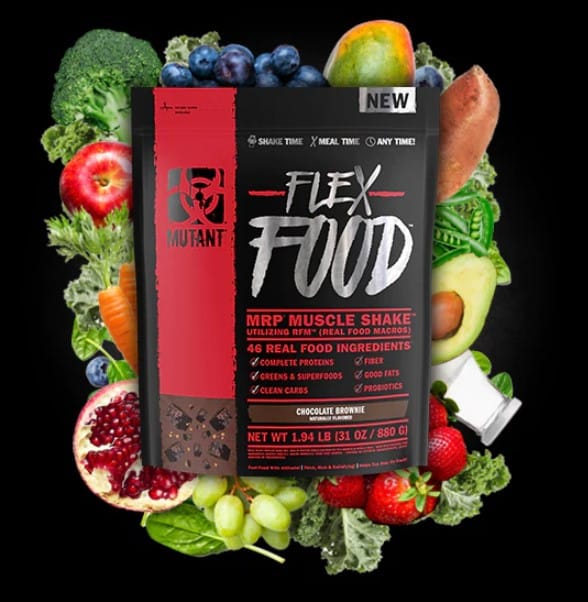 You may have a couple questions regarding FLEX FOOD, so let's dive in.
Can I use FLEX FOOD on a specific diet?
Yes! FLEX FOOD is suitable for keto and vegetarian diets, and is also formulated without gluten!
Who is FLEX FOOD made for?
FLEX FOOD is for bodybuilders, strength athletes, and anyone with a busy life that is serious about getting fitness results! It doesn't matter if you are training to be Mr. Olympia or just an average gym goer, this is a good option. Whether you are struggling to stay disciplined with your diet, have no time for meal prep, or when life just throws everything at you, FLEX FOOD can save your diet progress and ultimately your results.
What makes FLEX FOOD different from your proteins & mass gainers?
Proteins like whey and Isosurge are great for low calorie quick doses of muscle building protein. On the other hand, mass gainers provide large amounts of clean calories to hard-gainers, ectomorphs and others looking for major bulking.
By contrast, FLEX FOOD delivers a moderate amount of calories with a full meal nutrition profile. It's made with a base of more complete milk, whey, pea and pumpkin proteins, with the addition of healthy fats and smart carbs (including fiber). It's balanced with alkalizing greens, fruits, and superfoods, probiotics, digestive enzymes, electrolytes, and added vitamins & trace minerals. Everything in this is sourced from 46 real food ingredients!
FLEX FOOD Wrap Up
Overall, there are so many different options you can choose from when it comes to what you are putting in your muscle shakes. However, MUTANT delivers a product that stands out, FLEX FOOD. It is packed with quality ingredients to make sure you are consuming legitimate foods and good macros. Best of all, it is convenient. Life can get in the way of your food consumption and this can result in you eating out, hitting fast food joints, or even worse…missing meals. How are you supposed to reach your bodybuilding goals with a diet like that?
With the moderate price of $44.99 for 20 quality servings that anyone can enjoy regardless of their diet restrictions, what's stopping you from trying FLEX FOOD?