This 20kg barbell is solid and versatile, working to promote any lift or exercise you need to see great growth.
Product Overview
Barbells are valuable tools that can be used for a variety of exercises with many benefits to keep you healthy and fit. While we often use a training bar in tandem with a squat rack or bench press, using a barbell as an individual piece of equipment can prove to be quite beneficial for us in the long run. When looking to add to your home gym, having at least one barbell is great to add to your repertoire in order to maximize gains and ultimate functional movements. American Barbell 20KG Training Bar is the perfect piece of exercise equipment to tackle all of your lifting and bodybuilding needs.
When it comes to functional training and equipment, American Barbell is the place for you. Their Olympic training bars are high quality and made from top tier material to give you the best possible chance at continued growth without breaking the bank and ensuring longevity in this equipment. The 20kg training bar is a solid, versatile bar to give you everything you need and more when it comes to a great full body workout.
American Barbell is a company with 40+ years of experience in the commercial fitness industry. Supplying big name gyms with excellent equipment, they seek to offer the same benefits to people who want this kind of quality in their home gyms. Their mission is to provide premium products and service with the purpose of giving all of their customers the opportunities to succeed in their strength training goals. Using domestic and international manufacturing and sourcing solutions, you can be sure you are getting the best quality around with American Barbell.
---
Check out where American Barbell 20KG Training Bar fell on our list of the Best Barbells!
---
American Barbell 20KG Training Bar Highlights
American Barbell 20KG Training Bar is a versatile barbell tested and approved for training and competition through a rigorous process to endure the abuse of heavy training. The precision ground alloy steel bar shaft is tested to ensure longevity and excellent whip so performance remains at an all-time high. Finished in hard chrome, durability and corrosion resistance are also nice features added to this bar.

The bar sleeves are also coated in hard chrome for durability and rotate as effectively as possible for smooth rotation. Made in the United States and perfect for Olympic weightlifting, basic training, and competition, this bar is built to last to provide comfort and longevity for all of your lifting and bodybuilding goals. This bar is 20kg, 28mm in diameter, 2200mm in length, and has a tensile strength of 190k.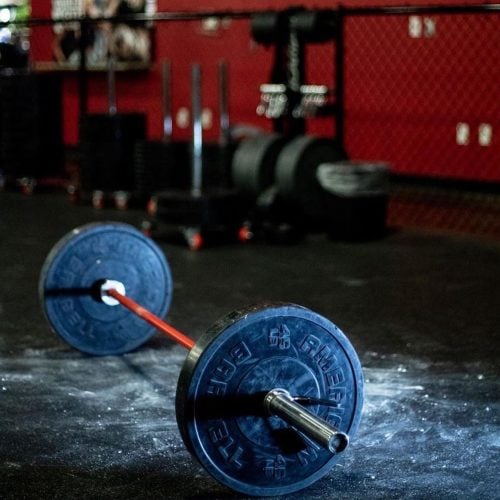 Benefits Of Barbell Training
The benefits of barbell training are great when it comes to versatility and simplicity. The ability to tackle many different exercises with one barbell ensures resistance to really enhance muscle strength and mass while also being easy to use for whatever challenge lies ahead (1).
Building functional movements is also important for daily tasks and barbells can help with increased load capacity, the generation of more power, and promoting the entire body to function as one unit (2). Aside from the physical benefits, training with a barbell can work to change body composition by putting on more lean muscle and shedding unwanted fat so you start to see that desired physique really pop.
Price & Effectiveness
This versatile and high quality barbell is perfect for tackling any lift or exercise you need to round out a great workout. This 20kg training bar comes at a price of $325.00.
Pros: High quality, great grip, and quiet sleeves make sure your hands don't tear and your lifts are effective. Comfortable to use and a great bar for athletes of all levels. From a reputable company who cares about their customers and products.
Cons: Slight grooves in the collar may make for an unpleasant sound, and the grip may give off a false sense of feeling weak, although that may be dependent on preference.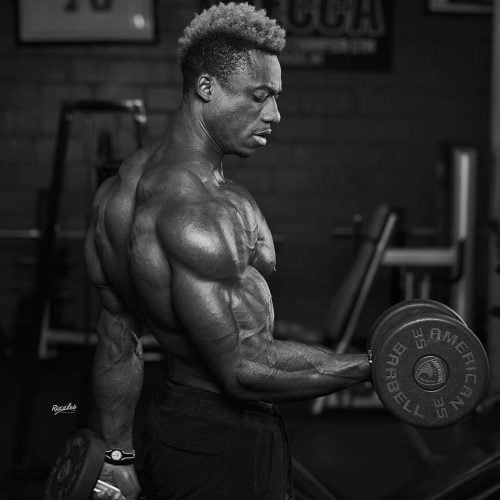 Showcased Athlete
Steve Laureus is an IFBB pro bodybuilder competing in the Men's 212 Division against some of the top athletes in the world. Always striving to stay on top of his game, Laureus uses American Barbell for his fitness equipment to really get a pump and allow this versatile equipment to do the work for him. Laureus has walked the stages at the Arnold Classic, New York Pro, and Mr. Olympia, chasing down the title of being the best in the world. With the help of American Barbell and their mission to allow athletes to succeed with the help of great equipment, Laureus is well on his way to taking down fellow competitors in his quest for the coveted title of best in the world.
Overall Value
American Barbell 20KG Training Bar is a great training tool to maximize growth and effective functional movement so you start seeing great gains in your bodybuilding goals. As a high quality and versatile bar, it is built to last and also withstand any exercise you choose to do. The benefits of using a barbell in your training should not be overlooked and can really work to change body composition, increased muscle mass and size, and make you look and feel great for whatever comes your way next. What you are really getting is a quality training bar built to last and provide great benefits from a company who cares about their customers and products. Try American Barbell 20KG Training Bar today and really work to see those gains come to life.
Check out American Barbell 20KG Training Bar Here
Generation Iron may receive commissions on purchases made through our links. See our disclosure page for more information.
Let us know what you think in the comments below. Also, be sure to follow Generation Iron on Facebook, Twitter, and Instagram. 
*Images courtesy of American Barbell and American Barbell Instagram
References
Thompson, Brennan J.; Stock, Matt S.; Shields, JoCarol E.; Luera, Micheal J.; et al. (2015). "Barbell Deadlift Training Increases the Rate of Torque Development and Vertical Jump Performance in Novices". (source)
Ferland, Pierre-Marc; Comtois, Alain S. (2019). "Classic Powerlifting Performance: A Systematic Review". (source)