Matt Jansen and Nick Walker go their separate ways.
It appears that bodybuilding coach Matt Jansen has parted ways with the talented Nick Walker. The bodybuilding coach recently addressed the issue in a statement on his Instagram account.
It takes more than just an individuals will to get to the top of the bodybuilding world. While every individual who chooses to become a pro bodybuilder has to have their own resolve, it takes a team to bring their dream to fruition. A bodybuilder without a decent team behind them could find it difficult to get to the top. It can be done, but having a coach can really take a competitor to new heights. It's what helped Nick Walker become a man to watch on the pro circuit.
There's no doubt about it, Nick Walker had quite an impressive 2021. Not only was Walker able to secure his position at the 2021 Olympia, he was also able to win the Arnold Classic in the same year. In his first year on the Olympia stage Walker was able to crack the top five. It just goes to show that the up and comer is clearly a future top contender in the Men's Open division.
That good lighting before getting tanned up for the Arnold.

This year is going to be a competitive one.

Can't wait to watch !!!
View this post on Instagram
With that said, Nick Walker didn't get there alone. Walker was able to achieve so much due in part to the team who supported him. One of those team members was bodybuilding coach Matt Jansen.
Parting Ways
A veteran of the bodybuilding game, Matt Jansen was an impressive competitor in his own right. He has since become a trusted bodybuilding coach who has helped many competitors reach great heights in their careers. Nick Walker is among one of those athletes.
But now it appears that Matt Jansen and Nick Walker are no longer working together. Jansen broke the news on his Instagram story. The reveal was in response to a fan question.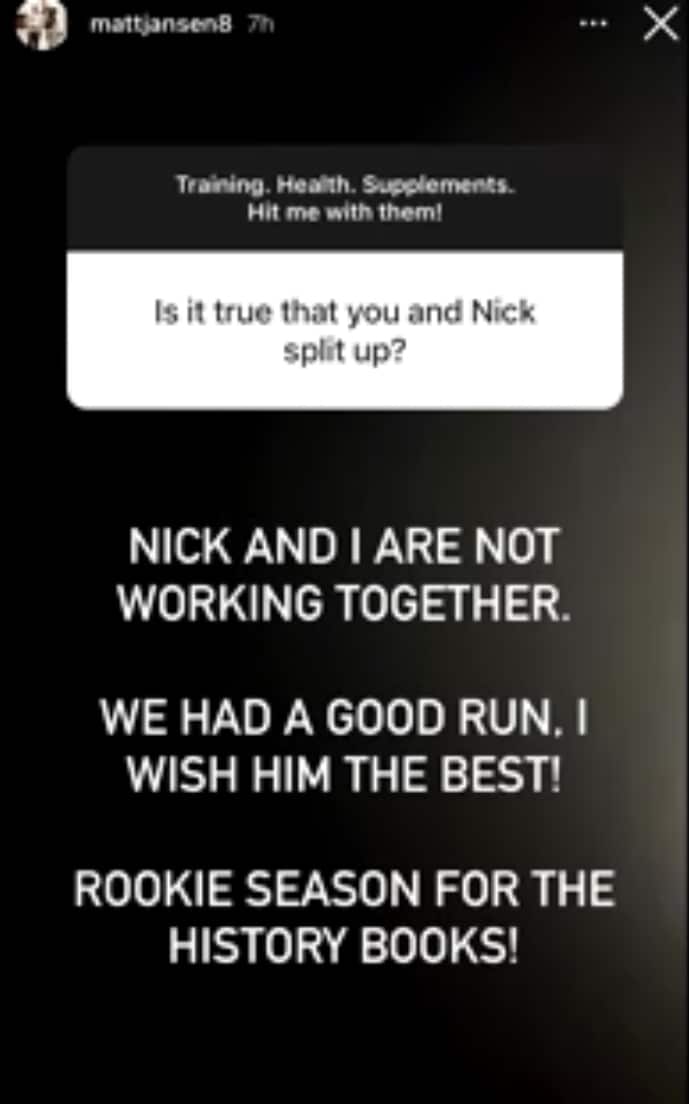 It appears that Matt Jansen and Nick Walker have chosen to travel different paths. It will be interesting to see where Walker goes from here, but it's a safe bet that he's learned enough to carry him through to the next level.
What do you think of Matt Jansen and Nick Walker going their separate ways?
For more news and updates, follow Generation Iron on Facebook, Twitter, and Instagram.
---
News and Editorial Writer at Generation Iron, Jonathan Salmon is a writer, martial arts instructor, and geek culture enthusiast. Check out his YouTube, Instagram, Twitter, Facebook, and Sound Cloud for in-depth MMA analysis.